AHAs and BHAs. When you think of chemical exfoliants, do you visualise your skin going through a rough, slough-ing out? Chemical exfoliation with acids may sound scary but it can, in fact be milder and more effective than your physical scrub. A physical scrub can only remove the upper layer of the skin and is harsh for it too. And while it's a great option to keep in your armoury, chemical exfoliants can go much deeper and hence give better results; you just need to be wise about choosing the right one!
AHAs
Also known as exfoliating acids, Alpha Hydroxy Acids or AHAs lift off the build-up of dead skin cells to reveal brighter, smoother complexions. There are different types of AHAs that are commonly used in skincare products - Citric acid, Glycolic acid, Hydroxycaproic acid, Hydroxycaprylic acid, Lactic acid and Malic Acid. For those new to AHAs, glycolic and lactic acids are the most researched of the lot and also least likely to cause any irritation to your skin. 
As always when it comes to AHAs start slow and low - using a lower percentage acid a few times a week and then increase frequency or percentage based on how your skin reacts to it. Here are a few AHAs that we love!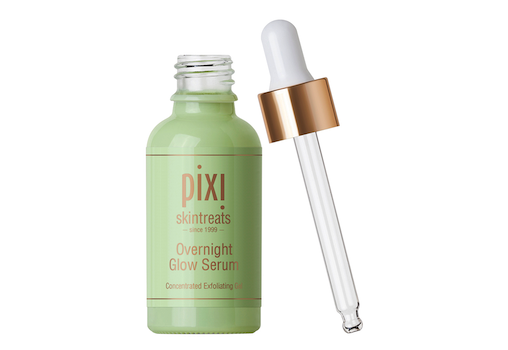 Want to start slow when it comes to AHAs? The Pixi Glycolic Overnight Glow Serum is a  serum that works while you sleep to exfoliate and soothe skin to reveal a brighter complexion when you wake up. How's that for beauty sleep! The potent serum helps to reduce the appearance of fine lines and fade sun spots over time with a nutrient-rich formula including calming cucumber and aloe vera extracts, as well as nourishing vitamins A, C and E. Massage 2 to 3 drops onto cleansed, toned skin before slathering on some moisturiser and wake up to glowing skin.  
Why we love it: An absolute must for AHA beginners! We love how this Glycolic serum is great for even sensitive skin types - just remember to start and take it slow. And top up with SPF in the morning.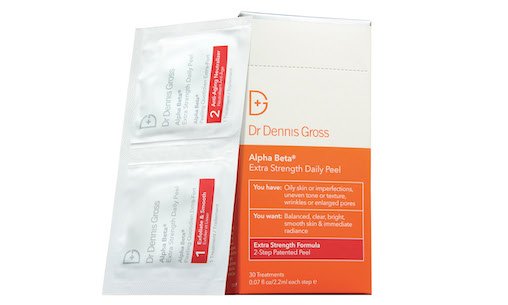 Over 5000 solid reviews and counting on Sephora should stand for something! The Dr. Dennis Gross Skincare™ line was born from the Manhattan dermatologist and skin cancer researcher Dr. Dennis Gross's experience of harsh effects of chemical peels (all the rage in the 90s). He then curated his own formula to develop a gentler, approach to home peels that have now become cult products the world over. The Alpha Beta® Peel is a fast-acting, two-step daily treatment for clinical results at home. With the goodness of both AHA and BHAs(more on that below) plus antioxidants and vitamins, it works to lift away dead skin along with excess oil and impurities, while improving uneven tone & texture. Step One is packed with rejuvenating, powerful yet gentle exfoliating acids while Step Two delivers anti-ageing actives to nourish your skin and keep it balanced. Simply apply each step for 2 minutes (Day or Night) and your skin immediately looks refreshed and glowing!
The Dr. Dennis Gross Alpha Beta Daily Peels are available in 3 strength types: Ultra Gentle (sensitive skin), Universal (all skin types) and Extra Strength (frequent users of the universal peels and wish to have an extra boost).
Why we love it: For frequent users of peels, the Extra Strength Daily Peels give enough of a waking up effect to the skin - you can literally see the difference the next morning. The convenient 2-step process makes it easy to glide and glow without having to rinse out the goodness of the acids.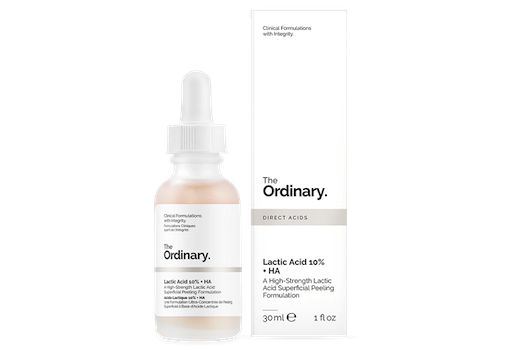 Sold out at most beauty stores, The Ordinary's Lactic Acid 10% + HA formula is a high-strength exfoliating serum with lactic acid and hyaluronic acid. Aside from the affordable price, this treatment gets lauded by users for its ability to resurface the skin to reveal a bright, even-toned texture. Start by applying a few drops to cleansed skin before oils, creams, and moisturizers and at night only. Allow a few minutes for it to sink in and then follow through with the rest of your skincare routine.  For a more gentle formulation, The Ordinary even have a 5% formulation. 
Why we love it: Such affordability and efficacy as a package! This specific acid is a strong formulation for those who don't want to spend big dollars on other equally effective products in the market. Should you feel sensitive to it, just add a few drops of your moisturising lotion to dilute and reduce the strength.
BHAs
One of the most effective ingredients for clogged pores and breakouts, you've probably been using BHAs for years - cue, your teenage acne breakouts! Beta Hydroxy Acids are chemical exfoliants like AHAs, and dissolve dead, dull skin to reveal smoothened-out, brighter complexions. BHAs are oil-soluble which gives them the ability to go deep into the oil glands on your skin. This makes BHAs ideal for unclogging pores and as a result decreasing blackheads, acne and oily skin. The most popular form of BHA we find in skincare (and haircare) products is salicylic acid. There are other derivatives of salicylic acid-like salicylate, betaine salicylate, and sodium salicylate and less common forms of BHAs such as willow bark extract, beta hydroxybutanoic acid and tropic acid that you may spot too. Take a look at these BHA products that we think can take your skincare routine to the next level.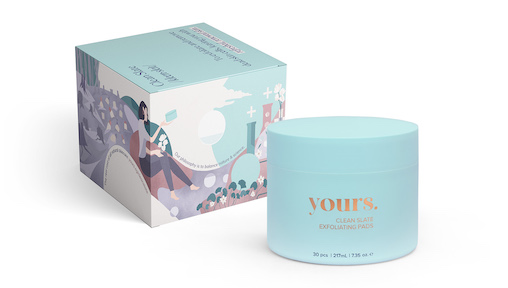 How about some clean, vegan and cruelty-free acids? The latest addition to their arsenal of products, Clean Slate by Yours, is a BHA-based chemical exfoliant powered by plant-based extracts. Physical exfoliants like sugar or walnut scrubs can often cause micro-tears. Clean Slate's formulation is a sustainable solution that's gentle on your skin. Soaked in powerful active ingredients and gentle acids (BHAs), Clean Slate dissolves dead skin cells and impurities ever so gently, while hydrating your skin. 
They also penetrate deep under the pore-lining to exfoliate from within. The pre-soaked exfoliant pads are made from cotton and can be recycled with textiles. What's more - the tub and outer packaging are both reusable and recyclable!
Why we love it: Easy to use and gentle on the skin, we love how this pad is a clean beauty product; good for you and for the environment. One swipe and it leaves your skin miles cleaner - you can even see exfoliated skin on the wipe! Just remember to use only at night and follow through with good SPF protection in the day.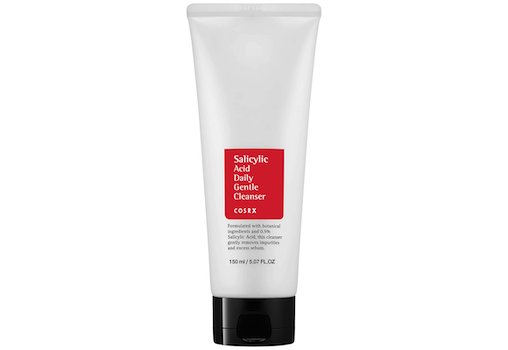 If excess sebum is a problem, you need a hardworking cleanser that can leave you clean but with no dryness. Cult acne-warrior brand, COSRX carry a BHA-based cleanser that can melt away the skin's impurities on a daily basis - which means its gentle too! The COSRX Salicylic Acid Daily Gentle Cleanser is a nourishing cleansing wash that helps to treat and prevent breakouts. Infused with a potent blend of Tea Tree Oil, Willow Bark Water and 0.5% Salicylic Acid, the cleanser gently removes dirt, excess oil and product build-up while replenishing moisture in order to combat the underlying causes of blemishes and breakouts. The result is a touchably soft, visibly clearer complexion that boasts a natural glow.
Why we love it: The ability to manage acne and breakouts without adding another product to our skincare routine! This basic cleanser does more than most give credit to a cleansing agent for. Sloughs away the dirt, makeup and grime but also ensures that acne stays far away!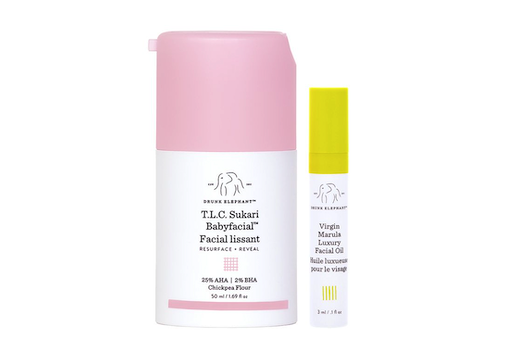 Not one for the faint-hearted, Drunk Elephant's T.L.C Sukari Babyfacial™ is a professional quality AHA/BHA "facial" that will help to reveal greater clarity, improved skin texture and tone. It literally will knock your cells off! Containing a massive 25% AHA and 2% BHA blend that includes Glycolic plus Tartaric, Lactic, Citric and Salicylic acids to gently but efficiently resurface and exfoliate the pore lining and get rid of dead cells. Drunk Elephant's Baby Facial also combines potent antioxidants such as matcha tea, apple fruit and milk thistle to soothe with ultra-hydrating sodium hyaluronate crosspolymer and non-fragrant plant oils to replenish moisture in the skin. The Virgin Marula Luxury Oil that you get with it, is exactly the nourishment your skin needs after that workout!
Why we love it: Baby soft skin that's obviously bright the next morning! While it is potent (and we stress that again, because it is!), this AHA BHA combination by Drunk Elephant goes all out to wake up your skin. Leave it on for too long and you may get really red - so read carefully and apply once a week to yield the best results.