We are often on the hunt for local artists in Singapore who sell affordable art. This is why LivingwithArt lends such a breath of fresh air to the local art scene where affordability and access to gorgeous prints are made easy for everyone. (Seriously, we are talking quality art prints as low as $25 here!)
LivingwithArt
Set up in 2003, LivingwithArt Singapore's owner Zak Lo's career path may have seen him head into the financial world, but he's also a passionate and practising artist himself, with a belief that affordable art could and should be brought into all living spaces. 
The flagship gallery in the Tan Boon Liat Building comprises of more than 3000 works of art, vases and sculptures and houses artists in Singapore's art and photography scene such as Tan Tui Gee, Jaime Teo, Samantha Redfern, and Linda Preece. So how does LivingwithArt supply such a variety? "I work alongside 15 talented full-time consultants, designers and artists to create unique pieces to suit different spaces. We incorporate Feng shui elements, frame customers' art and do not inflate prices to boost the artist's ego."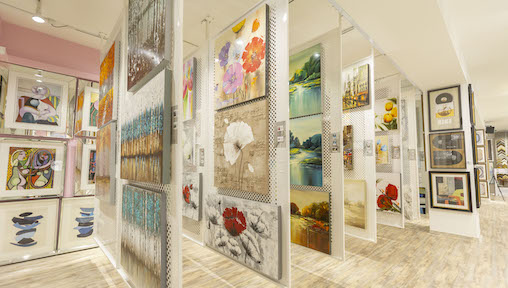 Artists are selected from around the world, with a particular emphasis on supporting local artists. Walk around the Tan Boon Liat space, and you will see colourful Murano glass work alongside local artist's textural pieces, large traditional canvases, triptychs, bronze sculptures and much more. Pieces can be customized in terms of colour, theme, size, style and medium, giving the customer greater flexibility. "We particularly love bright and cheery colours and interesting sculptures, which make great conversational pieces."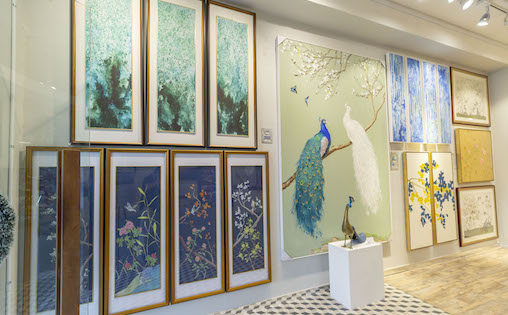 In celebration of Singapore's 55th birthday, LivingwithArt Singapore is featuring 55 pieces of artwork from 5 local artists, including multidisciplinary artist William Lee JikYun and photographer Andy Yong. These 55 pieces are specially selected to showcase the rich history of Singapore, with iconic scenes such as the Buddha Tooth Relic Temple in Chinatown to the Gardens by the Bay Supertrees. What's more, LivingwithArt Singapore is offering 20% off on these 55 specially chosen pieces, only from 7 – 23 August 2020. *
Our Favourites
If you are finding it hard to choose from these 55 iconic pieces of affordable art, we are here to help! These are our top picks from the collection - local artists that bring out the best of Singapore with art pieces that will make for great conversations in your home.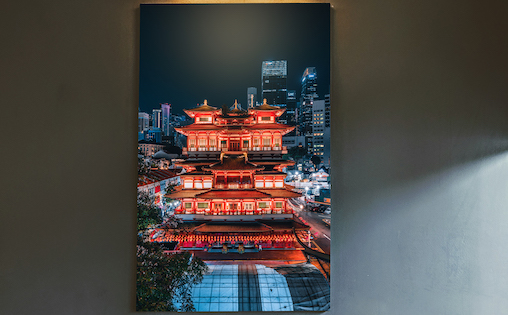 The Buddha Tooth Relic Temple and Museum is one of Singapore's most popular tourist destinations and often included in lists of the most photogenic places around the island. This gorgeous print by Andy Yong can be ordered in 3 different sizes.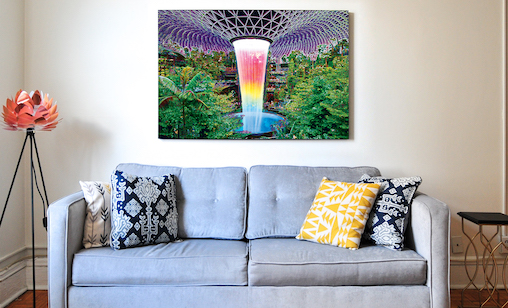 The centrepiece of the Jewel is the world's tallest indoor waterfall - 40-metre-high with water cascading through the glass and steel dome in the centre of a lush forest. Take a reflection of this iconic structure home - colours that can lift any room or workspace. Available in two sizes.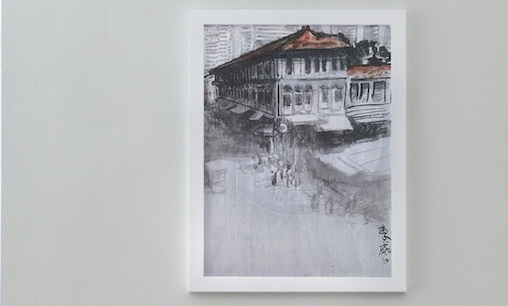 "Growing up has led me to realize that everything is transient, the National Libraries, the Van Kleef Aquariums, have all but become photographs of the past. Being a sentimentalist, I wanted to capture Singapore in a way that I know and can, that is through my black and white acrylic paintings, which incidentally adds a dash of nostalgia." Says artist Willian Lee Jik Yun.
What better way to add nostalgia to your home than this depiction of Chinatown?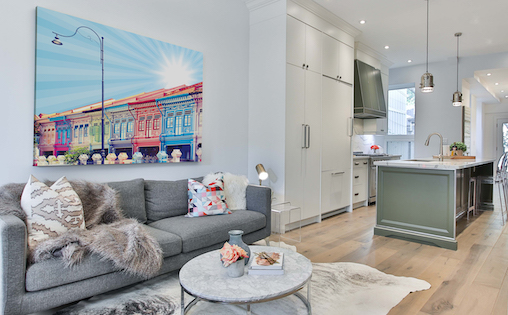 Shophouses, a historical source of delight are a prevalent building type in Singapore's architectural heritage. If you love Singapore's shophouses as much as us, this beautiful version by Amanda Lim deserves a spot in your office or home!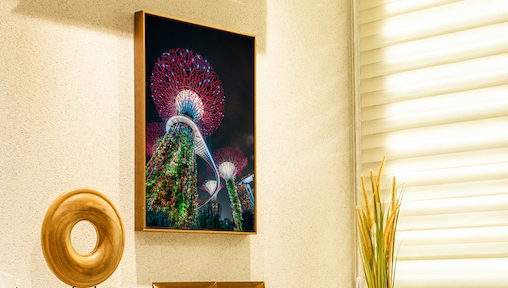 Did you know that the Supertrees at Gardens by the Bay are home to enclaves of unique and exotic ferns, vines and orchids? They are fitted with environmental technologies that mimic the ecological function of trees such as photosynthesis and absorption of rainwater. They are stunning to look at too! This piece by Andy Yong makes a deserving shortlist for your art at home.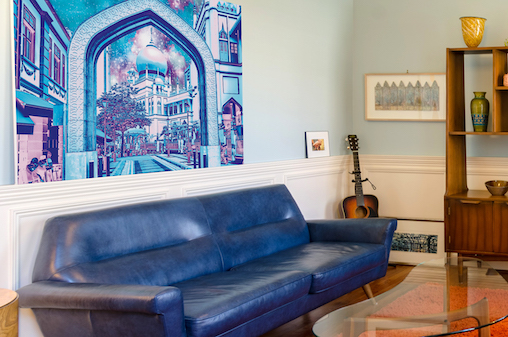 The Sultan Mosque (Masjid Sultan) is a magnificent landmark at the heart of Singapore's Arabic Quarter. Built in 1824 by Sultan Hussian Shah, the first ever Sultan of Singapore, the iconic Mosque is a must-visit for all. We love this almost Turkish take of the mosque in blue hues - perfect to add as an accent piece in your home!
 *Valid in-store at their gallery at Tan Boon Liat Building, or on the website at  https://www.livingwithart.com.sg/Promotion.