Looking for affordable jewellery in Singapore? If you are feeling the need to buy jewellery but looking for something unique, that's easy on the pocket too, keep reading! We've rounded up some of the most beautifully crafted jewellery brands in Singapore that have us swooning over their collections.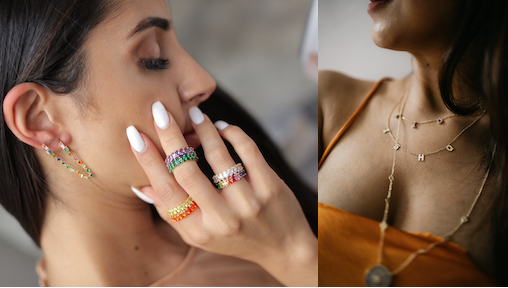 If you're after easy to wear and beautifully crafted jewellery in Singapore, Del Rio Jewels is well worth your time. Founded and creatively directed by Henna Advani, Del Rio Jewels is a collection of timeless and colourful jewellery handmade in Turkey for women to love and layer. A cancer researcher by training, and wildly inspired by a wide array of travel and cultures, Henna found the need to create a jewellery brand that was both versatile and affordable.
Made of 925 sterling silver, each piece by Del Rio Jewels is plated in 14K gold and adorned in Swarovski stones. The evil eye motif particularly resonates with Henna's mystical personality and remains the centrepiece of many collections. The design of each piece is carefully thought-out, with each piece being multifunctional, aiding in a seamless transition from day to night. For example, many of the earrings in their collections can be taken apart and worn as pendants or even hair brooches. All of the pieces from the Tuyo Collection can be customised to showcase your unique style and personality.
Del Rio Jewels will also be incorporating a Fine Jewellery section, encompassing solid 14K gold and diamond pieces that you'll never have to take off. Henna has curated this collection with a similar mindset allowing you to wear the pieces alone, layered with others or paired with other jewels from your existing collection.
Buying jewellery from Del Rio Jewels is also a fantastic way to support local businesses in Singapore. Evolved from a passion project, this growing, successful homegrown business is self-funded and creatively curated, sourced and modelled for by Henna, on her own. Our favourite pieces include the Suffiya Ring holder, Dil necklace, Zola Necklace and Tuyo Necklace(also customisable) and the Aventura or evil eye Collection. Need a real talking point for your mask? Buy one of their Mask/Sunglass chains that are multi-functional and can be worn as mask chains, sunglasses chains and even necklaces!
Want 15% off? Quote Vanilla15 at checkout and get 15% off sitewide!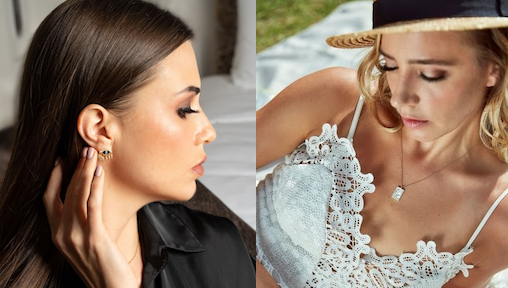 French-Canadian jewellery brand Fervor Montreal was launched in 2000. Fervor Montreal has gained an international reputation for producing luxurious yet affordable fine and fashion jewellery created using the highest quality of materials such as Swarovski Crystal Elements, Pearls, Semi-Precious Stones and AAA grade brilliant Cubic Zirconia. Their silver and non-precious metals are plated up to 3 microns of 14k or 18k gold or platinum using the most advanced methods in their workshops.
Every single piece of Fervor Montreal jewellery is handcrafted by their highly skilled jewellers in their very own workshop which is why Fervor Montreal is able to deliver truly exceptional products at affordable prices and they guarantee all their pieces against manufacturing faults.
Fervor Montreal releases a new collection of jewellery every 3 months, the latest being their "Pearls" collection of necklaces and earrings made with 925 sterling silver, with 18k gold plating. 
A must-shop collection from Fervor Montreal are their Divine Eye, Gemstones, Tarot Card and their best-selling Bella Bangles.
Fervor Montreal has recently launched a collection of fine jewellery which includes 14K Solid Gold necklaces, Queen of the Jungle collection that features Malachite gemstones, Stars of the Sea that is made with Lapis Lazuli.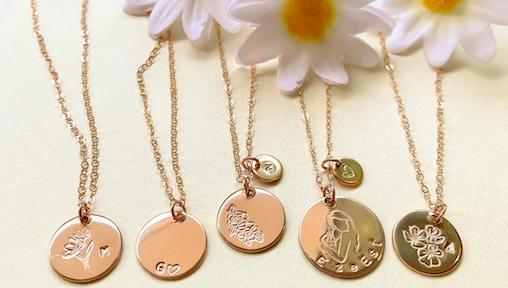 Have you been searching for personalised jewellery in Singapore? LoveHesed was founded to make personalized pieces that are unique to the individual. Every piece is lovingly hand-stamped with a metal stamp and a hammer, drilled, polished and put together by the team in Singapore!
Due to this hand-stamped nature of LoveHesed jewellery, no two pieces are the same! 
Their pieces are made of gold-filled materials which is a thick layer of genuine gold permanently bonded with heat and pressure onto the base metal. That's 100 times more gold than gold plated jewellery! It is extremely durable, won't chip or flake and is tarnish-resistant. It also is a great alternative to expensive solid gold jewellery.
LoveHesed sources all their gold-filled materials from the USA and are high quality and will not tarnish in water – which means you can wear them to shower and exercise! These pieces are also hypoallergenic and perfect for sensitive skin.
Want some inspiration? LoveHesed has a wide collection of personalised jewellery – you can choose from initials, name, birth flowers, hearts or symbols. There's even a mother and baby collection. 
With production times being 1-3 days, they also make for perfect last-minute personalised gifts for your loved ones.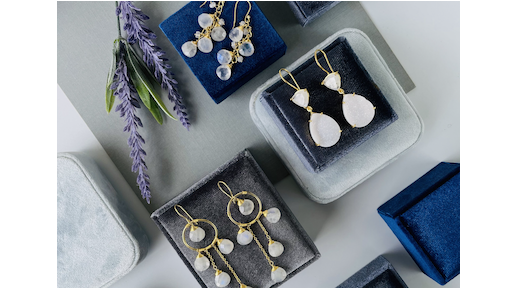 Lustre specialises in gemstone jewellery that is handcrafted by gifted artisans around the world. Designer and founder, Anaita Thakkar's brand is crafted in limited numbers to ensure your jewellery is truly one of a kind. Housing semi-precious gemstone jewellery that naturally come in various sizes, shapes and colour - no two pieces can ever be identical!
And an integral part of their designs is the ability for them to be worn singly or with pieces you already own. They embrace the need for colour, for versatility, for the artisanal. Since their pieces employ natural gemstones which are organic, clients are encouraged to embrace the idea of the "perfectly imperfect", which is in itself a reflection of nature, and the world around us.
Thakkar, the founder-owner is a self-taught designer and doesn't design anything unless it has a genuine personal connection to her, either symbolically or through her life experience. Thakkar works directly with the silversmiths and prides herself in embracing uncompromising quality. We love how versatile their earrings and bracelets are - everything from handcrafted gemstones to tassels and even the simplest of studs turned magnificent!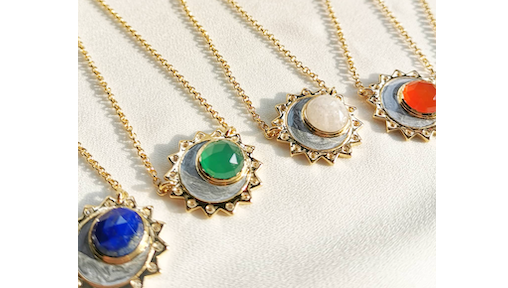 Shop the best contemporary-styled jewellery in Singapore, that is surprisingly affordable too. Modern classics that tell stories of self-love, strength and courage, Rina Lee's Jewellery speaks to your soul. 
At its core, the brand advocated all things community, healing and empowering women to be their true authentic selves. By incorporating healing gemstones with mindful design, Rina Lee's jewellery pieces are soul reminders and encouragements that journey with you through life's ups and downs. 
We love the Origin collection that was inspired by the celestial bodies and our place in this vast Universe. The Sun, a symbol of Strength; and the Moon, feminine power; and the Stars, a symbol of Hope. Its meaningful design combined with healing gemstones work as a powerful reminder to Stay Strong and Optimistic despite obstacles.
Those looking for gemstones will enjoy the Kaleidoscope Gemstone Earrings Collection, an array of different coloured gemstone earrings. These delightful 5mm stud earrings are the perfect essential piece that will take you on your daily adventures, all while reaping the healing benefits of your charming crystals.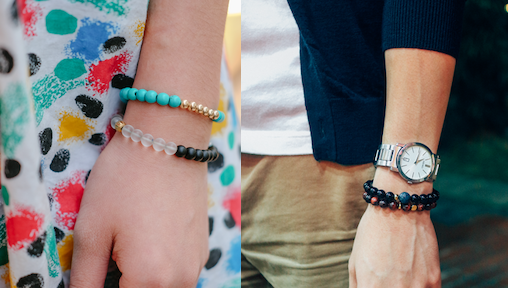 Minimalists will love homegrown jewellery label Citystate Beads, which makes quality design-focussed bead bracelets for both men and women. By ensuring that each piece is designed and made by human hands, Citystate Beads gives you consistency and strong detail that comes with quality craftsmanship. Based in Singapore, Citystate Beads was born out of respect for detailed craftsmanship, professionalism, and good service. 
As a result, their accessories are modern, honest, and affordable without compromising on quality. Citystate Beads' materials are primarily semi-precious stones, metal charms, and elastic cords—all meticulously sourced from different parts of the world.  Stuck for a gift or seeking jewellery in Singapore for men? We love how gender-neutral Citystate Beads are and make for the perfect gift, no matter the recipient!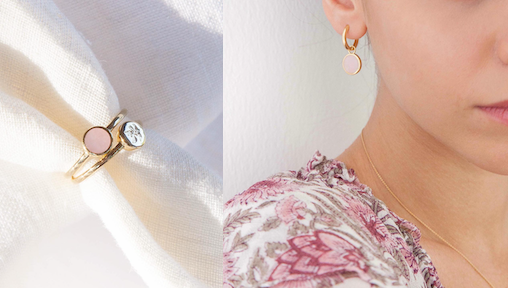 Meet Juliette, a true Parisian girl and a French fashion designer reaching out to all corners of the globe for conscious inspiration. A working mother of 2, she started Capsule by Juliette to help women like her look and feel their best, in their everyday lives. 
In addition to her signature jumpsuits and Parisian chic fashion for women, having a background in high jewellery made it natural for Juliette to offer a jewellery collection. Staying true to the concept of the brand, these delicate pieces are timeless and bring a touch of sophistication to any look. They are exquisitely handcrafted from 18K gold vermeil, and are the perfect accessories to Capsule by Juliette garments.
From the necklace to the bracelet, Capsule by Juliette offers the perfect jewel to wear every day and bring a little extra to your outfit! 
We especially love her collection of Bliss Rings, which have a smooth, flawless design, using mesmerising natural stones and high-quality gold vermeil - a work of art! These rings are crafted in a simple curve, and feature a lovely, carefully handpicked stone encased in a medallion. 
The Bliss Rings present themselves best when worn with other Bliss rings, and staggered with them. Available in pearl, turquoise, rhodochrosite, amazonite, pink opal, lapis lazuli and malachite.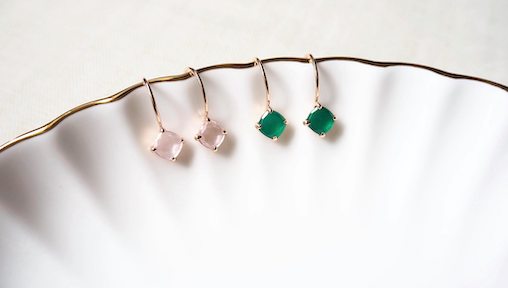 Azen Label showcases jewellery in Singapore that is designed to be modern, simple and unique to complement any outfit or style. Azen works with artisans closely to provide beautiful jewellery pieces and each of their pieces work on the concept of beauty that lies within each semi-precious stone. 
Think earrings, necklaces, bracelets and rings, in 925 Silver, gold plated and with a semi-precious stone to match.
Azen Jewelry is also the exclusive distributor for Rockme Jewelry in Singapore, a handmade jewellery brand designed by Thanich. Rockme Jewelry design concept is inspired by the raw textures of tree barks as they outgrow and create beautiful patterns of nature.
Each of the jewellery pieces by Rockme is painstakingly crafted to ensure that the unique beauty of each unpolished gemstone is revealed.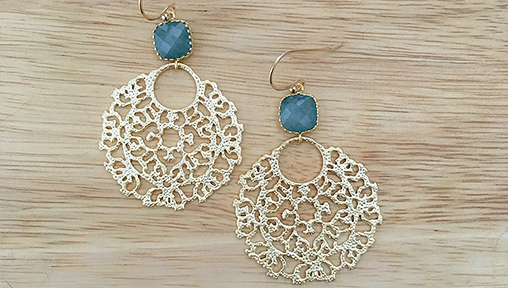 Established in 2009, Whimsy and Magic are an affordable brand for jewellery in Singapore. Inspired by nature, and the flora and fauna around us, the brand meticulously handcrafts all of its pieces to produce comfortable, and easy to wear everyday jewellery. 
Using 925 sterling silver, gold-filled, 18k gold and semi-precious stones amongst other material; the brand ensures that what you get is top-notch quality for your money. These Boho earrings are delicately balanced with Green Aventurine stone – perfectly suited for that maxi dress!