5 Reasons Why A Family Staycation at Sofitel Sentosa Resort & Spa is Just The Break You Need
Published Date
: 15 Nov 2021 14:17

Craving a family staycation in Singapore? Here's why the Sofitel Sentosa Resort & Spa makes a worthy choice
A family staycation in Singapore can be a great escape from daily activities and provide that much-needed respite. Add splendid food, a fantastic island-like ambience and kids activities to the mix, and you know it's a recipe for a fab weekend away. We recently headed to Sofitel Sentosa Resort & Spa(kids in tow!) for a mini-break and here's every reason why we think you should consider one too!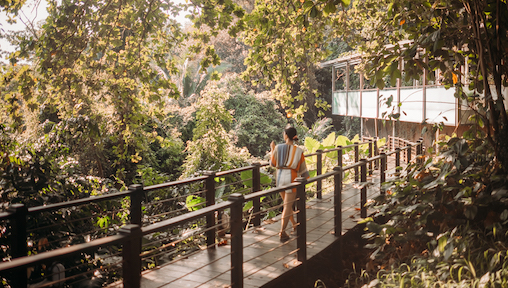 1. A Pristine, Island-Like Feel
From swaying coconut trees to a completely laid-back, resort-style ambience, the Sofitel Sentosa Resort & Spa, gives you solid vacation vibes as soon as you get there. Think palatial outdoor spaces filled with lush greenery, swings, peacocks(there's even a white one!), water features and colonial architecture. There are plenty of little nooks worth exploring with the kids. This includes a 132-stair wooden bridge that takes you all the way down to Tanjong Beach!
Vanilla Luxury Pro-Tip: Take the time to explore the hotel grounds with the kids. You'll find swings, water bodies and animal sculptures along with breathtaking views of the sea.  In case you decide to head to Sentosa beach via the hotel's stair bridge, ensure you've booked your spot – applicable on Saturdays and Sundays.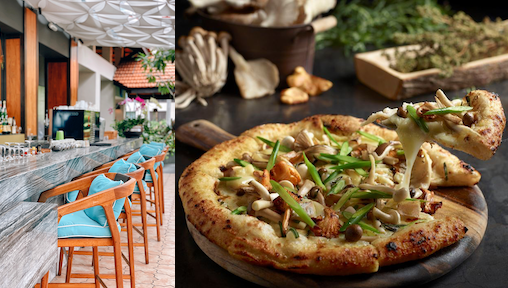 2. Food, Glorious Food!
Ditch the diet and indulge in award-winning fare at Sofitel Sentosa Resort & Spa. We're talking The Cliff, which serves up some of the best pizzas we've eaten in a while and a Tiramisu that's worth saving space in your belly for! The Cliff seeks to redefine traditional Italian dining with its Cali-Italian dining menu that boasts fresh produce, authentic flavours and sumptuous food overlooking lush greenery. 
The Kids Menu carries a selection of Chicken Popcorn, Fries, Pizza, Sandwiches, Spaghetti and more. Don't worry, these are massive portions, so you don't have to worry about your kids going hungry after.
You will also be treated to a buffet-style breakfast(served due to current restrictions) that has a comprehensive selection of international dishes including our favourite - a cheese bar.
Come night, and the same space at Kwee Zeen offers an extensive selection of Pan-Asian, Western and French cuisine, curating much-loved dishes from around the world. We attended the Magnifique Hawker Nights at Kwee Zeen, where Singapore hawker culture met an elevated extensive buffet concept. Look forward to DIY Popiah and Rojak stations, Tandoori Chicken Tikka and resident Chef Nelson's unique Beef Cheek Rendang and Chilli Crab. 
Vanilla Luxury Pro-Tip: Sit outdoors at Kwee Zeen and The Cliff for the most breathtaking sunsets in Sentosa - unmissable orange and pink hues! As for the food, don't miss the Bianca Pizza Sunrise at The Cliff, extra-crispy waffles with fresh cream at breakfast and the sublime, Lemongrass-infused Beef Rendang when you have dinner at Kwee Zeen!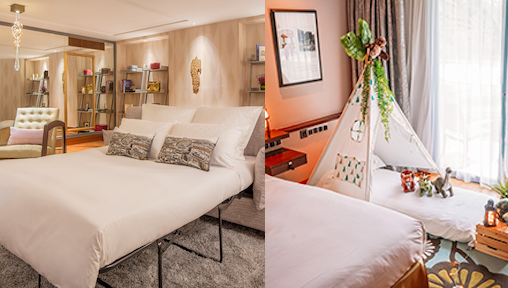 3. Spacious Rooms, Catering to Families
Need extra space for the fam-jam? The Sofitel Sentosa Resort & Spa has a range of rooms, suites and villas that offer ample space for large families. Lush textures, colours, French amenities and leaf motifs adorn each of these rooms, making them the perfect place to wind down after a day of fun.
For that extra bit of space, make sure you book the Prestige Family Suite where the whole family can relax and play in a restful setting. Featuring a lounge chair, generous work desk, a sofa bed, with two TV sets, a bathtub and a separate shower area, you know even a rainy day in will be as much fun! 
Vanilla Luxury Pro-Tip: Amp up your holiday by booking the Family Fun Glampcation! The kids can look forward to an adorable tent set-up in multiple options including dinos, llamas and an underwater theme. You also get family meal F&N credits worth $60 nett per night and 45 minutes usage of Villa des Enfants.
Looking for a staycation with your pooch? Your Fur-Kid deserves a glamorous retreat too! Sofitel's Fur-Kid Glampcation comes with a soft padded base and a very cosy tent just for your Fur-Baby.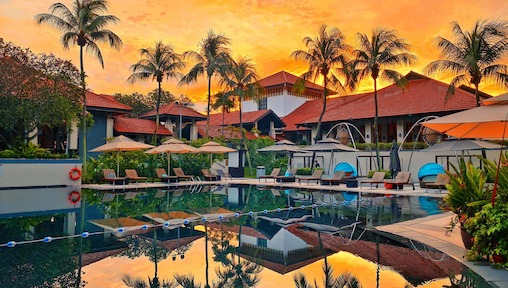 4. Pool, Kids Club and Activities 
The pool at Sofitel Sentosa Resort & Spa is massive! Lined by palm trees and offering enough shade, this 33-metre long black pearlescent tiled pool is literally what family holidays are made of. Make sure to understand the Safety Management Measures stipulated for use of the pool. You are allowed only two hours a day, per booking, with no more than 50 guests allowed at one point in time. Prior reservations are mandatory. 
For more fun and frolic, there's the Villa Des Enfants, which gives your little one up to 45 minutes of interactive activities like storytelling, crafts and games to look forward to. There's a daily activity menu that you can get from the reception upon checking in.
Vanilla Luxury Pro-Tip: Up for a free pedicure? Amongst the many walkways of the Sofitel Sentosa Resort & Spa lies a Fish Spa with baby-sized fish, otherwise known as fish cleaners. Just sit down with your feet in the spa pool and watch as these tiny creatures nibble away at your footy bits. Ticklish, and not painful, this may well become your favourite family jaunt during the staycation. If you'd prefer a full spa facility instead, head to So Spa where you can indulge in a series of pampering treatments.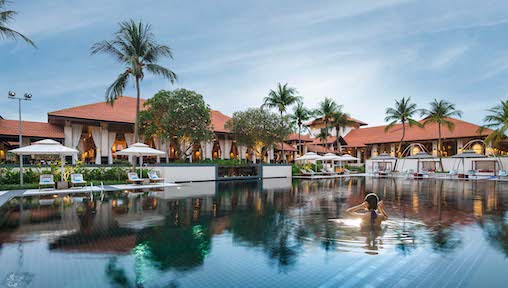 5. Service and Staff
Want a kid-friendly staycation in Singapore? Then you'll love how the staff at Sofitel Sentosa Resort & Spa go out of their way to make it a fun one! Whether it's chatting endlessly with your kids, pointing out peacocks, helping choose through the food menu or setting up the room to guarantee squeals of delight, the service at the hotel is the perfect cherry on top.
Vanilla Luxury Pro-Tip: Make sure to ask the staff for peacock sightings and other fun stuff to do at the hotel. This includes directions to anywhere else on Sentosa, getting on the free shuttle to Vivo City or booking other restaurants on the island for a meal.
Wordsmith and marketer by day, Natasha is your go-to girl on all things beauty, travel and family. This mommy to two loves her cheese, a fab read and crooning to Ping Fong (don't we all?). Natasha also heads Communications at Expatgiving and helps volunteers find their dream non-profit role! Reach her at email or via her Instagram @sonattymama