Whether you want to try your hand at baking or have a green thumb and want to know how to create an edible garden, we've put together a list of awesome upcoming classes and workshops. So get your creative juices flowing and take a pick!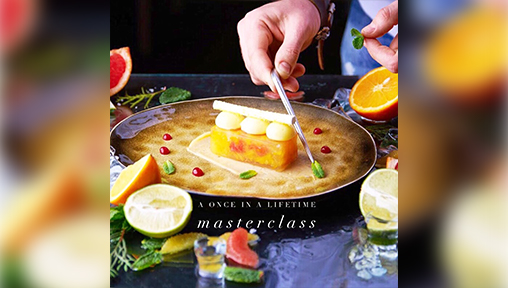 Ever had the desire to re-create Michelin-worthy desserts? Well, now you can learn how from an Ex-Michelin Inspector herself! Ms Heather Soto, who is also a pastry chef and supertaster, is holding a Masterclass to teach local bakers who aspire to create unique desserts.
The hands-on Masterclass is open to both professional pastry chefs and hobby bakers. The 4-hour programme includes palate training and a tutorial on fundamentals of ingredient selection, as well as learning the trick to enhance desserts with unconventional flavour combinations.
All participants will receive $150 worth of free desserts and premium ingredient vouchers from Homebakee and its partners. You will also receive individual feedback and a certificate of training from Ms Soto.
Venue: Sunrice GlobalChef Academy
Date: 18 November 2017, Saturday
For more information, visit http://www.homebakee.com/masterclass. Register here.
2. Kombucha : Colours and Flavours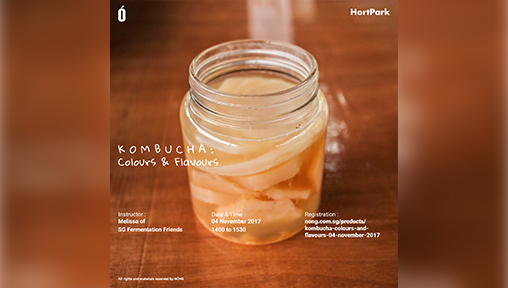 Did you know that Kombucha aids in natural detoxification of the liver, supports healthy digestion, and provides quick energy without caffeine? Learn about all these benefits of the "Tea of Immortality" and how to make it at this workshop hosted by Edible garden City.
Made using a Symbiotic Colony of Bacteria & Yeast (SCOBY), the tea can be made into a healthier soda, alcohol mixer or even vinegar. There will be a demo and pointers on where to purchase equipment to make your own. You will also get to take home a bottle of Kombucha made with the produce grown at NÓNG.
Date & Time: 4 November 2017, 2:00pm - 3:30pm
Buy tickets here.
3. Basics of Edible Gardening: Using used coffee as fertiliser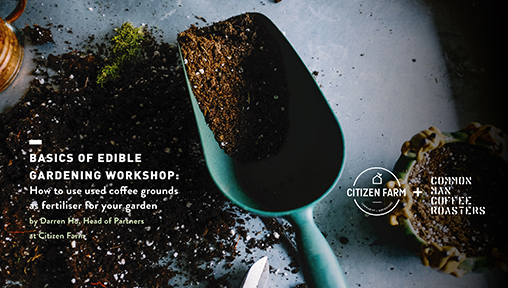 Want to learn how to use used coffee grounds as fertiliser for your garden? Head of partners at Citizen Farm, Darren Ho, will train you how.
In this talk, you'll learn the basics of how to set up your own edible garden at home. There will be a discussion on herbs and veggies that are suitable for Singapore's climate, light and soil requirements, containers, pest control and other topics unique to a home garden. A special feature in this talk is how you can use food waste such as used coffee grounds to improve the fertility of your soil.
Venue: Grounded by Common Man Coffee Roasters, 22 Martin Street, #02-00
Date & Time: 9 December 2017, Saturday, 10am - 11am
Buy tickets here.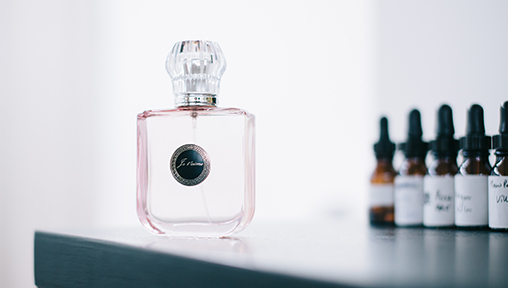 Ever thought of creating your signature scent, unique to your personality? The experts at Je Taime will help match your personality with their exotic oils to create a beautiful fragrance made for you, by you.
Specializing in oils from Native Orchids in Singapore, the experts will guide you on how to blend the right ingredients to achieve the perfect balance. You will have over 400 high-quality ingredients to choose from. At the end, take home your unique 105 ml perfume in a hand-polished crystal bottle where you have the option of getting your name engraved as well.
Book Online or call for appointment at +65 91814871.
5. Longue Vue Design Jewellery Making Workshop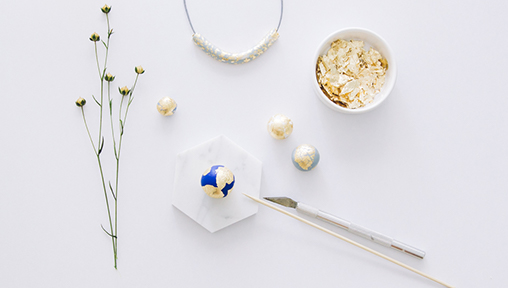 Want to create your own jewellery and accessories with polymer clay? Want to learn the techniques of Marbling and Foiling with gold, rose gold and silver leaves? This fun 3.5 hours workshop for beginners covers such fundamentals.
Unleash your creativity and bring your designs to life by choosing your own colours, shapes, textures and designs. The class includes all the materials needed to create your own necklaces and earrings to take home.
For more information, visit https://www.longuevuedesign.com/products/summer-special-workshop-marbling-foiling.