lifestyle
10 Top Hotels for Destination Weddings in South East Asia
Published Date
: 18 Aug 2023 10:00

From romantic beach getaways to large Indian weddings, these hotels make a great choice for destination weddings in South East Asia
Destination weddings in Southeast Asia can be as dream-like as you'd like them to be! With enchanting landscapes, vibrant culture, and warm hospitality, Southeast Asia offers an idyllic backdrop for couples seeking a memorable and unique wedding experience. 
Ranging from stunning beachfront resorts to enchanting jungle hideaways, hotels in South East Asia, provide not only exquisite locations but also professional wedding planners who can oversee every detail. And their world-famous service allows for your wedding plans to come to life - in ways grander than you could imagine! 
Stressed about your upcoming wedding? Planning a destination wedding can be daunting, but with the right hotel, you can alleviate much of the stress of organising such a significant event. Here is our pick of the top 10 hotels in South East Asia for destination weddings where you can relax and focus on creating cherished memories with your loved ones.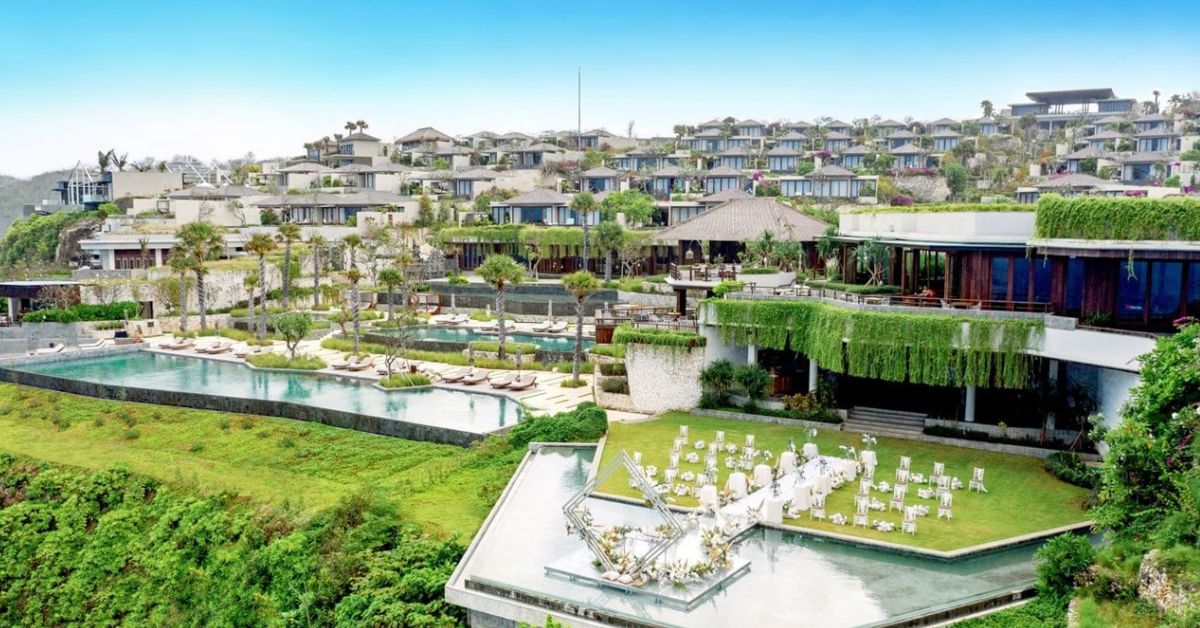 Six Senses Uluwatu in Bali is unquestionably a standout option for couples seeking the pinnacle of destination wedding experiences. Situated atop a breathtaking cliff with panoramic ocean views, this exquisite hotel offers an idyllic setting that combines natural beauty with tranquillity and privacy.
With a range of stunning wedding venues to choose from, including the versatile Aarunya Ballroom, and the beautiful Andakara Lawn, Six Senses Uluwatu provides couples with endless options to create their dream wedding celebration.
In particular, the Aarunya Water Wedding stands out as a singular and alluring option, providing a fantastic over-water, breathtaking, and adaptable event. Six Senses Uluwatu's committed staff of wedding experts ensures that every detail is beautifully accomplished, allowing couples to relax and enjoy their big day while soaking in the boundless beauty of Bali. 
The options are endless, from customised ceremony preparations to exquisite dining experiences and the different packages that can cater to wedding crowds from 20 people to up to 400 people.
For more wedding enquiries, check out their website at www.sixsenses.com.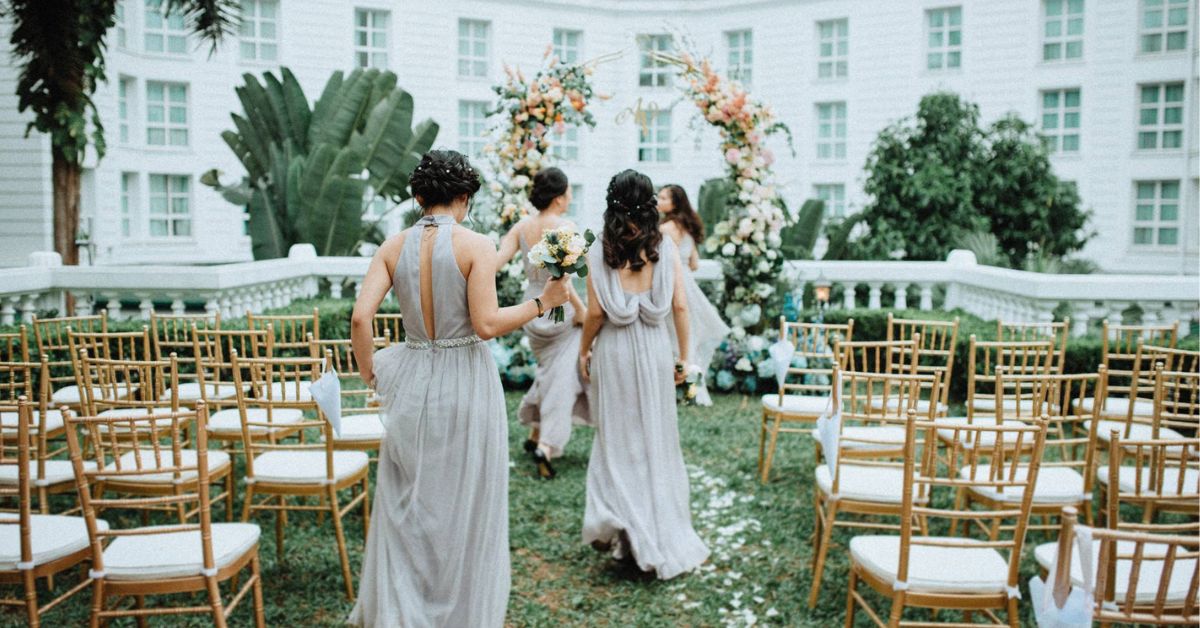 Vietnam serves as an exquisite backdrop for couples seeking a destination wedding filled with cultural richness and natural beauty, and there's no better place to bring that dream to reality than Sofitel Legend Metropole Hanoi.
Nestled in the heart of the city, this iconic landmark has been hosting stylish events for generations, setting the stage for legendary affairs that exude elegance and precision. The hotel's Le Balcon, with its open-air garden and sweeping views of the green inner courtyard, offers a serene and romantic setting for intimate gatherings.
The wedding coordinators at the Sofitel Legend Metropole Hanoi are committed to turning your vision into a spectacular reality, from opulent formal feasts to individualised celebrations. They will handle every part of your big day with painstaking attention to detail, guaranteeing a seamless experience from pre-planning to the reception and even the honeymoon. 
For more information, refer to their wedding brochure here.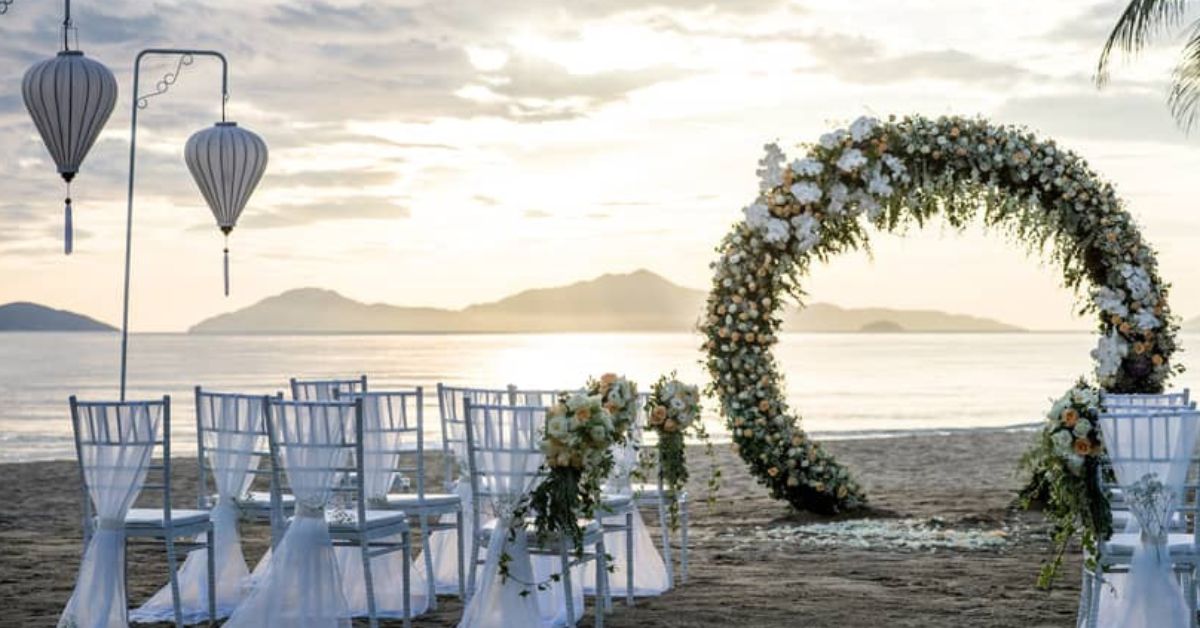 While Hoi An may not be the most popular choice for a destination wedding, it is a hidden gem that offers a spectacular and beautiful backdrop for a genuinely unique celebration. Nestled along the picturesque coastline of Vietnam, Hoi An exudes charm and cultural richness, making it an ideal backdrop for a romantic wedding. 
The Four Seasons Resort in Hoi An, known as The Nam Hai, presents an alluring sanctuary with its sleek seaside pools, fragrant tropical gardens, and Phong Thuy-inspired architecture.  Imagine taking your first steps towards an eternity of bliss beneath a floral arch on one of Forbes' best beaches in the world, creating an unforgettable moment against the backdrop of pristine shores. The winding paths through lush gardens provide stunning spots for sensational photography, while lantern-lit trees cast a magical glow during sunset, creating a fairytale-like ambience. 
For more information, check out www.fourseasons.com.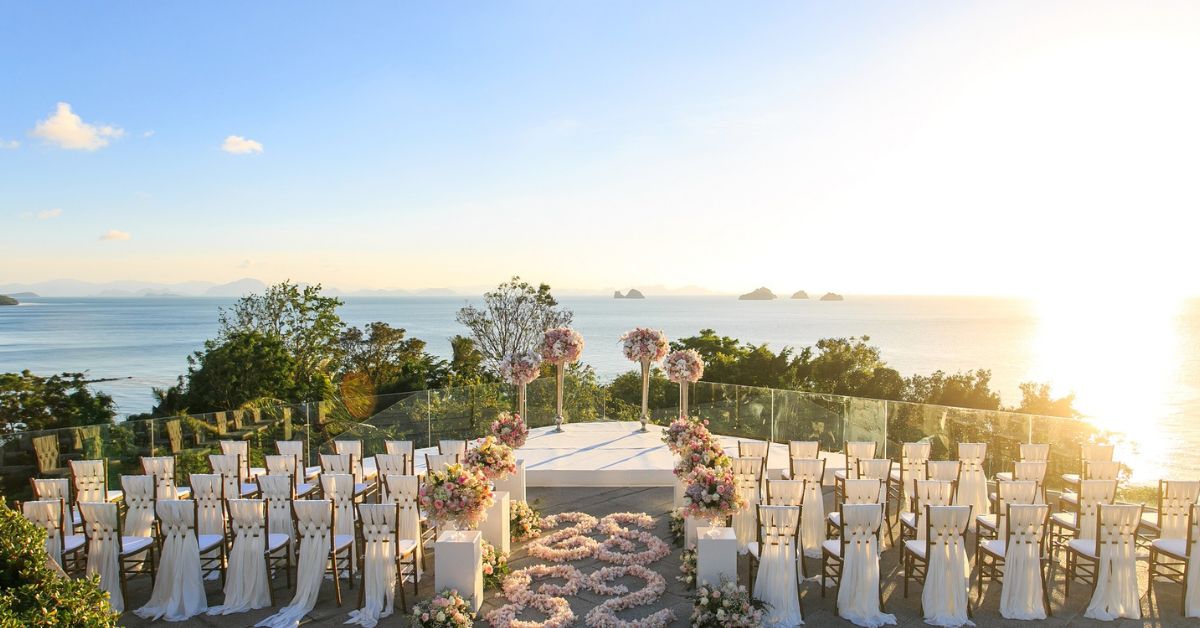 At InterContinental Koh Samui, couples can immerse themselves in Thai culture and create the best wedding experience. The resort offers a range of wedding packages designed to showcase the beauty of the island and its rich traditions.
With options like the Western Ceremony, Traditional Thai Ceremony, and Intimate Affair on Asia's Longest Overwater Wedding Aisle, couples can tailor their wedding to reflect their personal style and preferences. 
For those seeking an authentic Thai experience, the Traditional Thai Ceremony allows couples to embrace the blessings and merit-making rituals deeply rooted in Thai culture. The package includes traditional long drum parades, water blessing ceremonies, and a Khan Mak set procession, providing a truly immersive and memorable wedding celebration.
The resort also offers stunning venues with breathtaking ocean views, ensuring that couples and their guests can indulge in the beauty of the surroundings while enjoying the finest amenities and services. 
More information about their wedding packages is available here.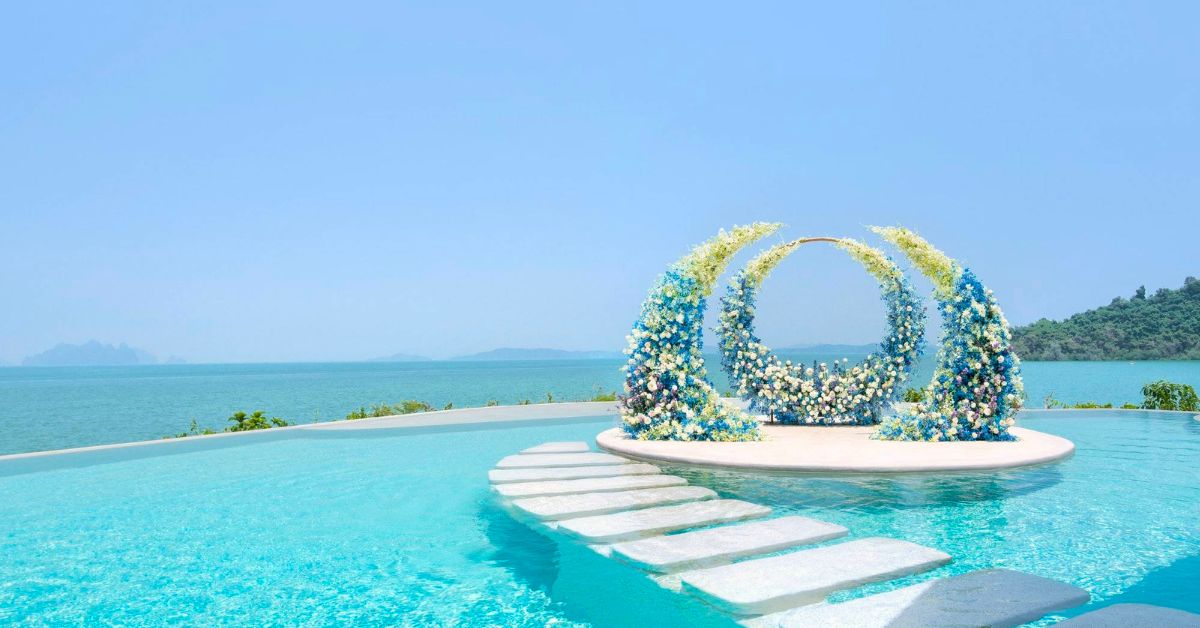 For couples seeking a picturesque beach destination wedding, The Naka Island, a Luxury Collection Resort & Spa in Phuket, is the epitome of perfection. Located on the stunning Phuket Island in Thailand, this resort offers an intimate and private setting for celebrating love.
Every time spent at this resort feels like a dream come true with its breathtaking vistas of the lovely sceneries of the Phuket coastline and the emerald green Phang Nga Bay. The Royal Horizon Pool Villa, the resort's centrepiece, is where couples can exchange vows and toast one another in front of the breathtaking bay.
From the professional and talented culinary team that creates delectable catering menus to the dedicated wedding specialists who guide couples through the planning process, The Naka Island ensures that every detail is taken care of with thoughtful professionalism.

Find out more about their wedding packages here.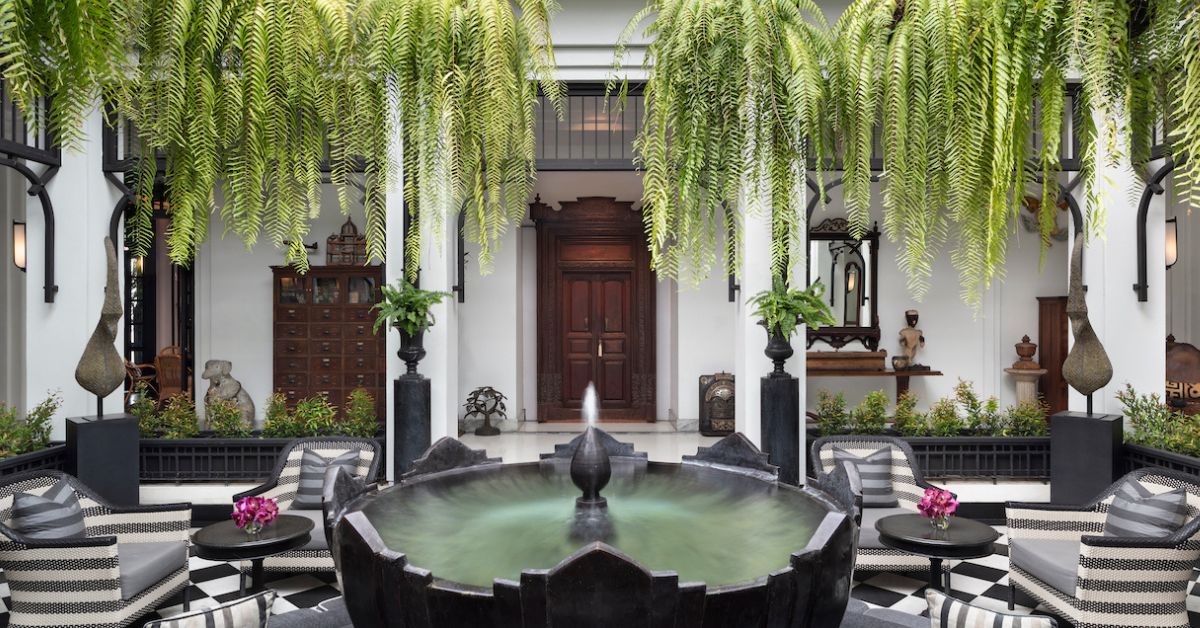 Bangkok holds a special place in the hearts of Singaporeans, with its vibrant culture, delectable cuisine, and bustling cityscape. The Siam Hotel in Bangkok presents the perfect getaway for Singaporean couples seeking an intimate destination wedding. 

The hotel goes beyond traditional ballrooms, allowing couples to imbue their wedding with the ambience of a beautiful museum or art gallery, bathed in natural light that guarantees stunning photos. The Deco Bar & Bistro provides an ideal setting for a private sit-down banquet, while the Chon Lawn offers a picturesque riverside location for a memorable sunset dinner. For those seeking to incorporate Thai traditions, The Siam's open-air garden setting at Café Cha offers an unforgettable Traditional Thai Engagement Ceremony location. 
For Singaporean couples searching for an exclusive and memorable wedding experience, The Siam Hotel Bangkok is the ideal location thanks to its blend of personalised service, stunning settings, and the charm of Bangkok.
For more information about wedding packages, click here.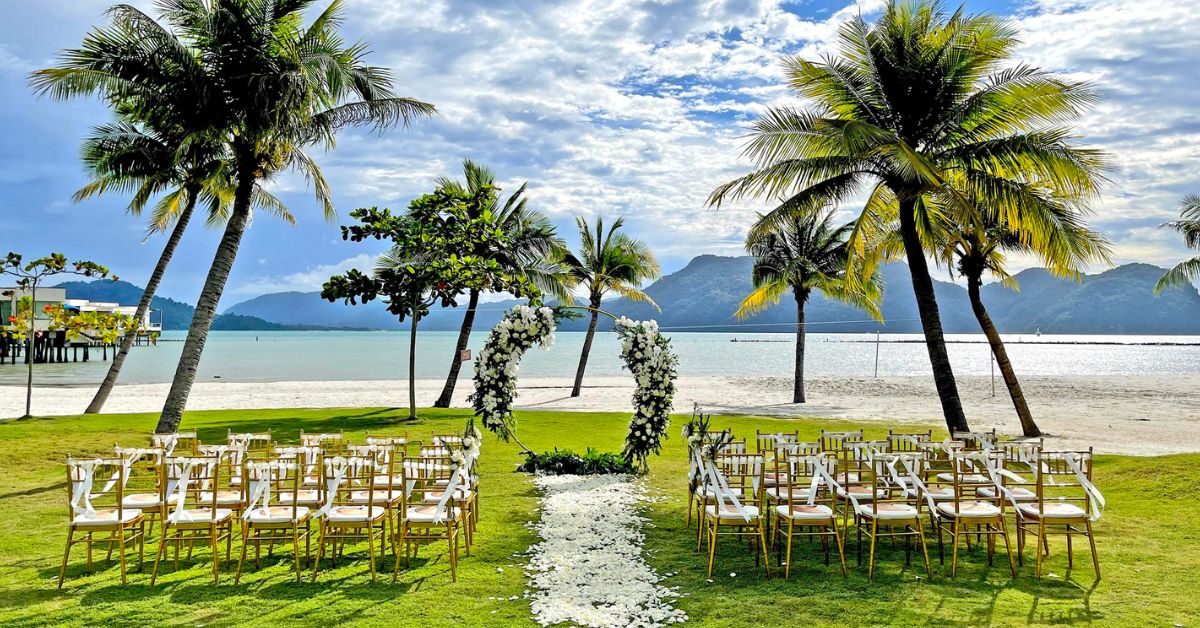 The St. Regis Langkawi makes a great destination wedding option that offers a break from the typical wedding scene in Singapore, without venturing too far from home. 
This premium resort, located on the beautiful island of Langkawi, just a short flight from Singapore, blends bespoke luxury services with refined, elegant locations to provide a truly unique wedding experience. The St. Regis Langkawi is one of the premier wedding resorts on Langkawi Island, with unique beach wedding packages and sophisticated function halls.

The resort offers over 1,000 square metres of private event space, including an exquisite outdoor Wedding Pavilion inspired by Moorish design, providing both grand and intimate settings for weddings of all sizes.
The outdoor Wedding Pavilion, adorned with exquisite details and a private beachfront view of the Andaman Sea, creates an enchanting backdrop for couples to celebrate their once-in-a-lifetime event. 

More information is available at www.marriott.com.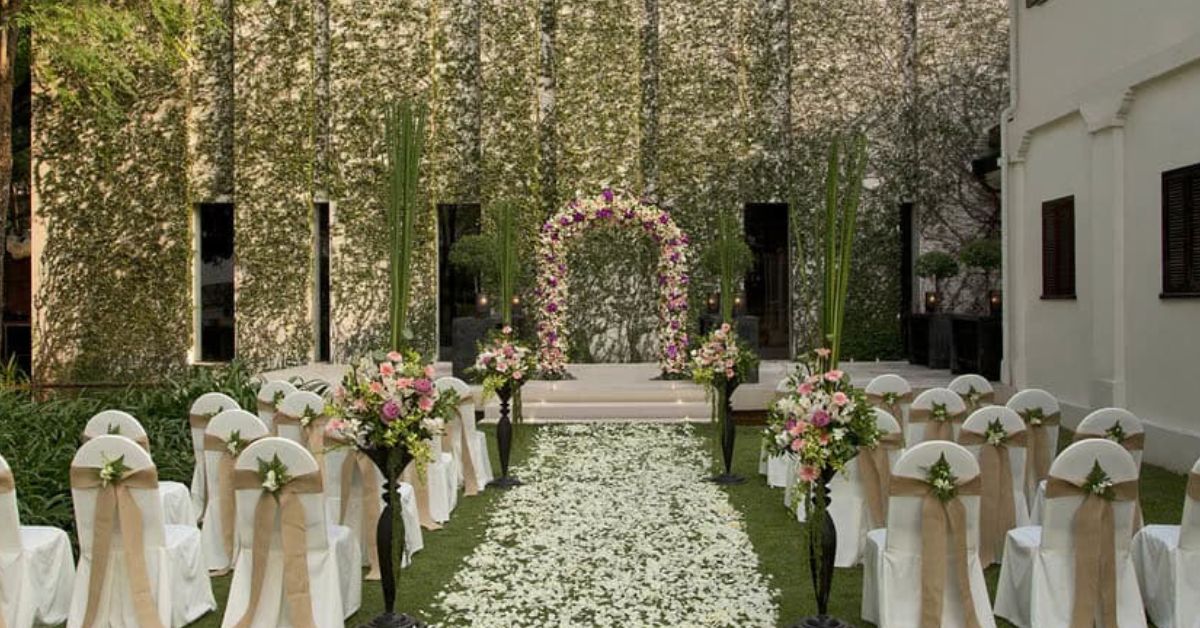 Chiang Mai often goes unnoticed as a destination wedding location, but it offers a unique and enchanting experience for couples seeking a memorable celebration. Situated in the picturesque northern region of Thailand, Chiang Mai is known as the 'Rose of the North,' with its rich cultural heritage and breathtaking natural landscapes.
For couples looking for an extraordinary wedding venue, Anantara Chiang Mai Resort stands out among the most sought-after Chiang Mai wedding venues. The resort's riverside deck and lawn provide a stunning setting for elegant soirées and wedding banquets, with sweeping views of the Mae Ping River.
Anantara Chiang Mai Resort combines its venues' luxury with its surroundings' serenity, making it the ideal choice for couples looking for a one-of-a-kind and unforgettable wedding experience. Imagine saying 'I do' on a rooftop terrace at sunset, overlooking the river, creating a truly romantic and intimate atmosphere. 
For more information about wedding venues at Anantara Chiang Mai Resorts, click here.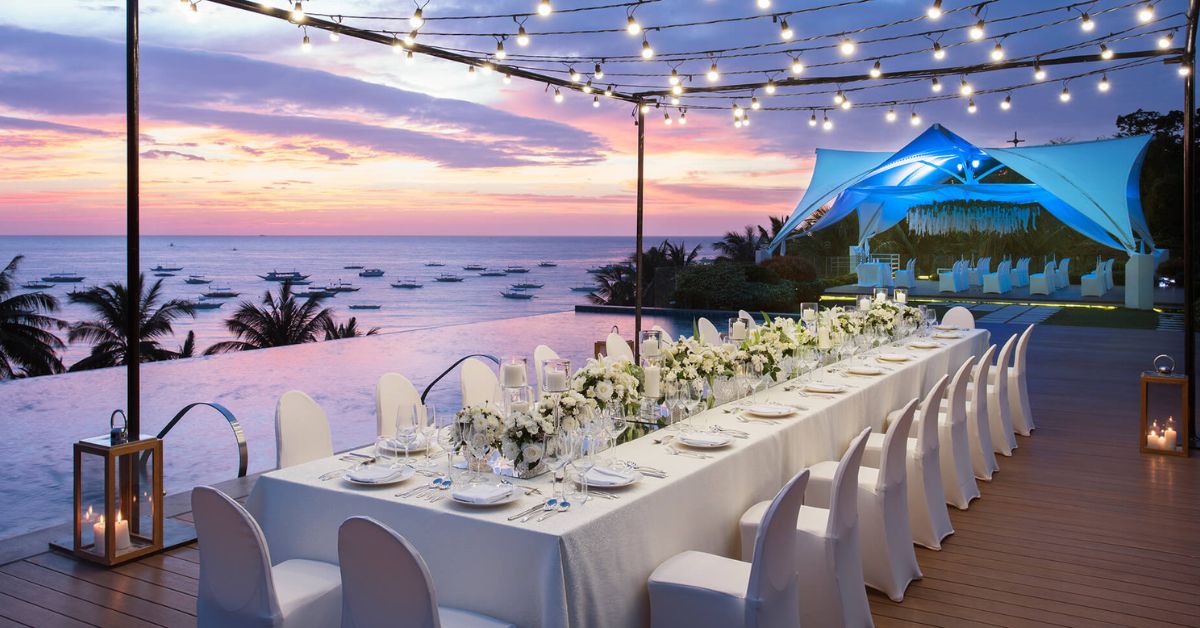 Boracay is famous for its pure white sand beaches and crystal-clear turquoise waters, making it an ideal location for an unforgettable destination wedding.
The stunning beaches of Boracay set the perfect stage for a destination wedding, and The Lind Boracay stands out as an exceptional venue choice. With its spacious beachfront location, couples can exchange vows and celebrate their special day under the sun or the stars, with the sound of the ocean creating a romantic backdrop. The Lind Infinity space, an exclusive venue in Boracay, offers a unique indoor celebration option, allowing couples to enjoy sea views on the horizon while revelling in their wedding festivities. 
The Lind Boracay's dedicated Events team works tirelessly to turn dream weddings into a reality, ensuring that every detail is taken care of.

For more information about their wedding arrangements, click here.
For couples seeking the ultimate destination wedding experience, Shangri-La Mactan, Cebu, is the go-to hotel for all your wedding needs. With a commitment to ensuring every wedding is as unique as the couple themselves, Shangri-La goes above and beyond to bring your vision to life and pay attention to every detail that makes your love story special. 

The hotel offers a range of stunning locations for your ceremony and reception, including the Ocean Pavilion, Chapel Garden, Golf-Helipad Garden, Buko Bar Garden, and the exquisite Mactan Ballroom. Whether you desire a beachfront wedding, a garden affair, or an elegant indoor celebration, Shangri-La Mactan provides the perfect backdrop for a romantic soiree that will enchant you and your guests. 
After the celebrations, retreat to your private sanctuary, whether it be the epitome of luxury in the Presidential Suite or the epitome of private tranquillity in the Manumbalik Villa. Here, you can begin your exciting new chapter with paradise at your feet.
For more details, visit www.shangri-la.com