Known as the food paradise, you'll never run out of dining options in Singapore at any time of the hour. The island is a pot of cultures, and this reflects in its local food scene as well. With inspirations from all over the world, Singaporeans have adapted our food by adding flavours from various cuisines and creating our own Singaporean style.
From humble hawker centres to mid-end restaurants, here are 10 must-try local dishes and where to find some of their best versions.
1. Hainanese Chicken Rice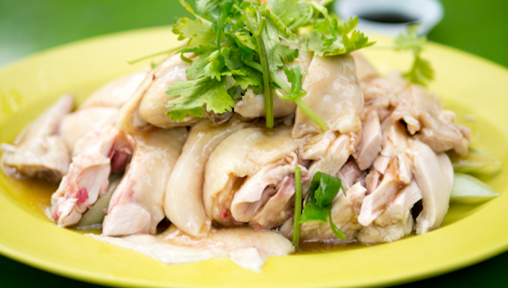 Originating from the Hainan province in southern China, this dish was brought to Singapore by early Chinese immigrants. Succulent cooked chicken hanging neatly in a row is a common sight at most hawker centres and food courts. You can usually choose between steamed chicken or roasted chicken, and the dish comes with a tangy red chilli sauce as well as a sweet black sauce.
For an authentic local adaptation of this dish, head to Tian Tian Hainanese Chicken Rice at Maxwell Food Centre (#01-10) or Hainanese Boneless Chicken Rice at Alexandra Village Food Centre Centre (#01-15).
2. Roti Prata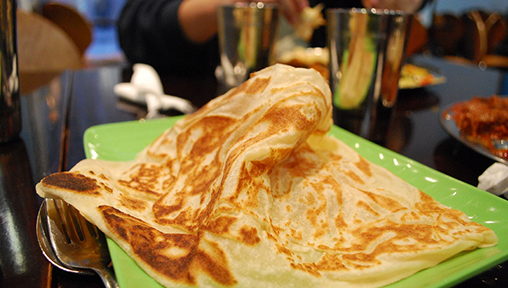 What's crispy on the outside and soft on the inside? Roti Prata! This South-Indian savoury dish directly translates to 'flatbread' in Hindi and is made by frying stretched dough flavoured with ghee. It is usually served with fish curry or mutton curry known as dalcha. While the classic versions are plain or consist of an egg, local menus now feature a variety of eccentric variations such as cheese, mushroom, and even chocolate – turning it from a main course to a dessert.
To satisfy your Prata craving check out Sin Ming Roti Prata at 24 Sin Ming Road (#01-51) or The Roti Prata House at 246 Upper Thomson Road. For a twist in roti prata delights, head to Big Street at 104 Jalan Besar where their specialities include Chilli Crab in a Prata Bag, Prata Wrap with Chicken Stay, and Prata Bomb filled with Salted Egg Yolk.
3. Chilli Crab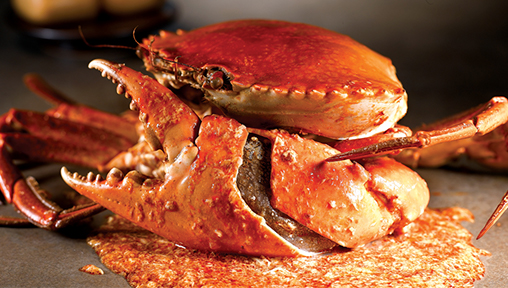 Generally hailed as the national dish of Singapore, Chilli Crab is the king of all crab dishes in this country. Often made with mud crabs, this dish comes in a sweet yet spicy tomato and chilli-based sauce. Chilli Crab is among Singapore's greatest culinary inventions and is easily found in many seafood restaurants. Don't forget to order some steamed or fried buns known as mantou to dip in the sauce and have a finger-licking good time!
Two renowned restaurants where you can try out this iconic seafood dish are No Signboard Seafood at 414 Geylang Road and Roland Restaurant at 89 Marine Parade Central.
4. Hokkien Prawn Mee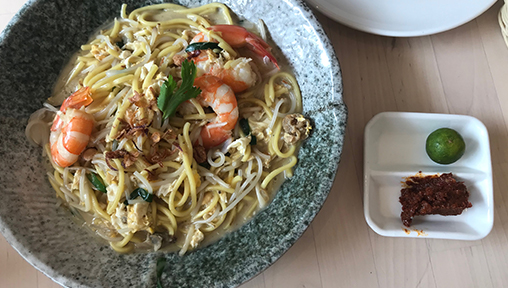 This lip-smacking stir-fried noodle dish is steeped in aromatic stock made of pork bones and prawn heads. As the story goes, Hokkien sailors who had worked at noodle factories in post-war Singapore would gather in the evenings to fry the excess noodles from the factories over charcoal stoves. The noodles generally come with juicy prawns, squid, pork belly strips, egg, crunchy fried pork lard, a side of sambal chilli and a squeeze of lime.
Feeling famished yet? Nam Sing Hokkien Fried Mee at Old Airport Road Food Centre (#01-32) and Ah Hock Fried Hokkien Noodles at Chomp Chomp Food Centre (stall 27) are worth making a special trip to.
5. Laksa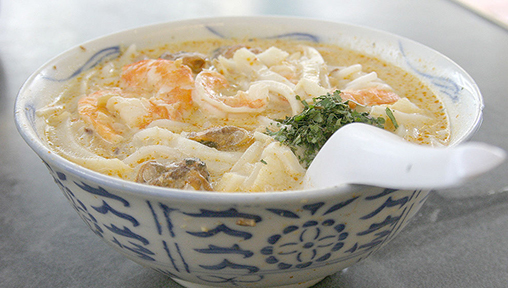 While there are many variations of Laksa to be found in Singapore, the Katong Laksa is the most famous. Katong Laksa is inspired by the Peranakans who live in the east of Singapore. The dish has a spicy soup stock the colour of a flaming sunset, flavoured with coconut milk and dried shrimp, and topped with ingredients like cockles, prawns and fishcake.
For irresistibly yummy renditions of this local delight, look no further than the famous 328 Katong Laksa at 51 East Coast Road or Sungei Road Laksa at 27 Jalan Berseh (#01-100).
6. Bak Kut Teh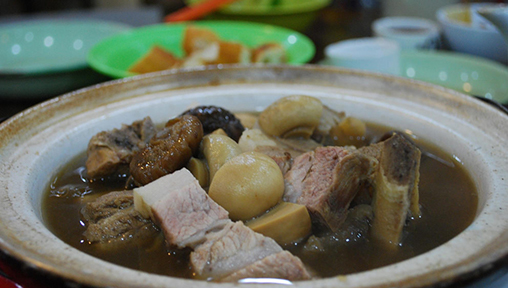 Directly translating to 'meat bone tea', Bak Kut Teh is a traditional Chinese soup - comfort food at its best. The soup consists of stewed pork ribs in a broth of fragrant herbs and spices including garlic, cloves, cinnamon, star anise, fennel seeds and coriander. This dish is usually coupled with tea with a belief that tea will help dissolve the large amounts of fat in the soup.
To savour this delectable dish go on down to Sin Heng Claypot Bak Kut Teh at 439 Joo Chiat Road or Song Fa Bak Kut Teh at 17 New Bridge Road (#01-01).
7. Popiah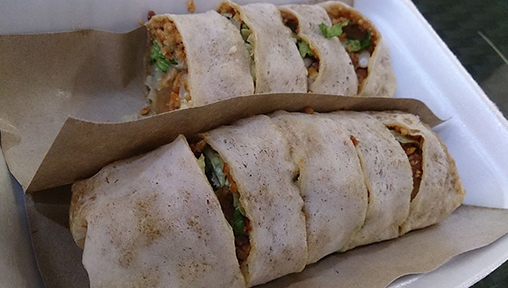 Popiah is a thin paper-like crepe or pancake wrapper stuffed with cooked vegetables such as bean sprouts and bamboo shoots, and sometimes meats such as shrimp and pork bits. The popiah skin is first laid out and spread with a layer of sauteed garlic, chilli paste and sweet black sauce. Then, it is stuffed and wrapped into bite-sized pieces.
Must try places for this delicious snack are Old Long House Popiah at Kim Keat Palm Market and Food Centre (#01-03) and Yi Ping Xiang Popiah at 280 Bishan Street 24.
8. Char Kway Teow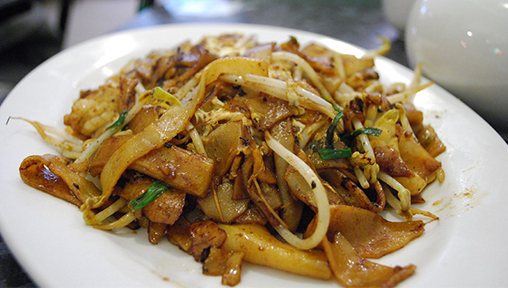 Char Kway Teow literally translates to 'stir-fried flat rice noodles' and is made by frying the noodles in sweet soy sauce, garlic and lard. This Teochew dish generally comes with ingredients such as egg, Chinese waxed sausage, fishcake, bean sprouts and cockles. In earlier days, the dish was cooked over a charcoal fire so as to infuse the dish with a smoky flavour.
There are few things more pleasing than a piping hot plate of Char Kway Teow, and two of the best places to experience this dish are No. 18 Zion Road Fried Kway Teow at 70 Zion Road and Hill Street Char Kway Teow at 16 Bedok South Road (#01-41).
9. Fish Head Curry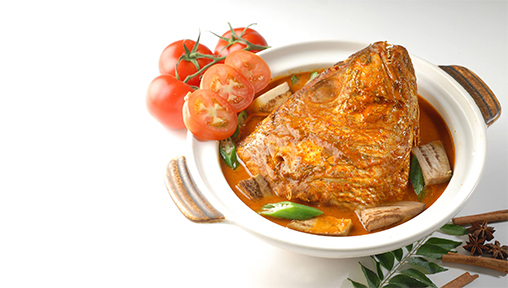 Uniquely Singaporean, Fish Head Curry combines a typical South Indian curry with the fish head, a delicacy among the Chinese. While some may feel squeamish at the sight of a Red Snapper's head floating in gravy, this dish is considered a delicacy in South Indian, Chinese, Malay and Peranakan restaurants. One of Singapore's most famous fish head curries comes from Samy's Curry Restaurant at 25 Dempsey Road.
10. Singapore Sling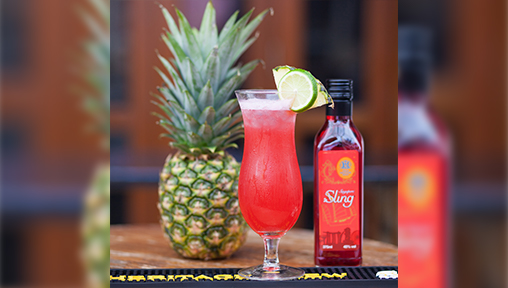 It's ironic that most locals themselves have not tried the Singapore Sling, but this cocktail has slowly made its way to the top 10 cocktails of the world since its inception in 1915 by a Hainanese bartender working at the Long Bar in Raffles Hotel, Singapore. Putting Singapore on the global map, the Singapore Sling is usually a mix of pineapple juice, gin, grenadine syrup, cherry brandy, Cointreau, bénédictine and angostura bitters.
While you can find this iconic cocktail at many bars around the island, why not try making your own with the True Heritage Brew Singapore Sling?