Looking for a preschool or kindergarten in Singapore can be tough. Whether it's the values and curriculum that they offer or location, bilingual programme and outdoor facilities, there's plenty that can play on the minds of parents. We've done a quick round up of our favourite preschools and kindergartens in Singapore including what we love and the benefits you get as a parent.  From well known and respected chains to boutique schools that offer just the nurturing your child needs, these preschools are sure to please!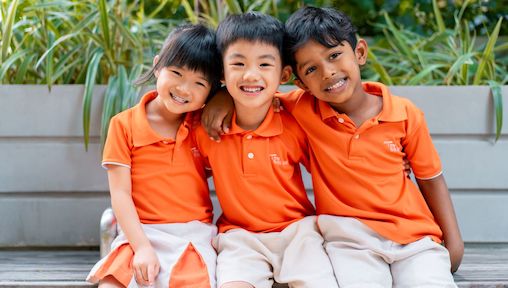 Want to raise resilient kids that feel they can do anything? At NTUC First Campus' My First Skool, the holistic curriculum keeps curious minds engaged as they explore and discover the fascinating world around them. With a focus on developing happy, confident children and a resilient "I can do it!" spirit – the bilingual nature of their programme means that your child will be ready with the language skills and social abilities to make lots of friends right from an early age. 
Teachers are qualified educators and early childcare professionals who absolutely love children, and their preschools are designed with safety and learning in mind – so your child will feel right at home in My First Skool's nurturing environments. Also, they have quality managers who ensure that educational practices are consistent across all the centres in our islandwide network. Parents will be glad to know that 100% of My First Skool centres that are eligible for SPARK certification, have been certified.
To enable all-round development in children, MFS evidence-backed relationships-based curriculum focuses on building positive and trusting relationships between the primary teacher and the children in the environment.  Research has shown that children who have undergone RBC display higher levels of active involvement, such as better concentration levels during learning. This is because of the trust infants and toddlers build with their educarers, which gives them the confidence and ability to learn and develop at their best. So, whether it's STEM, arts, nature, bilingualism, cultural intelligence, or an excellent outdoor play curriculum, you can be rest assured that your child is learning holistically in their conducive learning environment that is designed to optimise learning and development.
If you are worried about keeping your kids safe in the current circumstances, be rest assured that My First Skool has always led the way in adopting best practices in health and safety. And with concerns over the COVID-19 pandemic, they have proactively implemented best practices in all centres - from commercial grade UV sterilisers used for toys, kitchen equipment and common areas to temperature sensors that monitor everyone's temperature throughout the day, it really is the safe, nurturing space that every parent is seeking.
Best of all, they take pride in being recognised as a pre-school that most Singaporeans can comfortably afford. As part of NTUC First Campus family, My First Skool provides affordable pre-school education for children across Singapore while delivering exceptional value and quality - enrolling your child at My First Skool allows you as a parent to do less, and yet gain back more!
*9 out of 10 parents are happy with My First Skool. (*Survey conducted by Intage Singapore) Join the #1 sought after preschool today!
My First Skool, multiple locations island-wide. Phone +65 6509 7887, email: [email protected]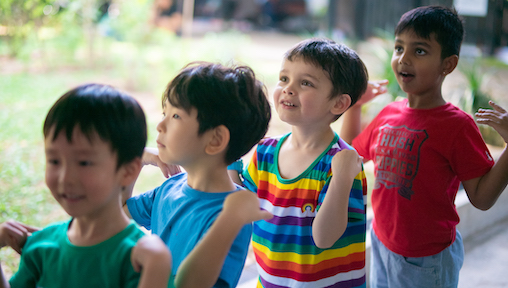 Want a preschool or kindergarten in Singapore that gears kids up for both local or international schools for the future? With over 21 years of experience and over 8 locations in Singapore and 3 in Malaysia, White Lodge International Preschool & Childcare educates ( the word educates shouldn't be hyperlinked) not only with an academic framework in mind, but thinks about life skills and the future well-being of each child. 
Teachers at White Lodge are trained to understand their crucial role and great influence they have on children daily. Regardless of whether a graduate from White Lodge moves on to an international school or a local school framework, their strong curriculum principles aim to prepare all students for their next schooling journey. These include a strong foundation in Jolly Phonics, Jolly Grammar, Singapore Maths, Mandarin and sciences. The school also offers a pre-primary preparation programme.  
Want to hear straight from parents who have kids at White Lodge? Here are a couple of testimonials that show how much they love the preschool.
People typically think that, to be prepared for local primary schools, the child needs to be academically sound/ready. While this is true to a certain extent, independence and appropriate social skills are equally important, if not more important! This is because the classroom size in local primary schools is typically larger, so it is critical that your child is independent with good social/EQ skills – Parents of Marisa Aria, who is now at a local school. 
My twin boys started attending  White Lodge at the age of 20 months and they are now turning 6 this year. At  White Lodge, the management and the teachers are passionate about creating an environment where the children learn and explore while having fun and truly enjoying the process. It is a place that combines academic learning with art and culture in a beautiful way. They inspire our little ones to explore and to tap into their creative side to build confidence and strength and to also do well with their academics as well as in other areas of life - Anna Bervander
Children at White Lodge are emotionally and socially safe from a young age. They leave us with resilience, ready to take on the next adventure and academic risks needed to be successful in the 21st century. 
Need something more flexible? White Lodge also offers a range of options for parents who would like to take it slow. From summer camps, drop in ad hoc classes, to small afternoon sessions with a limited number of participants, if there's something on your mind, give their helpful staff a call! Trial classes are also available.
White Lodge International Preschool & Childcare, 8 different locations island wide. Phone: +65 6255 4230, email: [email protected]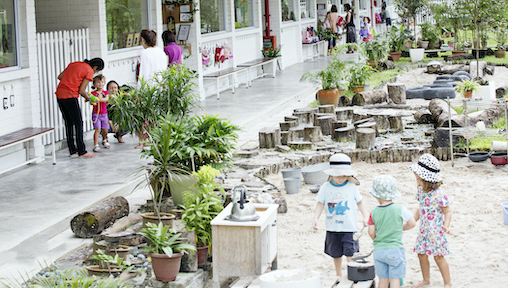 Seeking a Reggio Emilia education programme for your child? Blue House is inspired by the Reggio Emilia approach to early years' education and guides children through Playgroup, Nursery, Preschool, and Kindergarten programmes. The Infant & Toddler Atelier offers a range of adult accompanied playgroups, classes, and drop-in sessions for children 6 to 36 months. Providing children with an interactive, sensory-driven experience, encouraging children to exercise their senses, they help in building vital connections and theories about the world around kids. 
Blue House Nursery, Preschool, and Kindergarten programmes welcome children from 18 months to 6 years old. They offer two, three, or five days per week with the option of half or full-day programs. There are also additional optional Discover Classes in Music, Art, and Mandarin run by in-house specialist educators to further enhance play, imagination and creativity! Blue House is inspired by the Reggio Emilia approach to early years' education. 
Created by inspirational Educator Loris Malaguzzi in the 1940's, the approach is an educational philosophy based on the image of the child as capable, curious and full of potential, as a subject with rights who learns and grows through relationships with others.
At Blue House, their beliefs and values have been shaped by an approach into a unique and inspired educational programme. With principles and values driving the creation of an emergent curriculum, further supported by children's areas and stages of development - its time to start your child's journey at Blue House!
Blue House Nursery & International Preschool, 2 Turf Club Road, Bukit Timah, Singapore 287988. Phone +65 6734 0824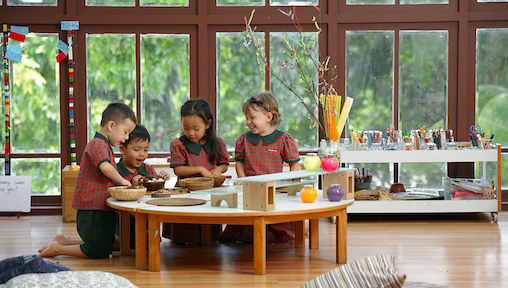 A strong bilingual programme and options for additional languages? Yes, please! With over 25 years of success in inquiry-based learning EtonHouse Pre-School follows the Inquire.Think.Learn curriculum that is inspired by the Reggio Emilia education programme. Here, children are respected as capable and competent individuals. 
Educators observe, listen and collaborate with each child's learning goals to plan intellectually, socially, and emotionally stimulating experiences. This approach makes learning fun and engaging so children pick up numeracy concepts and literacy quickly. More importantly, it encourages self-development and hones life skills that are important even in adulthood, such as critical thinking, problem-solving, and effective communication.
Those looking for a strong bilingual programme will find that EtonHouse offers an immersive environment for English and Mandarin where children are exposed to both languages from a young age. Hence, it becomes spontaneous for them to think and speak in either. 
Want another language instead? All EtonHouse Pre-schools offer Mandarin as a second language, and some also offer Japanese, Hindi, Malay and Tamil. 
Apart from inviting classroom environments that seamlessly integrate with the common areas, their preschools have beautifully designed studios and specialist teachers to facilitate everything from storytelling to performance and visual art. Environmental sustainability and nature education is integral to an EtonHouse education, and their innovative programmes are designed to nurture a respect for the environment.
With 12 pre-schools conveniently located in Orchard, Newton, River Valley, Bukit Timah, East Coast and Sentosa, there'll be one that is convenient for your family.
Limited time offer: For the first time, EtonHouse campuses across all locations are offering an exclusive one-time offer. You can save more than $2000 when you complete your enrolment by 17 July 2020. 
EtonHouse Preschool, multiple locations. Phone +65 6746 3333.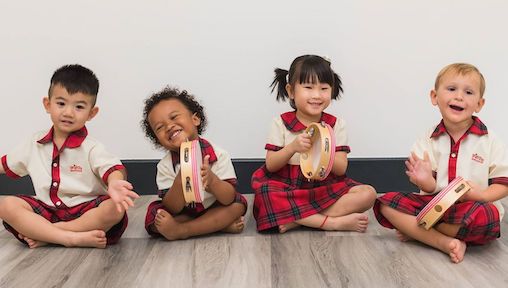 A school that was started by a mum! Founder Connie Cho was looking for quality preschool education for her children and hence started the roots of Brighton Montessori that now has 6 preschools island-wide to serve families in Singapore.
With a belief that every child learns at his or her own pace, Brighton Montessori's curriculum is uniquely designed to cater to each individual child's needs. Following the philosophy of Maria Montessori, Brighton Montessori has adapted the hands on learning approach and one to one teaching approach with concrete to abstract methods for both Phonics and Mathematics.
The Brighton Montessori curriculum covers the whole spectrum of Montessori training and prepares your child for formal schooling. The five Montessori Subjects have their emphasis on learning through hands-on activities – conducted in creative and fun ways that highlight enriching and discovery pursuits. In addition, children are exposed to various other subjects to ensure that they develop all-rounded skills in preparation for formal schooling.
All of Brighton Montessori's classrooms are well equipped and ever ready for a child's learning, allowing them to explore and express themselves freely. With an open door communication practice, strong parent and school partnership and a team of dedicated principals and teachers, Brighton Montessori stands firm in preparing each individual child with education and life skills for primary one and beyond!
Brighton Montessori, multiple locations. Phone +65 6588 3883, email [email protected]
How about a personalised reading programme for your little one? Established in 1980, Lorna Whiston Schools has built a reputation for high-quality education and teaching excellence across Singapore, Malaysia and Hong Kong with their signature English Enrichment and Speech & Drama programmes, as well as their preschools. 
Lorna Whiston Preschools' mission is to provide a safe and stimulating bilingual learning environment where children are happy, motivated and eager to learn. An English language teacher and a Chinese language teacher are present in each classroom to ensure complete immersion in both languages. The children take part in an exciting range of discussions, songs, rhymes, vocabulary-building activities and interactive learning situations guaranteed to build strong verbal skills.
If reading abilities are important to you this preschool believes that children develop specific abilities at different times, at different rates and in different ways. And that each child has a unique combination of aptitudes, learning needs, interests and skills.
Lorna Whiston's Individualised Reading Programme has been developed over the past 25 years ensuring children are well prepared to excel in all subject areas on entering primary school. With each child placed on an individualised reading programme and reading progress carefully monitored, children are encouraged and supported by teachers to ensure every child progresses at the right pace and develops a lifelong love of reading.
A stimulating, positive and nurturing learning environment in order to create happy, motivated children who are eager to learn - this preschool and kindergarten in Singapore could well be the one you are seeking!
Lorna Whiston, multiple locations. Phone +65 6871 8844, Email: [email protected]
*Banner image - Lorna Whiston