It is no secret that there are various rules for how men should dress. When we say 'rules', we mean there are certain items you wear for formal and informal occasions and also according to the time of day. 
There is an unwritten rule in men's fashion that says, "You can tell how well dressed a man is by looking at his feet". So, let us be your 'Shoe Guru' and assist you gentlemen in building-your-ideal-wardrobe endeavors and put your best foot forward.
Before you continue on, a word of advice - don't think of this as what you 'must' buy, instead think deeper on what you should own to build your basic men's wardrobe.
Let's begin – Shoes. It is an accessory that completes the your look and its an indication of your personal style. Hence, it is important to have both formal and informal shoes. The way we are going to present the shoes are from most formal to least formal.
Formal Shoes
Formal shoes are roughly divided into open lacing and closed lacing systems. Closed laced shoes known as balmorals or oxford a bit more formal than open laced designs that have such as derbys or bluchers.
The Black Oxford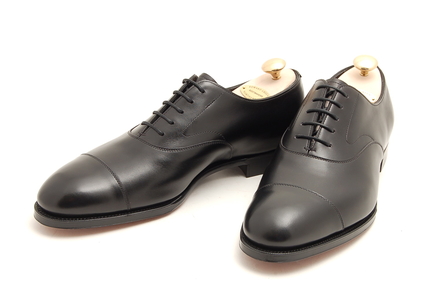 Edward Green Black Cap Toe Oxfords
(Image Credit: Edward Green)
Every men should own at least one pair of black oxfords. It is the necessity shoe in your shoe wardrobe. Plain Black Cap Toe Oxfords (pictured above) are the most formal business shoe and can also be worn to weddings, funerals and formal receptions. Think of this shoe as the most versatile shoe you can own. Also, notice how the lace flaps has a small stitching at the bottom that "unites" the lace flaps - this is an indication of a closed lacing system.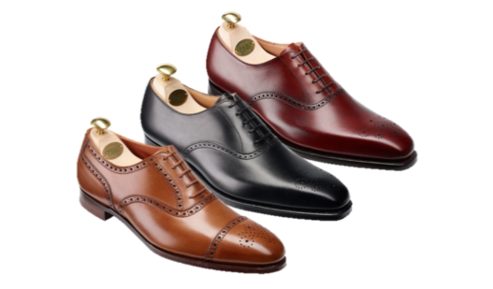 (L-R): Semi-Brogue Oxford with Medallion Punching in Tan, Black Oxford with Subtlely
Punched Medallion, Chestnut Oxford with Subttlely Punched Medallion
(Image Credit: Crockett and Jones)
If you want something with character, you can opt for punched decorations around the toe caps or go full brogue. Remember that broguing decrease the level of formality.
Brown Oxfords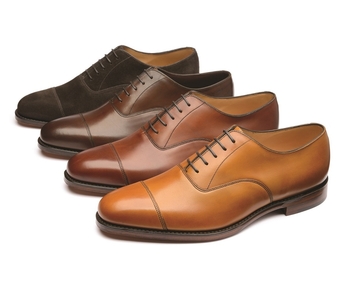 Edward Green Brown Oxfords
(Image Credit: Edward Green)
Brown oxfords are more informal than black and sometimes in a more casual material like suede. You can still wear brown shoes to work and it goes well with a navy blue suit. 
Bluchers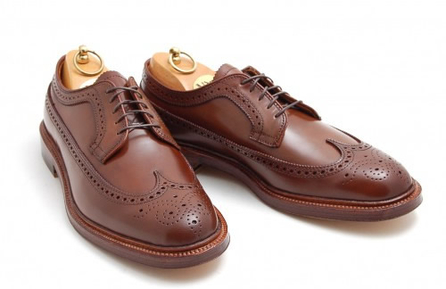 Alden Longwing Bluchers
Ideal for business casual settings, Derby shoes or bluchers are considered the less formal of the formal shoes category because of its open lacing system - note how the lace flaps are separate pieces bound together by only the laces. You can find out more about the differences between Derby shoes and bluchers here.
Informal Shoes
When it comes to informal shoes, we definitely are speaking about loafers or in other words lace-less shoes
ideal for weekends and for our forever-summer weather in Singapore.
Penny Loafers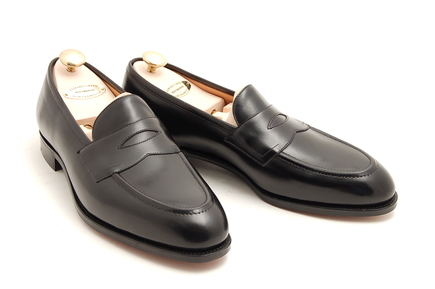 Edward Green Black Piccadilly Classic Penny Loafers
(Image Credit: Leffot)
Considered the true basic informal footwear, it is the sine qua non shoe for post-war "Ivy Look". Penny loafers are the epitome of clean and simple classic slip-on shoes.
Tassel Loafers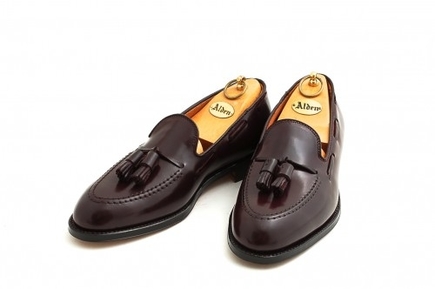 The origins of the Tassel Loafers are quite unclear. But it is said to be a modern twist of the Penny Loafers. For those of you who wants a pair of loafers that are sartorially symbolic with a little bit of decoration, Tassel Loafers are your go to informal shoes. If we had to recommend a pair, we would go with a pair of Alden Tassel Loafers. 
Boat Shoes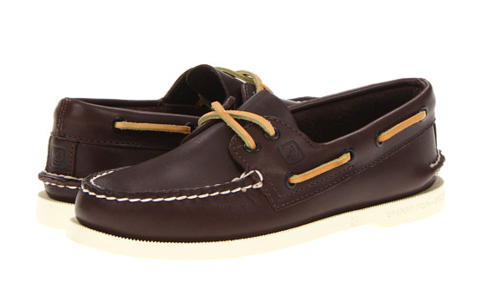 Sperry Top Sider Authentic Original Boat Shoes
(Image Credit: Zappos)
Boat shoes are the essential summer shoe be it for land or for by the sea. They are made typically with canvas or leather with non-marking rubber soles that are non-slip designed for boat use - hence the name. Since the 1980s, they have become a true classic piece for a preppy wardrobe and actually is a staple in general for most men's wardrobe. Plus, they are extremely comfortable, breathable and come in a variety of colors! 
In summary, here are a few things to note when investing for a pair of shoes:
1. Shoes of a better leather quality contributes significantly to comfort and presentation. Full grain leather breathes and doesn't crease easily where as "corrected grain" or "polished" leather doesn't breathe and tends to crease and crack easily
2. Leather soles provide a more elegant look
3. Broguing decreases the level of formality
4. Traditionally, there was a rule of thumb of "no brown in town" but there is always an exception. Dark brown shoes pairs well with navy blue suits
5. Look for reputable shoe brands such as Alden, Allen Edmonds, Crockett and Jones, Edward Green, Church's and John Lobb. 
Alright gentlemen! Time to look into your wardrobe, use this guide and think about what shoes you should invest in to complete your basic wardrobe. We know its an investment but there's nothing like a good pair of shoes to conquer the world and a good man to fill them.