We are now in 2021 and that means a full year of new gadgets and appliances for the tech aficionados. The year could not have started better with the CES 2021 recently getting concluded and the launch of two comparable but very different flagship phones from Xiaomi and Samsung. Today we are going to share with you what we feel are the top 5 tech releases from the Consumer Electronic Show, CES 2021.
If you have 100+ lipstick shades but whenever you need one you are not able to find it, this one is for you. The YSL Rouge Sur Mesure, powered by Perso, is a lip colour device that allows one to make their very own lip colour at the press of a button.
The YSL Rouge Sur Mesure has 3 liquid lipstick cartridges inside of it to create one's custom lipstick shade. The cartridges inside of the YSL Rouge Sur Mesure are available in 4 combinations: reds, nudes, oranges and pinks to possibly create every shade that one would ever require. There is a magnetic brush on the outside of the device that needs to be used to mix the colours and also apply the lip colour.
So are you ready for this beauty technology and the lipstick killer?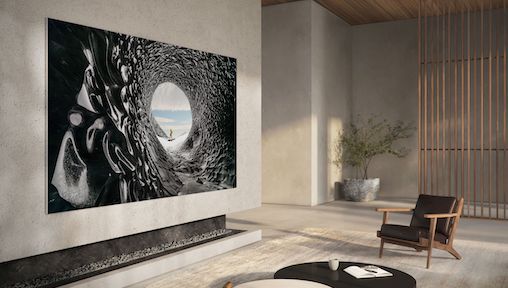 For the past few years 55" and 65" were the hottest selling TV set sizes. But as we move into the next decade we see an appetite for bigger sizes. Samsung has recently unveiled their MicroLED 110" TV during CES 2021. It is a new self-lit inorganic LED screen with a slim and 99% screen to body ratio. The Samsung MicroLED 110" TV seamlessly blends into the living space with its nearly bezel-less infinity screen design. The 110" Samsung MicroLED TV has 24 million individually controlled LED's providing lifelike colours and brightness.
One of the interesting features of the Samsung MicroLED 110" TV is the Quad Vue (written as 4Vue). This allows a viewer to open upto 4 viewing screens simultaneously. So next time if you are playing a game and want a YouTube tutorial on the side, this is the TV you should go for. Though if you wish to get your hands on the Samsung MicroLED TV set, you might have to wait a little as the first batch is expected to hit the stores by spring.
When we talk about sound, the Samsung MicroLED 110" TV delivers breathtaking 5.1 channel sound with no external speaker. Samsung is planning to launch this in 110" and 99" by spring with more models to arrive by this year end.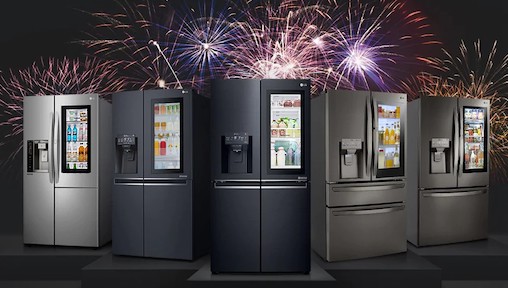 From what we have seen so far from the consumer goods manufacturers 2021 seems to be the year of the 'seamless' and more lineup of products with Voice Control. LG has just revised and launched the LG Instaview Door-in-Door Refrigerator in a completely seamless design. Who would have thought that knocking twice on a refrigerator could be a thing in 2021? The LG Instaview Door-in-Door Refrigerator comes with a 25% wider view window which opens up on 2 knocks on the door.
Water dispenser for the  LG Instaview Door-in-Door Refrigerator is built with a self-cleaning UVNano Technology that removes 99.99% of bacteria. But what grabs our attention is the Craft Ice feature which automatically designs spherical ice cubes for the drinks. If you think your hands are full with information now but you would still like to open the door of the LG InstaView Door-in-Door Refrigerator, just use Voice Control and ask the door to open up for you. Packed with all these features the LG InstaView Door-in-Door Refrigerator has won the best innovation award at the CES 2021.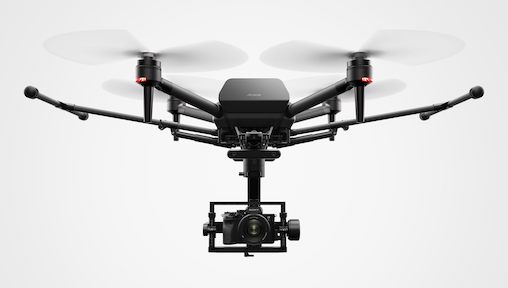 Sony known for its brilliant lineup of cameras for professionals has forayed into drone technology with the Sony Airpeak. The Sony AIrpeak is the world's smallest drone capable of carrying the Sony's Alpha™ camera system. This is being done in order to fully support the creativity of video creators, who would want to equip the Sony Airpeak drone with a Sony Alpha™ mirrorless camera to capture high quality, full frame aerial photography and video.
With this launch, Sony is aiming to integrate robotics and AI and allow it's Alpha range of cameras to explore the infinite skies. They are also seeking professional drone users as collaborators in Japan and the United States to partner with for the Sony Airpeak project.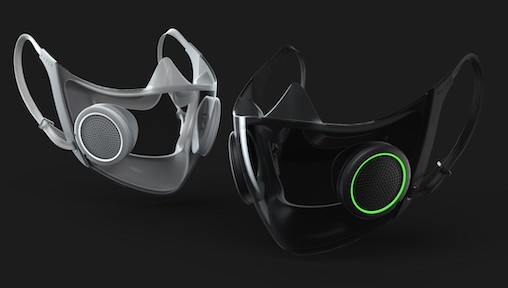 How many times has it happened that you have not been able to understand what the other person is speaking to you just because they are wearing a mask in the Covid era? Or have you tried to speak clearly putting in extra effort because you know the mask that you are wearing is muffling your voice? We are sure every one of us has gone through it. To address this everyday challenge, Razer has come up with Project Hazel - The World's smartest mask aimed to improve social interaction while keeping safety intact.
Project Hazel by Razer is an N95 respirator mask with audio processing voice amplifying pods (patent pending) to make sure your voice is never muffled when you are speaking while wearing the mask. To make it better, Project Hazel by Razer also has a transparent design so that the other person is able to see your facial cues.
This mask is built with recyclable plastic which is both scratch & water-resistant yet allows Active Ventilation to bring in cool air also enabling 95% bacteria filtration. Project Hazel by Razer design also has a silicone guard to ensure comfort.
Seems like Razer ticked all the boxes while designing this mask. Moving on to its case. The case for Project Hazel comes with an auto sterilization function. This special charging case is lined with a UV light interior which kills bacteria and viruses as the mask charges.
Now if you are ready to purchase this safe, social, sustainable and comfortable mask you may also want to know that you can completely personalize it with 16.8 million colours and a suite of iconic effects with 2 customizable lighting zones powered by Razer Chroma™ RGB.