Located 45 minutes away from Phuket International Airport, Amatara Wellness Resort is tucked away on Cape Panwa.
The minute we exited Phuket International Airport, we saw our designated driver from the resort right away which is always great after a flight. What we loved was that the car was equipped with complimentary Wifi, fresh juices and water to stay hydrated, over 10 selection of movie titles to keep us company while en route to the resort.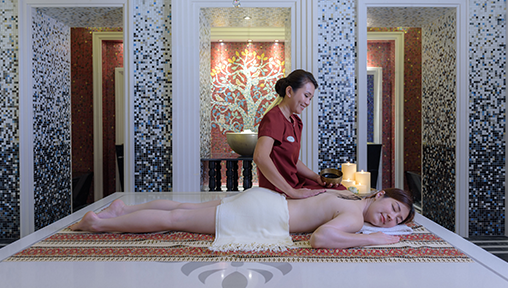 Thai Hamman Journey (Must Experience)
A 16-step ritual, the Thai Hamman Journey is a must to experience. It starts with a traditional sauna which helps to raise body temperature and initiate perspiration and is important in both detoxification and stimulating lymphatic circulation. After, you hit the rain shower for a cool off as the use of hot and cold water temperatures is to help stimulate blood circulation, the immune system and to enliven the skin and whole body. Next, is the traditional Thai herbal steam which benefits the respiratory system and skin.
Once in the main Hammam room, you lay on an internally heated stone bed and your therapist will gently rinse your body of sweat with cool water. The Black soap massage uses completely natural, organic soap made from olive and argan oil, with either eucalyptus or neroli essential oil, with skin softening and nourishing benefits. This is applied to your whole body and you will undergo the Thai herbal steam again. This allows the beneficial properties of the black soap to be further absorbed into the skin and prepares the skin for deep exfoliation.
You will be guided back to the hot stone bed, and after the therapist rinses the soap from your body, you will receive a full body exfoliation with your single-use Kessa glove. You will literally see layers of dead skin being gently removed from your body.
Time for the Ice cooldown where a bowl of shaved ice will be given to you and your therapist will help you apply ice to your body and face to enliven your skin and provide a welcome contrast to the heat of the steam and the hot stone bed.
Mud Therapy allows you to choose a clay that is applied to your whole body by your therapist. You can then relax on the warm stone bench in the mudroom to allow the minerals and beneficial properties of the mud to be absorbed into your skin.
Finally, the salt cave therapy has a very fine mist of pure salt is infused into the room. This helps to support the respiratory system and is thought to be especially beneficial for those with asthma or allergies. Salt rooms have a purifying effect on the respiratory system and contain negative ions, which help remove the effects of EMRs and static electricity from the body. We get these from living in an artificial environment and through the use of computers, mobile phones and other electronic devices. This creates disruption in the energy and immune systems of the body.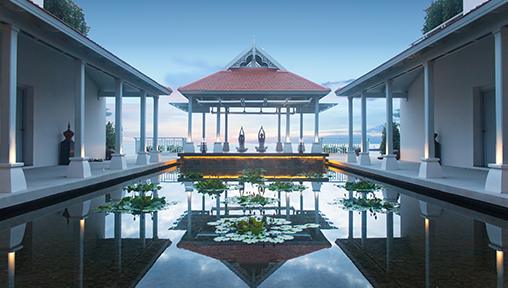 With professional instructors for Muay Thai, Pilates, Yoga, and Personal Training, Amatara's comprehensive daily fitness classes are a fantastic way to boost your energy and vitality during your stay.
Every guest in the wellness resort is entitled to a complimentary physical analysis by their in-house licensed physiotherapist.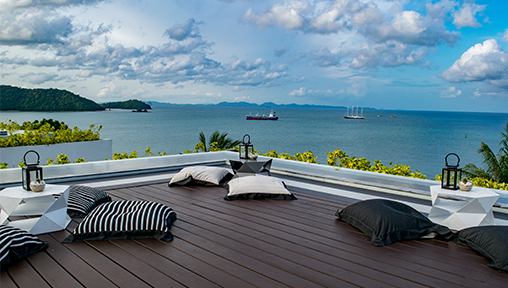 6 Dining Establishments to Choose From
From an all healthy cuisine menu to an award-winning fine dining establishment, you will be spoilt for choice at Amatara.
'The Retreat' is a hidden gem for healthy food lovers. It serves a variety of healthy options including raw juice blends, superfood smoothie blends, salads, soups, broth, main course, desserts, herbal tea and healthy coffee. These are dedicatedly crafted based on our foundations of using real, unrefined, whole foods, free-range, cold–pressed oil and avoiding extremes, additives, pesticides, toxins and refined sugars.
Our recommendation is to definitely have cocktails at Sun & Moon, a romantic roof terrace with a panoramic view of the Andaman Ocean. Sun & Moon offers complimentary evening refreshment drinks and mocktails for pool villa guests.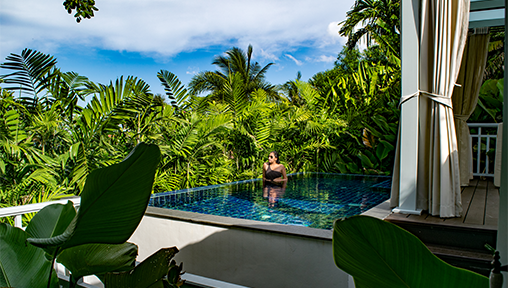 With 6 types of accommodations to choose from, each villa has its own private balcony with sea views. Spacious and stunningly-designed, they have got 22 ocean facing pavilions and 48 suites of which 35 pool villas at this 5-star resort in Phuket has its own private pool. Should you need a babysitter to assist you during your stay, let the resort know in advance.