Ceylon Wild Safaris is in Yala National Park which is six hours by road from Colombo, the capital of Sri Lanka. Founders of Ceylon Wild Safaris, Indika Nettigama and Arran John Sivarajah, have years of experience backing their passion for wildlife and nature. Their latest eco-friendly Safari Camp Ceylon Wild Safaris consists of six individual tents with salt-water chlorinator plunge pools - the first of its kind in Yala National Park.
The jungle camp which would be your home away from home runs completely on solar power and there is zero tolerance for plastics. The camp by Ceylon Wild Safaris has its own sewage treatment plant and the stay also promotes a reforestation initiative where the guests are invited to plant trees during their stay.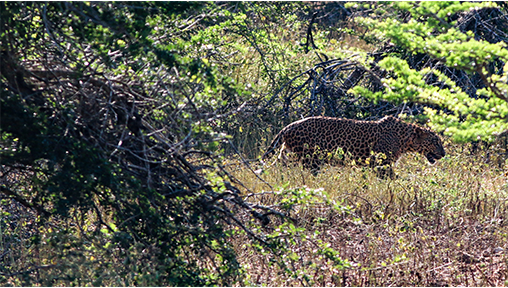 Wildlife Enthusiasts
Both Indika and Arran are masters in experiential eco-tourism when it comes to wildlife game viewing and their passion and love for wildlife has led to Ceylon Wild Safaris. Indika is trusted and well-known for his photo-guided tours in Sri Lanka by many. He has been a game ranger for 12 years and wildlife conservationist for nearly 30 years and has spotted over 53 leopards in just 8 game drives!
Arran is half-British and half-Sri Lankan and while he may be young, he has spotted over 660 bird species during his years spent exploring wildlife across the world. He is also a former South Africa Anti-Poaching field operative and occasionally assists in Anti-Poaching initiatives with the park officials.
The Safari Game Viewing
Arran from Ceylon Wild Safaris was our guide for both our morning and evening safaris and took us to Block 1 which is currently the most popular amongst tourists, making it the most crowded too. We were lucky enough to spot a leopard who was sleeping under a tree. She was woken up by a wandering mob of spotted deer who did not notice her under the tree. The deer kept their safe distance and got really lucky as the leopard was still full from her last hunt. She was more interested in going down the lake to drink some water but was challenged by a bold wild buffalo that would not budge. One buffalo became seven, all ready to attack the leopard should she even try to move forward.
We woke up before dawn and Arran suggested we should explore both Block 3 and Block 5. Ceylon Wild Safaris was the only safari jeep in Block 3 which has just recently opened up to public. We spotted crocodiles, wild boars, elephants, langurs, and plenty of beautiful bird species which included peacocks and blue-tailed-bee-eaters to some exotic hornbills and an exclusive crested serpent eagle. Block 5 has one of the most scenic views in Yala National Park which is absolutely instagram worthy.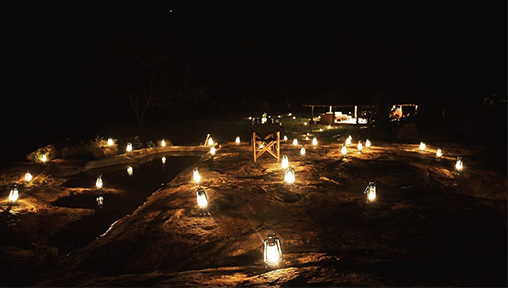 Delicious Food
Upon reaching Ceylon Wild Safaris, we were served local Sri Lankan rice and curry in the afternoon which we thoroughly enjoyed but the live barbeque under the stars for dinner was truly a magical experience. Our dinner was complemented with a never ending conversation about the numerous constellations and planets gazing down at us from the clear night sky. An open bar of drinks is also available for the enthusiasts and fresh fruits and water are in plenty to keep you company and hydrated while you are in the jungle or at the camp.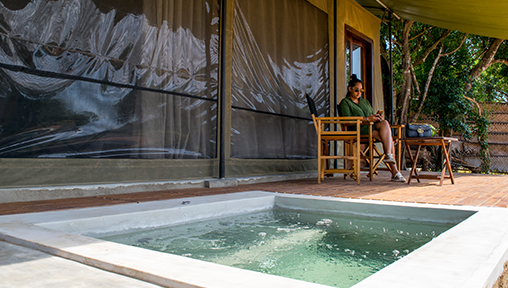 The Eco-Friendly Tents
Check into an eco-friendly camp with modern day amenities at Ceylon Wild Safaris. Sleep comfortably in a king-sized bed with air-conditioners, take a bath in an alfresco shower with full functioning bathroom facilities. You will not feel like you're missing home. There are six tents at Ceylon Wild Safaris, so don't shy away if you're traveling alone to Sri Lanka and are looking for a like minded group or traveling with a group of your own.