Fringed by mountains and dotted with green national parks and vast blue lakes, Queenstown, New Zealand is an impressive place to fly into. Unfortunately though, it rained as we disembarked. 
This could put a damper on our time here – Queenstown is, after all, the (weather-appropriate) adrenaline capital of the world. But while the town has plenty of visitors ready to throw themselves off bridges on a bungy, and jump out of planes on skydives, there's also plenty of luxe experiences on offer if the weather turns – or if you're risk averse. 
Our Queenstown base is a lakefront apartment at Eichardt's Private Hotel, an elegant, discrete boutique hotel perched on the shores of Lake Wakatipu. Part of the Mr & Mrs Smith collection, the charming, design-savvy property boasts plenty of old world charm – its legacy goes back to the 1860s. Staying at Eichardt's is like stepping back in time, but with the perks of 21st century luxury.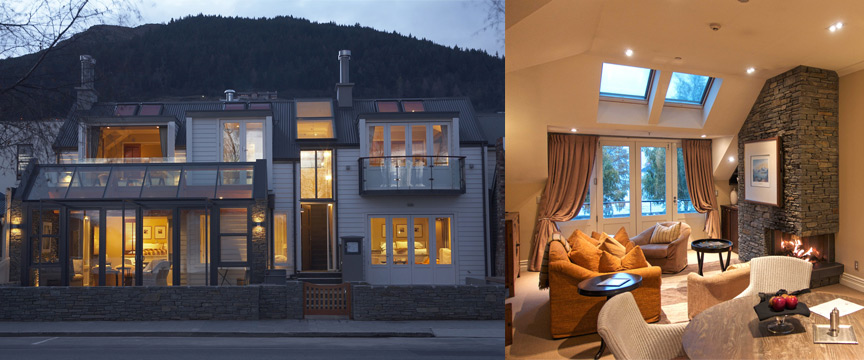 The sophisticated two-bedroom space is completely self-contained, but comes with access to the hotel's concierge services and much-lauded bar and restaurant. The main room is designed for kicking back, whether that's whipping up a meal in the full-service kitchenette, relaxing on plush seating by the fireplace, or enjoying views of the lake through the French windows. The cozy bedrooms are simply but beautifully furnished with plush beds and rustic-feel nightstands and armchairs, while the spacious, modern bathrooms feature heated floors and towel racks, and Molton Brown amenities. 
Exploring Queenstown
Our first morning in Queenstown, we're scheduled to fly to Milford Sound with Glacier Southern Lakes Helicopters. Director Peter Jackson chose them to shoot aerial footage for The Lord of the Rings, so you know you're in good hands. But two hours before departure our flight is cancelled. 
We're quickly booked on a different flight and though it's only 20 minutes, the views are truly spectacular from my perch riding shotgun. We fly over the snow-capped Remarkables, and when it proves too windy to land, cruise over Queenstown, making an alpine landing to soak in jaw-dropping views. With scenery literally out of a movie, it's easy to see why Jackson chose to shoot his movies here.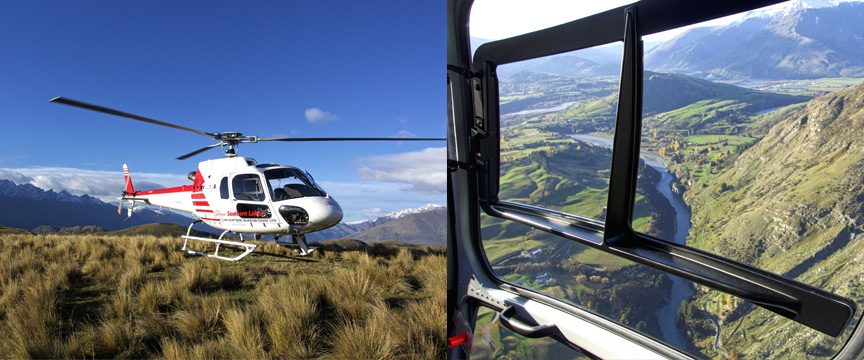 After seeing Queenstown by air, we explore its waters aboard the TSS Earnslaw. Once, the 104-year-old steamship was the only way to reach the other end of Lake Wakatipu; for much of its life, it ferried livestock and supplies. Now owned by Real Journeys, the photogenic ship – it appeared in Indiana Jones and the Kingdom of the Crystal Skull – sails visitors around Lake Wakatipu. Over 90 minutes we take in gorgeous views of towering mountains and dense forests, and peek into the working engine room.
This afternoon, we hunt fine wines on a private excursion around the Gibbston Valley wine region with Queenstown Wine Trail. Gibbston Valley Wines is one of the biggest wineries in the area, and our experience starts with a tasting surrounded by vintage bottles and wine casks in their atmospheric cave. For lunch, the winery restaurant's signature Harvest Platter brings together some of the region's finest produce – think cheese, meats, pâtés – and readies us for the next winery visits.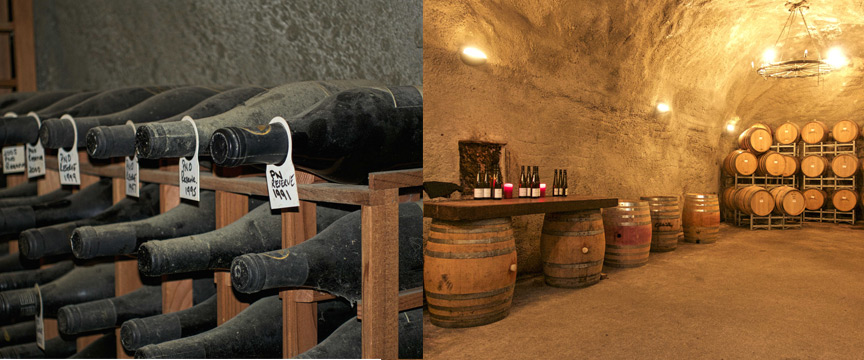 We make a quick stop at Peregrine, a very modern establishment; drop in for coffee, dessert – and more wine – at Mt Rosa, a small boutique winery; and finish with Chard Farm. Thoroughly picturesque, the cellar door is an European villa-style building set against views of rolling vineyards and the Kuwarau Gorge; we linger over the extensive tasting list, order a few bottles as souvenirs, and even sneak into the barrel room for a behind-the-scenes view.
The following morning dawns grey and dreary but photographer Mike Langford of Photo Safaris, is unconcerned. In the rugged Nevis Valley where we're headed, the weather will make for interesting photos. Indeed, on our first few stops we're beset by wind, rain, and hail, but come away with some gorgeous, dramatically-lit monochrome shots.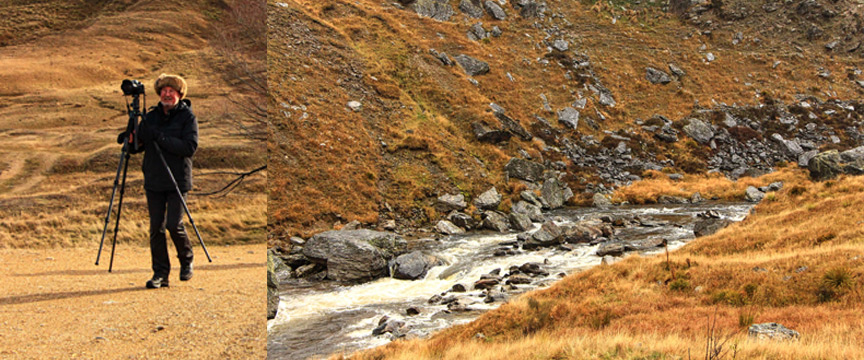 Mike was fantastically patient throughout the day, making the best of the weather, taking time to explain how to use his camera and actively teaching me how best to capture the compelling Nevis landscapes. While driving back to Queenstown, I begin flipping through my photos on the camera. It's not Ansel Adams, but they're probably some of my best.
No trip to Queenstown is complete without an adrenaline rush, so early the next morning, we jump aboard Shotover Jet, a Queenstown icon. On "the world's most exciting jet boat ride," we're whisked on a white-knuckle trip down white-water rapids and through narrow canyons. 
There's been rain overnight, and our driver takes full advantage of the raging waters as he swings the boat into numerous 360° spins that have us screaming  - in both terror and delight. On disembarking, we're cold, wet – decidedly less put-together than the Duke and Duchess of Cambridge, who visited in 2014 - and sorely tempted to go it again.
Pulses slowing to normal, we embark on a mid-morning expedition to explore the world of Middle Earth with Glenorchy Journeys. 
Despite the bleak weather, we spend a few hours driving around Glenorchy and into Paradise Valley to explore filming locations for The Lord of the Rings and The Hobbit. The national park here stood in as Lothlorien Forest; and we stop to see the site of (spoiler alert!) Boromir's death scene, and the plain used to create Isengard and Beorn's house.   
That evening, a relaxing visit to Onsen Hot Pools is the perfect end to the day – and the trip. The Japanese-inspired haven of relaxation houses six hot tubs, each ensconced in private rooms booked by the hour. After choosing a herbal tea from the large selection, I'm led to a room lit by numerous candles; I quickly discover that the roof fully retracts for views of Shotover Valley (best during the day, of course) and cold water jets into the tub from above at the touch of a button. It's a thoroughly tranquil experience.
As we fly out five days later, the feeling is unanimous. We have to come back. 
From foodie experiences and explorations by water to stunning scenic drives and relaxing retreats – and yes, numerous adrenaline-fuelling activities – there is a wealth of experiences of offer, all set against a backdrop of some of the most captivating scenery in the world. Five days is hardly enough; we've only just scraped the surface of Queenstown's many attractions.