Longing for the ideal luxury experience? Nothing gets fancier than your own boat or yacht sailing away into the horizon. Get hold of your kaftans and resort wear as we tell you how to have access to this high life – without actually owning a boat!
The Boat Shop Asia have partnered with ONE°15 Marina Sentosa Cove to give you ready access to not one but a whole fleet of chartered boats and yachts. This means that you not only have the azure waters of Singapore to explore but also head off to one of the southern islands or nearby countries.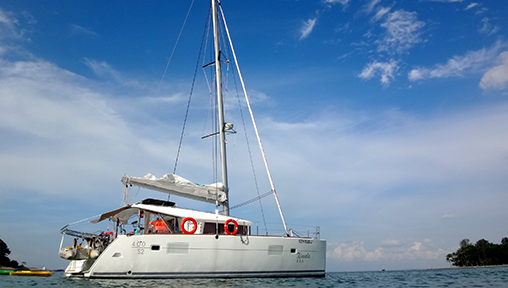 The No Hassle Boating Experience
While owning a boat is a dream come true, the practicalities of maintenance and other additional costs often stop people short of buying one. This easy solution by The Boat Shop Asia have and ONE°15 Marina Sentosa Cove, gives you all joys of having access to a boat without the hassles involved.
Get Your License First
A simple weekend course can get you certified to drive your own boat. Issued by the MPA, the PPCDL allows you to drive any power crafts under 24m in length. Complete the course, pass the theory and practical test – and the license is yours!
Safety First – Complete a Competency Course
A four-hour weekend course, this course allows you to familiarise yourself with different types of bareboats and how to drive each of them. Get to have fun in the seas and keep safe too!

Charter not just 1 but 5 Different Bareboats
A range of bareboats are available for chartering after you finish your courses. From bowriders to walkarounds, cuddles and cabin cruisers – choose whichever one matches your competency levels.
Let your Boating Experience Continue through Monthly Boating Activities
Don't just stop at taking your own boat out for a ride and join the monthly boating activities that can keep your calendar quite busy! From barbecues on Lazarus, diving, island hopping and even the amazing race – the world is truly your oyster.
About The Boat Shop Asia
Established in 2013 as an imported and broker of yachts, The Boat Shop Asia has developed into Singapore's leading provider of boating lifestyle services. Offering an end-to-end service for all boaters, The Boat Shop Asia organises events and activities, provides power boat and sailboat training courses for novice and experienced boaters, runs Singapore's largest bareboat charter fleet and operates an extended fleet of over 140 charter yachts across Asia.
About ONE°15 Marina Sentosa Cove, Singapore
Since its inauguration in 2007, ONE°15 Marina Sentosa Cove, Singapore, is the winner of several international accolades including the Outstanding Hospitality Award at the Helm Magazine Singapore Yacht Show Awards 2013, Five-Time Winner of Asian Marina of the Year (2009, 2012 – 2015), and the prestigious FIVE Gold Anchor Award. Located in Sentosa Cove, ONE°15 Marina Sentosa Cove, Singapore, features a beautiful marina of 270 berths with facilities to accommodate megayachts of up to 200 feet. The well-appointed clubhouse encompasses world-class facilities including fine restaurants and bars, luxurious suite rooms, a modern spa, a well-equipped gymnasium, a members' lounge and kids' playroom as well as conference and meeting rooms.