Manufacturer of the world's most repine for supercars, Automobili Lamborghini introduced the next generation of Huracān family, Lamborghini Huracān Evo in India for Rs. 3.73 Core. The Evo has kept the traditional 5.2 litre V10 engine as well that churns 640PS of max power and 600NM of peak torque and mimics the output of the Huracān Performante.
Evolutionary and Iconic Exteriors for the Future
Lamborghini DNA has been the mark of menace since 1964. The all-new Evo bears a resemblance to the parent Huracān. The design of the front bumper now comes with a sharper nose and a low assertive personality due to its signature Y-shape stylistic elements. A slotted spoiler at the upper end of the tail is the epitome of Lamborghini's master performer range which includes its signature bonnet lines.
Exclusively Curated Interiors for Personalised Experience
The interior graces the seminal surface of the all-new Evo and satisfies the time honoured harmonies of Lamborghini with exclusive autogenous finishes originating from ethical Italian designs.
The upholstery of the Evo is stemmed from fine quality leather, Alcantar and an innovative carbon fibre material called Carbon Skin reserved for Lamborghini, an experience provided only for the Lamborghini clientele.
As the Lamborghini Evo's Ad Campaigns propagated virtually limitless opportunity for owners to customise their Lamborghini, the Evo is presented in Arancio Xanto, an iconic new Lamborghini four-layer colour.
Aerodynamic Superiority
Lamborghini Huracán EVO's aero competency resumes with the underbody, which has been designed to maximise aerodynamic efficiency: the advanced integrated aerodynamic styling of the Huracán EVO revises downforce and aerodynamic efficiency more than five times in comparison with the first generation of Huracán.
The aim and idea of the Huracán EVO resonate throughout its design as well as in the notes from its exhaust, with a superior exhaust sound reflecting the increased power and dynamic abilities of this latest Lamborghini.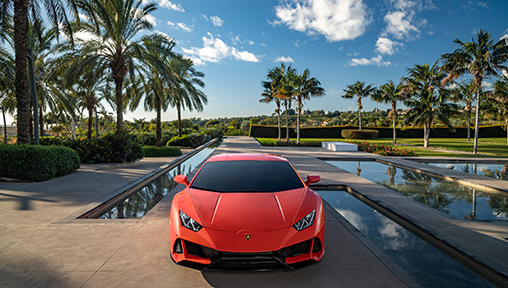 Driving Diligence and Innovation
The driving mechanism was completely revamped and updated with new additions as well. The engine is paired with a 7-speed dual clutch transmission that controls all four wheels with advanced torque between two axles and vectoring system but the catch here is that the Integrated  Dynamics Vehicle  (LDVI) aids the sensor to constantly monitor the pilot's intentions and adjust the rate on the magnetorheological suspension. This enables the power to be shifted to a single wheel if required.
Connectivity and Infotainment
It might come as a shock but Lamborghini did not offer a touchscreen infotainment system in their previous masterpieces but the Evo brings that too on the table as well with Apple CarPlay and Android Auto. There are various other add-ons such as an integrated high capacity hard disk, dual camera telemetry system, a multimedia system incorporating connected navigation and entertainment including web and video and also an intuitive interface which enables the pilot to command Siri.