International Women's Day, celebrated annually on March 8, is a great time to put a spotlight on women who inspire others through their personal progress and achievements. In lieu of International Women's Day, Vanilla Luxury speaks to 5 she-preneurs who are absolute #fitspiration.
Feeling a little lazy to go to the gym? Karenlee Fitness' mobile trainers travel to clients' homes, providing a holistic approach which has transformed the lives of more than 100 clients in five years of their existence. Their unconventional training methodology combines nutritional coaching, mindset and habit change coaching. Latest added services Rehab Strength and Kinetic Link Training focus on mobility, balance, movement, control and cognitive function. So wherever you are, a mobile trainer will come to you!
CEO Karen's favourite workout is doing a supine bridge on a stability ball with weighted press ups.
Vanilla Luxury: What health advice do you have for women?
Karen Lee: Are you drinking enough water? Water promotes fat loss, improves cramps, headaches, complexion, and immune health. So, if you are suffering from any of the above-mentioned issues, you need to consume up to three litres of water a day. A good indicator is your pee colour; if you are not seeing colourless throughout the day, you are not drinking enough. Consume at least 600ml of water the minute you wake up which is the first thing you should do.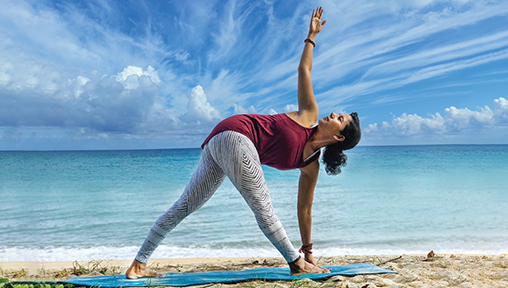 Archana Amlapure is a Health Coach, certified Yoga Teacher and Founder of Ojas Yoga & Wellness. After serving in the corporate industry for 12 years, Archana found her soul with Yoga. Her mission and passion in life are to help people lead healthy, happy and stress-free lives. Ojas Yoga & Wellness offers a range of services for all age groups and fitness levels including yoga classes for kids and people with autism.
Vanilla Luxury: What are some tips for practising yoga?
Archana Amlapure: Consistency and self-discipline are a must for success! Invest 20 minutes a day for yoga practice for the perfect body and invest a minimum of 5 minutes per day in meditation for a calm mind. Don't compare your journey with others; everyone is perfect in their own place.
3. Mathilde Moyell Juul, Founder of orgayana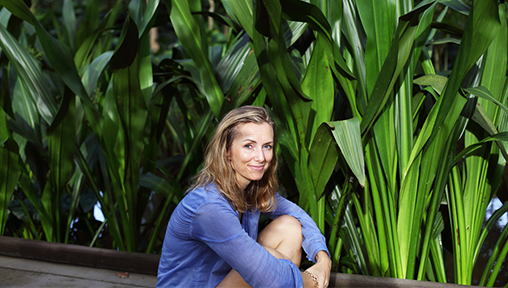 Looking for inspiration and information on how to live a more healthy and sustainable lifestyle in Singapore? orgayana is a green online community with useful local tips and guidance on various topics such as diet and nutrition. Originally from Denmark, Founder of orgayana, Mathilde Moyell Juul, moved to Singapore and decided to pursue her true passion to become a green entrepreneur.
Vanilla Luxury: Why was orgayana a personal passion project for you?
Mathilde Moyell Juul: Improving my health has always been a big interest of mine, and due to the many illnesses in my family, I have always been on the lookout for advances in the health industry and done my own research on how I could use food, exercise and other tools to become stronger and more balanced in my life. I spent my childhood in Denmark and grew up in a house with a vegetable garden, fruit trees, compost and recycling bins. Moving to Singapore made me wonder what could Singaporeans and I do to live a more sustainable and healthy life.
orgayana is where you can be inspired to try out new ideas or alter old habits, but also be informed on where to find your favourite green practitioner, product, store, restaurant or local event. So check out the site - plenty of tips to take with you from specialists on healthy food, natural beauty, sustainable wear, travel and much much more.
4. Noopura Yeliur, Personal Fitness Trainer and Physiotherapist
Many of you may know Noopura Yeliur as Noop. She owns a mobile personal training business called TWN WELLNESS. Noop is passionate about helping people achieve their fitness goals. She specialises in women's health including but not limited to antenatal and postnatal fitness.
Vanilla Luxury: What fitness advice do you have for women?
Noopura Yeliur: Never compare yourself with others. Your fitness journey is yours. You really want to be racing against yourself to see how far you have come over last year or the year before. Do what you love and works for you.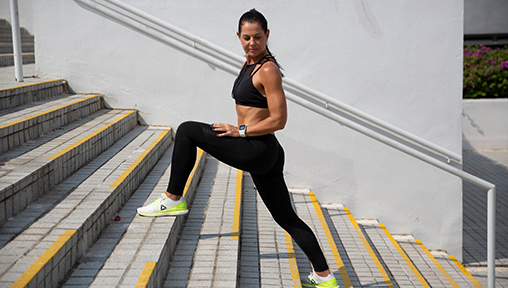 Natalie Dau is the founder of the successful RockstarFit App and global media platform, The Daily Escape. She is also a Reebok sponsored athlete and an ambassador and spokesperson for brands including ClassPass, Polar Watches, SportsSingapore and Soneva Resorts. Natalie regularly appears in the media across Asia as an expert in her field, is a guest speaker and celebrity trainer at many global events, and is an accomplished athlete in multiple sports.
Vanilla Luxury: What fitness advice do you have for women?
Natalie Dau: These are some of my rules to live by:
Only change one thing a week. Start with a walk every day, or cut down on sugar, get more sleep. By only changing one thing at a time it becomes a healthy habit and is more sustainable.
Set daily goals and focus on achieving those; they will soon turn into hitting your bigger goals. Don't think about running a marathon every day, think about just getting through today's workout and praise yourself for that.
Start today, don't wait until Monday!