What do you do when you can't find unique baby gifts in Singapore? Design them yourself, of course! Little Bearnie is Singapore's own, homegrown brand that started out as a quest for sourcing baby products that stood out in a sea of mass-market brands. The result of years of research and design endeavours, Little Bearnie was created to offer the most stylish teething accessories and presents for little babies that we love gifting– and receiving!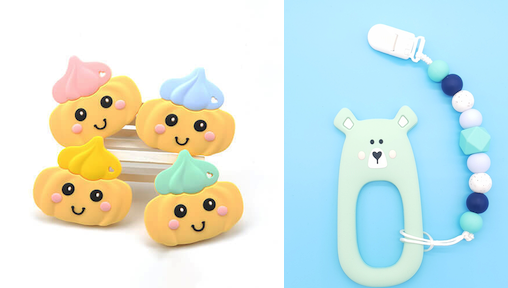 Teethers
Little Bearnie's Instagram-worthy teething accessories are all made using 100% food-grade silicone and toxic-free materials. Designed with a textured surface and high-quality materials to help in soothing teething pain, these silicone teethers are safe and well as stylish! Made in the most attractive colours and fun, unusual themes(Bubble tea or Aloe anyone?), there's no wonder why both parents and their little babies love this brand as much!
If you want something that will really stand out as a baby gift, buy their unique Gem Biscuit Teether.  A reflection of Singapore's local culture, this iconic (and full of nostalgia) teether was the brand's first product designed exclusively in-house by founder Valencia Chen.
Animal lovers will love another of their house-designed products, the Cutie Shiba Teether. You can also choose to add a Teether Clip Set, that is self-designed in gorgeous pastels  and assembled in Singapore by Little Bearnie themselves.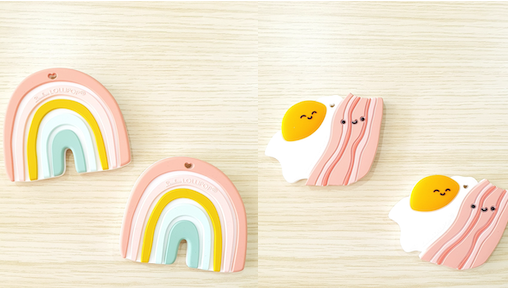 But that's not all! You will find a huge range of characters, concepts and fun illustrations in these meticulously designed baby teethers including their best-selling Rainbow, Egg and Bacon and Shy Bear.
Need a gift for the mummy-to-be? You can also buy Little Bearnie's Silicone Teething Necklaces or Teething Bangles that are handmade with a mixture of high quality and curated silicone beads material that can be used as a chewable Teether for babies and a stylish accessory for mommy!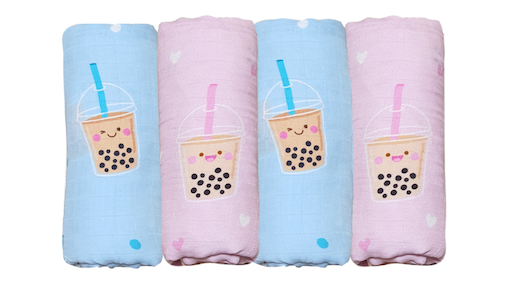 Boba Swaddles and Silicon Bibs
Boba lovers, this one's for you! Little Bearnie's super-cute Boba printed swaddles are exclusively designed by them and are available in two beautiful colours that will compliment all nursery designs. Made with Bamboo and eco-friendly organic cotton, these swaddle blankets are soft and gentle on the baby's skin and can be used for swaddling, as a car seat cover or a nursing cover.
If you'd like to buy muslin swaddles as a baby gift instead, take a look at the range of dreamy soft muslin blankets on Little Bearnie that come in fun and colourful designs. From lemons, avocados, rainbow, unicorns, sweet bunny's, Dinoland, planets, llamas and even sushi prints, these unique muslin wraps will make a beautiful addition to any baby's accessories.
Take your Boba love a little further with Little Bearnie's newly launched Boba Silicon Bibs. A moulded, catch-all pouch made with an easy, wipe-down surface that is great for quick cleaning. With reinforced buttonholes for a durable, adjustable fit, this handy bib is available in an array of modern colours and fresh designs to complement the baby's wardrobe. Made with 100% food-grade silicone, it is also free of BPA, PVC, phthalates, lead and cadmium.
Gift Bundle Sets
Want to buy readymade sets that can work as practical yet beautiful options for baby shower gifts or as presents for pregnant friends? The gift bundle sets by Little Bearnie come with a range of product and price options to help you choose the right present for any occasion for the little ones. 
The best-selling Baby Premium Gift Set (Boba Series) is a curated Boba Tea fabric Bib and their exclusively-designed Boba Swaddle as well as a Teething Clip Set or your choice, making it a perfect match for any bubble tea or boba lover!
Prefer cupcakes instead? Another opinion amongst several others is the Baby Classic Gift Set - Cupcake Bib & Teething Clip Set Bundle. Perfect for all little cupcake lovers, it contains a Cupcake fabric Bib along with any Teething Clip Set of your liking. All gift bundles come wrapped in a gift box along with a gift card - fuss free baby gifting made easy!
Check out Little Bearnie's modern teething accessories, swaddles and unique baby gifts at www.littlebearnie.com or at Mothercare outlets, Nichebabies, Bumwear and Tadbebe