Birthday around the corner? We get how tough it is to organise your child's birthday party while social distancing, but it can be done - and wonderfully so! Your usual birthday party suppliers and entertainers have changed the way they work and now offer online, home delivery and virtual participation options. From delicious cakes, virtual party entertainers, magic shows, delicious food, crafting kits, decorations and even donating to charity - this handy list will have you throwing socially-distanced birthday parties like a pro!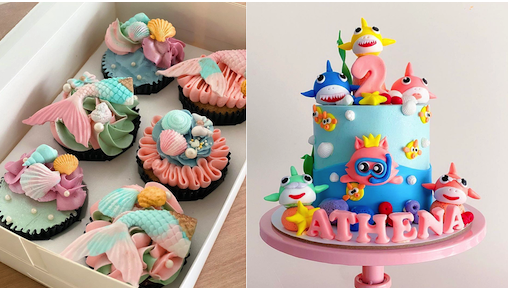 What's a birthday without a beautiful, celebration cake? If you've been looking high and low for the perfect bespoke cake or a cupcake gift box to send out to that special little one, you should have a look at Afters Bakery. Specialising in bespoke celebration cakes and cupcakes for kids, this popular bakery in Singapore works with intricate 3D fondant artwork that is sure to wow! 
Created by their in-house cake artists, you can expect cakes that deliver personalisation - from messaging to having your kid's favourite toys and characters on the work of art. Whether it's Baby Shark, Cars, Unicorns, Jungle themes or their exquisitely designed Crystal Globe cakes, you'll be sure to have a birthday girl or boy jumping with excitement. 
And if you are looking for party favours to send to your virtual party guests, a box of delicious cupcakes in the theme of your choice is a great idea! Stunningly carved, in themes like Frozen, florals or mermaid tales and more, it's the ideal way to cut your cake and share it too!
Need some inspiration on what to order? Check out Afters Bakery's Instagram gallery and you'll know what to order for your kids birthday party too!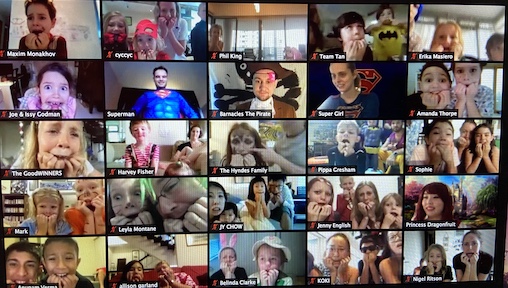 Social distancing shouldn't mean your child's birthday party lacks entertainment! We know how difficult it is to hold a birthday during these strange times, especially when your little ones are looking forward to a more special sort of a day. Evolve Arts is an International Creative Arts and Entertainment centre based in Singapore that now brings fun, laughter and unique entertainment for any celebration - virtually too! 
They specialise in parties and celebrations for all ages. Parties are unique and designed to exactly what you would like, either following a theme or putting together games and challenges - they can do anything at all. 
Want that special birthday memory for your little one? Let Evolve Arts throw an online party for all their friends. Have a Pirate, Princess, Superhero or any of their favourite characters run the party. Add to the mix some games, hilarious jokes and rib-tickling conversations and you'll have everything to make your child's birthday extra-special while social distancing!
Typically you will have two actors running the party, who will liaise directly with you to make sure everything is exactly that way you want it to be. They will also organise all of the technical side so all you have to do is sit back and watch everyone enjoying themselves. Lots of parties have included overseas family and friends too, so it's a lot of fun for everyone!
To book your very own special virtual birthday party, email Evolve Arts at [email protected]. Evolve Arts also run celebrations for all age groups - birthdays for kids, 40th milestone party, baby showers or team building.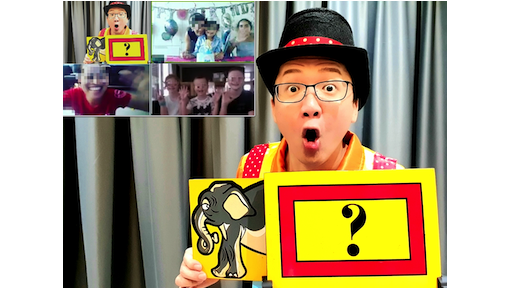 What's a birthday without that extra bit of magic! Watch your kids break out into mega-watt smiles as children's party entertainer Tricky Patrick doles out fun, magical moves via a virtual birthday party. 
Kids party magician, Tricky Patrick, has over 15 years of experience, performing over 300 magic shows for kids' birthday parties in a year - so he knows how to keep the kids engaged and happily so! He is known for his energetic and funny act that captures even the quietest of children (and adults) to give them the most magical party they've ever attended. 
Now taking his magic shows online for children's birthday parties during the Circuit Breaker, Tricky Patrick promises endless entertainment as well as jaw-dropping magic tricks that will draw tons of 'oohs' and 'aahs' from the little ones. He also conducts virtual magic workshops should your children want to learn a trick or few!  The best part? Since Tricky Patrick's parties have now moved online, you can invite your loved ones from the world over to join in!
If you too would like to book a kids party magician in Singapore, contact Tricky Patrick. Vanilla Luxury readers quote 'VLUX20' to get 20% off.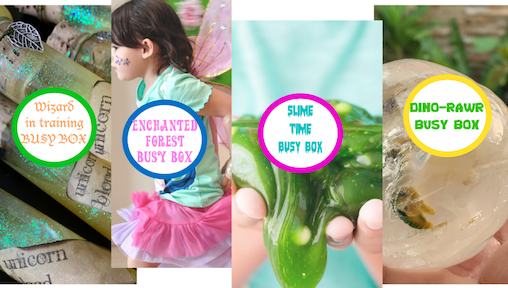 If you need craft activities for the kids to do during a birthday party including someone organising it ALL for you - reach out to The Party Elves. A leading event planning company, The Party Elves are known for some of Singapore's most fun, bespoke birthday parties for families and communities. With social distancing becoming the new norm for birthday celebrations in Singapore, The Party Elves have worked hard to bring viable and engaging options for children, so virtual parties too can be just as exciting much fun! 
An activity and goodie bag in one? The Busy Boxes by The Party Elves come in 4 different themes with enough materials and instructions to keep the kiddos engaged through the party and later. Choose the Wizard in Training Busy Box if you are looking for magical potion-making. The Dino-RAWR Busy Box is chock-filled with dinosaur toys and enough material to make different types of fossils as well as a fizzling fizzing egg! Slime Time, allows for messy fun with three different slime recipes and themes. And the Enchanted Forest Busy Box will let their imaginations run wild with wings and wands and a chance to make their very own paper fairies and elves! At $25 a box and free delivery islandwide, these Busy Boxes make for great party options and are guaranteed to make the recipients squeal with delight.
Need more help with organising your next event?  Why not choose the Elves in a Box service where The Party Elves take on all the hard work of organising and delivering a virtual party for you. From Zoom call management, online activities, birthday buntings and table setting decor to busy boxes of fun, this is the one-stop solution you've been seeking for your kids' birthday party. If you've got a theme in mind, simply have a chat with their elves and they'll deliver the same - while keeping to social distancing rules. No contact, no fuss!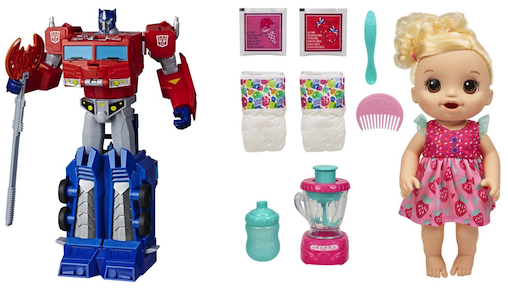 Want to get the birthday girl or boy a present they'll love? We are yet to meet a child who doesn't enjoy Hasbro's range of toys and games! Whether it's their favourite characters and brands including Disney, Nerf, My Little Pony or Transformers, or action figures, electronic and board games - we are certain there's something that'll make them jump for joy. Encourage pretend play for the little ones with Hasbro's Baby Alive Magical Mixer Nurture Doll. Girls and boys aged 3 years and up will love mixing up their doll's food in a real toy blender, then feeding, changing, and enjoying sweet moments with their Baby Alive doll.
For those looking for some Play-Doh fun, do consider the Play-Doh Fire Truck that comes with 5 non-toxic colours including the Play-Doh water compound. Create fire-rescue missions again and again with this truck toy for ages 3 years and up and watch their faces light up in delight at the squishy Play-Doh Water Compound - the same Play-Doh they love but with swirls to make it look like water!
Any Llama lovers should definitely receive a Hasbro furReal Walkalots Big Wags Llama - wonderful multi-coloured Llama pet who the kids can even take for a walk! Fun Llama sounds, a bouncy walk and springy tail motion will ensure they'll be in peels of laughter every single time. 
For Nerf fans, NERF Ultra One and Two gives kids aged 6 and up, the ultimate dart blasting experience. Nerf Ultra blasters come with advanced design and performance to deliver extreme distance, accuracy, and speed. The motorized Nerf Ultra One blaster includes a high-capacity dart drum that holds up to 25 Nerf Ultra darts. The Nerf Ultra Two Motorized Blaster, on the other hand, comes with fast back reloading and 6 Nerf Ultra Darts. 
Transformers Toys Cyberverse Ultimate Class Optimus Prime Action Figure is a dream come true for Transformers collectors. Convert the Optimus Prime toy from truck to robot mode in 6 steps - pull out his weapon accessory in the last conversion step to activate his spinning Energon Axe Action Attack feature. Makes the perfect gift for kids!
And finally, if you'd like some family play time with kids aged 8 and up, invest in a Monopoly Classic - SG Edition board game. This version of the popular Monopoly game welcomes the Rubber Ducky, Tyrannosaurus Rex, and Penguin into its family of tokens. Choose your token, place it on go, and roll the dice to own it all!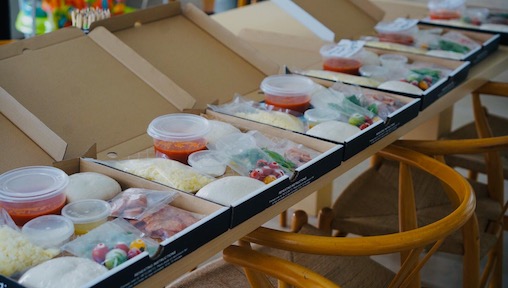 A family that cooks together, enjoys home celebrations like no other! The DIY kits by Bella Pizza make for a perfect activity on your little one's birthday. Gather up your family members, and indulge in a pizza kit that comes in both single and double dough. And that means rolling up your sleeves Italian style - we are talking about playing, flipping and laying out your own dough! 
Each dough roll can be rolled out into a 12" pizza. The basic kit comes with 2 pillow soft dough rolls, tomato sauce, flour to open the dough, olive oil, some fresh basil and tomatoes, easy to follow instructions and a video link. Want an extra twist? Extra toppings can be ordered separately too! 
For eager chefs, there's even a Calzone Kit available where you use hand-picked Tuscan tomato sauce, mozzarella cheese, ricotta and salami together to make the meal of everyone's dreams.
Want to take your birthday party a notch higher? Why not order DIY pizza kits for all the kids invited to your kid's party and have them virtually make it together! Messy, fun and so satisfying - you won't even have to worry about dinner after!
The DIY Pizza Kits can be ordered from Bella Pizza's website directly and cost $18 for single dough and $25 for the double.
Contact Bella Pizza's amazing team at (+65) 6836 5692 or WhatsApp (+65) 9692 2116 should you be looking at multiple deliveries, pizza making virtual parties, care and birthday gifts.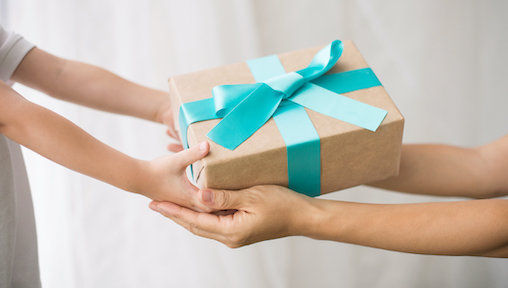 The perfect present for your little one - Gift-It-Forward! Share your child's birthday gifts with a charity you care about AND pool funds towards a dream gift.
For parents who want to teach kids about mindfulness, here is a chance to help them be conscious of the community and the environment around them. Not only can you give your child a dream gift, but also the gift of compassion! 
A fun and simple way to spread kindness and mindfulness as you celebrate your child's birthday while social distancing, Gift-It-Forward makes it easy for all gifters to contribute towards a charity you care for. 
This innovative and super-helpful for clutter service simplifies party planning by creating e-invites and collecting money towards a cause of their choice. We also love how it doesn't leave the birthday child out with part of the proceeds going towards a present they really (really!) want. With over 19 charities and counting, your friends and family overseas also get a chance to donate. What's more, you'll be able to send thank you notes to all after the event too.  Less physical gifts, more mindfulness - we love!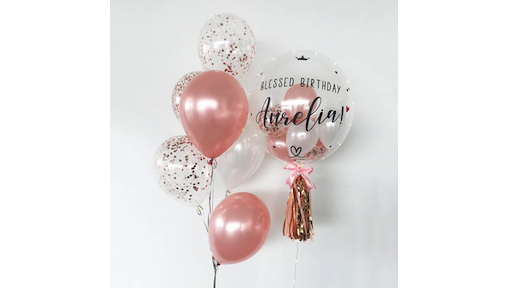 Just because we are social distancing doesn't mean your kids birthday must be without balloons! Misty Daydream is your one-stop party supplies shop in Singapore that offers a huge range of event decoration at affordable prices. You'll be surprised by how gorgeous their balloon bouquets can look - we've often seen grown-ups enjoy them as much as the little ones! From durable latex helium balloons offering up to 10 hours of floating time to banners custom made with your preferred message in your favourite colour and design, Misty Daydream will certainly get the party mood started! 
One of their popular buys is the stunning lettered helium balloons which come as individual letters and can be delivered to your doorstep, any day of the week. In fact, if you order before 8pm, your package will be ready for pick-up or delivery the following business day! 
Any questions? Get in touch today via email at [email protected] or through WhatsApp or SMS at (+65) 8222 7491 / (+65) 8298 1670.