Located in Hennur, GYLT by Byg Brewski is all set to introduce Bengaluru to a premium clubbing experience exclusively available only on Fridays and Saturdays from 9 pm onwards. One could never have enough weekends to indulge in Bengaluru's night scene. GYLT, with its haute European-Asian cuisine, is redefining all that the city has to offer till now with two words - opulence and improvisation.
GYLT's Cocktails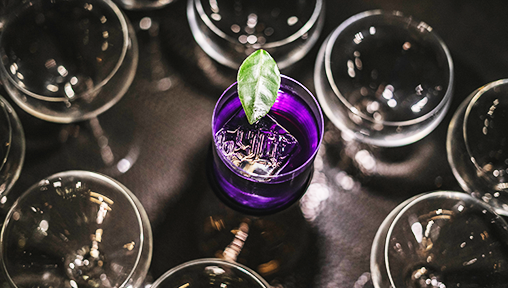 Inspired by the grandeur of vintage, GYLT introduces an interesting bar menu with intense vegetal hues and visibly attractive cocktails. Deeply rooted in conscious sourcing and consumption, the Upstairs cocktails and Legacy cocktails are a tapestry of natural colours and flavours.
A must-try at GYLT is the gin and tonic-based cocktail, Amethyst, that changes colour with rapid stirs. For the fans of vodka, Valkyrie with blanched bell pepper infused Ketel vodka and dried bell pepper syrup, citrus and exotic juice is a good recommendation.
For those who prefer a whiskey-based cocktail,  GYLT's Lillianaire sour, a blend of Jack Daniels Gentleman Jack, pomegranate, lime and absinthe and egg whites with hibiscus flavour, is nothing less of an art. For vegans, they replace the egg whites with Aquafaba. Another interesting feature of GYLT is that it uses ice with negligible oxygen ration which prevents it from melting and thus, the drinks at GYLT remain undiluted for long.
GYLT's Food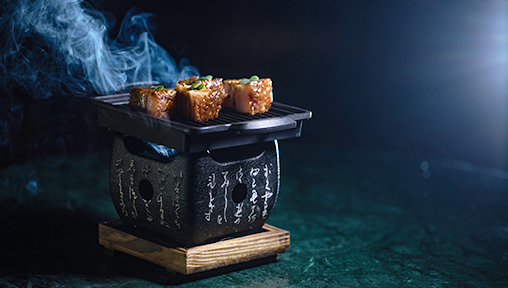 A melting pot of flavours from Asia and Europe, The cuisine mainly comprises of small plates featuring the likes of canapés and tapas and is cooked with the traditional methods of slow braising, sous vide and confit. Best suited to be paired with cocktails and wine, each portion is plated with a delicate appreciation for sustainable sourcing and nutrition choices.
Inspired by global food destinations New York, Sydney and London, the food incorporates seasonal produce, fresh seafood and elements of cheese and dairy products.
One universally-appealing dish is GYLT's charcoal dumplings stuffed with cheese and dusted with edible gold. GYLT designed their seafood menu with much thought; the sushi is served with bacon and brown rice as well as chicken tikka and white rice. For a much lighter meal, we recommend a medley of small plates, the ripe avocado and bell pepper, corn and chilli served with 24-carat gold leaf ceviche.
GYLT's Entertainment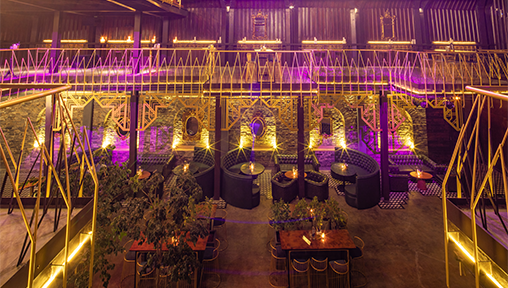 With plush and medieval interiors, chandeliers hanging from the ceiling, and a bar that stretches two storeys, you're all set for an opulent affair. GYLT tunes set the mood right with an easy and upbeat playlist that allows one to party as well as have a conversation.
GYLT offers three different levels of seating options - one on the ground floor, another an open-air lounge sharing the deck and view of Byg Brewski's ponds, and a private dining experience next to the bar away from the hassle which only enables guests with a reservation to dine there,  for which extra charges apply as well.
To make a reservation call (+91) 8861856039 or (+91) 9620347095 or visit GYLT Hennur.