Scarred for life with acne? Not anymore, say skincare specialists. If your scars don't go away after a bout of acne or you have long lasting ones from years ago, it may be time to see the Dermatologist. From lasers and fillers to resurfacing, there is a plethora of new age treatments to help you get rid of acne scarring.
What is Acne
Regardless of race or gender, acne affects everyone usually in the adolescent years, between 16 to 18 years of age. Although that is the norm, there are often cases where it affects people sooner or rather later in life. A common problem, acne is essentially due to the blockage and inflammation of skin glands and hair follicles. Often related to genes, hormones, bacteria, structure of hair follicles the condition is further aggravated by taking steroids, using cosmetics which clog up the pores, living in an environment with high humidity and taking a diet high in dairy and GI foods.
Acne Scars: Telling one from the other
Once you have gone through the cycle of acne and it has been adequately treated, the injured skin may leave a scar. Some of these scars may include:
- Deep, narrow pitted scars also known as ice-pick scars
- Broad depressions with sloping edges or rolling scars
- Broad depressions with sharp edges or box scars
- Flat thin scars also called atrophic scars
- Thick lumpy scars or hypertrophic scars
 
Speak to a Skin Doctor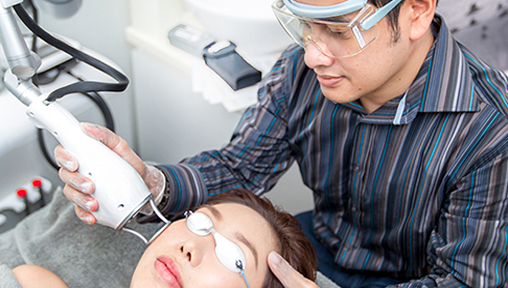 We caught up with Dr Fin, an accredited skin specialist at Bio Aesthetic Laser Clinic to get further advice on the type of treatments to use.
What are the best treatments for Acne Scar removal? Which particular one would you recommend?
"Unfortunately, while the post inflammatory colour changes of these scars usually improve over time, the appearance of these scars do not completely disappear. Early treatment of acne is the best way to prevent this from occurring in the first place.  But if they occur, there are several ways of treating them."
"There are several treatments available such as skin needling, dermabrasion and subcision for ice pick and box scars or filler injections and dermabrasion for rolling and atrophic scars. However fractional laser resurfacing may be considered a remedy to treat the whole face and these scars. Having been around for the last 20 years, laser skin rejuvenation helps to removes acnes scars as well as fine wrinkles and blemishes. This is done by resurfacing the top epidermal layer of skin in a controlled manner and allowing new smoother, more evenly toned skin to grow resulting in an improved appearance." Adds Dr Fin
Are these treatments painful and what is the downtime needed?
Dr Fin recommends numbing cream to be applied before the treatments to reduce it to a nearly painless procedure. "There is a 3 to 5-day downtime with the fractional laser resurfacing treatment. This means after the treatment is done, pixilated dots will be seen on the face over the treated areas giving a red "sunburn" appearance lasting a few days." Says Fin. Best not to get this done just before a big event!
How many sessions will I need?
"While each treatment session contributes to improving the skin and acnes scars, multiple sessions with provide significant results." Says Dr Fin. "A minimum of 3 or 4 sessions with an interval of 4 weeks between sessions is usually advised but treatments will vary depending on the severity of the scars and the response with each treatment. "
How can I tell if I am a candidate for Acne scar removal? 
"Anyone with ice pick, rolling, box or atrophic scars is suitable for this treatment although very deep scars may not be completely removed. Those who are prone to keloid scarring may not be suitable for this treatment but alternatives can be suggested during consultation with a doctor."
It's also advisable to be careful if you have uncontrolled acne says Dr Fin. "Patients who still have uncontrolled moderate or severe acne are not suitable for this treatment and would be advised to seek acne treatment first. Those who are taking isotretinoin therapy or similar drugs for acne treatment will need stop for 6 months before the laser treatment. Similarly, the use of retinoid creams would need to be stopped a few days before laser treatment."
If you would like to sign up for an acne scar treatment or simply get a consult from Dr Fin visit the Bio Aesthetic laser clinic located at 68 Orchard Road, #04-56 Plaza Singapore or visit their website.