We first heard about Fung Kee Hotdogs through a friend and were absolutely floored by the name and the location of its first outlet. There was no way the best hot dog joint in Singapore is owned by a Scandinavian guy who has named it Fung Kee which we assumed was "Funky Hotdogs".
We knew we had to visit Fung Kee Hotdogs and suss it out for ourselves and boy were we impressed.
The name Fung Kee, 豐記, means prosperity and you know the name is working as Founder Knut Randhem has opened his second outlet in Singapore, in just 6 months.
Knut was missing a place for quality hot dogs done simply but tasted delicious with great beverage offering and trust us when we say, he has done it right.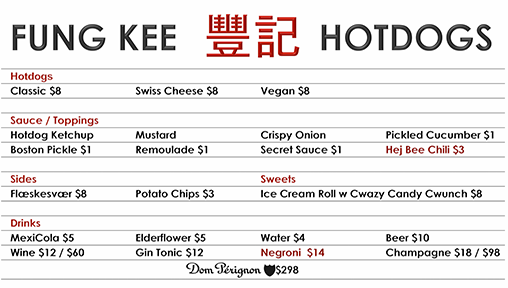 The Hotdogs
It doesn't get any simpler than choosing between a Classic Pork sausage made from premium pork or a Swiss Cheese option. If you're Vegan, Knut has gone out of his way to ensure that not just the sausage is made from grilled mushroom and soy, but the bun is vegan too.
Fung Kee Hotdogs are served in a toasted bun with homemade sauces such as the classic Danish Remoulade (curry mayonnaise with pickles), Hej Bee Chili with crispy shrimp bits, a secret sauce, and you can add on crispy onions or pickles.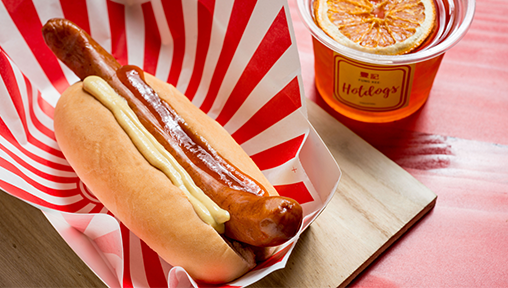 The Drinks
The last thing we expected seeing at a Hotdog joint was Dom Perignon Champagne on the menu which was brilliant given that Fung Kee Hotdog focuses on the late-night crowd.
We absolutely loved their house Negroni which is just $14 but be warned that it can get lethal. Another must-try drink available only at Fung Kee Hotdogs Duxton is their Gin and Tonic made with Gin Mare, a Mediterranean gin.
Knut's attention to details is most certainly paying off and we will definitely be back for the third time.
Fung Kee Hotdogs is located at 68 Duxton Road S(089527),  Orchard Towers, #04-23, S(238875) and on both FoodPanda and Deliveroo.