No flights. No long check-in queues. What if we told you there was a whole lot of tropical fun awaiting just a boat ride away from Singapore? A mere 55-minutes by ferry, the island of Bintan is no stranger for families travelling on holiday from the red dot. The jewel in their crown is Club Med Bintan Island, an all-inclusive property that ensures every single member of the family has a good time. Read on to find out what we loved at this property and why you too should consider booking a 'kiddie venture' soon!
Getting there and first impressions
There's no dragging your feet through an airport or having to pay extortionate airfares during the school holidays. The commute to Club Med Bintan Island is as simple as booking your ferry tickets and then getting on one! Less than an hour by boat and a short 10 minutes drive later, you arrive at the tropical oasis that is Club Med Bintan Island.
The first aerial view of the resort at check-in tells you exactly how large the property really is! Sprawling pools, a fabulous long beach, a Trapeze, lawns set against a backdrop of aerial yoga and rooms decking the main hallways on either side; this is not your usual hotel. It was meant for great things and an immense amount of activity and fun.
At check-in, you are welcomed by a number of passing GO's (Gentil Organisateur) who will talk you through the property, ask after your well being and ensure you feel at home. And they'll do this through the entirety of your stay. Friendly, outgoing and absolutely fantastic with the kids, these GO's are what make your vacation at Club Med Bintan Island and each passing day will be a testament to that.
All inclusive but what exactly is included?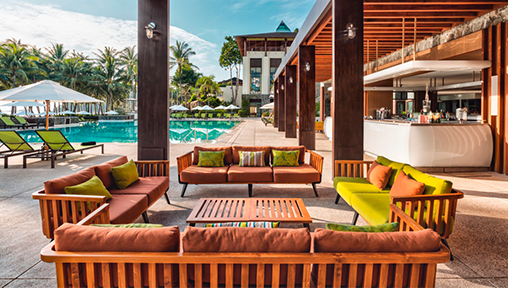 We've often heard the merits of an all-inclusive resort when travelling with family, and were eager to discover what was on offer. The honest answer, almost everything that you will need!
From full board gourmet dining and all day snacks, an open bar for both alcoholic and non-alcoholic drinks, a kids club for ages 4-17, to daily entertainment, land and water sports and wifi; there's far more on offer here than you would ever need. Should you prefer to take on paid activities such as a round at the golf course, spa or select water sports, these are available aplenty too. 
The Kids Club and a $5 per hour Babysitting Service!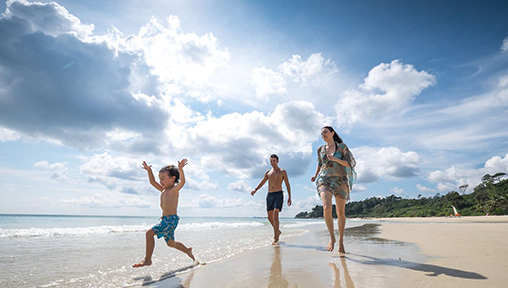 For us, our key reason for choosing Club Med Bintan Island was the accessibility to a fantastic kids' activity club, one that Club Med is known for around the world. The All-inclusive holidays at Club Med come with a Kids' Club for children between the ages of 4 to 17 years. The Club is open from 9:00am – 5:30pm and again in the late evenings, perfect if you want some time alone with your spouse!
And again, their kids' clubs offer more than the average holiday clubs in the region. An extensive programme that includes sports and activities for children to explore, create, learn and have oodles of fun! Depending on age, children can learn sailing, water skiing, archery, flying trapezes, as well as be a part of the evening resort shows and entertainment!
Got smaller kids? Kids under 4 stay for free and there is always the option of the Baby Club Med (0- 23 months) and the Petit Club Med (2-3 years) but at an extra cost. Parents can join in or encourage from far for most of the kids' club activities - giving you a perfect medium of a family holiday and some exclusive alone time for mum and dad. Should you need the help of a babysitter for smaller kids or later in the night (there's some great entertainment that you don't want to miss!), take advantage of their $5 per hour babysitting service. You read that right, and you are welcome!
Rooms, dining and the beach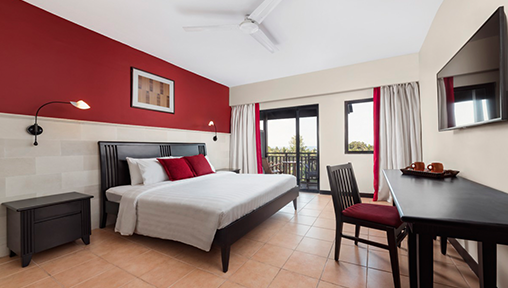 Rooms at Club Med Bintan Island are best classed as basic luxury, so if you want the grandeur of a luxe suite, this may not be the one for you. Having said that, they do come equipped with everything you need, including baby essentials such as a bathtub and bottle sterilizer (request before arrival). The beach facing rooms have indulgent balconies that grant you gorgeous views of the ocean through your stay - and their massive king sized bed was one of the most comfortable we've slept in, for a while!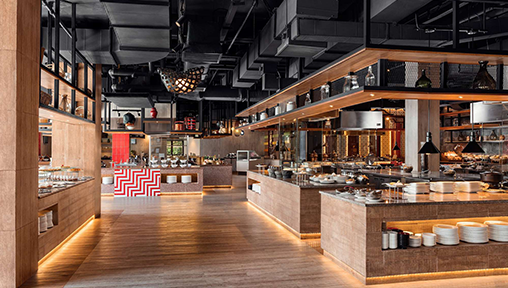 The food and beverage offer is possibly Club Med Bintan's biggest attraction (after that beautiful beach, but more on that later). Gourmet cuisine is served all day long, at two different restaurant locations. This gives guests a chance to pick between a sizeable international buffet and a set menu. Both alcoholic and non-alcoholic drinks are served at various bars and restaurants through the day and night! The variety of food ensures kids are fed, no matter what. From the usual suspects such as nuggets and fries to handcrafted sushi rolls, delicately sliced meats and a wide variety of Asian cuisine, there's definitely more than enough to keep everyone well satiated at the resort. There's also an ice cream bar with a variety of flavours to compliment that delicious meal.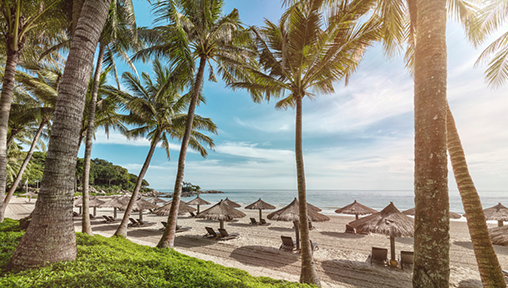 The beach at Club Med Bintan Island is shallow, clean and one of the most kid-friendly we've seen in South East Asia. This means that the kids can literally play for hours and safely so! For the adults, there are beach beds sprayed across the sand (with umbrellas) and the bar is a mere walk away!
Yes, you have to go!
As the pioneer of family-friendly resorts and over 50 years of Kids' club expertise, Club Med has the details of this resort down to almost perfect. If you are seeking a holiday for your family and especially with the kids, this is as easy as it comes. No thinking, minimum planning and absolutely no extra bills involved. An all-inclusive family holiday at Club Med Bintan Island is a must- do, especially when it's just a boat ride away!
Club Med Bintan Island, Indonesia. Phone 1800 258 2633