Executive Sous Chef Martin Satow grew up near the coast of Germany, where he began developing a strong connection to the sea. It is not surprising then that his expertise is in seafood. The Hamburg native began his culinary career in Berlin and has been cooking since the age of 15.
Currently, Chef Satow is in charge of all the restaurants and bars at Grand Hyatt Singapore, contributing significantly to the hotel's chain-of-custody accreditation for sustainable seafood, which made it one of the first hotels in Asia Pacific to earn this status.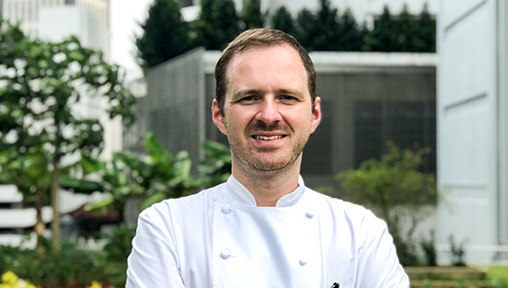 Vanilla Luxury: You've just made headlines with your partnership with Beyond Burgers. How did that come about?
Executive Sous Chef Martin Satow: We decided to introduce Beyond Burger to provide an inclusive dining experience for vegetarians, vegans and guests who simply want to minimize their meat consumption. Spearheaded by our Director of F&B, Jerome Pagnier, Beyond Burger was chosen because it looks, cooks and tastes just like conventional meat patties. The delicious plant-based patty is in very high demand worldwide and we are extremely happy to be the first and exclusive partner in Southeast Asia.
This follows other plant-based options introduced in 2018, including the first-ever plant-based Italian Lunch Buffet at Pete's Place.
Vanilla Luxury: Grand Hyatt Singapore is known to be the first in Asia Pacific to be recognised for sustainable seafood. Share with us a little more on this.
Executive Sous Chef Martin Satow: Guided by our food philosophy, we started to source for sustainable seafood in 2010 and reduced the original list of 650 seafood products to less than 100 products that were certified sustainable by Aquaculture Stewardship Council (ASC) and Marine Stewardship Council (MSC). The hotel was audited on its purchasing, food storage and segregation processes, and was one of the first hotels in Asia to be awarded Chain of Custody by ASC and MSC in 2015.
As an MSC and ASC CoC certified hotel, diners at the hotel's restaurants and events can be assured that non-exploitative fishing and farming methods have been used to procure the seafood products used in the menus. This achievement reaffirms Grand Hyatt Singapore's commitment to sustainable seafood practices through the food supply chain and ultimately providing environmentally conscious food options for the hotel's diners.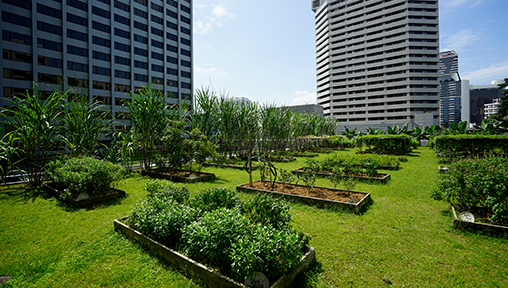 Vanilla Luxury: What steps are the restaurants in Grand Hyatt Singapore taking to be sustainable?
Executive Sous Chef Martin Satow: We believe the hotel industry has a huge part to play to enrich communities and protect the planet for future generations, especially given the huge amounts of food we serve on a daily basis.
Sustainability is a key focus for Grand Hyatt Singapore and here's what we've done thus far:
1. Redesign our menus to feature healthier dishes made with sustainable ingredients including seafood sourced from suppliers accredited by the ASC and MSC.
2. Source organic vegetables from cooperative growers in Cameron Highlands.
3. Use organic herbs produced in the hotel's rooftop garden.
4. The installation of a waste management plant that converts 100% food waste (approximately 1,000 kg per day) into pathogen-free organic fertiliser within 24 hours. This has helped the hotel to save approximately 55,000 trash bags per year, and the fertilisers are used for all green spaces in the hotel including the rooftop garden.
Vanilla Luxury: How is martini bar making an effort to go green?
Executive Sous Chef Martin Satow: The cocktail menu at the martini bar has been redesigned to remove all single-use plastic straws and stirrers. We aim to fully remove the use of single-use plastic straws and stirrers across all Hyatt properties by September 2018.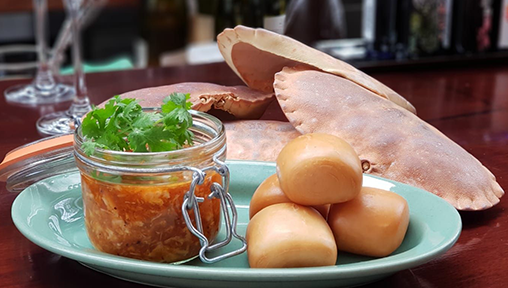 Vanilla Luxury: You're recommended must-try dishes at the upcoming Sky Grande Prix Gourmet Pit Stop?
Executive Sous Chef Martin Satow:
1. Wok-fried blue swimmer crab meat, chilli egg gravy, crispy mantao buns
2. Piadina di mortadella - mortadella, marinated peppers, provolone
3. Szechuan style double cooked pork belly, leek, fermented black soybeans
RSVP here to get on the guest list (entry before 9pm) to attend the Sky Grande Prix Gourmet Pit Stop on 16 September 2018, Sunday at Grand Hyatt Singapore.