You can now brush your teeth with the best electric toothbrushes. From Philips to Foreo, find the perfect electric toothbrush for normal to sensitive teeth and gums.
All the electric toothbrushes might seem the same because they all serve the same purpose of brushing your teeth. However, each toothbrush is designed for different teeth and gum conditions making this one of the most complex reviews we have undertaken.
When searching for an electric toothbrush what do you look for? Comfort, function, and softness might be some factors that come to mind. We have taken these factors and some other important ones that dentists have asked us to pay attention to.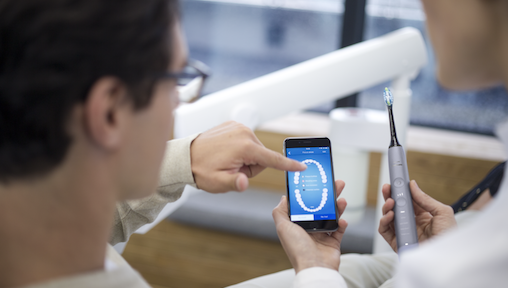 The Philips Sonicare 9500 DiamondClean Smart is the No. 1 recommended Sonic toothbrush brand by Dental Professionals worldwide. This electric toothbrush that coaches you on how to brush your teeth better. It comes with a location sensor that shows you where you're brushing too much or too little. The pressure sensor alerts you if you're brushing too hard to help protect your teeth and gums. Touchup highlights spots you've missed - all through their Philips Sonicare app.
The movement of Philips Sonicare 9500 DiamondClean Smart is vibration-based versus rotation of some others. It comes with a travelling case with a built-in charger that allows your electric toothbrush to charge on the go and in addition, has space for you to carry 2 heads.
The electric toothbrush handle shows you which brush head you have on along with the brushing speed and battery requirements. The Philips Sonicare 9500 DiamondClean Smart comes with 4 brush heads including one exclusively for tongue cleaning. There are 5 different clean modes and 3 intensity level settings on the Philips Sonicare 9500 DiamondClean Smart - clean, white, gum health, deep clean and tongue care. 
The Philips Sonicare 9500 DiamondClean Smart is designed to provide 10x enhanced removal of plaque, 7x healthier gums and up to 100% more stain removal. The brush heads are designed to optimally select the best setting and the brush has an inbuilt scrubbing sensor to notify you to reduce scrubbing allowing the brush to do its best. 
I have been using this electric toothbrush for about 2 weeks now and find it extremely effective in its claims. For a new user, it will take some time to get used to the vibrations but once you are there it is a magical sensation every morning and evening. The Philips Sonicare range comes in 3 variants, the 9300, 9500 and the 9700.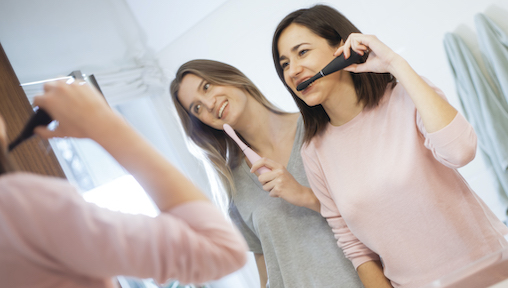 Foreo Issa 2 is the world's first silicone sonic electric toothbrush. Every electric toothbrush in their range uses medical-grade silicone that is body-safe and hypoallergenic. As our Editor-in-Chief has sensitive teeth and gums, she experienced discomfort while reviewing other electric toothbrushes but found Foreo Issa 2 Sensitive the most gentle for her gums and teeth.
Here's why she is loving the Foreo ISSA 2 Sensitive Set which comes with one hybrid brush head and one completely made with silicone for sensitive gums.
Long-Lasting Charge: I'm a very practical and fuss-free person. With just one charge, Foreo Issa 2 can last up to 365 uses. It comes with a convenient USB charge that makes recharging it really convenient.
Ultra-soft Silicone: Foreo ISSA 2 Sensitive is made of ultra-soft silicone that is incredibly smooth and feels great to brush with. The silicone electric toothbrush is quick-drying and non-porous to prevent the buildup of bacteria. As I use the sensitive brush, the bristles are made of silicone and do not scratch my tooth enamel.
Sonic Pulse Technology: Designed to be used as a manual toothbrush, Foreo ISSA 2 Sensitive does not oscillate like conventional electric models. Instead, it incorporates T-Sonic technology to pulsate at a frequency of 11,000 pulsations per minute for micro-sweeps that effectively, yet gently, clean teeth and massage gums. 
Safe and easy to use: I love that it is free of BPA and phthalates. Foreo ISSA 2 Sensitive removes plaque for total oral care and is particularly suited to those with sensitive gums, or for whom erosion of tooth enamel is a concern.
The Oral-B Genius 9000 comes with a Cross Action, Floss Action, 3D White and Sensitive brush head and offers Bluetooth connectivity to a smart brushing app. The Oral-B Genius 9000 has a 360 SmartRing with LED lights on the brush which allows you to personalize your brushing experience with 12 colours while delivering visual feedback on your brushing pressure, brushing time and selected mode.
The dynamic movement of the 3D cleaning action helps the Oral B Genius 9000 electric toothbrush head adapt to your teeth as it oscillates, rotates and pulsates to break up and remove more plaque than a regular manual toothbrush.
The Oral-B Genius 9000 toothbrush features a Lithium-Ion battery and smart travel case that's designed to charge both your electric toothbrush and smartphone using only one outlet, all while delivering long-lasting, consistently powerful cleaning action for up to 12 days between charges. You can buy the Oral-B Genius 9000 on Lazada here.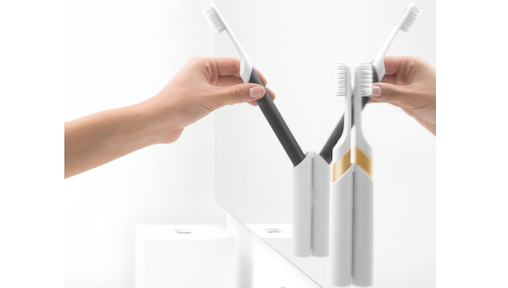 The Quip Story started in New York and is focussed on providing dental hygiene as a service which can be shipped around the World. Their starter package includes an affordable silver metal electric toothbrush that runs on a AAA battery that lasts up to 3 months. 
This is accompanied with an all-in-one travel cover, mount and stand. The electric toothbrush is approved by the ADA (American Dental Association) and the vibrating brush bristles provide an industry-standard 15,000 brush strokes per minute with an auto shut off at 2 minutes.  In addition to the brush, the Quip starter kit has a 4.7 oz. (133 gms) mint anticavity toothpaste and a refillable aluminium bodied floss dispenser which comes preloaded with dental floss.
Once you order the Quip Dental Starter Kit, you can sign up for a subscription which will be delivered to your doorstep every 3 months. The refills pack includes a fresh brush head, a AAA battery, a toothpaste and floss refill to keep you going. They also have prepaid plans for a subscription.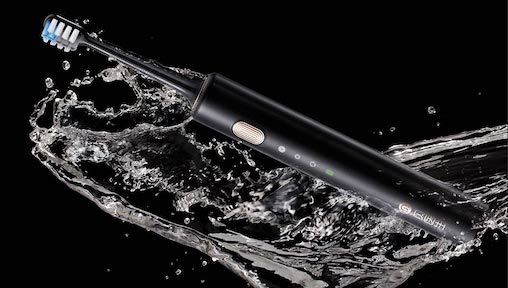 XiaoBei Technology, the company behind Dr. Bei Sonic Toothbrushes, is a subsidiary of Xiaomi focused on providing high-quality oral care products and solutions for the users. 
The Dr. Bei S7 Sonic Electric Toothbrush is  a IPX7 standard waterproof toothbrush with 5 cleaning modes depending on sensitivity. 
The Dr. Bei S7 Sonic Electric Toothbrush is capable of delivering 31,000 brush movements per minute and is designed with a low noise denoising technology. 
The Dr. Bei S7 Sonic Electric Toothbrush also claims to have highly efficient battery life spanning almost up to 60 days.