Need a body wash that's safe for your skin? Thanks to last year's surge in body wash and hand wash usage, you can now find a whole range of options that are suitable for all skin types including dry, itchy and sensitive skin.
These, safe for the skin, body washes and cleansers clean efficiently but without stripping your body of its vital natural oils. And unlike other mass products, they are scientifically formulated using gentle ingredients and breakthrough technology, to soothe and soften the skin, as they cleanse.
Look no further, these are the best skin-safe body washes that you can buy in Singapore.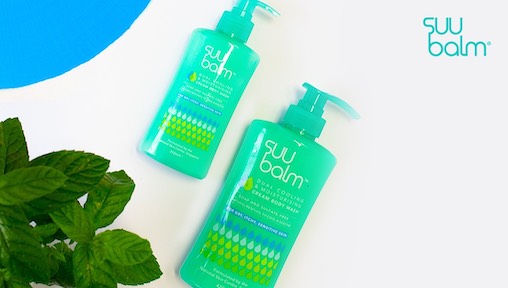 Worried about aggravating skin problems with frequent showers? Suu Balm Dual Cooling & Moisturising Cream Body Wash is a gentle, refreshing formulation that's safe for everyday use on anyone with dry, sensitive or eczema-prone skin. Bonus points for being formulated by our very own National Skin Centre, Singapore.
The moisturising cream body wash contains absolutely no nasties like SLS/SLES, soap/sulphate, parabens, preservatives or artificial fragrances- all of which can irritate sensitive skin.
Sometimes after your shower, your skin feels tight and tingly. Suu Balm body washes don't make you feel that way as it's super- moisturising. The Suu Balm Dual Cooling & Moisturising Cream Body Wash contains 5 moisturising ingredients, including rich shea butter and sodium hyaluronate and doesn't strip your skin of its natural moisture. It is also hypoallergenic and matches the skin's pH so you get exactly the safe, gentle cleansing experience that you are looking for!
Suu Balm is available for purchase on their website, Guardian, Watsons, and Unity pharmacies.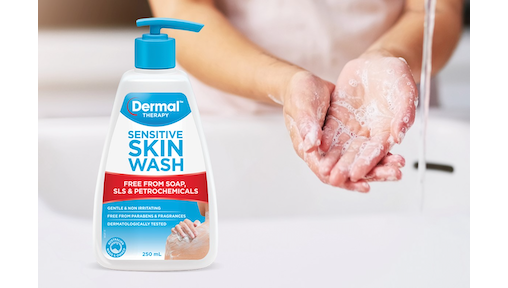 Looking to buy a gentle body wash that can be used by the whole family? Dermal Therapy Sensitive Skin Wash is a mild and effective soap-free formula that thoroughly cleanses, without stripping the skin of its natural oils. It is mild and gentle to be used daily on dry and sensitive or eczema-prone skin. Ideal for use on your body, hands, and face and suitable for the entire family.
Dermal Therapy Sensitive Skin Wash is made from naturally derived ingredients known for their immediate hydrating ability. Its gentle formula uses a coconut oil-based cleansing agent and is one hundred per cent natural and free from sulfates, parabens, synthetics and artificial colours and fragrances.
For best results, use in conjunction with Dermal Therapy Sensitive Skin Lotion.
Dermal Therapy Sensitive Skin Wash is available at leading pharmacies including Watsons, Unity and official e-stores on Lazada and Shopee.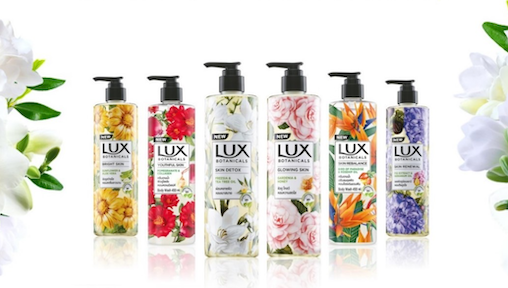 Want a way to pamper yourself at an affordable price? LUX Botanicals have introduced a refreshing, aromatic experience to let your stress and tension melt away in the shower! The LUX Botanicals' body wash collection comes with 100% natural extract and luxurious scents. Made with natural, sustainable ingredients that are paraben, colourant and silicone-free, the extensive body wash selection consists of six variants that promise to deeply cleanse, rejuvenate and balance the skin's moisture. You'll enjoy healthy, youthful and glowing skin, no matter your type.
The 100% natural extract in these body washes consists of exotic flowers and botanical beauty oils that will moisturise your skin and keep you feeling refreshed throughout the day. Working with some of the best perfumers around the globe, LUX Botanicals has infused luscious scents into its washes, making women feel fabulous from head to toe–it's like a touch of perfume each time you walk out of the shower!
And as part of the brand's effort to encourage the community to care for one another and the planet, all variants come in 100% recyclable bottles and includes ylang ylang oil that is 100% sustainable and traceable. What's more, every bottle sold contributes to improving the livelihoods of female farmers in Comoros, Africa.
The LUX Botanicals body wash is available at Watsons, NTUC FairPrice, Cold Storage, Sheng Siong, Lazada and Shopee.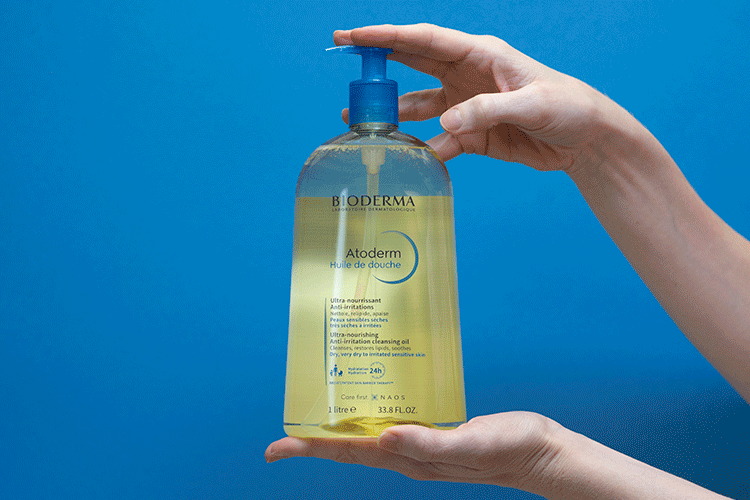 Do you suffer from dry or irritated skin? Dry, very dry to irritated skin results in an alteration of the skin barrier, which leads to dehydration and facilitates the penetration of irritants in the skin. This results in the skin losing its suppleness and softness. Think dull, rough, tight and itchy! You'll also find that aggravating factors such as the environment, cold, temperature variation and pollution attack the skin on a daily basis. This is why using a product that is conscious of your skin's sensitivity is a must!
Bioderma's Atoderm Huile de douche soothes and protects from external aggressions thanks to its exclusive formula composed of vegetal biolipids, vitamin PP and Barrier Skin Therapy patent.  Vegetal biolipids* soothe the feeling of tightness, increase the resistance of the skin by recreating the protective film of the skin. Vitamin PP stimulates lipid synthesis, and allows the reconstruction of the skin barrier for the long term. The product comes with Skin Barrier therapy™ patent that biologically prevents the binding of the bacteria (Staphylococcus aureus) responsible for aggravation of skin irritation.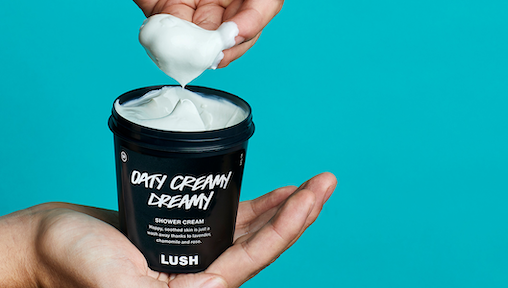 Oats have been used to cool and calm the skin for thousands of years. They have an anti-inflammatory effect, which can help to relieve itching and calm allergic reactions. When infused in water, oats produce oat milk, which is used in many Lush products, making them skin safe and gentle overall.
If you're looking for an oat-milk embrace too, the Lush Oaty Creamy Dreamy shower cream offers skin a hydrating wash that soothes and satiates the skin. 
Take things a few notches higher with a Cleopatra-like experience with the Ceridwen's Cauldron Bath Melt. This oaty, milky melt works its magic just as you drop the muslin pouch into your bathwater. Watch as it releases its creamy oat milk, turning the water into a delicious spell of frankincense, rose and sandalwood. 
Prefer a softening shower gel or body wash that has an addictive sweet fragrance? Luscious honey, lotus flower and tiger lily combined with Brazilian orange and bergamot deliver a softening bath experience with the Lush Honey I Washed The Kids Shower Gel. Rich honey soothes, hydrates and cleanses the skin as you are embraced in a seductively, soothing scent. Don't want to leave your shower? Shhhh….we won't tell!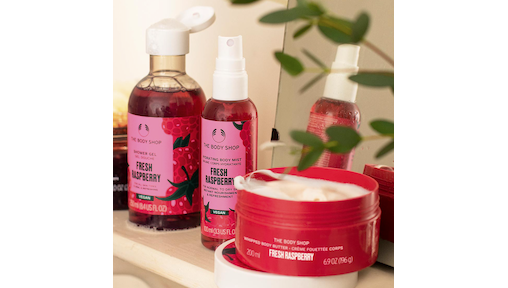 Needing no introduction, The Body Shop offer a range of skin safe products with fragrances and superfoods that you'll love. The brand has recently launched their newest special edition (vegan!) body care ranges that smell like summer in a bottle – Cool Daisy and Fresh Raspberry. The floral and refreshing Cool Daisy and juicy and tangy Fresh Raspberry scents from The Body Shop's new 100% vegan summer special edition body care ranges work like a treat for the body - and the mind! Each body care treat in the Fresh Raspberry range is enriched with nourishing raspberry seed oil or fruit extract.
The Fresh Raspberry Shower gel comes enriched with raspberry fruit extract. This juicy gel lathers up to leave you feeling cleansed, refreshed and smelling like a punnet of fresh raspberries. 
If you are more of a floral girl, try the Cool Daisy Shower Gel instead. This refreshing body wash is a summer must-have that you can use in the mornings, nights and sticky evenings in between. It'll leave you feeling deliciously fresh, clean and nourished. What's not to love!
The Cool Daisy and Fresh Raspberry ranges will be available for a limited time only in The Body Shop stores islandwide and online on Lazada, Shopee, and Foodpanda shops.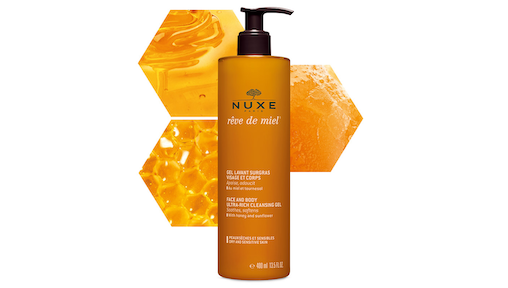 Created more than 20 years ago in the Laboratoire NUXE, the Rêve de Miel® skincare range provides ideal comfort to dry and very dry skin. Specially designed to hydrate, soften and comfort the skin, the Rêve de Miel® collection delivers visible results for your skin.
The inimitable Rêve de Miel® collection combines the nourishing action of precious botanical oils and the softening effect of Honey. Honey is one of Nature's most cherished treasures containing important antioxidants, natural healing properties, and the ability to promote collagen production. The NUXE Reve de Miel Face and Body Ultra-Rich Cleansing Gel comes with a powerful combination of Honey with precious botanical oils and cleanses, soothes and softens. This face and body ultra-rich cleansing gel with honey and sunflower is thick and deliciously honeyed for daily use on dry and sensitive skin while maintaining the hydrolipidic film.
It cleans without drying out the face or body. A moment of pure pampering in the shower!
NUXE is available exclusively online on betime.com.sg and official Lazada LazMall Flagship Store and Nuxe Shopee Mall.
Want a refreshing twist to your shower gel? The skin friendly, Aesop Geranium Leaf Body Cleanser Gel is what body cleansing dreams are made of! This revitalising shower gel comes enriched with Mandarin Oil and Bergamot Rind that effectively cleanses the skin with a fresh citrus-floral fragrance. If you are one to take off your makeup in the shower, the Aesop Geranium Leaf Body Cleanser Gel is known to be effective at removing the last bits of mascara, all while providing that aromatic shower gel experience.
This crowd-favourite body wash also doubles up as a hand wash, offering effective cleansing whenever needed. Don't worry, it won't strip your skin off any hydration either! The low-lather, non-drying formula helps to maintain soft, supple skin for healthy, beautifully scented hands.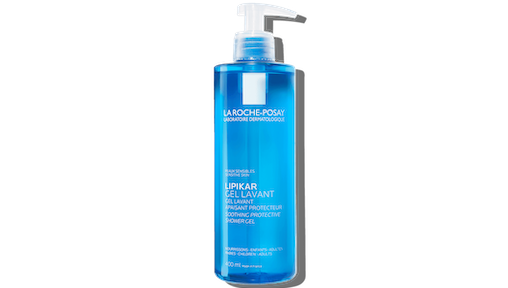 Laroche Posay LIPIKAR range is Europe's #1 body care and hygiene range, with products suitable for the whole family, from newborns to seniors. Their Lipikar Gel Lavant gently cleanses both the face and body and provides the right amount of daily soothing and protection for every skin type such as sensitive skin.
Enriched with soothing Niacinamide and lipid-replenishing Shea Butter the shower gel is designed to make the skin nourished, from the shower. 
It is also a great one to keep for your family bathroom. Suitable for kids and even your baby's scalp, the Lipikar Gel Lavant helps neutralize the harsh effects of hard water. Simply apply daily to wet skin and use on multiple areas including the face, body, baby's scalp and intimate areas and rinse!