As you get on your next flight to destination perfect, remember to take along some of these travel accessories and gadgets that will help make that trip, a tad more convenient (and pleasurable).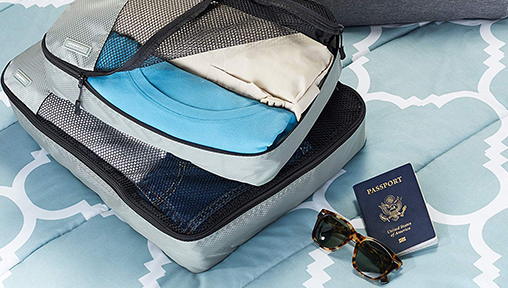 Oh, the magic of packing cubes! If you still haven't given these packing geniuses a shot, stop everything and order a set right away. These super-light and efficient cubes have changed the way we travel, without having to compromise on how much we take along. Double zipper pulls make opening and closing simple and fast, while the mesh panel helps identify what's inside, easily.
Travelling with family or have ski gear to carry? No problem - simply squeeze it all into these AmazonBasics packing cubes and you'll still have room left in your suitcase, we promise!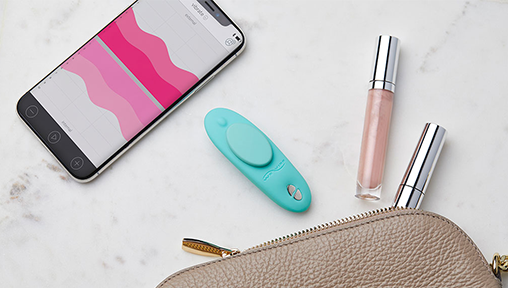 If you've been looking for a discrete pleasure partner ladies, the Moxie by We-Vibe is just the small but powerful vibrator for the job. The newly launched Moxie by We-Vibe is now available at Horny.sg.
Tiny sized, made of silky smooth matt silicone and accompanied by a rumbly vibration (a signature one from We-Vibe by the way) - it makes a perfect travel accessory for those always on the go. A magnetic clip holds the Moxie by We-Vibe vibrator in place on the panty fabric; don't worry it's truly slim, compact and whisper quiet in comparison to other brands.
It is also hands-free, so you or your partner can control the vibe with the use of a remote or the We-connect App via Bluetooth. What's more, shoppers can make use of the Great Singapore Sales promotional offers to enjoy discounts on all products in June and July. Discreet, portable pleasure with endless holiday fun - we think you'll want this one!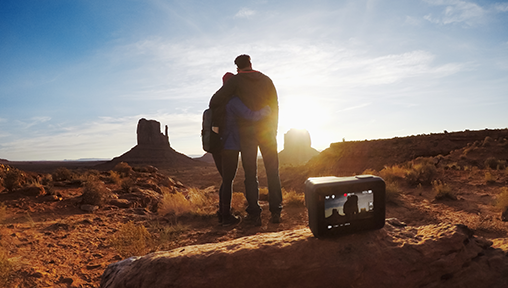 There are cameras and then there's the GoPro Hero7 Black - the most advanced GoPro ever! Setting a new bar for video stabilization with its standout feature, HyperSmooth, GoPro's Hero7 Black makes it easy to capture professional-looking, gimbal-like stabilized video without the expense or hassle of a motorized gimbal. And HyperSmooth works underwater and in high-shock and wind situations where gimbals fail.
Too busy having fun? Say one of 16 commands, including "GoPro, take a photo" or "That was sick" to tag an epic video - and you'll get your camera to do what you like, hands-off! That is indeed, 'sick'!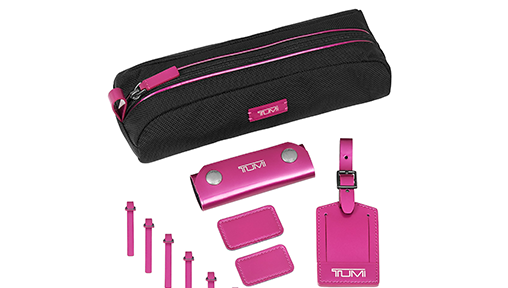 What's luggage if you can't recognise it as yours? Get your bags to really pop in style and colour with the TUMI Accents Kit that lets you easily customize your bag your own personal flair.
The kit includes components made from embossed leather: luggage tag, monogram patch, handle wrap and zipper pull ties. The little zip pouch is ideal for carrying accessories including pesky charging wires and other essentials. Boys take heart - the TUMI Accents Kit comes in several colours so you too can own your bags like no other.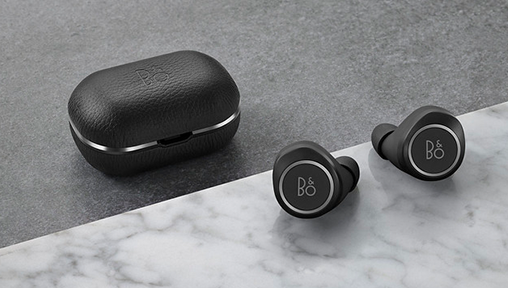 Don't enjoy bulky headphones while travelling? These earbuds by Bang & Olufsen offer superior sound, stunning design in exclusive materials and an intuitive touch control so your music, calls and voice commands are all at the ready. Beoplay E8 headphones were designed for people who don't want to compromise sound and design for true wireless freedom via it's wire-free charging Qi-enabled case.
The gorgeous looking leather case is upgraded to hold three full charges giving you a whopping total of 16 hours of playtime on the go. You'll love its Transparency Mode even more. Simply tap the earpiece when you want to let the world in for a moment and tap again to return to your music! Hands-off and no wires - happy travels everyone.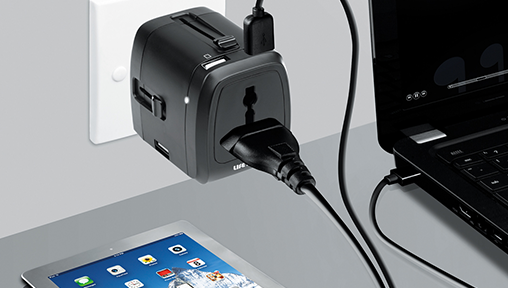 As boring as they sound, there's no living without adapters when you travel. This 4-USB charger and Type - C Cable adapter works in over 150 countries and can charge up to four devices at once. It also comes with a one-year international warranty. 
Forgot to pack this little but nifty travel accessory? Just buy it onboard your next Singapore Airlines flight - simple!