Looking for baby gifts in Singapore? Buying gifts for a baby may seem hard, but we promise there's a whole bunch of amazing newborn and baby shower gift brands out there!
Here's our list of brands that make the most beautiful, thoughtful and practical gifts for babies, gift showers and new parents. Save the page, and you'll never be stumped for baby gift ideas ever again!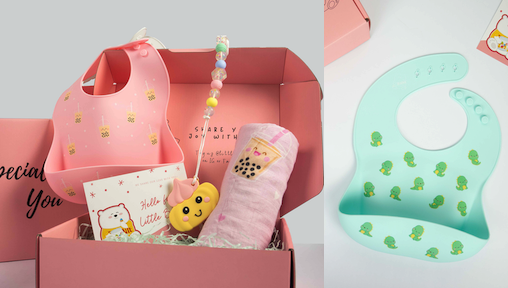 Want to buy readymade sets that can work as practical yet beautiful options for baby shower gifts or as presents for pregnant friends? The baby gift bundle sets by Little Bearnie come with a range of product and price options to help you choose the right present for any occasion for the little ones.
The best-selling Baby Premium Gift Set (Boba Series) comes curated with a Boba Silicone Bib, their exclusively-designed Boba Swaddle as well as a Teething Clip Set of your choice. A perfect match for any bubble tea or boba lover!
You can also choose from their Baby Signature Gift Set that comes with a Swaddle & Teething Clip Set or the Baby Classic Gift Set consisting of Bib & Teething Clip Set that are exclusively available on the Little Bearnie website.
With one of the most Instagrammable teething accessories in Singapore, their teethers are all made using 100% food-grade silicone and toxic-free materials. Designed with a textured surface and high-quality materials to help in soothing teething pain, these silicone teethers are safe and well as stylish! 
Would you like to leave an impression? Then choose their unique Gem Biscuit Teether!  A reflection of Singapore's local culture, this iconic (and full of nostalgia) teether was the brand's first product designed exclusively in-house by founder Valencia Chen.
Animal lovers will love another of their house-designed products, the Cutie Shiba Teether. You can also choose to add a Teether Clip Set, that is self-designed in gorgeous pastels and assembled in Singapore by Little Bearnie themselves!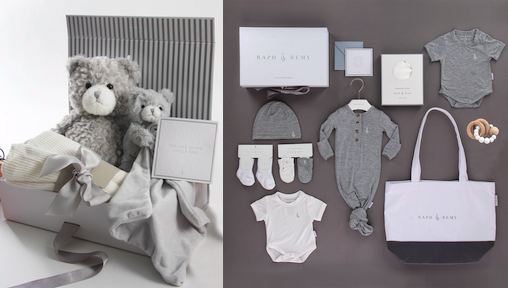 So, why do we adore homegrown, baby gifting brand RAPH&REMY this much? Aside from their beautiful packaging and practical curation, this up and coming baby essentials brand has a fast-growing, solid fan following in Singapore and abroad. Customers rave about the selection of baby gifts, easy-on-the-pocket options and the quality that each premium product showcases.
Started by parents Tiffany and Eric Okumu, and named after their two adorable boys, RAPH&REMY make for the perfect baby and baby shower gifts. Offering sustainable and stylish baby essentials and personalised baby gifts, the label features baby products, accessories and apparels in high-quality bamboo - kind to both the baby's skin and the environment! Better still, they are designed keeping Singapore's hot and humid climate in mind.
The Newborn Essentials Collection baby gift set is incredible value for money and comes with a swaddle, knotted gown, 2 onesies, a BubbleGummy™ teether and socks. It also allows you to choose between products, colours, gift card messages as well as offers personalization options.  
The Luxe Comfort Baby Gift Set takes things a notch cuter, with a luxurious gift box complete with a handwritten greeting card. The gift box comes with an adorable Timeless Teddy, a Timeless Teddy Security Blanket (personalisable), an Organic BambooCloud Cooling Blanket (personalisable) OR Organic Bamboo Towel & Mitt set (personalisable on towel ear & mitt)!
Or for last-minute gifts, simply opt for a RAPH&REMY E-Gift Card that can be delivered straight to the recipient mama's inbox. Need to send out a gift to someone outside of Singapore? Don't worry they ship internationally too!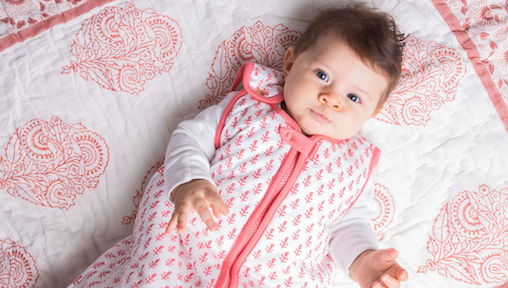 Looking for ultra-soft, luxurious baby gifts? Started by Hong Kong-based Anjali Harjani, Malabar Baby is all about producing high-quality and breathable fabrics that are super-soft on baby skin. 
You'll find a range of baby-worthy gifts on here! From best-selling muslin swaddles(cutest prints ever!), lifestyle accessories and loungewear for the whole family, as well as an assortment of cotton quilts and receiving blankets.
Featuring hand, block-printed designs, the bedding range uses dyes and processes that are completely eco-friendly so that everything is super-soft to the touch and actually stays that way post-wash. Fully cotton, with quilts filled with cotton, not polyester, Malabar Baby's bedding comes in gift-ready, sustainable packaging - think cotton dust bags and recycled tissue paper.
There's plenty more! Block-printed sheets, organic muslin swaddles, handmade dohars or receiving blankets and cotton quilts in larger, toddler sizes too, make for very handy and long-lasting gifts.
Malabar Baby is recognized internationally in mainstream stores such as Lane Crawford, Nordstrom, Buy Buy Baby and Isetan and ship worldwide. And if you are after some celebrity inspiration, none other than baby Archie was sporting the brand at his first public outing with mama Meghan Markle!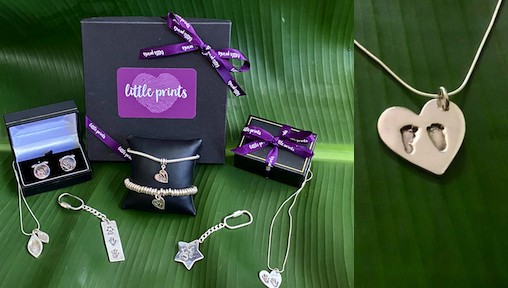 Those looking for the ultimate keepsake baby gifts should check out Little Prints, creators of truly beautiful, personalised silver jewellery in Singapore. Capturing unique baby handprints, footprints, fingerprints and even paw prints for fur-babies, the brand is in the business of creating unique pieces that will be treasured timelessly.
The process starts with Little Prints working closely with you to create your very own special piece. They'll capture the baby's print on a piece of silver jewellery using the best quality 999 fine silver and convert them to necklaces, charms, cufflinks, keychains and other keepsakes.
As the experts in this field, Little Prints are able to work with prints that parents already have, or can even provide kits and consultations at your home.
The perfect baby shower gift for new parents, this speciality store in Singapore can make those moments really special - and last forever. They also work as great Mother's Day and  Father's Day presents as well as memorial jewellery in remembrance of a loved one.
Can't decide what to get? Little Prints sell gift vouchers in a range of services and denominations that are convenient for any occasion - birthday, anniversary, baby shower or 'just because'!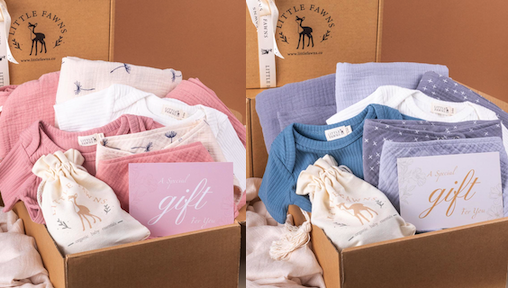 Little Fawns started with a dream of making quality baby essentials for little ones in the city. Every single, tirelessly-curated piece at Little Fawns is sustainably sourced and made using safe and natural cotton materials that are light, soft and breathable. All-natural, safe and sustainable baby essentials mean they are perfect for your baby's delicate skin in our local Asian climate!
Little Fawns sell a range of newborn baby gifts that are great to take along as baby shower gifts too. These include swaddles, hooded towels and bibs that are 100% organic - the hooded towels can even be personalised to make the gift extra special!
Their organic cotton is GOTS certified. Earthy colours, in super-soft fabrics, make them easy to match with other clothing or crib accessories. What's more, these baby gifts come beautifully packaged in the Little Fawns signature sustainable gift box. 
Want to try something different? You can also create your own baby gift set by adding a gift box and gift card bundle to your choice of products!
You'll find an extensive range of rompers, bibs, towels, silicone suction bowls and plenty more on here! If you want more of what you see, you can also buy their bundle sets that come with multiple bibs, rompers and swaddles, and can be wrapped up in gift boxes too.
At Lovingly Signed, they create special 1st moments for newborn babies and their mummies! Having a baby is one of the most special moments in your life and Lovingly Signed believe that every baby should be celebrated. They're proud to provide people with beautifully embroidered keepsake gifts that are sure to be cherished forever. The gifts are the perfect way to welcome a newborn into the world!
Each of these delightful baby gifts come exquisitely embroidered with the baby's name, and gift wrapped in a lux gift box. Lovingly Signed also offer free local delivery (2 to 3 working days), a free handwritten gift card with a message of your choice, and a free lux gift box with any order! For international orders, they ship them via DHL express to anywhere in the world.
The range of personalized baby shower gifts, newborn baby hampers and personalized baby gift boxes are lovingly put together to create the perfect combination of all things a new parent and baby could need to celebrate their first year of life.
You can shop our whole range of baby gifting ideas and products at www.lovinglysigned.com.sg.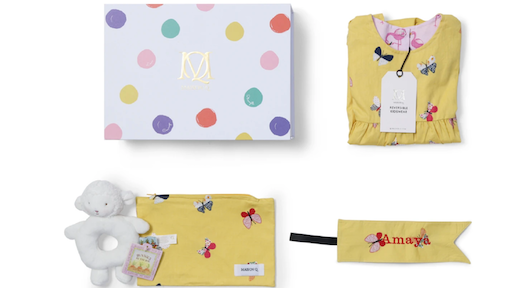 Suhana Ab is the founder and creative director of designer kids wear label Maison Q. Founded in late 2015, Maison Q was started off by Suhana Ab as a means to get the most out of babywear - surely there is a clever way to get more mileage out of baby clothing? Serendipitously, she chanced upon the concept of reversible kidswear and so, Maison Q, a brand that offers full collections of reversible apparels was born.
This baby and kids clothing brand gives customers what they are looking for such as original design, impeccable quality, versatility and comfortable apparels in vivid colour palettes. That also includes the most beautiful clothing as baby gifts! 
You'll find a range of reversible onesies, dresses, shirts and shorts that are adorable as gifts for baby showers and newborn celebrations. Reversible pieces mean they can be worn inside out, 2 designs in one apparel, twice the mileage! For an easier gifting solution, get one of Maison Q's baby gift sets, which include a reversible onesie, a rattle, carry it all pouch for mum, a personalised fabric charm in the baby's name and a handwritten gift card. All of these items come beautifully packaged in a Maison Q magnetic gift box!
If you need gifts for older children too, take a look at the FRISO x Maison Q limited-edition sleepwear collection aimed at helping parents start a conversation with their children about the importance of good gut health. Three absolutely adorable poop characters - Super Pooper, Poopoo Power and Gutsy Gal come together with iconic symbols like the Holstein-Friesian cow,  and a windmill, which are a unique representation of the Netherlands, Friso's home country.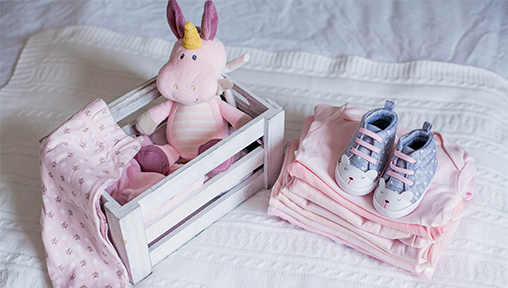 Want the perfect, curated gift box experience for parents to be? If you don't have the time to shop or need an expert hand to choose the right baby gift in Singapore, turn to Okimocho Box. Okimochi Box is a surprise gift-giving service with a simple premise. Give the company enough information about the recipient, and they'll happily curate a gift box filled with things the recipient will actually like (and use).
Their Baby Boxes go one notch higher as they curate for both baby and wellness of the new mum. A surprise for both the gifter and the recipient, these boxes come with quality and functional items in adorable, Japanese - style packaging.
Know exactly what you want but no time to buy it? Try the Okimochi Gifting Concierge service. Simply tell them what you want and the gift curators at Okimochi will get on the job.