Art classes and kids holiday camps that will keep them busy during the summer holidays? We love the sound of that! When it comes to fun, creative and weather-friendly options, art classes are a reliable backup for any activity-led programme you want to sign your kids up for. We've rounded up some of our favourite art classes and holiday art camps in Singapore, so you don't have to worry about where to call. Word of advice - book them now!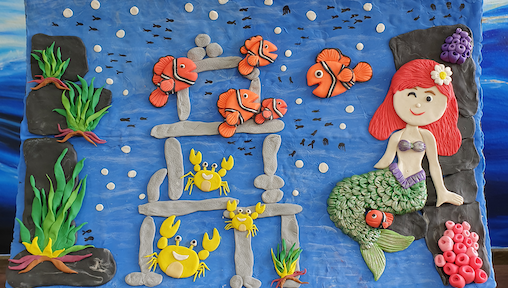 MuzArt programmes help children (Ages 3 to 12) develop crucial traits while playing, as their teaching methods aim to grow confidence and artistic potential in a fun and interactive way.
Every phase of a child introduces a new type of skill they learn. MuzArt Art Classes aim to fuel this development of both the left and right sides of their brains and encourage young artists via their art programme. 
Though you can expect some guidance and assistance in illustrating proportions and techniques, their young creative students will always be in charge of the direction and emotion of their art. From simple clay sculptures to complicated paintings, you'll find a variety of art activities, classes, holiday programmes and more!
Register for Trial Class at 50% discount! (U.P. SG$50.00) at MuzArt East Coast!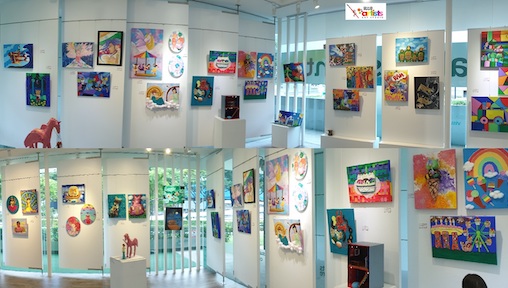 Amongst the most popular art class providers for kids, Little Artists Art Studio has designed some of the best holiday art programs and camps in Singapore. With years of experience in teaching art and following a fun and easy-to-comprehend approach to teaching art to kids, they believe in utilizing the holiday time in the best way possible. From painting to sketching, they have all art courses covered by expert teachers and trainers. The art classes and holiday art programmes are specialised in a way that children find them interesting and always learn something new.
Apply online for our array of art classes today!
Pssst….Need something to do while your children are away at their holiday art camp? Hone your creative talent at one of the many art courses for adults at the Little Artists Art Studio! Take your pick from oil painting, sketching, digital art or pen and ink courses to tap into your artistic potential. No prior experience required!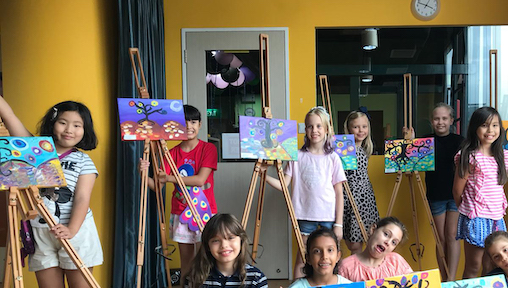 Abrakadoodle Art Camps are fun and unique kids camps in Singapore, that inspire kids to reach beyond and create art that is unique to them. It's amazing to see just what kids design when given the freedom to explore and to express themselves creatively! 
If you're looking for exciting children's holiday camps in Singapore, check out the Abrakadoodle Art Camp WILD! 
What better way to unleash that wild spirit inside every child than by taking them on a fascinating trip into the WILD! Learning about nature through the medium of art will ignite the imagination and curiosity in your child, and gives them the encouragement to follow their own wildest dreams with confidence and courage! Everything from using a range of recycled materials to create your own binoculars, learning amazing facts about animals and the wild and experimenting with finger painting art, magnets, painting, collage-making and more. It's also open to all ages, so make sure to ask for art classes and art camps for your toddlers and kids!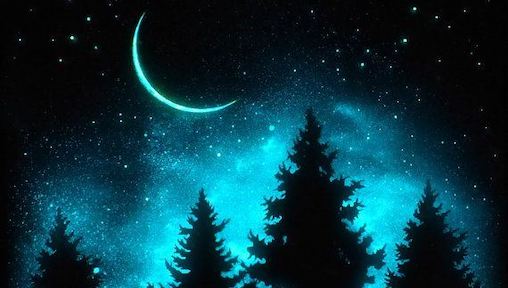 Schools may be out for kids but fun learning continues at Art Pazionate's Holiday art camp Singapore. More than just fun and excitement, they offer an in-depth learning of art topics and skills in their art workshops for kids.
Children can expect to be engaged in meaningful discussions as well as various visual inspirations conducted by professional art teachers. Their holiday art camps are specially curated to be relevant and suitable for savvy kids of all ages - from beginners to budding artists. Select from an array of art workshops for kids that include painting and craft-making.
Other than Holiday art camps, Art Pazionate offers Ad-hoc art programs that cater to kids who are seeking to indulge themselves in art creation from time to time. 
Seats are limited so sign up today!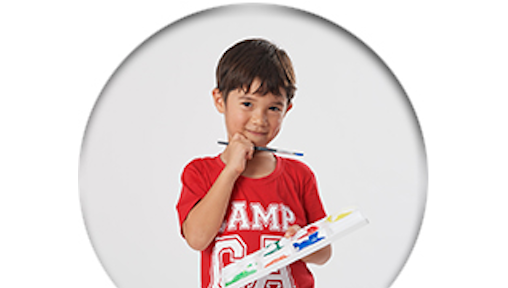 As one of the most fun and safest environments for holiday camps in Singapore, Camp Asia comes with an outstanding choice of activities for children of ages 3 to 16. As well as being the best fun your child can experience on their vacation, their holiday camps and weekly programs also support your child in thriving, developing new interests and learning new skills. Their Passion for Art camp will bring out the artist in your child.
Skilled and experienced tutors will help your child to express their creativity in a wide variety of media such as painting, drawing, ceramics and recycling. However, they will also learn art history and global cultures and how to appreciate different styles including Neolithic, Classical, Romantic, Impressionist/Abstract Impressionist, Pointillist, Pop and Minimalist.
The week concludes with a gallery exhibition, where you could well be astounded at your child's creativity and newfound skills.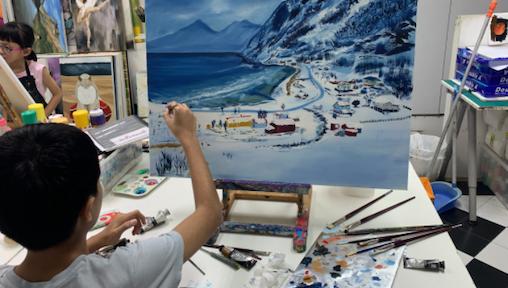 As Singapore's leading art school for kids and adults, ARThaus is known for its expertise across the island. ARThaus summer holiday camps help your child to develop a visual language in a creative and hands-on manner. You'll find that they explore a range of art mediums and techniques while encouraging self-exploration to inculcate self-confidence in kids. Feel your child needs expert and not beginner guidance? Arthaus cater to a range of skill levels - from beginner to experienced, and can design a personalised programme for you. 
Book today at (+65) 9023 0458 or email [email protected]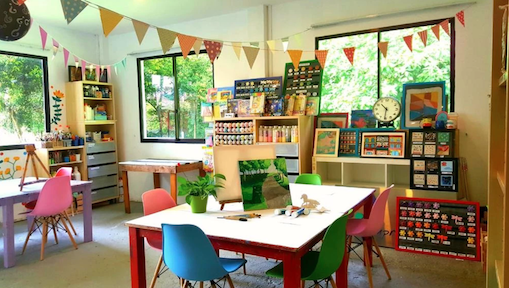 This summer Impressions Art Studio Camp explores 7 different exciting themes for the holidays! With a whole 13 weeks of holiday camps curated specially to cover fun activities like arts & crafts, games, outdoor fun and even outdoor excursions, there's definitely something on here that your little one will love.​ Kids can choose from themes like Galaxy and Beyond, Caribbean Treasureland, World of Magic and Glitz, Trip to Disney Fairyland and plenty more! 
Those at Horse City will even get to ride a pony along with a tour of the horse stables. If your child is at Waka Waka instead, they get an hour of play at this amazing safari-themed indoor playground. 
Prices range from S$490 – S$680, and include a healthy morning snack and lunch. Transport available at an extra cost. 
Got a birthday coming up in the holidays? Impressions Art Studio also run events and birthday parties so everyone can take part and enjoy the celebrations, without the hassle of cleaning up at home!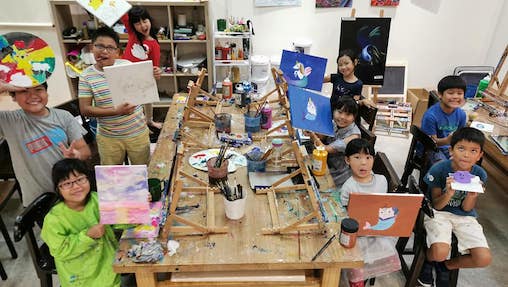 OAS was founded in 2017 for the purpose of forwarding the Arts and Arts education in Singapore. OAS's goal is to bring the joy of art to all, allowing both adults and children to have a chance to hone their innate artistic talent. 
Available throughout the year their one-day art camps are extremely flexible for attendees. Speak to them in advance and you can even change the timing based on your personal preference! Look forward to lots of hands-on activities like snow globe making, clay making, tote bag painting and more. Adults too can enrol themselves at Our Art Studio for various workshops including clay making, Nagomi art, leather painting and even coffee painting!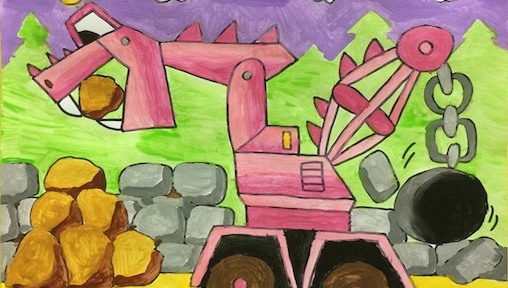 My Art Pencil is an art school in Singapore offering drawing and painting classes and a variety of art and craft lessons on a regular and adhoc basis for both children and adults. You can look at engaging your kids and adults in their colourful holiday art activities such as drawing, painting, clay class, collage class, canvas painting class etc designed for children, age 4 years and older. Children can also learn to draw and paint different subjects in each lesson using different art media and through the understanding of shape, size, proportion and colour scheme. 
Don't worry, your older teens also have ample opportunity to learn and enjoy their holidays at My Art Pencil. You'll get a guided beginner class for teenagers, (those with or without prior experience) in drawing and painting. Participants also learn basic proportion and perspective drawing as well as techniques of shading such as layering, blending of dark and light tones, colour mixing, acrylic brushstroke are amongst the many other skills they can hone.