As Singapore's award-winning home healthcare service provider, Homage has served thousands of families for their needs. Providing access to a world of holistic health and caregiving services through a simple-to-use mobile app, this is as convenient as tech-enabled healthcare can get!
So, whether it's in-person care by trained caregivers and nurses, virtual consultations by licensed local doctors, medicine delivery, or even basic surgical procedures on-demand at your doorstep, you can access Homage's holistic health services anywhere and 24x7.
Want to know more? Here are a few reasons why Homage is Singapore's most accessible holistic healthcare provider at home.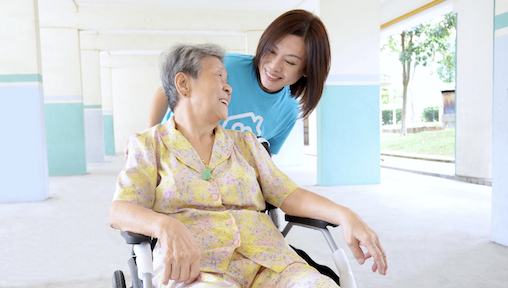 Personalised Home Care
The Home Care service by Homage is a safe and convenient option that allows your loved one to get care in the comfort of home. Helper away on holiday or perhaps you are busy with work and need that extra bit of help to take care of a loved one? Homage's care services take over all major and minor roles - companionship and meal preparation to showering and medication reminders, their professional caregivers and nurses will make sure that your loved ones are well taken care of.
These local care professionals can also support with transporting individuals to see their doctors, take care of them during the visit, and collect medication after - just like a family member!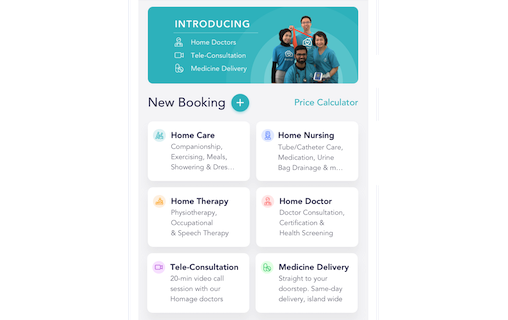 Professional Nursing Care
Need help with nursing procedures such as tube, stoma and wound care and want to save on the hassle of going to hospitals and clinics? Get Homage to send in their trained local nurses to help take care of your nursing needs at home.
Sometimes, you may also find yourselves in need of urgent medical assistance due to unforeseen circumstances such as the displacement of a nasogastric tube (NG tube). For situations such as these where speed is key, simply call in a licensed nurse from Homage without the need to arrange a trip to the hospital.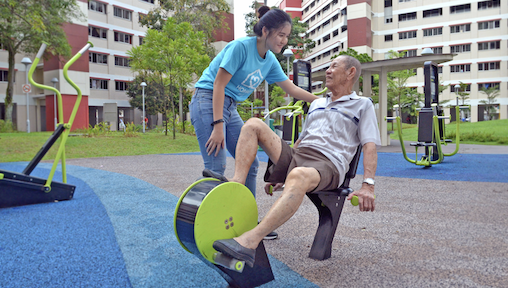 A Range of Therapy
 For individuals recovering from surgery, stroke or a fall, rehabilitation therapy services can promote fuller and speedier recovery. But, bringing someone with reduced mobility back and forth to a hospital can be quite difficult and inconvenient.
Continue your rehabilitation efforts with Homage's experienced home therapists without the need to step out of the home. You can book personalised home physiotherapy, occupational and speech therapy catering to your schedule and needs.
Need help with speech disorders, medical conditions or eating and swallowing difficulties? The certified speech therapists at Homage can help both children and adults develop a personalised treatment plan through a video call or in-person at your doorstep.
Home Medical Services
When we are feeling unwell, it can be difficult to get out of bed, much less make it to the clinic. The team of local licensed doctors at Homage can offer quality medical care via virtual consultations or face-to-face at your home in Singapore.
Worried about having to get your medication? Homage also delivers your prescribed medication to your doorstep on the very same day. Specialist referrals can also be issued, hassle-free, saving you tons of energy and time.
What's more, families can also apply for subsidies such as Elder and CareShield for the range of care services at Homage.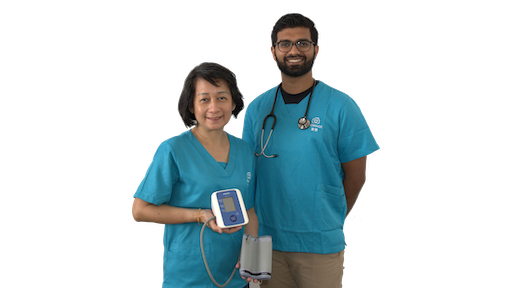 Health Screenings and More
Aside from offering a range of medical and care services, Homage also gives you the chance to take care of your health, in a convenient manner. If the crowds and queues at hospitals are stopping you from going for regular health screenings, Homage can send their healthcare professionals to conduct these in the comfort and privacy of your home.
Need an ambulance for a non-life-threatening situation? Should you or your loved one with limited mobility need support commuting to the hospital you can book a private ambulance in as quick as 2 hours, anywhere in Singapore.
A world of convenient holistic health care services is now available within the Homage app. As simple as tapping on their user-friendly mobile app, you can request and manage care for you and your loved ones, wherever and whenever, 24x7!
Download the app today! Apple Users. Android Users