Genetic testing kits in Singapore have had us intrigued for a while now. The process of getting parts of your DNA analysed in order to detect the presence or absence of a particular sequence of genes - at-home kits are flooding the Asian healthcare markets.
Unknown to most, your DNA sequences can actually indicate a wide range of traits, characteristics, and even disease risks. For instance, the colour of your hair or your height is due to the absence or presence of a particular gene sequence. Similarly, gene sequences can influence physical features like obesity type, skin type, and risk of diseases.
Using personal genetic information that allows you to make better health and lifestyle choices and mitigate potential risk for certain health-related conditions, genetic testing is clearly the way forward!
These simple kits require a mere sample of your saliva in the comfort of your own home, to help understand more about yourself, as well as your future. From health and disease to skin, metabolism and even ancestral migration history, here are some recommendations for at-home genetic testing kits in Singapore.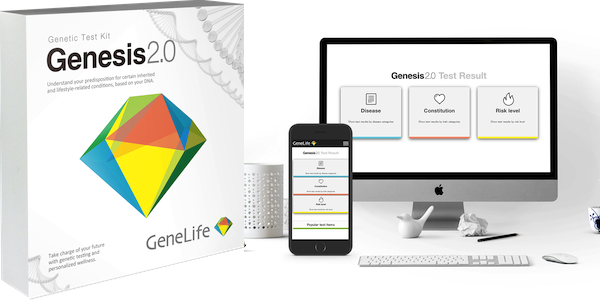 Want to manage your health proactively by uncovering more than 360 traits based on your DNA, including body constitution, health-related risks and more? Brought to market by Genesis Healthcare, a leader in genetic research, testing and analysis, this is their best-selling and most comprehensive kit yet. 
Genesis 2.0 is designed to analyse your DNA for more than 360 test items, including disease risk, lifestyle-related conditions, physical characteristics and much more. As simple as placing an order for your GeneLife testing kit online, and following the instructions in your kit to collect a sample of your saliva in the test tube provided. This is then sent out by post and once GeneLife receives your test sample, you'll be able to view your results online within 4-6 weeks. 
*Note: In the absence of medical and clinical information, GeneLife test results are not designed to independently diagnose, prevent, or treat any condition or disease, or ascertain the state of your health.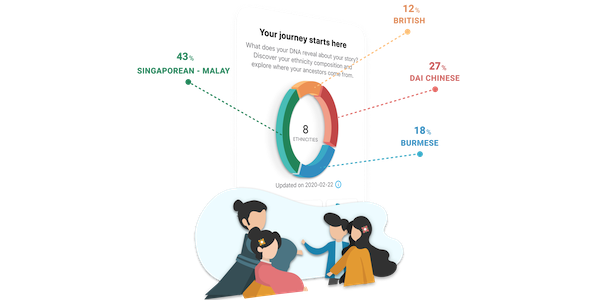 If your ancestry has always been of interest, this latest product on the genetic testing market will be one to take! We have all been curious about our ethnic mix and what makes us so unique. GeneLife's Generations takes you on a personal journey through time to discover and learn where your ancestors lived generations ago. Discover this through a carefully curated percentage chart that will reveal the various ethnic groups you belong to! The genetic kit reveals your unique ethnic mix, unfolding geographical insights from your family's migration history, all of which is uncovered via an interactive map.
The GeneLife Generations kit is available at a special price of SGD$129, for the first 500 customers in Singapore.* As this is a pre-release, customers who successfully purchase the kit and submit their sample for testing will be able to access their reports via the GeneLife app, but may face certain limitations on features during the initial pre-release phase. Upon the main launch between July to August 2020, all 500 customers will also be the first to gain access to their full report and features, at no additional cost. 
*Limited launch offer.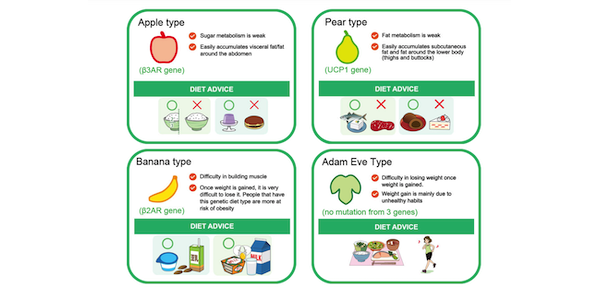 If you've been following diets for your blood type or cultural disposition, you are sure to find the GeneLife Diet of value! Find out what your DNA reveals about your metabolism, genetic diet type and learn invaluable tips to improve your nutrition and diet, all personalized to your unique genetic makeup.
The GeneLife Diet at-home DNA test kit analyzes three specific genes that are linked to weight gain - analyzing these genes will give you a clearer understanding of why certain diets are effective while others are not. Through the analysis of these specific genes, you will also be classified under four genetic diet types. Each genetic diet type has unique characteristics, such as the rate of metabolism of fats, sugars, carbohydrates and much more, which can help immensely with your fitness journey. You can also get diet tips as well as useful information on how to prepare your food to support weight management goals, all based on your unique genetic mix.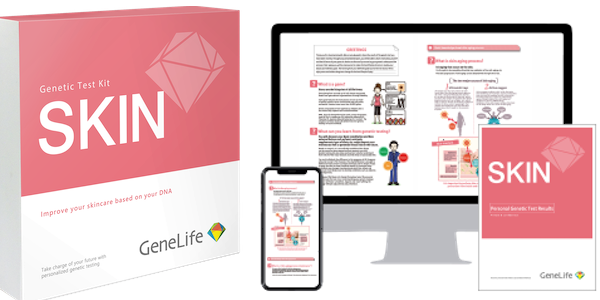 With the Genelife SKIN genetic testing kit, find out what your DNA reveals about your skin's traits and learn how to take better care of your skin. The GeneLife SKIN genetic testing kit analyzes your DNA to identify genetic variations that can determine your skin's condition and its capabilities. For instance, the variation of certain genes can indicate whether your skin is susceptible to wrinkles or dark spots, its antioxidant capabilities and much more can be analyzed.
Use this genetic test to gain insights about your skin's genetic strengths and weaknesses, enabling you to make wiser decisions about your skin care regimen. You will also receive insights about recommended nutrients, ingredients and lifestyle, based on your unique genetic makespan - as it all adds up! Good skin comes from within and turns out from our genetic makeup too!

Does your genetic mapping work against your metabolism and result in metabolic syndrome? Turns out your genes can detect the risk of lifestyle-related diseases such as high blood pressure and other ailments that can increase the risk of heart conditions. Lifestyle-related diseases are all too common and the risk of developing diabetes, high blood pressure, and heart conditions can increase due to the presence or absence of certain genes.
Genetic testing kit GeneLife METABO can help to learn about how genes affect your health, and also to receive invaluable tips and recommendations based on your unique genetic makeup. You'll also get a list of suggested foods that can prevent metabolic syndrome.
GeneLife's genetic testing services have been certified in Japan by the Council for Protection of Individual Genetic Information (CPIGI) as being compliant with CPIGI standards. Click here to learn more.