Family
Christmas Gift Guide: Christmas Gifts for Kids and Babies in Singapore
Published Date
: 24 Nov 2022 11:00

Tick all the right boxes with these Christmas gifts for kids. Squeals guaranteed!
Shopping for Christmas gifts for kids and babies in Singapore? These Christmas gift ideas are a mix of fun and practical and will have everyone beaming with joy!
What's more, they come parent-approved, which means you'll be loved for being thoughtful by both the grown-ups and their little ones in the house. From super-stylish (and comfy!) clothing to toys, books, gadgets, experiences and cuddlesome cuties, these are the gifts to buy for a very 'Merry Christmas'!
Best Christmas Gifts for Kids in Singapore
At Edupod, it's not "just play"! As Singapore's leading purveyor of children's playgrounds, and furniture and supplier to educational institutions, Edupod knows how to create a positive learning environment for our kids. 
They believe that a child's journey of exploration begins with play – through pretend play, creative science kits, and playgrounds. And that's why their selection of Christmas gifts for your little ones this year is all about exploring, imagining and tons of playtime. 
Score big this year with Edupod's Jungle Gym. Create your very own backyard adventure this holiday! Jungle Gym Playground Sets are designed for plenty of fun, and instantly excite your child to climb, swing and slide. A perfect addition to your yard or garden, this one is guaranteed to keep them(and their friends) busy all year round. 
Hands down the coolest family project that continues to surprise you year after year, the Infento Make and Move Kit is a sustainable, educational and fun gift that has it all. You can make a walker, scooter, horse, balance bike and many other ride-on options so you don't have to buy a new version every time they grow - just build one together!
Need an excellent STEAM toy to encourage your child's imagination, problem-solving skills, counting, colour identification, reasoning abilities, and more? The Hape Quadrilla Super Spiral Set combines easily with other Hape Quadrilla products for expansion and unique combinations that will enhance your child's play experience.
Dino lovers will adore the Hape Dinosaur Puzzle, a 200-piece puzzle that shows dinosaurs and their glowing skeletons in a magical scene when the lights are off. What's more! It features 10 cards with fun facts about dinosaurs.
If you are headed off on holiday this Christmas, your little ones will delight in the Hape Nature Fun Kit. This outdoor fun kit contains real working tools that help your little explorer learn more about the world around them. Or get the Flower Press Art DIY Kit, which allows you to create your own art collection with a leaf and flower pressing kit. Your kids can even use the included paints and brush to turn dried plants into colourful works of art. 
Perk Alert! Enjoy 20% off Toys and Playgrounds from now till 27 November 2022. Quote VXMAS at checkout.
New baby in the hood? If you need a Christmas gift for a baby this year, take a look at Little Bearnie - one of Singapore's best baby essential and gifting brands. Fun and beautiful to use for little ones, their gifts also get top marks for being super-practical. 
You will find teething and feeding essentials, including the cutest Singapore-themed teethers as well as drool bibs that make a style statement no matter where the baby goes.
You have to get Little Bearnie's teething accessories that are made using 100% food-grade silicone and toxic-free materials. Designed with a textured surface and high-quality materials, these help to soothe teething pain and make your baby look good while at it! 
Want to add baby essentials and swaddles to your gift mix? Little Bearnie carries a range of adorable baby swaddles in the most gorgeous of prints that you won't find anywhere else. There's even a quirky Singapore Local Foodies print that families living abroad will cherish. 
Don't forget those tiny feet! Little Bearnie carries an adorable collection of baby shoes that are as beautiful to look at as they are affordable - just $19.90 each.
Want a ready gift set to tuck under the Christmas tree? Little Bearnie's Baby Gift sets are an easy gift solution. Featuring a wide range of gift sets with different pricing for your affordability, these make the perfect option for those who want a gift-ready box. They also carry a Mum and Baby gift set that new mums will delight in and can also be sent as Baby Showers, Full Month or Birthday presents!
Looking for unique and high-quality wooden toys or fun books for your little ones this Christmas? The Happy Tots is a play-based learning toy store that carries a range of wooden, open-ended toys, craft sets, books (audio, pop-up, bath books) and many more kid-friendly items.
Engage little ones this festive season with the [Christmas Gift Set] Beary Christmas, a warm-hearted addition to any Christmas celebration. Suitable for newborns to 3 years old, this gift set comes with a Stacker - Little Wooden Bear and Guess Who I Am? - Animal Zoo puzzle matching game to practise their fine motor skills and have fun. One of The Happy Tot's most popular Christmas titles - Bizzy Bear: Snow Fun is also included in this collection.
Got a dino fan on your hands? The [Toddler Gift Set] For the Dino Lover offers a great variety of dinosaur-themed toys and books. A fantastic birthday or Christmas gift it includes a Dom the Green Dinosaur Push and Pull Toy, a First Explorers: Dinosaur book, a Bibby Silicone Bib, a Chompy Dinosaur Bowl & Cutlery Set, a Sippy Snacker Cup with Lid and Straw, a Steggy Dinosaur Plate & Cutlery Set and a cute drawstring bag from The Happy Tots.
The Happy Tots also sell themed-Gift Sets such as Let's Cook and Eat!, Transportation, Under the Sea and more for various age groups.
Did we say these come gift-ready too? All products purchased from The Happy Tots are beautifully packaged in a gift box, making it convenient for gifting during the holiday season, baby showers, birthday parties, or welcoming new parents.  
If you would like to gift Christmas-themed books instead, we highly recommend Noisy Touchy-Feely Santa, a sound book with sparkly embossed pages to feel. The sound panel brings each scene to life with Santa's jolly laugh, his sleigh speeding through the sky, his boots crunching in the snow, the ticking of clocks and a rendition of Jingle Bells. 
Christmas promo! From now to 31 December 2021, all orders will receive a complimentary Limited-edition Christmas Sticker Set. Orders above $80 will receive an additional The Happy Tots Drawstring Pouch. *While stocks last.
Vanilla Luxury Readers also enjoy 10% off all orders until 31 December 2022. Simply type promo code 'VANILLA10' at checkout.
Singapore's favourite baby and now childrenswear brand, RAPH AND REMY have a thoughtfully designed gifting line up for this festive season. Featuring not one, but eight different limited edition Christmas Cracker Gift Sets, these make fabulous presents - across a range of budgets too! 
Starting at $79.90, the Night Before Christmas Cracker is designed for soothing comfort and sweet dreaming. Stylish, sustainable and personalisable it includes something to cover, comfort and cuddle. 
For older kids(2-5 years old), consider the Love Actually Christmas Cracker, a dress and bows set that will have your little one dressed to impress on Christmas. The set includes a RAPH AND REMY breathable, ultra-soft and seriously stylish Premium Collared Dress (with a double frill for your little princess) and two 6" Bows Headbands or Clips, to complete her festive look. 
If you've been looking for comfy Christmas PJs, we know they'll love the Silent Night Christmas Cracker. Containing RAPH AND REMY's Premium Bamboo Pyjamas Sets, these are as comfortable as they are stylish. Made of their signature earth-friendly bamboo material that is breathable, temperature-regulating, ultra-soft and gentle on children's skin, they come with hypoallergenic and anti-bacterial properties.
That's not all! You can also find Premium Bamboo Socks in the gift set. Ultra luxe and soft, with the signature stripe grey and white detailing, they can be worn while sleeping, lounging or walking around.  and comfortable to wear for long hours while sleeping, lounging or walking around. 
Best of all, these crackers come in luxurious gender-neutral Christmas cracker packaging(plus a gift greeting card) -  and make the perfect addition under your Christmas tree. 
RAPH & REMY'S Limited Edition Christmas Crackers save you 10% off. Available until stocks last. 
An imaginative play and showcase of sustainable creations, Kathy's Cove is a homegrown brand specialising in handcrafted rattan furniture and toys that last for generations. Championing sustainability, Kathy's Cove products are painstakingly handcrafted by a team of master craftsmen using the natural and sustainable Rattan as the main material in their designs. 
Does your little one love to play dress-up? They'll adore the Belle's Rainbow Vanity Dresser (S$199)! Made with natural and sustainable Rattan, this 42cm tall rattan vanity dresser features a 31cm tall mirror with rainbow dressing for the kids to ensure your bubbas are happy at play. Plus, with an attached drawer to keep excess toys and accessories, you won't have to worry about any mess after a day of fun and laughter. 
And if your kids love to serve you tea the Tabby's Afternoon Tea and Snacks Cart Trolley (S$169) makes for the perfect Christmas present! Four attached wheels and a two-tier rectangle tray, allow children to fill up the tray with their favourite tea-time snacks - all while wheeling the cart around your home.
We also have a soft spot for Cody's Kitchen Play Set that comes with two hobs for children to pretend to cook and play. There's even a sink for them to clean up, after and a small ledge above the cooktop for the storage of spices and kitchen accessories. Have tons of toy utensils and accessories? The handy cabinet under the cooktop allows you to store away all of these after play!
Best of all Kathy's Cove designs are stylishly designed to suit any room in your home. To ensure the longevity of Kathy's Cove's rattan products, simply keep them away from sunlight for a prolonged time, limit exposure to rain and wipe down with a moist cloth to remove dust or spill! 
For a whole host of other well-made rattan toys, that make worthy Christmas gifts for kids, check out the Kathy's Cove website.
A social enterprise based in Singapore that employs urban poor mothers, show your support for Mori Official by buying the most functional yet adorable gifts for your loved ones! Handmade with love by women in their homes for sustainable livelihoods, Mori Official prides themselves on their one-of-a-kind creations. For pieces that are truly unique, get the kids the 
Dual Zip Sling Bag (S$45 to S$52) and World's 1st Pursebook (S$42)!  
A meaningful and purposeful gift for all kids, the Kids Portable Doodle Bag (S$46) is a dream for both the parents and the child. This versatile and convenient bag can be used for outings or appointments to keep the kids busy and occupied while reducing their digital screen time. 
As the world's first Portable Doodle Bag to blend the function of a notebook and pencil case together, one won't have to worry about scrambling through your bags for the missing pencil. Made with vegan leather and water-resistant poly canvas, it is an ideal bag for children of all ages. To further enhance the doodle bag, you could even customise and add wholesome content to the compartments! 
Add on the Mori Kids Emotions Booklet (S$9) for children aged 7 and below to help in counting, writing, colouring, matching, and also identifying and managing emotions in simple ways. 
The Plush Club has been producing the softest and most imaginative clothes for babies, with a wide collection of half- and full-sleeved zippies, PJ sets, swaddle sets, hats, bands, and blankets – all made out of bamboo!
Bamboo fabric is naturally hypoallergenic, making it breathable and able to regulate body temperature - optimum for your baby's sensitive skin.
This Christmas, they are sending their products in specifically Christmassy-tailored packaging. Perfect as gifts for your own little bubba, or for your friends, these will definitely bring in some that cosy Christmas cheer. 
For a specifically Christmas-themed outfit, bring bring home the Nordic Wild design from the stables of The Plush Club for your little munchkins. Inspired by the Santa house in Lapland in the Nordics, this long sleeves zippie (Snug Fit) is as soft as it is functional. 
There are other gift-ready options such as the New Born Essentials Baby Girl or Boy Premium Gift Sets. Containing a Knot Gown, long sleeves Zippie, hat, Organic Bamboo knit blanket, waterproof bib, and a greeting card, all wrapped beautifully in a handcrafted gift box. 
You can also customize their gift box with any products you like! Add all items to the cart and also add the gift box. 
Need more? Here's 10% off exclusive for Vanilla Luxury Readers. Use code VANILLA10* at checkout.
*First-time customers only
Want your gifts to go the extra mile? Then choose from the diverse options by Mandai Wildlife Group that will appeal to animal lovers as well as spread cheer to the less privileged.
Every purchase from Mandai Wildlife Group's retail stores (both physical and virtual), as well as proceeds from tickets to the wildlife parks, contribute to conservation projects throughout Singapore and the Southeast Asia region. 
For inspiration, we'd recommend any of the new additions in the premium Wildlife Sanctuary retail collection. These include animal-themed kids' apparel, vacuum flasks and tote bags that little ones will love to flaunt. 
For a gift the whole family can enjoy, get the Mandai Wildlife Group's limited edition Monopoly Board Game Playset and Top Trumps Card Game, which features crowd-favourite Mandai Wildlife Reserve residents while educating and encouraging action for wildlife conservation. 
There's even a special sustainable lifestyle collaboration with Huggs Coffee. Inspired by the Malayan Sun Bear, Mandai Wildlife Group's collaboration collection with Huggs Coffee consists of stuff your kids would love to carry on a fun day out such as a Sun Bear plush that is made with 100% post-consumer polyester stuffing, and a Sun Bear tumbler that can keep beverages warm and cold from day to night!
And if you are heading to Singapore Zoo and River Wonders this season, make sure to donate and rehome your preloved plush toys to underprivileged children in partnership with Soft toy Hospital. 
The full Wildlife Sanctuary collection, Huggs Coffee collaboration collection, and Mandai Monopoly Playset will be available in-stores at the Singapore Zoo, River Wonders and Night Safari retail shop, and selected items available on e-stores Shopee and Lazada.
Here's some Christmas gift inspiration for kids who love music or want to pick up a new hobby! Known for their passion to share the joy of creating music and providing the best customer experience for music lovers, Yamaha is the place to shop for a quality guitar. 
Suitable for children of all ages and levels, Yamaha features a wide array of guitars from electric to acoustic to classical in various sizes. For little ones who are just getting started, opt for the Yamaha JR1 Natural ¾ Size Acoustic Guitar (S$209). Available in a three-quarter scaled size, these guitars are a great size for the younger ones with smaller builds. Modelled after their long-selling popular FG series, this compact guitar is able to deliver quality acoustic sound. With a gig bag included, the child is free to play and practice their guitar skills anytime and anywhere they want. 
For older preteens or teenagers, you can opt for the full-sized Yamaha CGS104A Full-Size Classical Guitar (S$209). Meticulously constructed with beautiful tonal woods and intricate details, this guitar is designed for the beginning musician. A full-sized concert classic, this guitar is a great investment that can accompany one for life. And to ease your child's journey to play the guitar tunes of their dreams, you can also consider signing them up for a guitar course at Yamaha. 
This Christmas, celebrate the most wonderful time of the year with Marks & Spencer! From their best-selling M&S Food made with the highest quality ingredients, to gifts for your home, and family, there's always something at Marks & Spencer to tick your gifting needs.
Families who are celebrating Christmas at home this year should buy family-matching Christmas Pyjamas in an array of prints. You'll find the perfect matching pyjamas for all ages, in super-soft responsibly sourced cotton or cosy fleecy fabrics. 
Plenty of prints too! Part of M&S family since the 1930s, the much-loved Spencer Bear is back due to popular demand. Featuring comfy pieces for the little ones such as the Spencer Bear Family Christmas Pyjamas ($29.90) for all-night comfort you can also enjoy classic prints such as the Kids Checked Family Christmas Pyjamas ($35.90) to match with friends or family this Christmas. And of course, there are Percy Pig pyjama sets for the whole family too! Kids can celebrate the joyous occasion with Percy Pig-themed comfy pieces such as the Cotton Rich Percy Pig Hoodie ($59.90) or snuggle up in the Kid's Percy Pig Fleece Onesie ($45.90). 
Want a special dress for your little one? Bring some extra cuteness to the festive season with adorable tulle dresses such as the Rainbow Foil Tulle Dress ($52.90) or the Sequin Prom Dress ($59.90) for an eye-catching Christmas look. Little boys can sport Christmas-themed tops such as the Moose Top ($15.90). For an easy yet comfortable outfit, little ones can also get into the spirit of Christmas with the Santa All Over Print Dungaree ($22.90), perfect for all-day festive fun in comfort.                        
You've probably seen advertisements for Wonderbly often, but wondered if they were truly worth a try. As it turns out, seeing their name on a book, weaved into an actual story, is really exciting for most kids. 
Incorporating powerful messages for kids in these intriguing stories, Wonderbly's books are one of the best ways for you to ease the children into the world of language and reading. Through the personalisation of storylines and character names, Wonderbly helps children relate to the stories and develop their imagination, empathy, curiosity and confidence. 
Have your kid travel through the enchanting land of nursery rhymes and meet classic characters from the Muffin Man to Little Bo Peep along the way. Traditional nursery rhymes with a twist, the child is transformed into the hero of over 30 classic songs and stories in Your Treasury of Nursery Rhymes (USD$39.99). Customise the book by adding the child's name and a character – and the name will appear almost 100 times in the book! This is a fantastic way of getting the kid's attention and is effective in helping children from the age of 0-3 to start recognising their names.
Do take note that although the prices are in USD, Wonderbly ships worldwide and takes just 48 hours to ship your purchases!  
Get the kids excited about the new year with a family membership card and unlimited admission to the Science Centre! A great option for families that are looking for experiential gifts rather than the same old toys, a membership at the Science Centre is sure to open up a world of discovery for the little ones. 
With the family membership card (S$65 for Singaporeans and Singapore Permanent Residents, S$108 for Employment Pass Workers), the family can get to enjoy unlimited admission to Science Centre Singapore on any of the operating days. Not just in Singapore, you can also reap the benefits of the membership overseas with complimentary or discounted admission to more than 290 science museums worldwide through the ASTC Travel Passport Program. Within the Science Centre, bring the kids to attractions such as the Butterflies Up-Close for 10% off. Allow them to witness the fascinating transformation of a butterfly from an egg to a beautiful winged adult and gain insights of how the butterfly behaves and interacts. Applicable for a year after the date of application, sign the kids up for an intriguing experience at the Science centre here!
Budding photographer who needs a serious camera? Gift young adults or teenagers who are genuinely keen on photography one of the best cameras for beginners in 2022 – the Olympus OM-D E-M10 Mark IV (S$983). Light in weight with a new 20MP sensor, incrementally improved in-body image stabilization, and a new flip-down and tiltable monitor, the Olympus OM-D E-M10 Mark IV is an impressive camera to carry around. Retaining the 4K video and attractive sleek styling, this powerful camera is plenty to shout about. Easy to use and comfortable to grip, the camera will be a great entry-level camera for your teens.
As one of the best Olympus cameras ever, the camera features a variety of shooting modes, including AUTO, SCN (Scene), AP (Advanced Photo) and Art Filter. The AP mode helps to bring challenging shooting techniques to a beginner's level, such as panoramas, HDR and more. It is definitely a plus-point for the Olympus camera to have Wi-Fi and Bluetooth built into the camera body – to allow teenagers to conveniently transfer files. The tilting LCD monitor that can flip down 180º is also a great feature for vlogging or selfies. 
When all else fails, you can always count on ToysRUs to stock the latest and most wanted Christmas gifts for kids in Singapore! 
Get your mini-me to fall in love with the Dyson Toy Supersonic Hair Dryer & Corrale Hair Straightener Deluxe Styling Set (S$79.99). This dreamy hair styling set comes with both the mini Dyson hairdryer and the mini Dyson Corrale straightener - so they too can have fun while getting ready.  Complete with lights and sound effects, 2 interchangeable nozzles, a barrel brush and detangling comb, this toy set is the perfect gift for a mini beauty guru. 
Double it up with the Dyson Toy Cordless Stick Vacuum (S$54.99) and allow your kids to have fun roleplaying around the house. Featuring a working suction, cyclone action and different attachments to play around with, the little ones will be obsessed with this mini Dyson vacuum replica. 
Want to score big this Christmas? Open the door to a world of imagination with the extensive Barbie Dreamhouse Playset (S$419.99). Standing 109cm tall and 104cm wide, this huge Barbie playset inspires 360-degree play with three floors and 10 indoor and outdoor living areas. With over 75 storytelling accessories, allow the child to play out any story their creative minds can think of. Accompanied by three songs, two soundscapes and customisable light settings, the kids will have fun setting up the scene and customising the space. Featuring a pool and working elevator, you can lower the characters with the elevator and even fill up the pool with water and have Barbie and friends enjoy a splash in the pool! With the endless possibilities to bring Barbie to life, this playset is definitely a fantasy come alive for kids. You're welcome!
Have the kids enjoy a fun-filled day at VR World with a thrilling collection of virtual reality (VR) games and experiences in assorted genres and themes. The perfect Christmas gift for kids and growing teens, the MultiPass (75) Gift Voucher (S$75) offers two hours of entertaining and refreshing gaming experiences! With the voucher, the children will be spoilt for choices as they are free to pick from the abundance of games offered by VR World. This includes their popular VR Escape games, VR Laser Tag and other VR Arcade games. 
Embark on a journey of classic style, puzzle-solving and clue-finding with Jungle Quest. Recommended for kids aged 10 years and above when accompanied by an adult, you get to dive into a fantastical jungle world populated by animals appearing in front of you! Offering two different game difficulty levels: easy and normal, the puzzles and wholesome theme makes it the perfect adventure for the whole family, young and old. 
For an arcade-themed game, try out Cook-Out: A Sandwich Tale and get busy in the kitchen. In this game of more than fifty levels spread out over eighteen towns, each player will have different ingredients and be forced to work together to assemble the right sandwich. With up to ten players able to play at the same time, this one makes for a fab day out with the family. Open by appointment only, so do remember to book your slots here to avoid any disappointment!
A baby may not understand the value of this gift yet, but give it a few years and you'll be reliving each moment together with your grown-up child! This durable and luxe Baby Keepsake Box (S$106.69) is the perfect gift for any sentimental parent. 
To make it easy for parents to document important family memories and documents, the Baby Keepsake Box comes with 2 caddies and 2 drawers with adjustable dividers that offer 7 compartments to organise a baby's heirloom treasures, from first shoes to first tooth. The box also prevents new parents from being overwhelmed as they provide 52 illustrated labels to guide you through the collection. 
Apart from saving what matters the most through these growing years, the Baby Keepsake box has a minimal and high-quality fabric exterior. Custom-dyed in modern colours, the box will fit in seamlessly with one's décor and shelves. A thoughtful present for any expectant mothers, infant or toddler's parents, this gift will be sure to provide them with a trip down memory lane in the future as they witness the growth of their little ones.
Want more Christmas gift options for kids? Check out these ideas from our guide last year: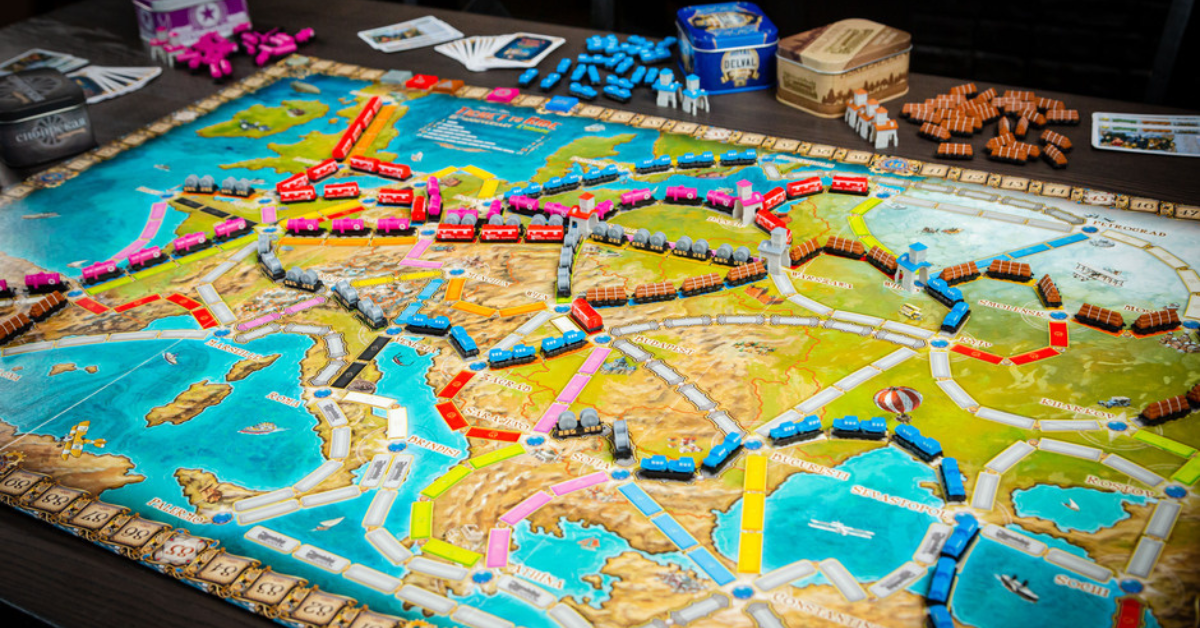 Remember when we told you about TOYTAG - the secret trove of fun and educative toys in Singapore? A leading online and retail toy store in Singapore, TOYTAG sells interactive and intelligent toys that are guaranteed to make the perfect birthday or Christmas gifts for kids.
This year, TOYTAG are back with an amazing selection of toys that will have the entire family rejoicing in the festive spirit! 
Take the classic​​ Ticket to Ride Europe Board Game for instance. In a deluxe edition anniversary packaging, this oversized version of Ticket to Ride® Europe celebrates years of thrilling train adventures for many families and friends.
Featuring finely detailed plastic trains and stations in gorgeous tin boxes, this anniversary version is literally the spare no expense, classic edition to gift to any board game addict. With its oversized board, and all the destination tickets published to date along with a set of beautiful new artwork, you'll be set for a thrilling adventure from the get-go! 
Taking you beneath the shadow of London's Big Ben to the towering arches of Rome's Colosseum, or the onion domes of Moscow to the Eiffel Tower in Paris, Ticket to Ride Europe is a ride through the great cities of turn-of-the-century Europe. 
There's plenty more! You'll find a whole host of Christmas gift options for kids at TOYTAG including a robust range for older children too. From building your own AI car to playing with handcrafted Backgammon and Chess sets, the curated collection of toys at TOYTAG is all you'll need this Christmas!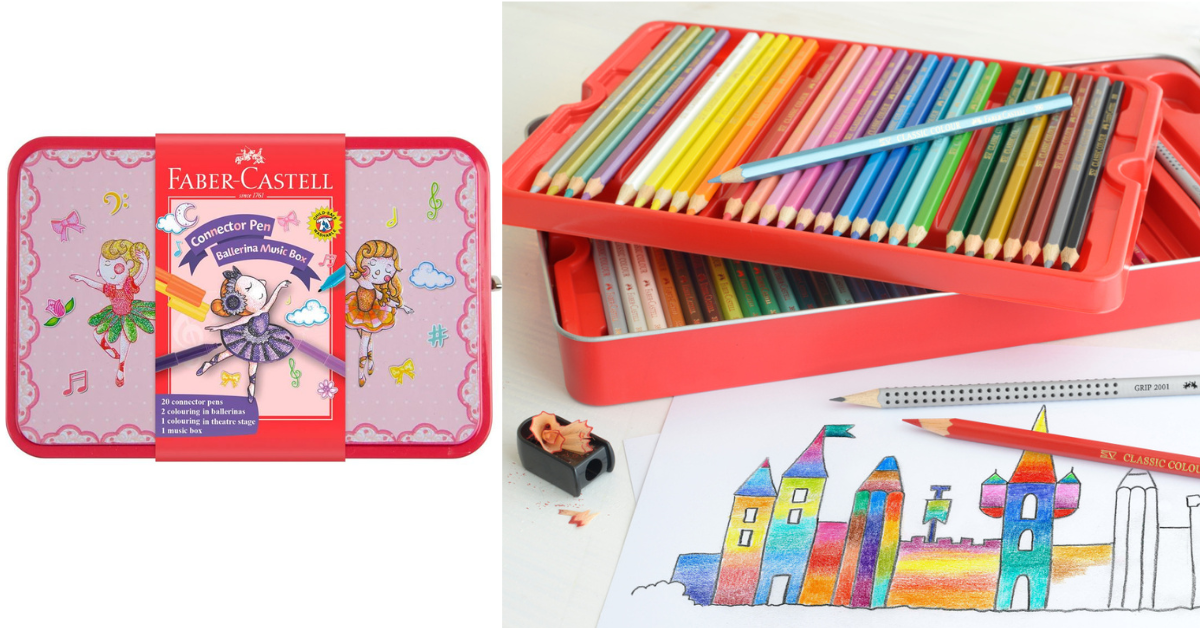 As one of the oldest family businesses in the world, German pencil dynasty Faber-Castell know a thing or two about making special treats for little ones. With over two billion pencils and coloured pencils sold every year, their products are loved by children not just during the festivities, but literally every single day of the year. 
Encourage great drawing technique with the Faber-Castell Ballerina Music Box with connector pens. Filled with bright colours, it contains 33 Connector felt top pens, 10 twistable connecting clips and 2 craft cards. Packed in a travel-friendly Ballerina Music Box with a winding musical function, it will keep them entertained for days to come. The best part? Felt tip ink washes out of most fabrics and is easy to use with kids and toddlers! 
If your children enjoy rock painting, you have to get them the Faber-Castell Stone Decoration Art Activity Set - a new product to encourage crafting as a family! It comes with everything you need for stone art such as stones, paint, paint palettes and a brush.
Kids also love the Faber-Castell Colour Your Own Tote-bag Activity Set that inspires creativity and encourages the use of different colours to decorate your own pet owl design. Also a fab option for birthday favour bags, this kit includes a tote-bag with an owl design, paint, paint palette and a brush.
Budding fashion designer in the house? The Faber-Castell Origami Fashion Design Activity Set encourages motor skills by folding various shapes, sparking interest for young children with an interest in fashion and designing. The kit comes with origami paper, glue, coloured pens and allows your children to create endless styles of outfits with a range of colours, motifs and styles!
And finally, if you are looking for a good-quality colour pencil set, the Faber-Castell Classic Colour Pencil Sketch Set in Metal Tin will not disappoint. Containing 48 colours from Faber-Castell's classic colour pencil range, its pencils are hexagonal in shape for a better ergonomical grip and are made from certified sustainable forestry wood. 
Make this Christmas extra special with a range of activity and art kits from the Faber-Castell. Affordable, packaged beautifully and offering endless creative opportunities for children(and adults!), you are sure to find a treasure that your little one will love. 
Faber-Castell products are available for sale at Faber-Castell Marina Square shop (#02-190A);  and also on Faber-Castell's Lazada Flagship store and Shopee Flagship store.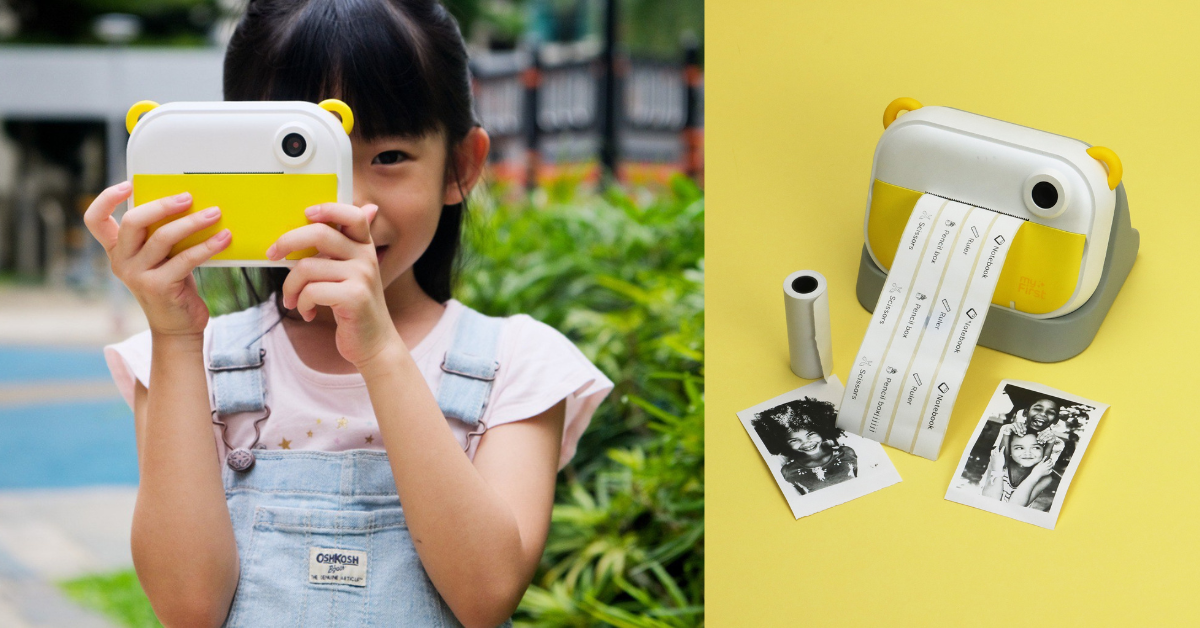 What if you could get an instant camera and label maker in one machine? Have your child become 'photographer for the day' and print memories around Singapore, your travel destinations or with family during these holidays. A perfect Christmas gift for kids, the myFirst Insta Wi is the only all-in-one camera and portable label printer that your child needs. Did we say how affordable it was?
With the dedicated myFirst Insta Wi mobile application, allows for labelling files, documents, meal boxes, bottles, stationery and more - as easy as snap, edit and print! 
The app also comes with templates that are suitable for different uses and over 160 presets for you to choose from. We're talking a wide range of patterns, symbols, and icons, that help to create your own special labels, personalise the text, font and border style.  An instant camera with both front and selfie lenses, children can take photos, anywhere with a simple, extra large and little-finger-friendly button press. With the 12MP front and selfie cameras, it can take photos from 3MP to 12MP and 1920×1080 videos videos as well. 
With filters and frames pre-installed in the camera, kids can snap and print cute and interesting photos or stickers to create photo albums and name tags too.
And all it takes is just 10 seconds! Get printouts of their captures in just 10 seconds of what they have captured. Using thermal fast print technology, photos will be printed in black and white at the quickest speed. Inkless thermal printing means the ink never runs out! It's super-affordable, with up to 60 sheets per roll and costing just 1 cent per print! 
Should you want to print the photos in colour, just transfer photos to your phone or any device and print away with your choice of printer.
With equally affordable accessories including cases, print rolls and more, this is the hot new accessory that all kids and parents will love. A Christmas gift for kids that will guarantee squeals all around!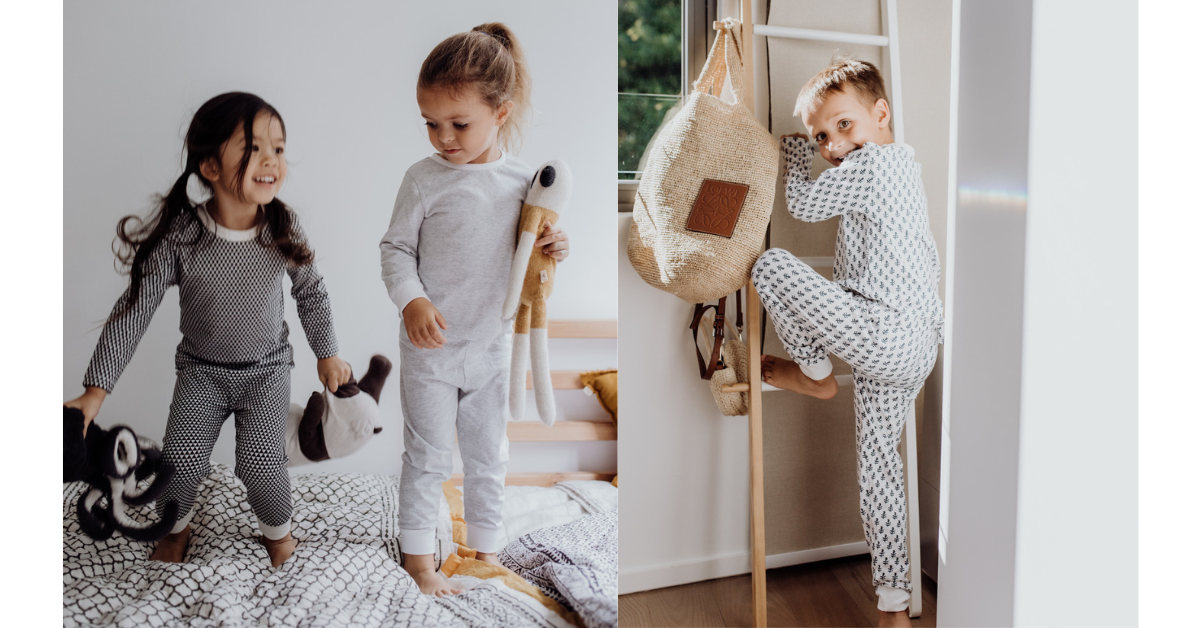 ​​We've often waxed lyrical about our love for affordable luxury brand ​​Malabar Baby. 
Malabar Baby is known to produce high-quality products in natural fabrics that translate into the most gorgeous bedding, organic swaddles, baby towels, clothing and lifestyle accessories - for the whole family! 
This year, give your kids the gift of good sleep with Malabar Baby's butter-soft block printed pajamas. These two-piece sets for babies, toddlers and big kids come in sizes starting from 6 months all the way up to 10 years - perfect for matching family PJ's on Christmas Day! 
Made from the same super-soft cotton that Malabar Baby use for their best-selling organic sleep bags, the Malabar Baby 2 PC Knit PJ Sets come in gender-neutral, ethnic prints that everyone will love. Inspired by the city of Jaipur in India, these PJs are come gift packaged in a signature Malabar Baby ribbon, so you can simply slide them under your Christmas tree! 
We love that they use hypoallergenic and breathable cotton and have enough room for growth given their generous sizing. Don't worry, the bottoms come with ribbed cuffs so there's no danger of the little ones tripping over! And for the tiniest of them all, Size 6 and 12 months come have a snap button on the collar for easy removal.  
Yes, they've thought of everything! 
Psst, word has it that their newly launched, newborn accessories are flying off Malabar Baby's shelves all over the world! Seems like a fab Christmas gift for babies in the house!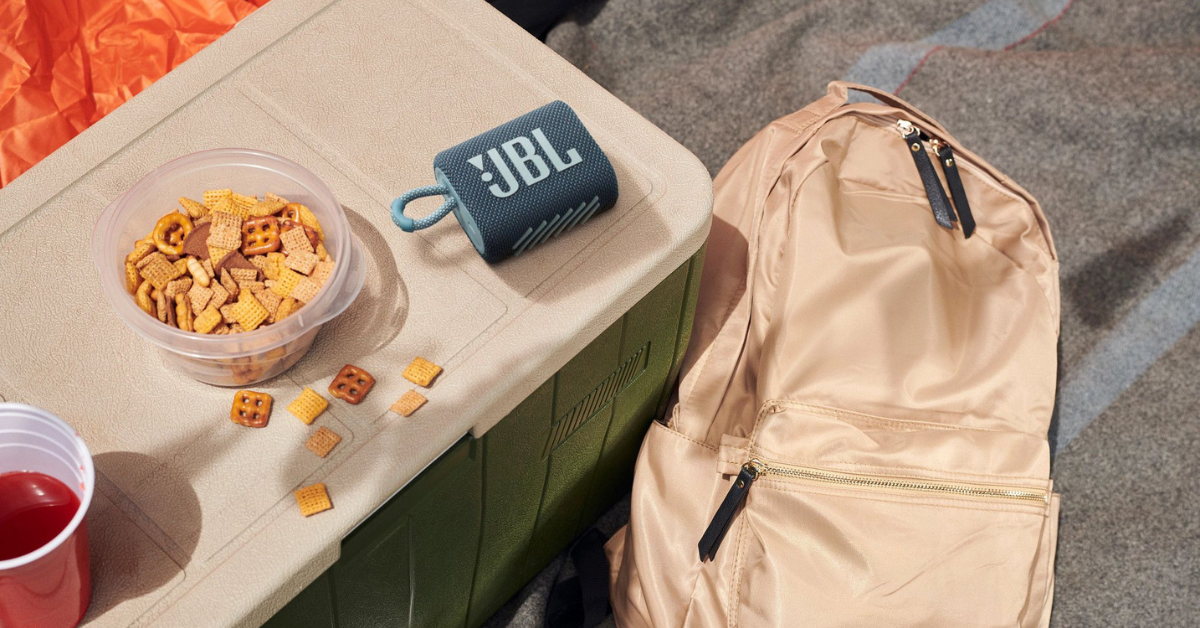 Long days by the pool, listening to their own music - your pre-teen or teenager will thank you for the JBL Go 3! The perfect Christmas gift for all age groups, the Go 3 features a trendy new design and colourful fabric options that make it the must-have accessory for all. The best part? It is waterproof AND dustproof aka, childproof, so they can keep listening to their favourite tunes come rain or shine!
Wirelessly stream music from your phone, tablet or any other device and get up to 5 hours of playtime on a single charge. Boasting colourways that will impress most kids - and we're talking over 12 different colours here, it really is that fashionable statement for your children to flaunt in the new year. 
Take along to the park, beach or keep it as an indoor companion, the JBL Go 3 packs solid audio capabilities in its otherwise super-cute, compact design. 
There's even a convenient loop that allows for easy transportation! 
Available at the JBL online store, Lazada and Shopee.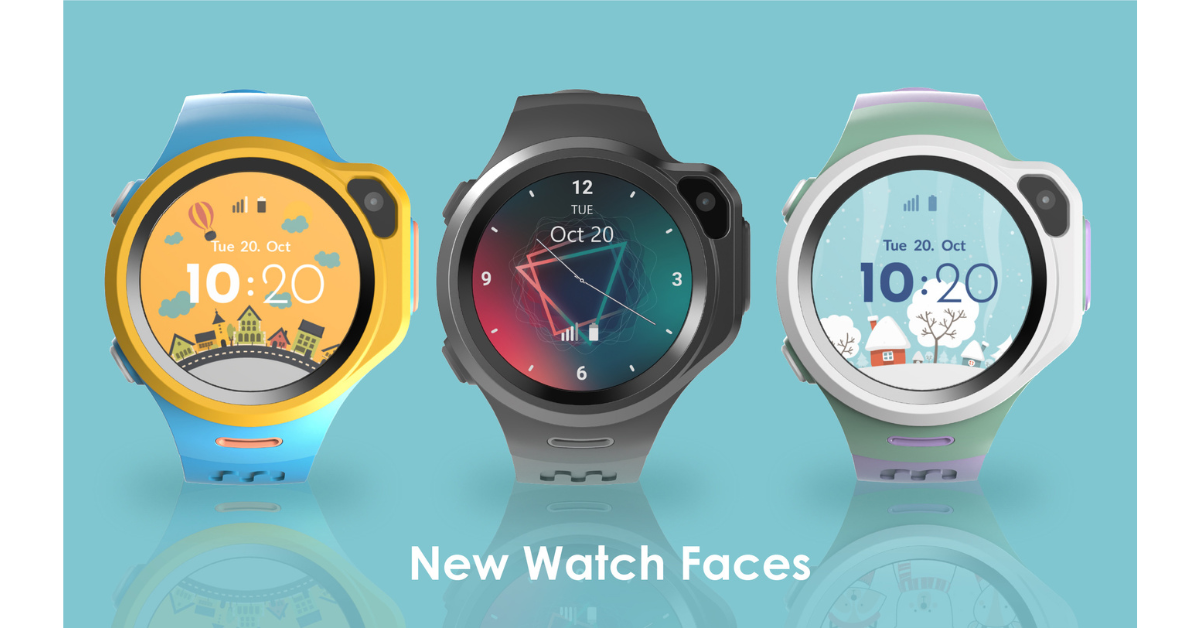 Looking for a smart tech gadget that can double up as the perfect Christmas gift for kids? Local brand, myFirst, have launched the myFirst Fone series, an all-in-one SAFE smartwatch phone, with more than the basic functions of a phone! It comes packed with useful features that most parents want out of a tracking watch including a GPS and fitness tracker, 2-Megapixel camera, Class Mode and Video Calls. 
There's even precise location tracking with advanced GPS, Indoor WiFi Tracking via Google System and LBS (Location Based Service), which provide accurate information for parents so they can keep track of their child's whereabouts. 
The myFirst Fone series comes with a Class Mode where the device can work like just a regular watch during school hours and functions such as phone calls and texting are locked (SOS alerts still go through). Smart and with little distractions, it certainly makes for a Christmas gift that everyone will love!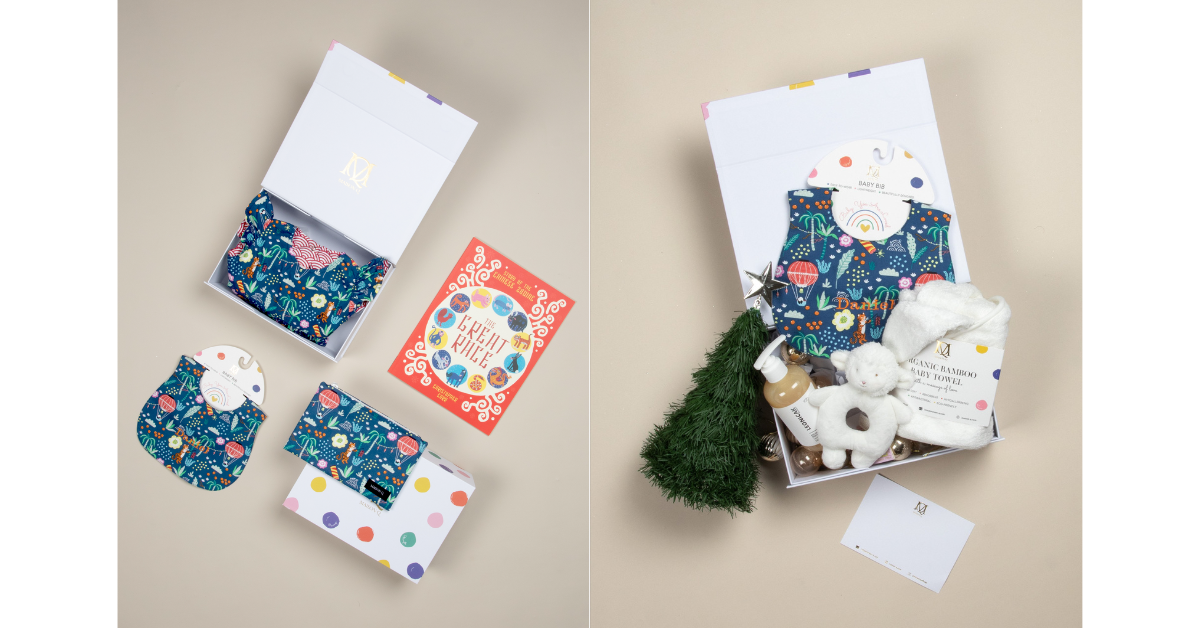 Singapore's favourite reversible kidswear brand Maison Q started with a mission to get more mileage out of baby clothing. Today, they sell some of the most beautiful reversible baby and kids clothing. Known for their original prints, limited edition collections and impeccable quality, their vivid colour palettes will please everyone - kids and parents alike!
This Christmas you can look forward to the Newborn Essential Gift Set, a perfect way to welcome a new bubba to the family. This Christmas gift for babies includes a luxe, super soft Organic Bamboo Hooded Rabbit Towel with the message: "Let Them Be Little" embroidered at the edge of the towel. It also comes with an adorable Bunnies by the Bay Lamb Ring Rattle in white, a Kids Shampoo and Baby Wash by Leonica K and a bib from the collection. It also includes embroidery of baby's name in the colour of your choice!
There's also the New Year Apparel Gift Set, which comes with a Baby Onesie (boy or girl), pouch, a bib in Tigerlicious print and the book The Great Race. Also available in Panda print, this gift set will be a great addition to the little one's CNY wardrobe!
You'll also find a range of gorgeous clothing for older kids such as dresses, shirts and shorts. that make great gifts and everyday staples. Reversible pieces mean they can be worn inside out, 2 designs in one apparel, with twice the mileage!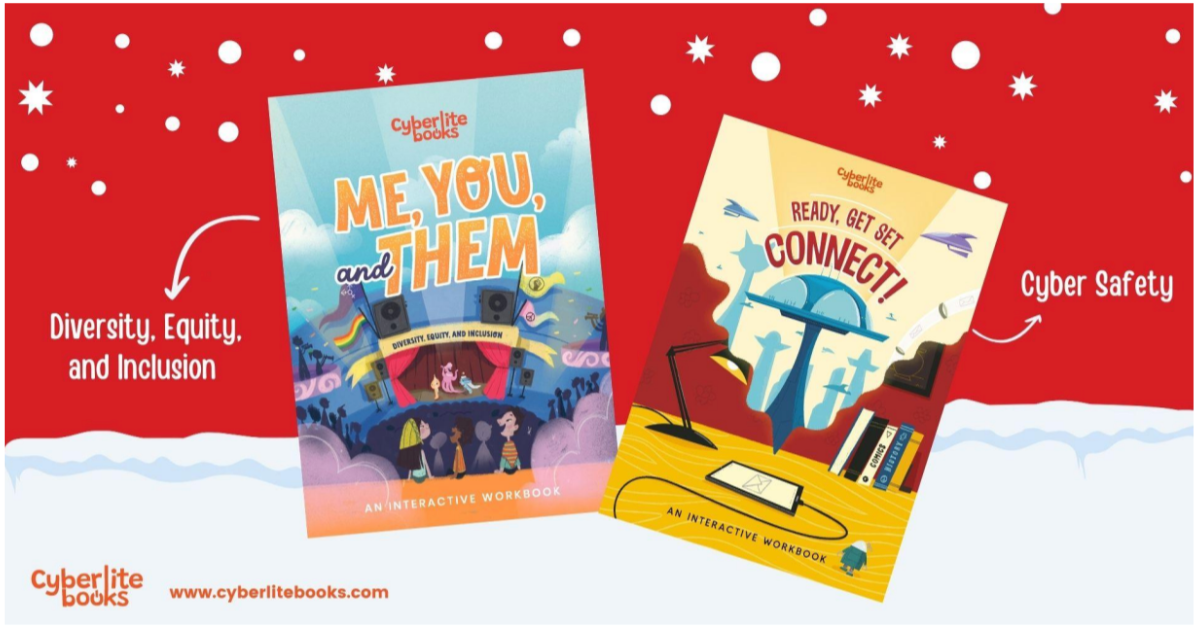 Make a real impact with Christmas gifts for kids this year by choosing books that talk about real-world issues. Cyberlite Books, an independent publishing house, has recently launched a gift set of two social impact workbooks that teaches children about important topics relevant to the world they live in. Suitable for children ages 7 and up, and are filled with characters, activities, and games these will make incredible stocking fillers that the whole family can enjoy together. 
Me, You, and Them is a book about diversity, equity, and inclusion (ages 7+) and encourages empathy, compassion, and appreciation amongst kids. Young readers will get to celebrate diversity through fun and games, and learn to use their critical thinking skills to create inclusive environments for minority groups.
 
Ready, Get Set, Connect! Is a book about cybersafety (ages 7+) that takes your kids on a journey through Cyber Space to explore the wonders and perils of the online world! In the journey to becoming a Cyber Hero, readers learn to face off with dangerous villains and unmask their true intentions, while understanding how to protect personal data with security weapons!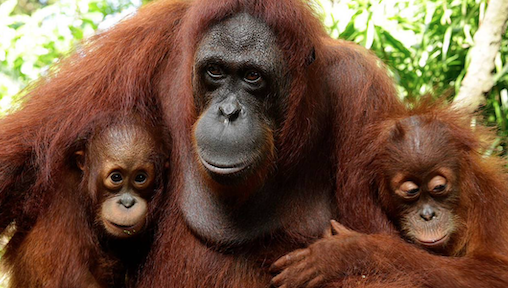 ​
The one gift in Singapore, regardless of Christmas, a birthday or school holidays, that is guaranteed to get you endless excitement is a visit to the Singapore Zoo! 
As the best experiential gifts for kids (and adults) on the island, the Singapore Zoo boasts some of the world's most interesting habitats, animals and adventures. 
Set in a rainforest environment, Singapore Zoo's world-famous "Open Concept" offers the opportunity to experience and be inspired by the wonders of nature. Home to more than 2,400 specimens of over 300 species, (34 per cent of which are threatened), the Zoo has a strong reputation internationally for its conservation initiatives and breeding programmes.
What's more, it allows for plenty of family bonding opportunities alongside photos with your favourite animals. Make sure to book your animal feedings in advance(online) and watch your little ones interact with elephants, rhinos, giraffes and our favourites - the resident goats at Singapore Zoo!
Alternatively, consider getting an annual access membership to all four wildlife parks! From just $145, you can keep going back through the year to enjoy all the attractions across the parks.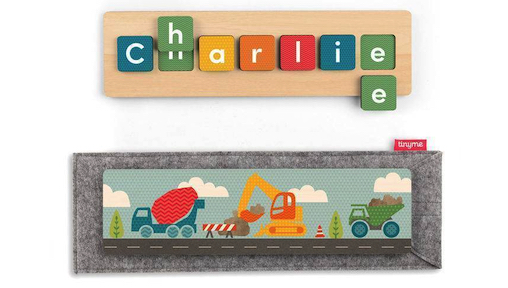 ​
Personalised name puzzles are always a hit and you can now buy a high-quality version of this timeless puzzle at Tiny Me! With an exclusive range of beautiful designs, educational benefits and integrated storage for easy pack up, the puzzles make for brilliant Christmas gifts for kids.
Aside from developing fine motor skills, colour and shape recognition, a personalised puzzle is also a keepsake that children will love even as they grow up. These name puzzle blocks are double-sided. The first side allows your little one to create their name by matching letter and colour. Once they've mastered this step, simply turn the blocks over to reveal the black and white text version. No colour prompt means that matching needs to be based only on the letter. 
But wait, there's more! You can also choose between a free felt storage pouch or upgrade to a solid wooden storage box, with beautiful finger-jointed construction, where the integrated slide-in lid becomes the puzzle base.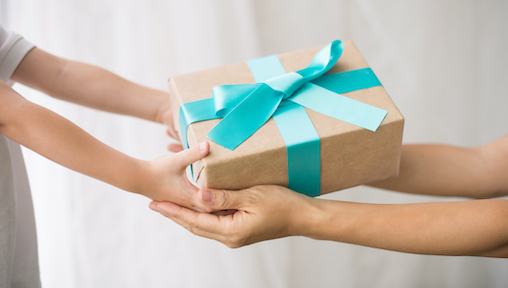 ​
Share your child's birthday gifts with a charity you care about AND pool funds towards a dream Christmas gift.
For parents who want to teach kids about mindfulness, Gift-It-Forward gives you a chance to help them become conscious of the community and the environment around them. 
This innovative and super-helpful for clutter service simplifies gifting - so grandparents, far away relatives and other gifters can contribute money towards a cause of your choice. We also love how it doesn't leave the child without a present! With over 19 charities and counting, your friends and family overseas get a chance to donate to a cause and part of the proceeds go towards a gift for your child. What's more, you'll be able to send thank you notes to all after the event too.  Less physical gifts, more mindfulness all the way!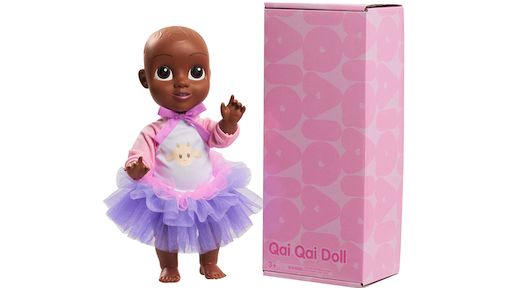 ​
As the doll with over a million followers, Qai Qai is no ordinary gift. Since appearing on social media alongside Serena Williams, Alexis Ohanian, and their daughter Olympia, Qai Qai has amassed quite a following of her own. Qai Qai stands 14.5" tall and comes dressed in a two-piece removable outfit that includes her iconic onesie and a six-layer pink and purple tutu. Her onesie features her GOAT logo, bow, and Velcro closures. Qai Qai can not only stand on her own but she has five points of articulation so she can strike a pose just like @RealQaiQai so often does. 
Perfect as a Christmas gift for kids, 3 years and older, this inspirational doll is truly the pillar of inclusion and acceptance.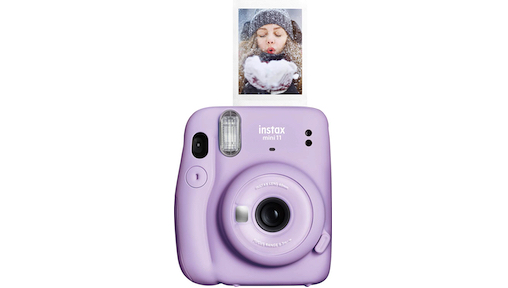 Got a budding photographer in the family? Gift the INSTAX Mini 11 Instant Camera: the successor to the INSTAX Mini 9 Instant Camera. With its new Automatic Exposure function, there is no need to adjust a dial anymore to take photos based on your lighting. 
Take the perfect selfie with the Mini 11's Selfie Mode that includes a built-in macro mode and selfie mirror. The camera also has 2 fun shutter button accessories that can be attached to the shutter button to customize the camera's look. The Mini 11 will be available in 5 colours: Sky Blue, Lilac Purple, Ice White, Charcoal Gray and Blush Pink, so you can really make it personal!