Art has the power to transform a space and pull a room together by the seams. More than just an accessory to your furniture, our taste in artwork delves into our inner selves and reflects a sense of our palate. Though searching for the right piece as well as the right place for an artwork may seem a little daunting, it's a challenge you should definitely take on.
To help you conquer those bare walls and spots around your home that need a little touch of flair, we've got a few tips up our sleeves to share.
1. Discover and get inspired
Instead of staring at your walls and letting that anxiety settle in, get out of the house and have a look at the art that's being exhibited in your area. From galleries to cafés and restaurants, there are plenty of places to gather some much-needed inspiration for your home. If that doesn't sound appealing, a quick home décor browse online should help you get started.
2. Question the art
The goal of finding artwork is to identify pieces that mean something to you, not just to fill your wall space with. Ask yourself what the subject matter reminds you of and if you can relate to it on a personal and emotional level. Its potential to rise in value shouldn't be a priority. After all, the art is for you.
3. Size matters
When you're hunting for a piece of the right size, determine how much space you'll be allocating to it first. A good rule of is to have the artwork fill up two-thirds to three-quarters of a wall to maximise impact. If you're investing in a contemporary piece, then bigger is better. Remember, scale is key.
4. Consider different mediums
Let's face it - paintings are our go-tos when we think of sprucing up our homes with art, but we shouldn't always stick to one medium. Select the type of art that will work best for your space. Paintings will give your home a wider swathe of colour, while sculptures and mixed media pieces will add some depth and layer to a room.
5. Think of colour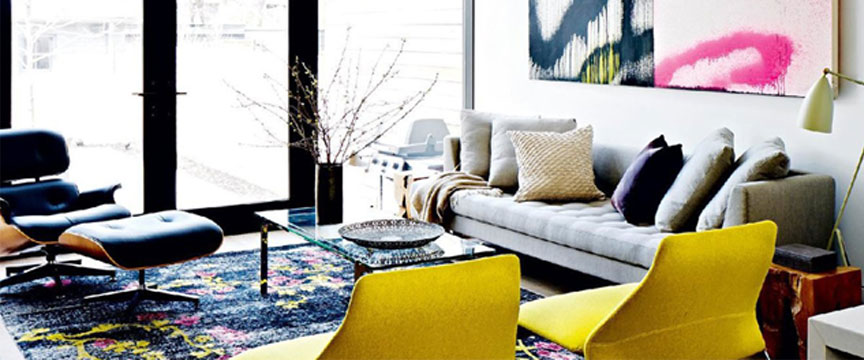 Though it shouldn't be your main guiding aspect, you should consider the colour scheme of your interior. Select artwork that contains some of the louder colours featured in your room's design, and a piece with complementary colours would work well with your space too. Aim to strike that balance between colour, shape, and content.
6. Focus on the focal point
There are many areas in a room that will draw one's attention to, but it all depends on what you'd like to accentuate. Whether you're looking to define a single part of your space or complement your overall colour scheme, make sure to give some breathing space to avoid a chaotic look.
7. Select a theme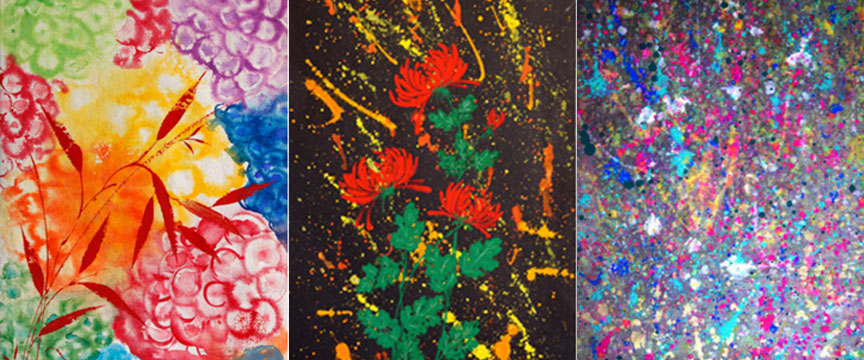 If you've decided to build a collection of artwork around the house, it's best to steer clear of erraticism and decide on a theme. You can curate it by medium, genre, colour, vibe, or even a collection of work by your favourite artist. This will definitely help create a cohesive visual of your home. Deise Dias, a Singapore-based Brazilian artist has an amazing array of paintings you would definitely want to check out. 
8. Hang them right
Ensure that your artwork is hung at the correct height, which means it should be hung approximately at eye level. If you're a little too short or too tall to judge, follow the art gallery standard and centre your painting 60 inches from the ground.
9. Light it up
Lighting your artwork is crucial. Nothing makes a bigger difference to your pieces than the light. Artwork that's dimly lit will look muted and it could potentially lose its impact, so make sure you invest in good lighting to help make your artwork stand out.
10. Explore different art markets
If you're new to the art collecting scene, you can find heaps of exclusive works by emerging artists at art fairs, art weeks, and biennales in our little red dot. Southeast Asia has much to offer too and travelling to these countries from Singapore is a breeze. Look to countries like Malaysia, Indonesia, Vietnam, and the Philippines to get unique pieces.
For more information or consultation on how to pick art for your home, visit Deise Dias. She has a wide variety of framed and unframed paintings ranging from SGD100 to a few thousand. All her paintings may be viewed at in her home studio or on her website. For appointments/ viewings drop her an email at [email protected].
Contributor: Jade Yeo
Jade Yeo is a local writer who is largely engaged with theories of psychology and feminism in popular media, art, and culture. She has contributed fashion, beauty, and lifestyle features to Be Asia.