If you are looking for baby clothing in Singapore, this round-up of the best baby essentials and bedding brands is a keeper! You'll find tropical weather-friendly baby clothes, breathable baby bedding and a huge range of swaddles, rompers, blankets, onesies and bath towels for your precious bubba. What's more, they make the perfect baby gifts too!
Are you after the best baby clothing and essentials that are made thoughtfully for the environment and prioritise your baby's comfort in Singapore's tropical climate? RAPH&REMY, our go-to brand in Singapore for baby essentials and baby gifting ideas carries a wide range of baby clothing, toys and everything you need for your little ones. 
RAPH&REMY place great emphasis on premium quality materials, safety and sustainability and work alongside eco-friendly textile and packaging manufacturers in Asia. What's more, their silky, soft and sustainable bamboo textiles and apparel are designed with the tropical climate in mind, won't cause allergic reactions on your baby's precious skin and are OEKO-TEX® certified to be free of harmful chemicals. Beautifully packaged and affordable, you'll find a wide variety of premium Bamboo zippies (long and short!), swaddles, onesies, knotted gowns, security and cooling blankets and other baby essentials that you can use all 7 days of the week.
Want style and comfort in one look? Get one of RAPH&REMY's Premium Collared Rompers that are designed with the tropical climate in mind. Soft, breathable and available in 8 unique signature colours in 5 sizes ranging 0-2years.
For baby bedding, we love their best-selling Organic BambooCloud Cooling Blanket, which is made with the most eco-friendly fabric on the planet. It keeps babies cooler in summer and warmer in winter - reducing the risk of overheating, putting parents' minds at ease. You can even personalise it in your baby's name! If you are after baby swaddles, take a look at the versatile Premium Bamboo Swaddles, which are made from 100% bamboo viscose and come in a range of signature colour blends. Silky, soft and unique, the cashmere-like bamboo fabric is the finest choice in quality fabrics - it is nearly three times more absorbent than regular cotton! 
Also a top choice for parents, the RAPH&REMY Premium Bamboo Stretch Swaddling Blanket is luxuriously silky soft, stretchy and breathable. Available in the iconic RAPH&REMY signature stripe pattern, this swaddling blanket is designed to simulate the feeling of a mother's womb, so your baby feels beautifully secure and cosy at all times!
And if you are looking to buy a baby gift in Singapore, you can't go wrong with the Teddy & Me Romper Gift Set or the Luxe Comfort Gift Set,. Browse their full range of stylish gift sets online, which include all the essentials that a baby will need. You even have the freedom to create your very own bespoke gift set!
Shop RAPH&REMY's luxe essentials and baby gifts at http://www.raphandremy.com/, or at Takashimaya, Motherswork Great World City and Tanglin Mall, Tangs, Mummys Market Raffles City, Mother & Child and Raffles Hospital.
Let your little one take on every day with Gen Woo's collection of babywear! As one of the top baby clothing brands to buy in Singapore, their outfits are an adorable way to keep your baby cute and comfortable. They are suitable for a day lounging around at home or staying comfy while running errands.
Gen Woo offers baby girls clothes in sizes 0-36 months. Styles include ruffled jumpsuits and rompers, bibs, leggings, bloomers, babygrow onesies, and more. You can also purchase multipacks at highly competitive prices.
The designs feature easy button or snap closures to make dressing a breeze and machine washable fabric for a stress-free clean-up. Super-soft cotton will feel great against your baby's skin and make exploring more fun than ever.
Gen Woo prioritises environmental sustainability. Their baby clothing and essentials are made with premium cotton in factories that are OEKO-TEX 100, BSCI, and ETI certified.
But that's not all! As your child grows Gen Woo also offers a large kidswear collection offering girlswear at 4- 8 years, tween girl 8-14 years, boyswear in sizes 4-12 years and a youth collection in adult UK6-UK16.
Keep up to date with all the latest collections, promotions and giveaways from Gen Woo Kids. This baby clothing and essentials brand will always make your little ones stand out as the best-dressed kids on the block!
MOMO + BUBS is a homegrown baby clothing and essentials brand in Singapore that retails high-quality organic muslin essentials for little ones. These include bibs, clothing, bath towels, swaddles, sleeping sacks and more! Their design ethos results in a beautiful range of products in a timeless and dreamy colour palette, fewer good quality products that are everyday essentials, and minimal or reusable packaging.
Designed with love by a mom in Singapore, MOMO + BUBS baby clothing and essentials are made by hardworking hands with 100% organic cotton muslin in a Fair Trade and GOTS certified factory, that is also 100% solar powered.
Our favourite? Take a look at the MOMO + BUBS Organic Bear Hooded Towels that are made with 6ply muslin, wonderfully soft and perfect as the first towels for wrapping around your little ones after bath time or dips in the pool. The hooded design allows you to gently drape the towel over your little one's head to dry their hair and keep them warm, and the bear ears look absolutely adorable!
We are also fans of the MOMO + BUBS best-selling muslin bandana bibs! A set of 5, these are made from finely woven, 100% organic cotton muslin fabric. The high-quality muslin is super-soft to touch and retains the shape of the bib even after being washed. We love how MOMO + BUBS don't use any formaldehyde in their prints and dyes so babies can safely wear and snuggle in their beautiful fabrics, all day long.
MOMO + BUBS support the community through a partnership with Singapore Children's Society. $10 from the sale of selected items are donated to Singapore Children's Society in support of the meaningful work they do for children, youth and families in need.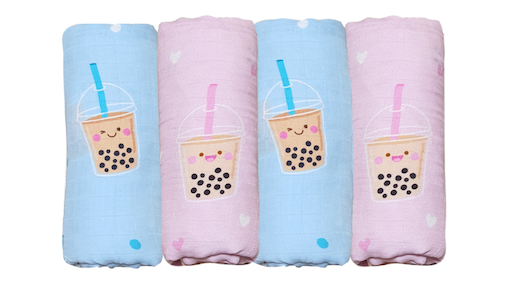 Little Bearnie, Singapore's leading baby essentials brand is known to create designs and products for babies that stand out in a sea of mass-market brands. From teethers, swaddles, baby gift bundle sets to bibs and educational toys, Little Bearnie has got all your baby gifting needs covered. 
Boba lover? Then you'll adore Little Bearnie's Boba printed swaddles that are exclusively designed by them and are available in two beautiful colours. Perfect for all nursery designs, these baby swaddles are made with Bamboo and eco-friendly organic cotton, so they are soft and gentle on the baby's skin and can be used for swaddling, as a car seat cover or even a nursing cover.
If you'd like to buy muslin swaddles instead, check out the range of dreamy soft muslin blankets on Little Bearnie that come in fun and colourful designs. From avocados, rainbow, lemons, unicorns, Dinoland, planets and llamas, these unique muslin wraps will be a staple that you will use all year round. 
Little Bearnie are also known for their Instagram-worthy teething accessories, teething necklaces, teething bangles and personalised teething clips. All of these stylish teething accessories are made using 100% food-grade silicone and toxin-free materials.
And if you want something that will really stand out as a baby gift, get their best-selling Gem Biscuit Teethers, which are exclusively designed by Little Bearnie and a reflection of Singapore's local culture. There are plenty of other designs too such as fruits, animals, and even sushi! 
Check out Little Bearnie's modern teething accessories at www.littlebearnie.com or at Mothercare outlets, Nichebabies, Bumwear and Tadbebe
Want baby clothing and essentials that get used twice as much? Established in 2015, Maison Q jumped onto the kids #OOTD culture bandwagon and birthed the idea of reversibility in children's wear to get more mileage out of them. Their brand ethos reflects what discerning customers are looking for - original design, impeccable quality, versatility and comfortable apparels in vivid colour palettes.
Together with highly skilled artisans, Maison Q are dedicated to creating gorgeous mini wardrobe staples, beautifully sewn and finished. Two designs in one dress? A shirt that can be worn two ways? In many happy prints? Oh yes!
Their latest Garden of Fun is a collection that draws inspiration from the various spots of green in Singapore. Staying true to the Maison Q style, they have re-imagined these green corridors in fantastical ways. Spot the swimming flamingo, the caterpillar on a picnic and even one very dandy lion. The collection is available for babies 6M to kids 7Y and boasts a selection of onesies, shirts and dresses - all reversible!
Dilly & Fin is an online baby and kids store offering an exclusive handpicked collection of summer fashion and swimwear from the world's best brands, many of which you won't get your hands on anywhere else in Singapore.
From premium small-batch European labels Olivier London and Little Cotton to organic sleepwear brand Baby MORI, they cater to babies and kids up to age 4. Every piece of clothing suits our hot, humid and sunny weather whilst bridging the gap between every day and something a little more special. 
Most importantly, every piece that Dilly & Fin curate is chosen for comfort - loose-fitting, light and breezy, and gentle on the skin. For the environmentally conscious, Dilly & Fin is passionate about sustainability and only works with brands that share their values - that means heaps of natural, organic materials, timeless designs and clothes that are crafted with longevity in mind.  Bestsellers include the Jump Rope romper by Nellie Quats, the Adele Romper by Bebe Organic and the Archer Playsuit by The Simple Folk Co. 
Stylish, effortless and perfect for the tropics - what's not to love!
Vastra is a 100% organic cotton kids and baby clothing brand in Singapore with a range of unique designs. Vastra's primary aim is to provide simple and comfortable clothing for the little ones that is free from chemicals. 
A quest for the most comfortable clothing for her child, while being kind to her mild eczema, led Vastra's Founder to build what the brand is today.
A merger of comfortable materials infused with ayurvedic herbs and natural products, Vastra has added a part of nature into their clothing using dyes obtained only from natural elements such as flowers, fruits, barts, roots, leaves and vegetables.
The pieces are also coated with natural oils extracted from coconut, neem and basil, giving them anti-microbial and anti-allergen properties. An interesting aspect of Vasta's products is that they have removed all clothing labels that are usually found on the inside as it is a cause of irritation for children. 
Importantly, their clothes are made from materials that are sustainably sourced and the people who create these products are rural artisans, using traditional skills and practices handed down through the generations.
Want a different piece for your baby's wardrobe? Take a look at the Agraba Harem pants that come in 3 different prints and can be adorned by both your little Aladdin or Jasmine alike! Comfortable and versatile, these pants can be paired with a basic tunic and sneakers or even a traditional top and sandals. We also love Sienna, a flowy dress with pleats that little kids love spinning around in!
Did you know that kids furniture brand Deer Industries also sells a versatile range of baby clothing and bedding in Singapore? Boasting a wide range of furniture, decor and accessories designed with a European flair to inspire, each piece at Deer Industries is caringly selected by a mother of three to reflect a collection full of contemporary style. 
Passionate about bringing together a selection of imaginative and sophisticated designs from across the world into your home, they hope to help you find that distinctive style in your space. Specialising in babies, kids, teens and home - Deer Industries is essentially a lifestyle store for kids, parents and everyone who is after that style statement for their homes. 
You'll find a range of furnishings from cribs and cots for newborns to bedroom furniture and décor for teens. Whether it's jersey cot sheets, blankets or even changing pads, the nursery bedding section will take care of all that you need. 
And if you want to shop for the softest baby rompers, try the bodysuit by Lodger, which is made from the softest hydrophilic cotton and is perfect for warm days. The 100% hydrophilic cotton absorbs a lot of moisture, is breathable which helps reduce the risk of overheating for your little one. It is perfectly form-fitting and has extra folds to fit the diaper. We love the trendy Scandinavian prints too!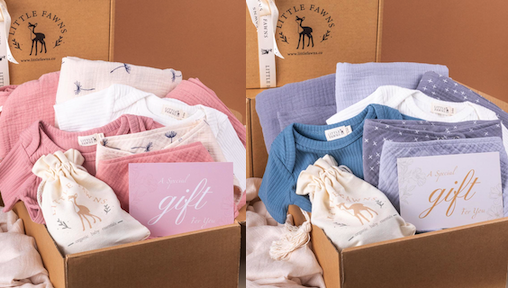 Have you heard of baby clothing brand Little Fawns? Started with a dream of making quality baby essentials for little ones in the city, every single piece is sustainably sourced and made using safe and natural cotton materials. This means all of their baby clothing, bedding and essentials are light, soft and breathable - perfect for Singapore's weather! All-natural, safe and sustainable, rest assured these baby essentials are perfect for your baby's delicate skin. 
Little Fawns also sells newborn baby gifts that are great to take along as baby shower or newborn presents too. These include swaddles, hooded towels and bibs that are 100% organic. Want something more personal? Their hooded towels can be personalised to make the gift extra special!
GOTS certified, the earthy colours, in super-soft fabrics, make them easy to match with other clothing or crib accessories. These baby gifts come beautifully packaged in the Little Fawns signature sustainable gift box. You can also create your own baby gift set by adding a gift box and gift card bundle to your choice of products!
Choose from a range of rompers, bibs, towels, silicone suction bowls and bundle sets that come with multiple essentials, and can be wrapped up in gift boxes too.
How about a little Korean inspiration for your baby's clothing? Little Kooma is a baby and kids clothes brand in Singapore that carries trendy, Korean-inspired apparel for infants all the way up to preteens and teens! You'll find their products on multiple platforms such as their own website, LazMall and Shopee, so you can shop whenever you need something. 
From bodysuits, rompers, sleepsuits, dresses, pyjamas and even the most adorable head wraps, there's plenty on here to keep you surfing for a while! Did we say they are super affordable too? 
With baby rompers, kimono-style no less, starting as low as $12.90 and Hudson Baby Towels (Set of 3) at just $26.90, we can see Little Kooma becoming a staple for new mums.