Celebratory occasion coming up? Here's a way you can make it personal and more special - customised cakes! Kid's birthday cake with your child's favourite cartoon character; cheeky cupcakes for a bachelorette party; or a three-tier custom cake that goes with your wedding theme; Whatever the occasion, here are the bakers that make creative and delicious customised cakes in Singapore.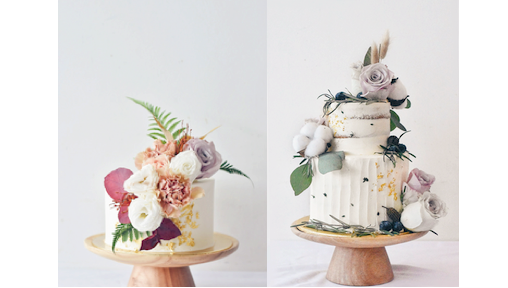 Zee & Elle is a boutique cake shop truly grounded in fulfilling people's visions of how they want their special days to be celebrated. With a belief in minimalism and originality, away from the noise and crowd, their passion is to serve you the best quality cakes you can get. This means that their team continuously explores new techniques and intensively researches new flavours to ensure customers get top-notch bakes and service, all through. 
The cakes are inspired by lush botanicals and whimsical colours and do not include any preservatives. Each cake is baked fresh to order. Want to try a bestseller? Try their Honey Yuzu Fresh Cream cake that uses a cotton soft yuzu sponge, layered with freshly made yuzu curd and honey infused cream. 
Other exotic and equally delicious recommendations include the Guava Lychee (bestseller), Roasted Black Sesame Hojicha, Strawberry Sea Salt and Raspberry Honey Yoghurt. 
You'll also find a wide variety of designs to choose from their Celebration Cakes. Whether it's minimalist paint, rustic, floral or baby breath designs, there's truly something on here, for everyone. And,  if you need a Vegan cake or one that is made without sugar, simply order their Vegan Double Chocolate Cake(fudgy and moist!) or the Mixed Berries Botanical Cake (Sugar-Free) made of coconut raspberry sponge - delish!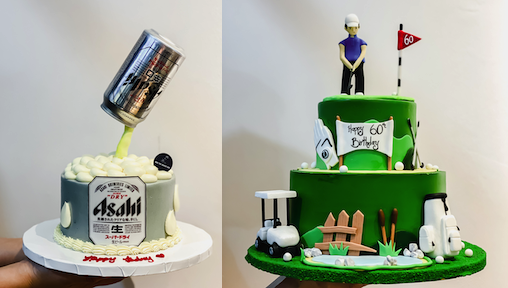 With its low sugar cakes, Bob The Baker Boy is a fantastic option for health-conscious folks to get customised cakes in Singapore. Apart from their soft, cottony signature cakes that feel like clouds in your mouth, they've also been known to whip up cakes in all sorts of designs. Think rustic garden motifs, mermaid toppings and wacky beer-themed cakes.
Take your pick between 8 flavours, which include classics like Belgian chocolate as well as local flavours like ondeh-ondeh. Feel free to go wild with your design of choice, but remember that all orders should come in at least 5 days in advance to give the bakers time to craft your one-of-a-kind custom cake (from S$118).
Customised cakes aren't the only things they've got in store. There are also desserts like cookies (from S$9.90), tarts (from S$22 for 12 pieces), the now trending bento cakes (S$39.90), and everyone's favourite basque burnt cheesecake (from S$78). For the more lavish occasions, you can even splurge on a dessert table (from S$650) that can feed anywhere between 30 to 50 people.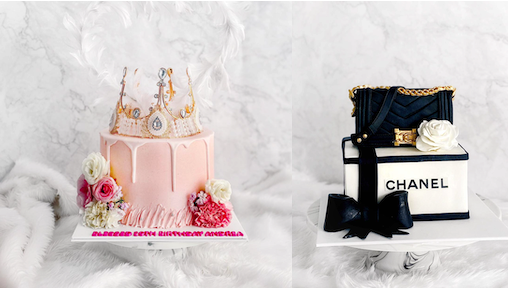 Are you looking for celebration cakes for teenagers and adults? Lisse Cakes offer a wide range of exquisite flavours and designs along with free delivery island-wide, inclusive of Sentosa! One of the top picks in Singapore for gourmet cakes is the Ondeh-Ondeh flavour. A classic Pandan sponge layered with their in-house Gula Melaka caramel sauce as well as desiccated coconuts. The Earl Grey Lavender is equally popular with its Classic Earl Grey infused sponge layered with Lavender buttercream and topped with mini donuts and meringues. Chocolate loves will love the Classic Chocolate sponge layered with their in-house Chocolate ganache. Topped with berries, macarons and meringues!
Don't forget to check out their monthly cake promotions, where are less than S$120 and free island-wide delivery, you can enjoy beautifully crafted cakes with a variety of designs and sizes to choose from. 
Love your luxury brands? Lisse Cakes are also known for their luxury handbag designed cakes for Chanel, Louis Vuitton and YSL fans! If you need inspiration, simply have a look at their Instagram page and you'll know they deliver perfectly on style and taste.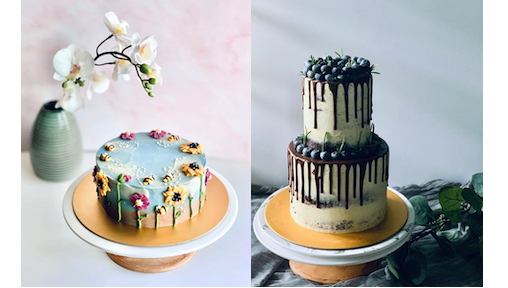 Photo credits: @
patisserie.melissal
Mel is a self-taught cake artist in Singapore. Having baked wedding cakes for her friends, Mel was encouraged to start selling her custom bakes and Mel Bakes was founded in 2018. Handcrafting customised cakes, thinking about how to make a cake more beautiful, and developing new flavours give her great joy.
It's often been said that 'people eat with their eyes first' and Mel couldn't agree more. Her customised cakes are visually stunning! Flavours available include Espresso Chocolate, Baileys Irish Cream Chocolate, Coffee Walnut, Strawberry Shortcake. The most popular cake flavours are Rose Lychee and Rich Dark Chocolate. There's even a new flavour - Earl Grey Yuzu Lemon.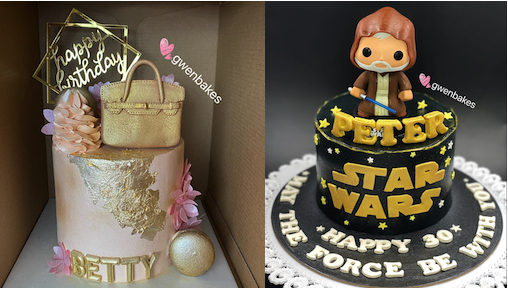 Does the birthday girl love Hermes handbags or does the birthday boy love Star Wars? Talented baker Gwen can make your wishes come true with a customised cake that follows your design brief.
Not only does she make customised cakes, but Gwen also bakes macarons, cupcakes, mousse cups, and can even set up a full dessert table. Make sure to place your order at least two weeks to a month in advance!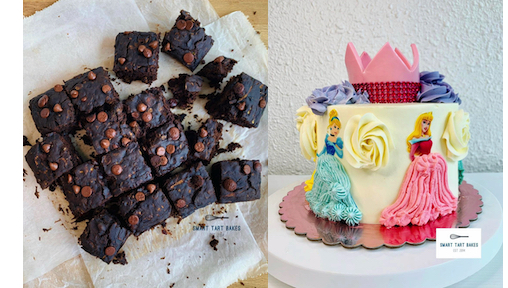 Karen is a self-taught bespoke cake designer. What first started out as a hobby baking for friends and family birthdays, finally became customised cakes business. Most cakes look awesome, but not many are memorable in taste. Her bakes promise to be memorable.
Karen loves experimenting with flavour combinations and techniques to create something delicious. Only the finest ingredients, mostly organic, go into these customised cakes. Besides cakes, you can also order gluten-free cupcakes and yummy vegan brownies!
These divine vegan, gluten-free, refined sugar-free brownies are made with oats, black cocoa, coconut oil, coconut sugar, flax egg, almond milk, gluten-free flour and the secret ingredient, zucchini!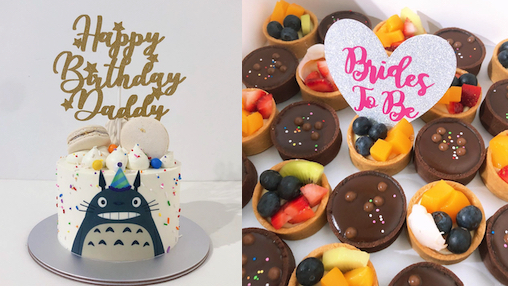 This baking studio in Singapore does it all - custom dessert box with tarts, longevity money pullout cake, kid's cartoon cake, custom Hojicha burnt cheesecake, original milk snowgats, and lots more.
Their Christmas collection has just been released which includes a Berry Frosty Christmas Cake, Tinsel Crunch Log Cake, and various party boxes. These dessert boxes feature festive goodies such as panna cotta, Nutella brownies, macarons, fruit tarts, and cinnamon biscotti.
Their new studio is launching soon too so keep a look out for that!