The time of the month is never fun for us ladies. From mood swings caused by PMS to suffering painful menstrual cramps, it is an unavoidable monthly routine in womanhood. While painkillers are one way to relieve menstrual cramps, there are also natural alternatives to consider.
Here are some alternative natural pain relief treatments for dysmenorrhea or more commonly known as menstrual cramps.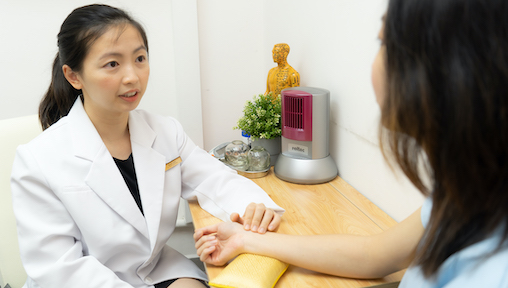 TCM treatments are a natural alternative to manage menstrual cramps. The first step in TCM is to uncover the underlying causes of your menstrual cramps. Could it be a structural issue or medical condition like PCOS, Endometriosis or Fibroids? Or could it be an underlying hormonal imbalance? Consultation with a trusted TCM physician for an accurate diagnosis can help treat the problem at its root cause.
Tapping on ancient wisdom tested by time, TCM uses a mix of herbal medication and acupuncture tailored for your body to relieve your symptoms. Both treatments can help with menstrual cramps, balance hormones and improve conditions like PCOS and Endometriosis.
In acupuncture, physicians place thin needles at specific pressure points along your Qi pathway (meridians) to encourage blood circulation and flow to the uterus. This dilates blood vessels and lowers blood pressure, relaxing your muscles and reduces uterine contractions that cause your menstrual cramps.
Electro-Lymphatic Drainage Therapy* (ELT) simulates a lymphatic drainage massage or tuina which helps to smoothen lymphatic flow at the abdomen and pelvic region, which in turn can help with reducing water retention or bloating.
Our Editor-in-Chief suffers from dysmenorrhea and was introduced to Oriential Remedies. She went with an open mind and Dr Leong asked her several questions about her health and lifestyle. She was prescribed several herbs to consume and within 3 weeks, her period pain had reduced by over 80%. Dr Leong speaks both English and Mandarin and was able to diagnose her accurately and more importantly, reduced her menstrual cramps which used to bother her every month.
* Electro-Lymphatic Therapy using LymphDrainage XP-II, as well as any wellness devices mentioned, is intended for use only for general well-being purposes or to encourage or to maintain a healthy lifestyle, and is not intended to be used for any medical purposes (such as detection, diagnosis, monitoring, management or treatment of any medical condition or disease). Any health-related information provided by this device should not be treated as medical advice. Please consult a physician for any medical advice required.
Contact Oriental Remedies Group via WhatsApp at (+65) 8742 2163 for more information on how TCM can help you with your menstrual cramps and period pain.
Natural Menstrual Health Tonic
The Scarlet Company has launched a menstrual health tonic called 'Scarlet' which is a 100% natural tonic with a blend of super herbs. Laurel Lua, the co-founder of The Scarlet Company, personally suffered from severe menstrual cramps for years, taking multiple painkillers in a day. Realising she needed to take better care of her body, she turned to research and relied more on natural ingredients.
Scarlet is certified food-safe (ISO 22000), Halal-certified, vegan and gluten-free. To help alleviate menstrual cramps, fatigue and other painful symptoms of PMS, Scarlet includes chasteberry which naturally stimulates and normalizes the pituitary gland, which regulates the balance of estrogen and progesterone in the body helping with the overall menstrual health. Wild yam is widely used by herbalists as an antispasmodic and anti-inflammatory herb. It is also known to help with nausea and improve overall women's health.
With a combination of other natural ingredients including calcium, magnesium, vitamins D, E, B6 and B12, which are known to be effective in relieving the symptoms of PMS, Scarlet helps fight against symptoms like mood swings, bloating, acne and anxiety. It also helps regulate the menstruation cycle.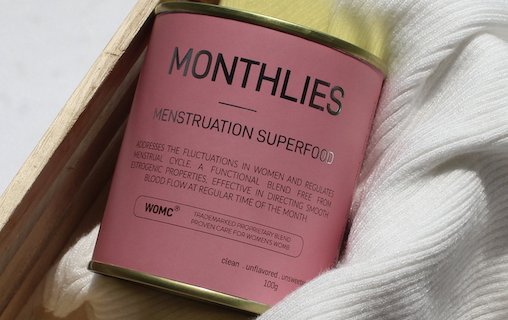 Superfood for Menstruation
PROJECT B Monthlies serves as a superfood for premenstrual care, menstruation nutrition and as pre-pregnancy care for general female wellbeing. It contains 100% real food, free from medicinal or estrogenic properties that is safe for everyday use. 
The key ingredients are papaya, ginger extract, turmeric extract, cinnamon, and cumin. The female menstrual cycle is regulated by the complex interaction of hormones. These superfoods contain key ingredients that support, stimulate and regulate estrogen levels within healthy levels, great for regulating menstrual cycles and directing healthy menstrual flow. 
Ginger and cumin stimulate thermogenesis which allows the body to generate a good warming effect. Dates, turmeric and cinnamon naturally tame the fluctuations, help balance hormones within safe limits, naturally improve mood and decrease the symptoms of PMS. Depending on your tolerance and habit, PROJECT B Monthlies goes well with honey, tea and soft food.
Heating Pad To Reduce Discomfort
Born out of necessity and bred with lots of love, MenstruHeat was created when the co-founder of blood, Peck, came up short in her search for ways to manage her menstrual cramps.⁠ She began asking herself if there were better alternatives – real solutions that would be good for the body, yet effective so that we never have to give up on the things we love, even on period days. ⁠
After years of R&D and multiple iterations, MenstruHeat is the stuff of our period dreams. No more pink pills, no more side effects.⁠ Powered by patent-pending RealHeat technology, the pad heats up in 5 minutes and lasts up till 12 hours to keep you going all day. 
Drug-free, odour-free, and the ergonomic design contours to your natural stomach curves as well as being soft on the skin. Say hello to menstrual cramps pain relief in the fast lane!
If all the above methods do not seem to help, we highly suggest you consult a Women's Health Doctor.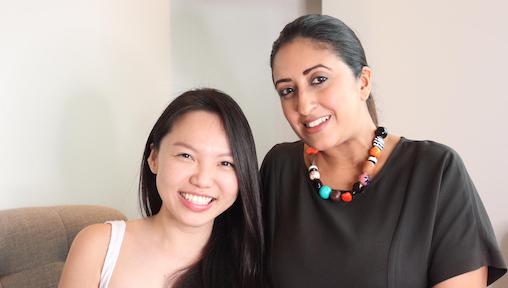 Consult A Women's Health Doctor
Dr Jessherin Sidhu, Founder of InSync Medical Clinic, a sexual medicine clinic that focuses on women's health and sexual wellness. Dr Jessherin believes that no women should have to go through really painful menstrual cramps.
A common cause of painful menstrual cramps is Endometriosis. Endometriosis is a condition that causes painful periods. In this condition, the lining of the uterus, called the endometrium, that sheds during a period, flows in a reverse direction and deposits itself on the outside of the uterus, around the ovaries and small crevices of the pelvis like between your rectum and vagina.
If your period pains bother you badly, don't let anyone tell you they are normal. Persist to have this investigated especially if it affects your quality of life. Don't let your doctor brush it off as a regular pain a woman is meant to experience.
Click here to know more about her patient's endometriosis journey.
Dr Jessherin Sidhu runs InSync Medical Clinic that is located at 66 East Coast Road, The Flow, #07-01. Please call (+65) 9087 8717 to make an appointment.