Let's start the month of September with the magical combination of sun signs and tarot cards. This mystic pairing will give you a sneak peek of what's in store for you; let the intuition of the cards draw you in and show you the way.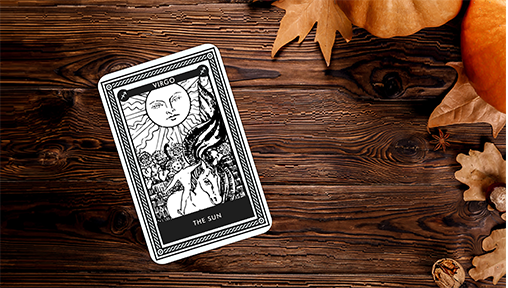 Virgo Tarot Card of the Month – The Sun
This tarot card reminds you to have fun and enjoy the struggle and the journey; life is too short to worry too much or be filled with a lot of unwanted or imaginary fears. Leave your stresses at the door and coast through the month with pleasure. Staying still just to not risk conflict never got anything done. But yeah, you've got September in the bag, mostly.
Career: No more restless nights trying to jam work in before you fall asleep—supplement those evenings for a casual and relaxing reprieve from daily anxieties at home with your loved ones.
Love: If you are single then you want casual associations only as you are in no mood to have a serious relationship. If you are married then you will have a lot of arguments and you will need to deal with issues in your marriage with maturity and patience.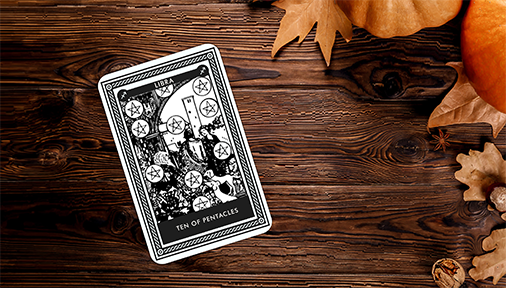 Libra Tarot Card of the Month – Ten of Pentacles
September will offer a lot to look forward to. This month looks full of surprises, Libra. To make the most of it, you will simply need to patiently wait for the right opportunity and diplomatically work towards your goals. Travel light and maintain peaceful relations with your loved ones. Keep a close watch on what you need and what you want and do your best to balance the two.
Career: As you move through the month at work, keep an eye on what you need to get balanced. How's the content of your work? Is it stimulating? Is it too easy? Do you need a little extra help? Do you need some assistance? If you do, don't be shy to ask.
Love: If you are single, the return of an old lover might reignite your feelings. However, make sure you still feel the same for that person before committing. If married, love life looks comfortable and happy; a peaceful marriage life will keep you energized.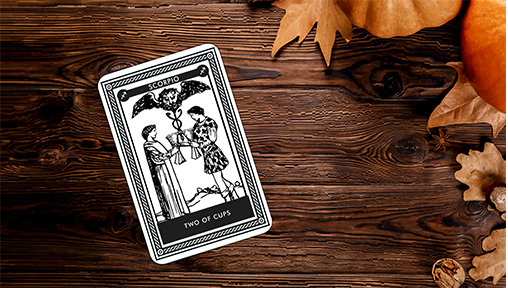 Scorpio Tarot Card of the Month – Two of Cups
Scorpio your mantra for this month would be to remember delays don't always mean obstructions. Many a time, taking preventative measures allow you to set the pendulums on time to start on a flourishing base. Do remember to always keep an eye on your personal goals, as you will realise that failures only make you wiser and closer to success.
Career: Work will be easy to focus on with your projects moving forward and everyone working hard together. You will feel a need to accomplish as much as possible and it is important to pace yourself. 
Love: You have benefited, you are now looking for a balance in your romantic relationships. Your partner is on the lookout for the slightest sign of tenderness and you, you do not bother to show them your love.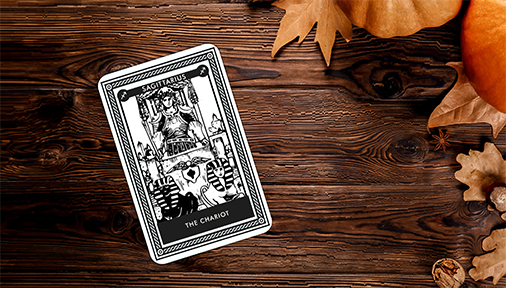 Sagittarius Tarot Card of the Month – The Chariot
This September you will face problems and setbacks like a boss. You will also go through a lot of growth within, which will be likely overlooked by other people. You will most likely project a happy-go-lucky attitude. You'll take more time for yourself to relax and do what you want to do.
Career: You might find yourself a little lonely at work, as your usual co-worker pals will be less likely to chat and more likely to stay focused and encourage you to be more focused on work as well. Work gossip will intensify, and it's good to keep that in check as that could catch up to you later if you engage too much in it.  
Love: This September you will need to think long and hard as to what you really want from your love life and your loved one. The more thoroughly you've sounded the depths of your soul for the answer, the more comfortable you'll be navigating. A little luck in love will take you far.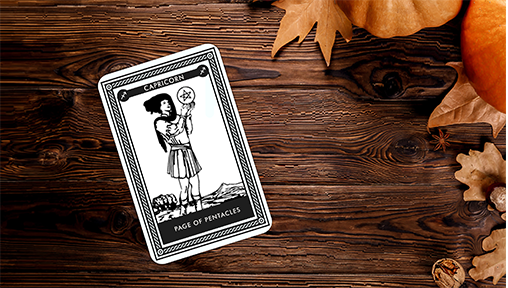 Capricorn Tarot Card of the Month – Page of Pentacles
September will bring your attention and force you to wake up and take care of your health. If you have been ignoring or taking your wellbeing for granted, then this month will give you the necessary jolt. Long days in work and frequent late nights could have a bad influence on health. Therefore, don't forget about exercising and getting enough sleep. Your body will repay you.
Career: Though the workplace will present a lot of challenges for you, you will gain the desired recognition and popularity with your attitude. Work will be hectic and you will need to pay special attention to some assignments.
Love: The presence of love stars will ignite passion and romance will rock your world this month. You'll be primarily attracted to the forbidden fruit in September. That can bring a lot of adventure and unusual experiences, but also problems.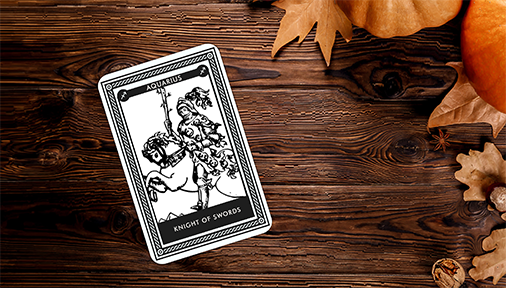 Aquarius Tarot Card of the Month – Knight of Swords
Aquarius, the Knight of Swords tarot card offers you a big and grand month. September will offer you a lot of opportunities, but this will make you face a lot of your fears. You could shift base to a new country or do something equally as alien. You could also be tempted to bury yourself in and forget the anxiety you have about everything. Be wary of this impulse. It's not healthy, and it won't help you move forward.
Career: There's a lot happening with work as well, as that will be a place to grow and explore, and meet new people. You may not like to work hard, but you will be successful because of your persistence.
Love: Think of doing something nice for your partner, it could be a small present, delicious food or relaxation - anything that would make them happy.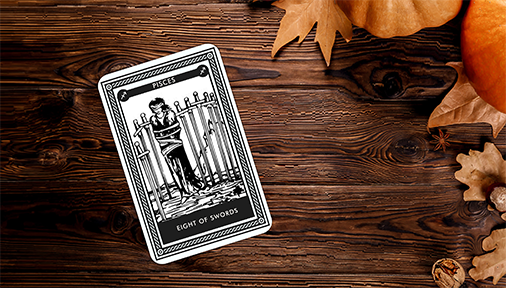 Pisces Tarot Card of the Month – Eight of Swords
This tarot card warns you to not be too overwhelmed this month, just take it one day at a time. Don't be intimidated, September does have a lot in store for you. No matter what the circumstances, remember that it's going to work out for the better. You'll get a little itchy to see the world, or distract yourself in other expensive ways that won't help you in the long run. It'll be important to keep that in mind, as you go along this month. 
Career: Work life and social life need to be balanced this month and remember not to take work too personally. Work itself will be, at first, very hard and with little reward; there will be a lot of progress forward, and a lot of achievement, you just might not get a whole lot out of it. 
Love: Be open-minded and don't be afraid of saying your opinion even if it's negative. Your partners will understand and quite honestly, you owe them the truth.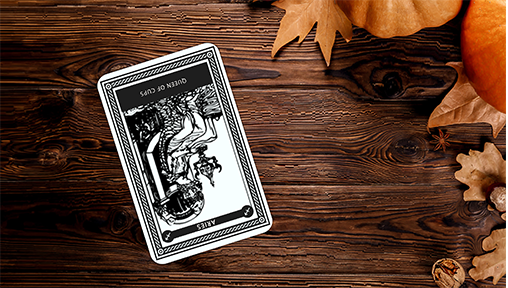 Aries Tarot Card of the Month – Queen of Cups Reversed
Aries oh Aries, this September will be filled with emotional shake-ups, breakups, and breakdowns. You will be seeing situations and people through a different lens this month—trust and believe what you see. People's opinion may matter but what will matter most will be your own opinion, so don't allow yourself to feel less than spectacular. You will be making fated decisions around love and money. Be ready to move forward with confidence and the faith that things happen for the best.
Career: At your workplace, try not to lose your patience and be calm. Getting irritated with the pace of work will bring you no good. Just keep doing your job and wait for the results.
Love: Intensity and seriousness - will your love relationships stand this test? Only the month of September can tell. If you wish then this is certainly one of the best months to plan pregnancy. If you are single you would meet a lot of new people and also fall in love with someone special.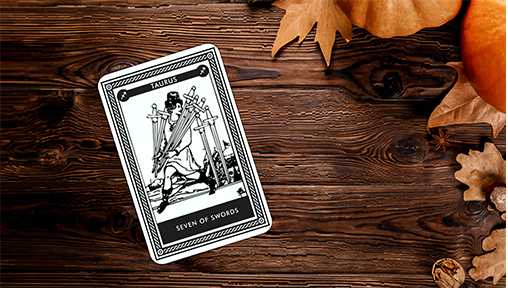 Taurus Tarot Card of the Month – Seven of Swords
Taurans, the stars influence will add an argumentative edge to the way you communicate this September. No matter how small or trivial the provocation, you will find yourself being irritated and sharp-tongued with your reply. Look at ways to unwind and release stresses within, so you can focus on transforming your mood. Travelling is expected to keep you busy this month.
Career: This month is going to be a blessed month for you if you are looking to expand your business or to shoulder more responsibilities at work. You will get opportunities to soar high in your career.
Love: Love will be a breeze, this month you will enjoy special romantic moments with your partner. Try to do something surprising for your spouse.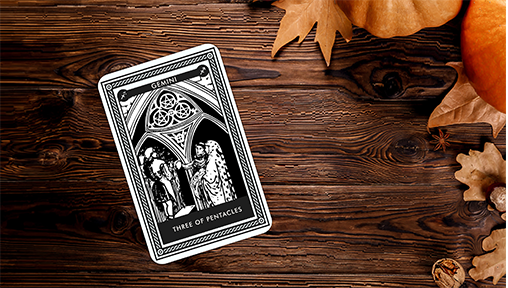 Gemini Tarot Card of the Month – Three of Pentacles
Twin stars, September would be a defining month for you, the choices you make in this month will help define the course of the things to come. You are now at the impetus of change, move forward with the emotional clarity that this month brings you. You may find that meditation or yoga will help you to reconnect with your body, mind, and spirit, which will help ease all the negativity that may be thrown your way.
Career: When it comes to your career, things might not be very good this September. If you can help your friends or colleagues with a referral or a good word of support, do it and the favour will be returned in due time. 
Love: This month, singles would get very lucky and have an opportunity to start a new relationship for singles. If you are in a relationship, you will be able to share your feelings in a better way.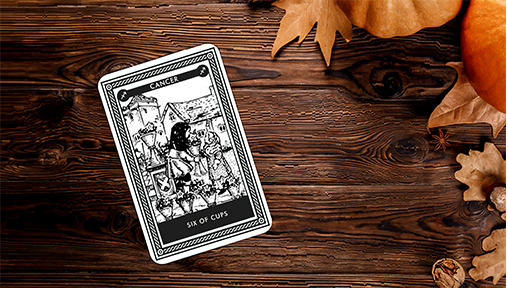 Cancer Tarot Card of the Month – Six of Cups
September will catch you saying or thinking a lot about 'the good old days' this month you will be reminiscing and rethinking your youth. Revisiting the past may be fun, but your nostalgic mind may cause old wounds to resurface. Exploring your younger days with wonder will heal your heart and mind, bear in mind to use old lessons as a jumping board to create the life you crave. 
Career: You can depend on your social contacts to seek help in your career or your business. This month will give you the opportunity to engage in planning for your future move.
Love: The tarot card suggests that this is not going to be a month for romance for you. If single, you will not be interested in getting into a relationship and if you are committed you will have to compromise with situations.
Leo Tarot Card of the Month – The Magician
Dear Lions, this month comes with a magical and potent cosmic energy that will act as a catalyst for personal growth and development. This tarot card gives you the rare gift of wishing for your heart's desire and the chances of making these desires come true. This September, learn how to disengage with the daily and unwanted drama of people around you.
Career: This tarot card predicts that the month of September will be a slow-paced month for your professional life. You will need to grow, you will need the support from your co-workers, your family members. You may have a slow inflow of finances.
Love: You will be facing lots of difficulties in your love life, you will be facing a lot of challenges. If you are single then it is best to maintain the status quo.