Let's start the month of October with the magical combination of sun signs and tarot cards. This mystic pairing will give you a sneak peek of what's in store for you; let the intuition of the cards draw you in and show you the way.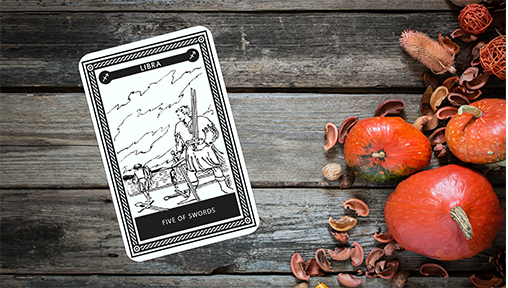 Libra Tarot Card of the Month - Five of Swords
Fall is a time of rest, relaxation, release and surrender. You could get so overtaken by juggling, multitasking and trying to figure everything out that you lose sight of the big picture. Whatever you set your mind to now, you can create in this month. Connect to a higher purpose and try to focus instead of trying to follow the trails of your million scattered thoughts.
Love: You may have written off an ex too quickly and may have to go back and get some closure. Or perhaps you are making too many sacrifices for a partner. Or you are feeling the undue demands of a significant other and your family.
Career: If you feel like you have given up an opportunity at work or given up your dream job, don't dwell on these negative feelings for too long, things are going to look up very soon. If you are looking for new opportunities or a career switch, an old college bud would come to the rescue.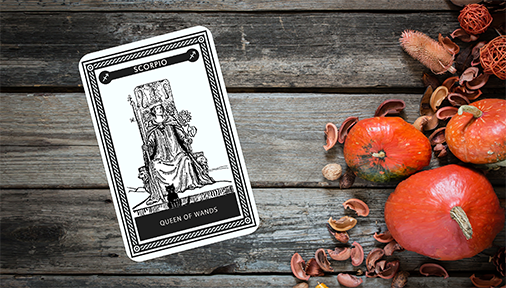 Scorpio Tarot Card of the Month - Queen of Wands
Social media can be very misleading and surely not the truth. Don't give yourself a hard time trying to live up to all your friends on Insta. Be easy on yourself. Take baby steps toward growth. Don't jump in headfirst. Move slowly ensure stability in your life, rather than uncertainty. A small part of you might want to do something a bit destructive; think things through. Try not to go there, Scorpio!
Love: When it comes to love this month, the guidance you are searching for is within you. Trust your gut no matter what. If you feel a relationship cannot survive the rough patches, maybe it is time to let it go.  You can't change the past, but you can make better choices for the future.
Career: Who you choose to trust at your workplace will make all the difference in the office this month. Maybe it's better to give away a little piece of the work pie for your own peace of mind. Delegate and make the workload lighter.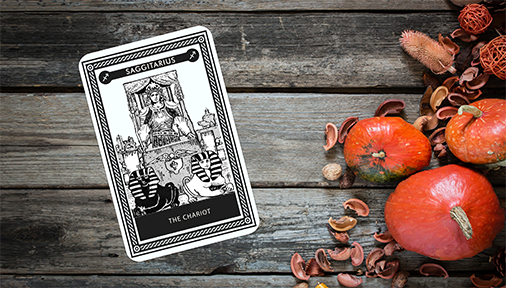 Sagittarius Tarot Card of the Month - The Chariot
October has two words for you - let go.  What have you completed, outgrown or doesn't serve you any longer? No, it's not as easy as snapping your fingers but where there's a will, there's a way, and you have plenty of will. Your values and needs are shifting and growing and making you reassess your long term future plans.
Love: Are you ready to show the real you to your significant other? See what happens if you drop your emotional armour and let yourself be sincere and vulnerable. If single, you will need to be a bit cautious, especially with online dating. 
Career: Your career will soar. This month you will have the opportunities to take your ambitions to new heights. Prepare to keep your desk lamp on until the wee hours at least a few nights this month. Networking will prove to be beneficial.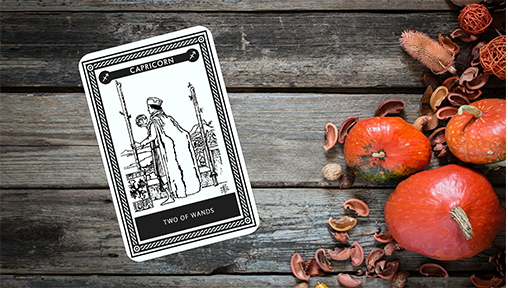 Capricorn Tarot Card of the Month - Two of Wands
Your stars would reveal matters or situations you need to see in order to move forward with your life. This month you would feel that things would be pulling you in a million directions, and you could end up with a case of information overload or analysis paralysis. Exciting opportunities will keep rolling in, and you want plenty of white space in your calendar when that happens. Play your cards right and you could end this month as a respected expert, even if your reputation has taken a few hits along the way.
Love: Think power couples and couple goals. You and your bae would be the apple of everyone's eye. Your chemistry and togetherness would inspire others to have meaningful relationships.
Career:  Your workplace socialisation obligations would contribute to your cash crunch this month. Maybe your colleagues are leaning too heavily on you, this could be draining both mentally and financially. While you may decide it's time for an exit strategy, that might not be possible until later this year or next.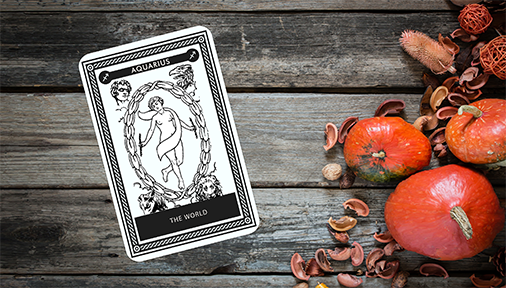 Aquarius Tarot Card of the Month - The World
Aquarius, this month remember the age-old saying 'quality over quantity' and choose what you want you to do with your time, be it work, projects or even your RSVPs. You don't have to always pick all the plum projects or every social event just to be spotted or to do the right thing. Many times, the real party happens behind closed doors.
Love: Have you been completely honest about all the details of your life with each other? Or have you swept key details under the rug, especially financial details? If single, you will need to be a lot more practical with your choices on hand.
Career: Instead of letting your anxieties about your job consume you, try to meditate or resort to getting some rest. Things might be a bit unsettling or unstable for this October. Avoid gossiping or talking back to your bosses, maintain a low profile.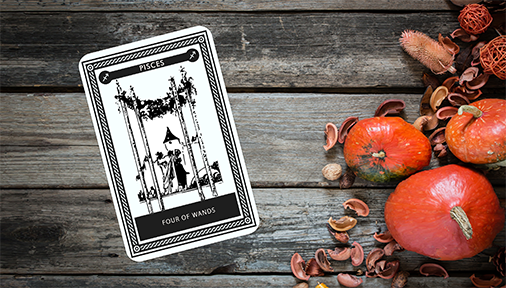 Pisces Tarot Card of the Month - Four of Wands
Pisceans, October would be the month to make some backup plans. You would have the clarity, time and opportunity to think and put your plan into action. If you've been waiting for word on finances or work, you could finally hear concrete news. The stars this month can also bring a confidence boost when you need it most. Don't wait for other people to call the shots or make a decision for you.
Love: In your relationship, you may have been quiet for a while, avoiding conflict and drama but this month, don't back down in arguments and claim your right to your opinion. If single, it's almost like you need to make no effort; the way you feel and your confidence would give you the push you need.
Career: Be firm, take the chance and shoulder some responsibilities at work this month. If there is a new project or a difficult client brief to handle, step up to the occasion and reap the benefits later.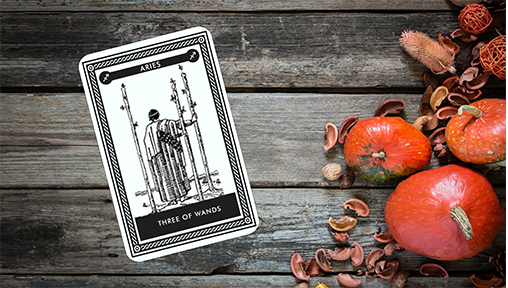 Aries Tarot Card of the Month - Three of Wands
October brings many occasions and opportunities that would make you trust and depend on your instincts. You may find it difficult to find support or a word of encouragement for your ideas or future plans. But your determination, confidence and an assertive manner will open doors; just don't forget to read the fine print. Exercise and hard work can relieve tension but avoid overexertion and risk-taking.
Love: You are ready for some soul connections and to take your relationship to the next level. If you are single, you will meet someone in spiritual or religious places or groups.
Career: This month beware or careful of facing feelings of being burnout at your job or any particular project. It is important to take care of yourself during this October and don't get too overwhelmed by your responsibilities.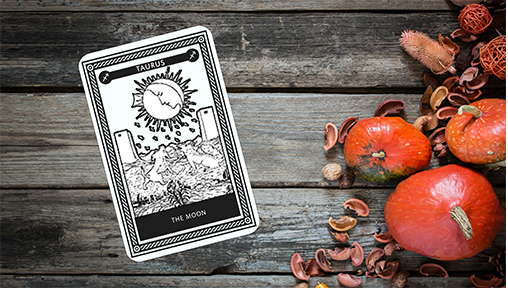 Taurus Tarot Card of the Month - The Moon
If October could ask one thing out from you, it would be to be a bit more tolerant towards your colleagues, boss and relatives. Be patient and diplomatic. It'll bring benefits. Your dynamic energy will enable you to level up to achieve your worldly and personal pursuits. Taurans, you will be tasked to learn lessons from the past months and to accept responsibility for your actions.
Love:  If you are single, Cupid will be knocking your socks off. You will have very high prospects of finding love at one of the meetings or on a holiday. Couples will be particularly close and devoted to each other.
Career: Feel like making a job change? Work will be a little bit more challenging in terms of workload and you may find some extra work coming your way. You will shine and take it in your stride.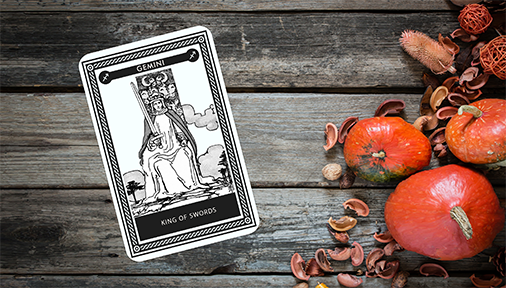 Gemini Tarot Card of the Month - King of Swords 
Movement forward is what is going to define this October, dear twin stars. Listening to others will be important but listening to yourself will be even more imperative and also more rare for you. Sometimes you don't realize your own truth until you're telling it to someone else. The stars will push you to cut the cord and end relationships that are no longer serving your highest good. Before you decide to rid yourself of toxic people, make sure you are ready to say goodbye.
Love: Budding romances would not hold too much water. Don't settle for someone who does not meet your standards. Socializing, although more exhausting this month, will be integral to your love life.
Career: Your investments will bring in major profits and your employer will give you a raise at the workplace. Meet new people who will elevate your mind. Have intellectual conversations with others. Make connections and go for network meetups.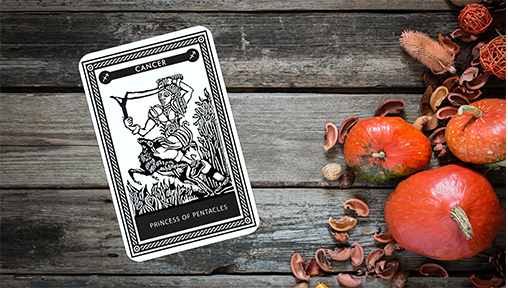 Cancer Tarot Card of the Month - Princess of Pentacles
October will be all about the finer details. Do not forget the pencil for notes because perhaps illumination will come again only much later. Don't hold on to the past. Give yourself the closure you need to move forward and not look back. The future is bright and limitless with kind friends by your side. 
Love: Tell your partner what you don't like about his or her conduct. Be specific and don't make general accusations. Maybe you just have to clear up some simple misunderstandings.
Career: A talent for improvisation is particularly helpful in resolving problems and making sure nothing similar happens again. Speak and stand up for yourself to be a pioneer in your field. Others will marvel at your courage and fierce tenacity.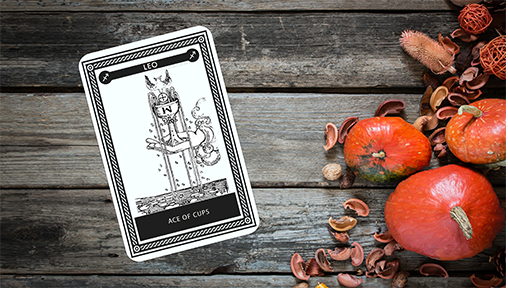 Leo Tarot Card of the Month - Ace of Cups
This month will bring in a lot of beginnings. The beginning of October starts off well as luck smiles down on you. You have nothing to do as October is one of your most practical and productive months. Try as you might to keep things simple, there will be a few cosmic curveballs headed your way.
Love: If single, ask your friends to introduce you to their friends and let things develop organically. You may be daydreaming over a new love interest or making unrealistic plans. As partners, you will need to listen to each other to make it through the month.  
Career: Getting your colleagues' support and spending time with them will make this month a much more productive time. Career improvement will give you new responsibilities.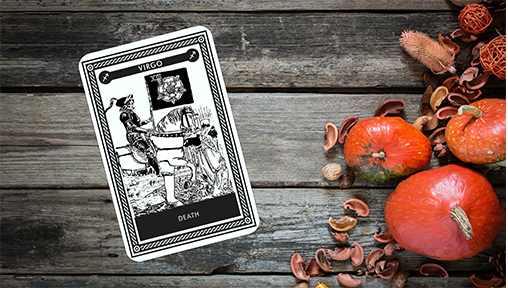 Virgo Tarot Card of the Month - Death
This month, remember that your nose only belongs on your face. Don't go around mending in other people's business. Resist the call of your inner problem-solver. Just because you can figure it out doesn't mean you should. October will also give you an opportunity to monetize a hobby that people are always asking for help with. Is there another obvious revenue stream that you're overlooking?
Love: You may not be ready to break up or move on. Instead of making drastic changes, try to emotionally distance yourself from those who cause you pain and frustration. If you are single, try a whole new approach to meeting people.
Career: This month will be all about signing important deals, contract signing or negotiation. Prepare your most salient points so you're ready to ink your name. Work with a coach, mentor or accountability partner and make plans for where you would like your career to head towards.