Let's start the month of November with the magical combination of sun signs and tarot cards. This mystic pairing will give you a sneak peek of what's in store for you; let the intuition of the cards draw you in and show you the way.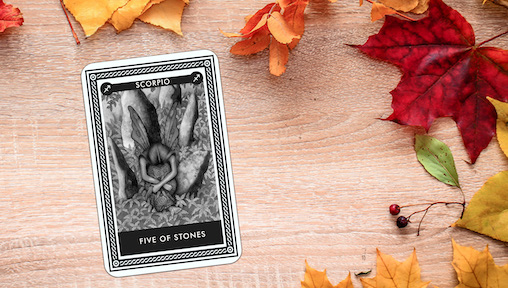 Scorpio Tarot Card of the Month - Five of Stones 
This month try not to let your fears overwhelm you; your imagination would almost always be harsher than your reality. Distinguishing between legit fears and unfounded anxiety will make all the difference this November. Work through your issues with a therapist or a wise friend, understanding your emotions will help you handle them better. Once you sort this out, you've got all the charisma and good luck on your side to make November magical. 
Love: It's time to have the 'Money talk' in your relationship. It can make or break your relationship. This month you would be able to find amicable solutions.
Career: Work will be more enjoyable and feel more fulfilling once you set firm boundaries with your colleagues, clients and bosses. If you are looking for a new job, be more assertive to get the position you want.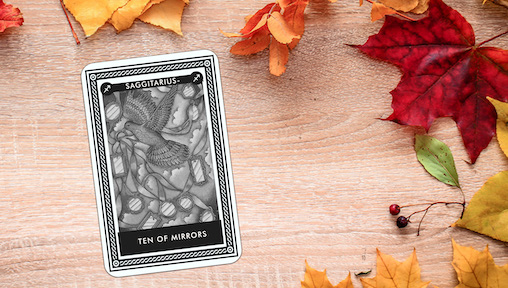 Sagittarius Tarot Card of the Month - Ten of Mirrors
Excitement, the joy of doing new things, and starting new adventures - this is what November has in store for you. You will be craving inspiration and the out of ordinary experiences. With all positive energy and good vibes, this month will be in the running to be the best time of the year. You might feel alternately exhausted and over-stimulated, so make sure you sleep and rest well. 
Love: Give space to your partner, this month don't make it suffocating for them to stay in the relationship. If single, be more open to experimenting and go out and meet more people, don't expect the right person to suddenly appear and knock on your door. 
Career: This November, try to ease up on the work front. You might have been working yourself to the bone and may have sacrificed your health. Self-care has to be the priority this month.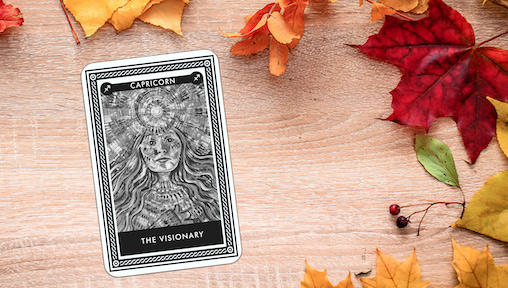 Capricorn Tarot Card of the Month - The Visionary
November warns you that you will need to push yourself to achieve or get the things you want most in your life. But firstly, you will have to decide what is it that you would want. The stars and your planets will give you an extra shot of excellence to help you figure out and get exactly what you want. Make the most of this potent and powerful energy, take your vision board or your planner and jot down where you would like to see yourself in the next few months. The most important thing is to decide what you really want, which means you need to analyze your goals in the long run.
Love: This month, relationships would be a source of fulfilment and joy, plan an outing or a quick romantic getaway with your partner. If single, you may meet the partner of your dreams, keep a lookout at social gatherings.   
Career: Does your current job promise growth and prosperity? Or is it just a job for a safe paycheque? If you are looking to start something, you will get unexpected opportunities.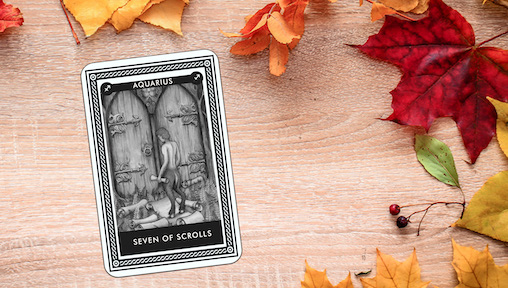 Aquarius Tarot Card of the Month - Seven of Scrolls
November would be a moody roller coaster ride for you; one moment you would feel high and the next you would down in the dumps. The cause could be inner frustrations or you working yourself to the bone, both of which would not help you. You are blessed to have wise friends or family members around you, so reach out for help. Honesty is generally the best policy, but this month, you won't be able to control its consequences. See if it is worth rocking the boat or to let things pass.  
Love: If in a relationship, then let go of your problems in the past and concentrate on building a future together. Don't be afraid of changes, if you like someone, express it openly. If you are looking for love, approach the person and take that chance on love.  
Career: You will need to push yourself and showcase your talent and skills shamelessly. Even if you feel reluctant, don't waste opportunities this month to move ahead in your career.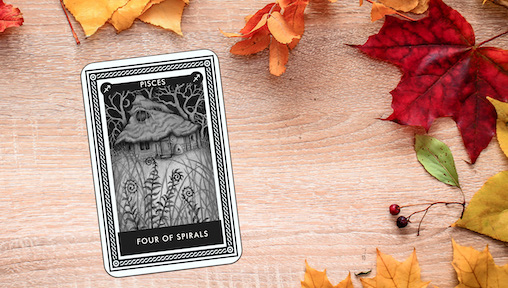 Pisces Tarot Card of the Month - Four of Spirals
How much importance and weight should you give to other people's opinions and point of view? How much of your power should you share with others? Think about these things very carefully this November, before you ask for anyone's help or seek out advice. This tarot card also asks you to take a moment, get grounded, roll up your sleeves and plan to hustle.
Love: If you aren't ready to settle down or are having second thoughts about committing, November is the month to come clean about your intentions. Couples should grab the emotional scuba gear and plan a deep dive into what they really feel for each other. 
Career: Your sense of anxiety and worry might come in the way of your performance at work. Try to relax and take it a one day at a time, things at work will be sorted out.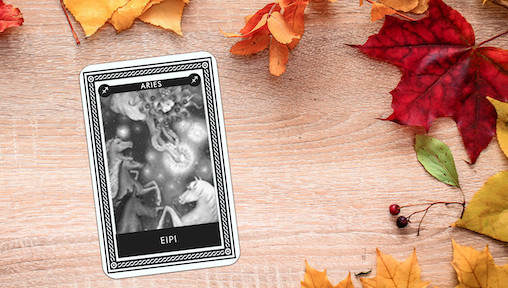 Aries Tarot Card of the Month - Elpi
This tarot card gives you a new direction in the month of November, the main challenge for this month would be to find the right balance between work, family and party or alone time. Be prudent with your finances and don't make any extravagant purchases, no matter how attractive the deal may look or sound. Your dynamic mood and energy will enable you to strive for greater heights. Your dreams are within reach, so make the most of it.
Love: A relationship takes work and it's constant work, don't get into a commitment just to protect yourself against loneliness. If single, you will need to be careful about the strangers you may meet.  
Career: Things at work would be filled with power struggles and can get frustrating. You would be handling a lot of emotions, yours and others.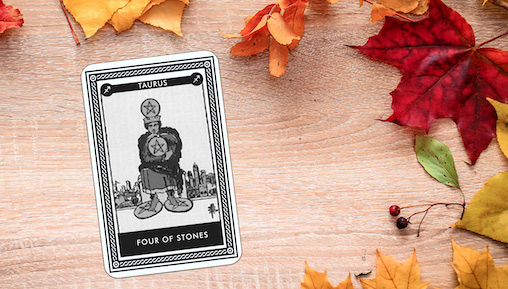 Taurus Tarot Card of the Month - Four of Stones
November needs to be the month of self-care and detox, be it toxic people, patterns or situations. Make your wellbeing and peace of mind a top priority. The past months' dramas and demands may have left you feeling down and drained. Make your intuition your guide through confusing decisions, you will be able to see through people and get to the heart of the matter, simply trust your gut.  
Love: This month will bring out your flirty best. Temptations and hidden agendas can create unwanted drama. If you are committed, you will need to stand the test of time.   
Career: November brings a breath of innovation. You will be inspired by the talented professionals you would meet. Your job will be stable and things would go stable.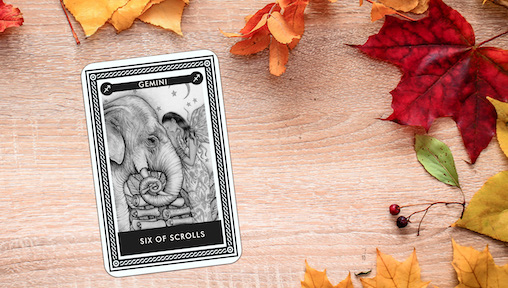 Gemini Tarot Card of the Month -  Six of Scrolls
November will be a powerful month for you dear twin stars. If you ever wanted to change the direction of your life, this would be the ideal month to do so. This month would bring the opportunity to bring about major changes in all aspects. You will connect with your inner passion and desire to make the life you want possible. 
Love: Issues that you have swept under the rug will come back to bite you, so tread carefully. If you are single, you will meet people on the same wavelength. 
Career: Success is on your cards but you will need to work for it. It's not like you can slack and expect to reap the rewards. Some of you will seek new employment or a change in your profession.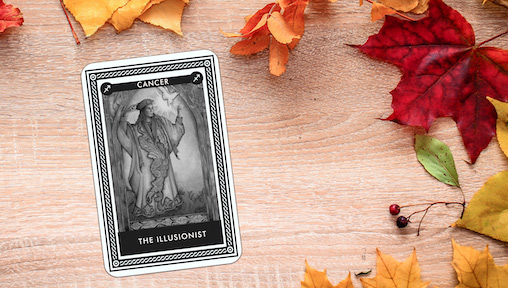 Cancer Tarot Card of the Month - The Illusionist
Will you be an exploitative person? November brings with it many tests to see how you would use the information you have access to. It could be a trusted friend's secret or your company's guarded supplier list, try your best to not use things for your personal gain or benefit. Your creativity will play a significant role in your economic development. Use your skills and talents to make money this month.
Love: If committed, go out of your way to maintain peace and harmony in relationships; make an effort to help with the kids. If single, don't make a commitment this month; give the relationship some more time.   
Career: The month will bring you a lot of late nights and short deadlines, but fret not as this will also present a lot of opportunities to showcase your talent and present you with a lot of success.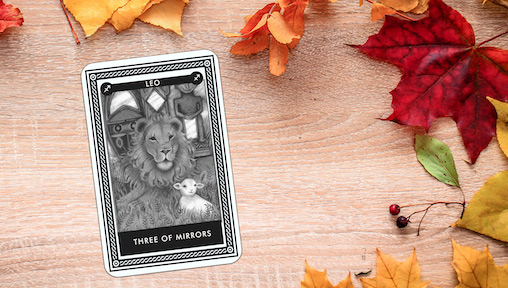 Leo Tarot Card of the Month - Three of Mirrors 
This tarot card asks you to learn the difference between criticism and constructive feedback; don't take things so personally. Even if you don't want to hear anyone's opinion, if you really listen, it can benefit you. Take it like a pro and apply it; have a winning attitude instead of a sense of entitlement. Your stars in will bring you opportunities to travel this November. 
Love: Single? Then get ready to mingle. Join clubs, meet up groups and don't miss an opportunity to mix with eligible. If in a relationship, let small disagreements and quarrels go, don't make a big deal about them.   
Career: Your career will get an extra shot of steroids and you will see a lot of growth. Network, meet up with ex-colleagues and make the most of what November has to offer.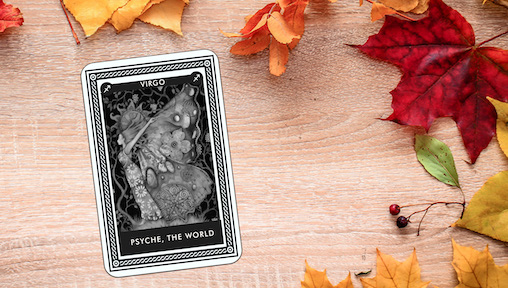 Virgo Tarot Card of the Month - Psyche, The World 
The devil, they say, is in the details. This, in a nutshell, is how November would turn out for you. People around you would prove to be a bit dramatic and that would push your buttons and stir a lot of conflicts. Be patient and don't take the bait, especially this month as potent emotion can erupt at the drop of a hat. You would be hungry for knowledge, so sign up for a course or a seminar.    
Love: Thinking of walking away or putting the effort to make it work? Your partner would have you playing tug-of-war with your thoughts. Clarity will come by the end of the month.
Career: Work will be intense with long hours and immediate deadlines. Prioritise and get enough rest but also be alert about a significant opportunity that might present itself.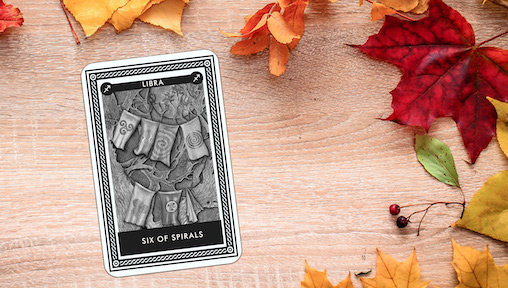 Libra Tarot Card of the Month - Six of Spirals 
Avoid taking hard-to-undo decisions this November. It would be a month of digital meltdown for you. Get your backups done, keep your data safe, change your passwords and double-check any travel plans. When you give instructions, make sure there is no room for doubt and be crystal clear in your emails. A bit of care and a lot of re-checking will save a lot of trouble and money.        
Love: This November, take the effect to dress up and show up for your date or the significant other in your life. Spoil each other, whisper sweet nothings or surprise them with a special gift. Love and romance are literally in the air, so make the most of it. 
Career: Watch what you say to your colleagues and your co-workers; you could be the topic of gossip this month. Jovial or off-the-cuff comments may be witty, but they could also be regrettable.