Let's start the month of May with the magical combination of sun signs and tarot cards. This mystic pairing will give you a sneak peek of what's in store for you; let the intuition of the cards draw you in and show you the way.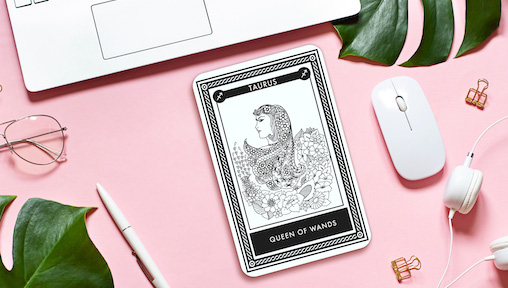 Taurus Tarot Card of The Month - Queen of Wands
This tarot card tells you that at times, stay-at-home is just that - staying at home; it does not have to be an Insta contest of the best-plated dishes or the best yoga poses. Going on a digital detox along with some good composure can definitely help you to achieve that something great you long for. Another quality that may play a major role is patience and controlling the temperament which can work wonders in your case.
Career: This May, you will have to remind yourself of not taking any crucial or vital decisions related to your occupation and profession as it may have a negative impact on you and your financial conditions.
Love: You may be nursing a school girl/boy crush on someone who inspires you and may even have the opportunity to take it forward. If single, you will enjoy marital bliss if you look for someone who genuinely appreciates you.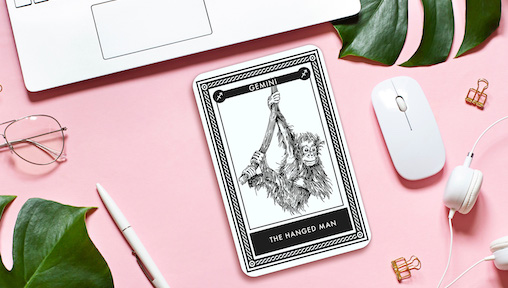 Gemini Tarot Card of The Month - The Hanged Man
A certain fear or anxiety would get the better of you this May; virtual catch ups and phone calls will help you feel more stabilised. Rethinking and analysing matters of the heart and reassessing your finances at this time can add a sense of grounding energy during these uncertain times. Watch out for property matters, new investments or expanded family finances to take on a more solidly defined and serious tone in your life.
Career: Playing by the rules is the only way to go. While this may feel restricting at times as if your wings are clipped and you're tied to the ground, there is immense growth going on.
Love: Learn from your past mistakes and patterns, don't take them for granted. Honesty might be a good quality in a marriage but you will need to use your sense of discretion as well.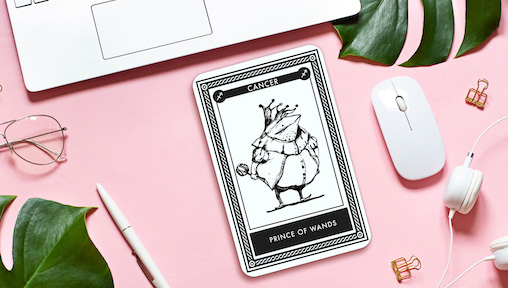 Cancer Tarot Card of The Month - Prince of Wands
You will feel like a gigantic sponge soaking up energy this month. You will find yourself reacting to the collective energy around you. The vibe around you does seem to be intense, which is why you will need to find ways and means to zen out whenever you can or get the opportunity to do so. Use this time of isolation and self-reflection wisely to find out new things and perspectives about yourself.
Career: Changes and challenges will be the hallmark of your career this month and this will demand undivided attention on the work front. If you are able to deal with these professional challenges effectively, then success would come your way.
Love: Stability takes time and two willing partners to build. Is your relationship reflective of your choices or do you feel pressurised? You will be cosmically tasked to understand relationships and make decisive actions about partnerships.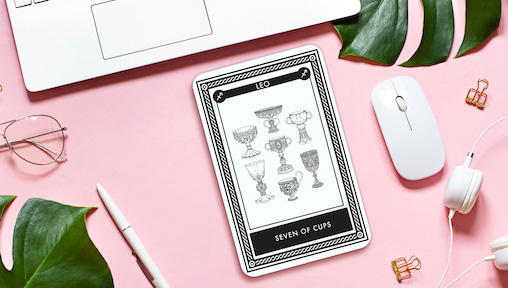 Leo Tarot Card of The Month - Seven of Cups
Stay home, stay safe and stay away from ego hassles and clashes as much as possible this May, dear lions. You will come to realise that compromising is an essential skill in family dynamics. Don't let your ego get in your way. Although you prefer to be number one at everything you do, you're finding that the only way to achieve your goals is to collaborate with others — even people you've had issues with in the past. So tone down the lone tiger mode a couple of notches down and learn to be a team player especially when you aren't the team leader. 
Career: Work can be very stressful this month; a change in job, either place or company, can bring about some amount restlessness. Therefore, you need to take care of your health and overall well-being during May. Your decision-making capabilities will also be impacted, so you need to avoid making any critical calls, disputes and arguments with seniors and colleagues can be avoided by embracing a calm demeanour.
Love: The sheer receptiveness and being open to new ideas and suggestions by your spouse would surprise you. If single, you might also seem to have a very strong possibility of settling down.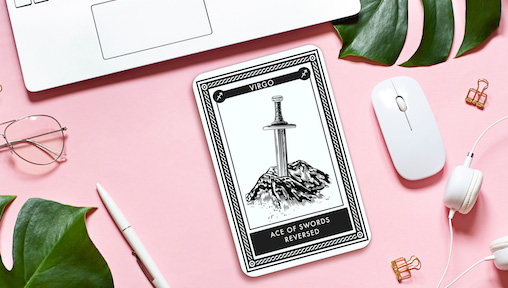 Virgo Tarot Card of The Month - Ace of Swords Reversed
Pick up a project, passion or even a perspective that you can commit to. It is more important and even necessary that you do so during the current tumultuous times. Now, more than ever, find and reach out to people who motivate and help you align your heart with your passion. Through the month you would have a lot of opportunities to see and learn what matters to you the most, as a conscious shift within is happening you are blossoming and transforming in ways you didn't even know were possible. 
Career: Listen to your gut when it comes to work this month, as intuition can play a part in bringing progress and in helping you achieve your goals. At times, what would have been a fine quality of leadership under a different set of circumstances might well degenerate to a streak of meanness.
Love: You will need to own up to to the fact that something inside of you has changed and you will need to see if your relationship has evolved to keep up with these changes. If single, keep things casual and non-committal.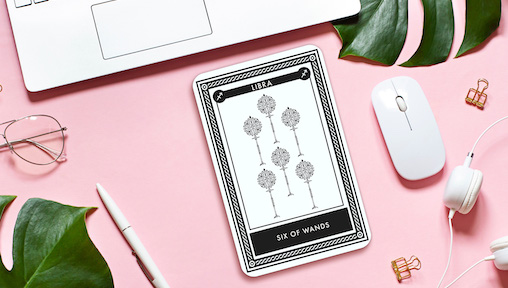 Libra Tarot Card of The Month - Six of Wands
The universe seems to have ordered you to stop, take a  deep breath and smell the roses, as you discover nurturing self-care ways to enjoy good things in life. You will have so much to think about this month, and your thoughts will turn inward. Try not to dwell on what you can't change. Take action instead and let your stars empower you and your determination to succeed.
Career: Uncertain times bring a lot of fear and anxiety by your co-workers and bosses to the surface; a small issue can be blown out of proportions.
Love: There is a change of focus on your love life with the planetary positions on your cards. This can be an opportunity to release emotional baggage and find closure on any issues. You might feel alone and weak emotionally as your partner might have gone far away from you emotionally or physically.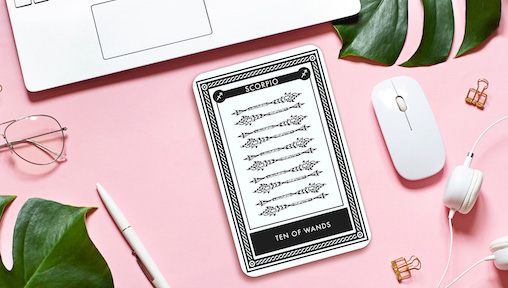 Scorpio Tarot Card of The Month - Ten of Wands
The world battles with the biggest test, economies shut down, and people are staying in lockdown. Community concerns and group endeavours can increase your productivity this month, dear Scorpios. Your enthusiastic encouragement can uplift others, enhancing their accomplishments and sharing a much-needed sense of hope and calm will benefit people around and you as well. Something needs to shift, and by making the right decision, things could begin to move in the right direction.
Career: You will need to work very hard at your job this month. Your job takes most of your time and it can offer productive results if you keep your priorities in order. 
Love: Mutual respect and understanding are very important to make your relationship work. If you are single, you can look forward to exciting developments in romance this month.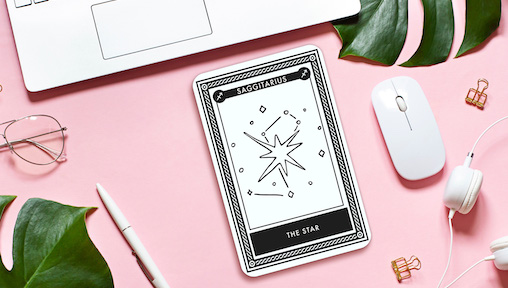 Sagittarius Tarot Card of The Month - The Star
You will need to be very cautious about underestimating situations, so look carefully before you leap into what appears to be that golden opportunity, to discover if it's laced with hidden problems or obstacles. Relationships with superiors and parents can improve and will gain momentum if you make the effort to show your gratitude to those who act as guides and mentors. However, watch a tendency to become too self-involved or egocentric during this month. With awareness and high levels of integrity, this can be a month of significant progress.
Career: You might feel a bit powerless or confused with your career path and progress this month. There will be tangible rewards coming your way. Reflect on your long-term goals as you clarify your personal and professional ambitions. 
Love: Staying in and the stress of uncertainty can take a toll on any partnership. Use this time to examine your roles and determine where you are or are not comfortable. By expressing your needs more honestly, you can pave the way for a more satisfying interaction.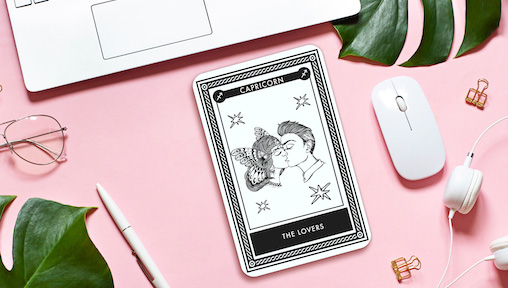 Capricorn Tarot Card of The Month - The Lovers
This month be ready to grit your teeth and do the drill, you'll emerge stronger, savvier and more successful than you've been. Achieving overall development and success will be the focal point of this cycle, and you will be challenged to bring harmony to all aspects of your life—physically, emotionally, intellectually and spiritually. Health concerns can escalate this month, particularly if you've been ignoring your physical needs. A physical problem that was once just a bother, if left unchecked, can become a real headache. You can resolve problems now if you're willing to make the effort necessary to change habits or attitudes.
Career: You will be enjoying the support of your teammates. Be wise and stay aligned with your values, and you can strengthen connections with powerful equals. Work will be stable this May.
Love: You've had to be discerning and draw boundaries even between married couples. Your relationships are undergoing a powerful transformation this month, and you will need to be more patient and stay calm.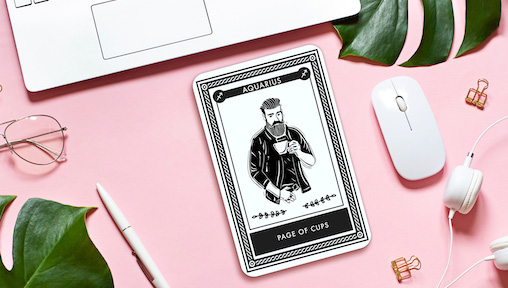 Aquarius Tarot Card of The Month - Page of Cups
Keep a low profile, speak your mind and keep clear of controversies. May will be the month where situations are reaching the boiling point and you are finally ready to let go of what isn't working, be it a job, relationship dynamics, unhealthy habit, routine, or lifestyle, to make room for a life that works for you as much as you work for it and brings a true sense of reward daily.
Career: You will make real progress at work as your hard work will be recognized, and there will be significant professional and partnership opportunities coming your way. Use your discernment, and by the end of the month, you'll know the connections you want to cut or deepen and where you stand.
Love: Take some risks when it comes to your love life and even your relationships. You've learned difficult lessons, but as long as you remember them, you needn't fear repeating cycles or hold back from living in the present.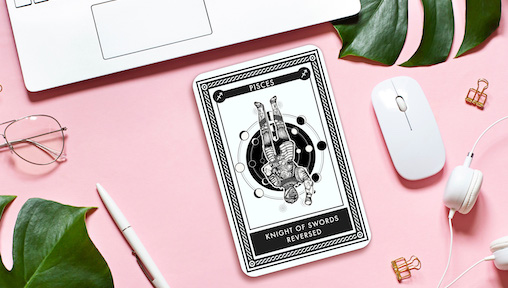 Pisces Tarot Card of The Month - Knight of Swords Reversed
This month will try to figure out a plan but the surreal conditions call for out of the box ideas. You do seem to be ready to roll up your sleeves and be as productive as possible. Just remember what truly matters to you, focus on that, and forget the rest. You could be starting a new job or health regimen, changing routines, or taking on a new project. Expect life to get busier. It will require teamwork, time management, and an ability to say no and not take on too much.
Career: You might have a few obstacles in your work life this May. It is anyway recommended that you check and verify whatever you do,  or sign off on more than once, and this can help you to improve your output.
Love: Affairs may end in marriages; you may enjoy an intimate bond with your life partner and this may help you to spend some pleasant times with him or her. If single, you would be meeting someone with a lot of potential.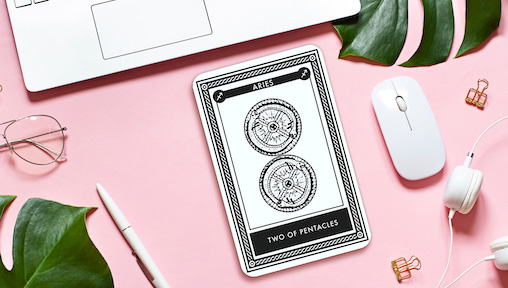 Aries Tarot Card of The Month - Two of Pentacles
As you look for ways to entertain and keep yourself motivated as you stay indoors, the cards this month indicate that you might feel a little restless and not be able to take risks at work, as you would be engrossed with too many thoughts. This month, learn tips and tricks to take control of your mind and the various thoughts revolving around it.
Career: Work will bring you recognition and your colleagues and bosses will look to you for ideas. You may also get an excellent opportunity to prove your credentials in the office.
Love: Staying with your spouse for too long can have its effects. Try to understand each other's perspective and point of view. If you do, this love too can look promising.
To know more about Tarot Mamta, visit TarotInSingapore.com or you can reach her at (+65) 9749 9287.