Let's start the month of May with the magical combination of sun signs and tarot cards. This psychic pairing will give you a sneak peek of what's in store for you. Let the intuition of the tarot cards draw you in and show you the way.   
Aries Tarot Card of the Month - Ace of Swords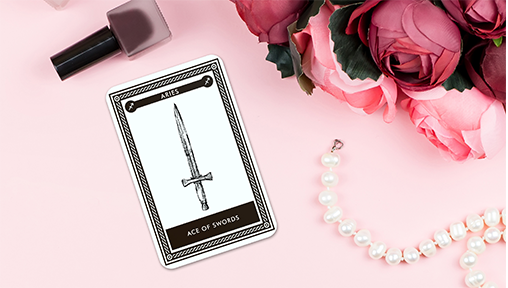 This tarot card shows that inspiration will hit you like a ton of bricks, dear Aries and like everything else that's valuable in life, it must be honoured, cherished, nurtured, respected and generally treated right. So when you have an almost magical inspiration, don't neglect it. Be confident and assertive in chasing your desires. May also brings a boost of energy and confidence, it's also the right time for turning over a new leaf and making a new start. Your workload would be quite heavy and you might find yourself working quite hard for relatively meagre returns. Even if problems arise, stay relaxed and don't get into a fight both in your personal and professional life.
Taurus Tarot Card of the Month - Seven of Wands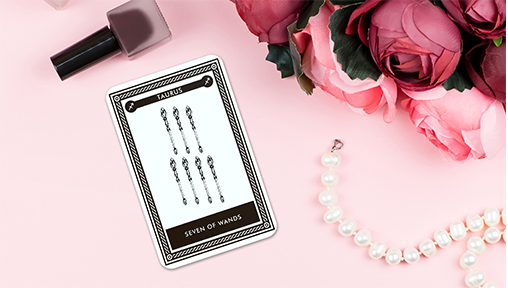 May is gonna be a mixed bag for you, dear Taurus. You will need to be very careful about your spending habits. Don't sign up for any schemes, services or products this month. Avoid unnecessary spending. You do not always need to treat yourself. If you mix in appropriate circles, you may have a taste of fame. You are in a pretty intense kind of place. Ride the waves of those emotions and hang tight! Be sure you're staying true to your own boundaries as folks around you get a little wacky. It will prove to be an excellent month for romances, especially for divorcees as you are able to go out a lot more and meet someone who you think is really compatible with you. Sure, it's going to be a wild ride, but make sure you stay true to yourself, no matter how hard it is.
Gemini Tarot Card of the Month - Knight of Pentacles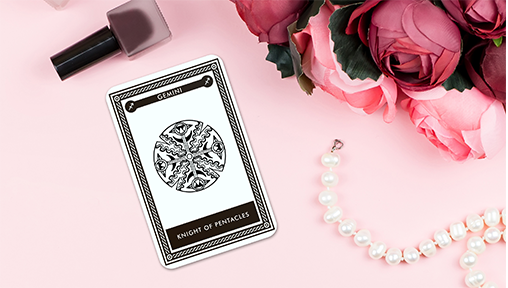 Get a quick dose of nature to help you revitalise and renew yourselves, this month dear Twin stars. This month, be sure you get outside. Be sure you revel in the gifts of nature. A business partnership may not be working out exactly the way you imagined it. It's always better to nip a problem in the bud! May will also bring in new friendships, a club or group of kindred spirits through which you can grow and expand your knowledge.
Cancer Tarot Card of the Month- King of Cups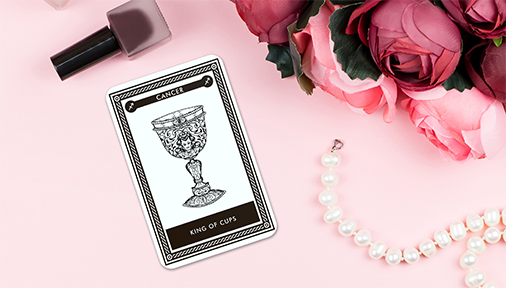 This is the month to concentrate on the bigger picture of what you want and where exactly would you like to go? Let the minimal details take a back seat this month. The cards also indicate that May is filled with positivity and it's also a wonderful time to augment ideals and beliefs. With all this cosmic action kicking off, you can rebuild relationships, projects, and even your bank accounts. Learn to slow down and take small steps to achieve and attain your goals. This will help you get to the finish line faster than anticipated, as unforeseen issues may arise.
Leo Tarot Card of the Month - Four of Cups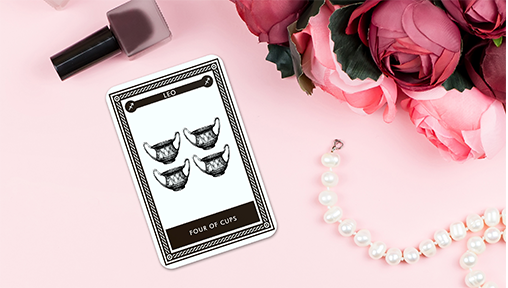 Although this May brings some emotional setbacks, mostly due to inner anxieties, it also promises to alleviate such terrors, allowing you to dedicate yourself to those worth the investment. You'll be even happier when you realize just how much great luck would land on your doorstep. The shake-ups that occur this month will prove to be a blessing in disguise, as they will motivate you to evolve and blossom. Letting go of anger and phobias will help heal and transform your tender heart. Changing your views will prove challenging, as residual fears are holding you back from accomplishing your dreams. You will be amazed, pleased, thrilled and basically incredibly happy. 
Virgo Tarot Card of the Month - Two of Pentacles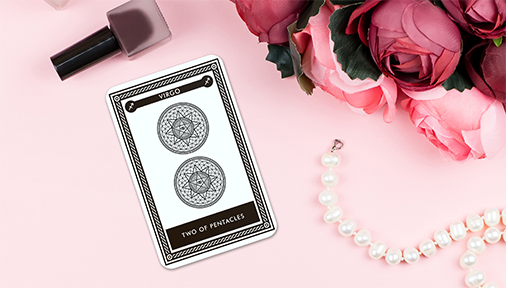 The mantra this month is to know whether 'the juice is worth the squeeze'. If others do not treat you well, cut them loose. You have a very powerful month here to project what you want to achieve. This is also the time to make positive changes as the universe is working with you. You have the ability, drive and determination to make the changes you seek, happen. Try to give your family the time they need. Turn off your smartphone, lock up the laptop and connect emotionally. Relationships come and go, friends may let you down but your best bud of all time is you. This is a good period for thinking over your projects, taking your time for well defining your aspirations and addressing your future.
Libra Tarot Card of the Month - The Fool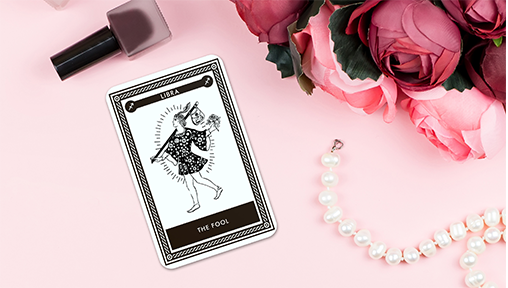 May is the month to start new things. The cards show that you're in the mood for something new at work, as the month gets going. If that's not enough newness for you, ask for a new project. If even that doesn't do it, it might be time to start looking for a new gig. Remember to be conservative as you estimate your finances. As long as you don't lead with your ego, you will be able to attain higher levels of success in both your personal and professional life. Letting go of past hang-ups will force you to see situations from a different perspective—even encouraging you to wipe the slate clean and start fresh.
Scorpio Tarot Card of the Month - Justice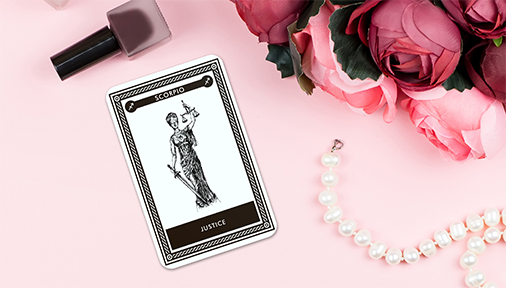 Finding a balance that works for you, in which you can give your time freely to others and care for yourself, will prove challenging this month. If you are charged with drawing up a contract or signing a contract, be sure to consult an expert. It's not going to be enough to just guess which terms are correct, or what the best way to phrase this is. If you are sloppy now, you will have to pay for it later so get specific. Your new sense of freedom will elevate you to a place of inner wisdom and peace, encouraging past traumas to be healed. You would have a weak immune system; hence, the need to take a balanced diet; minor diseases will get worse if not observed.
Sagittarius Tarot Card of the Month - Three of Swords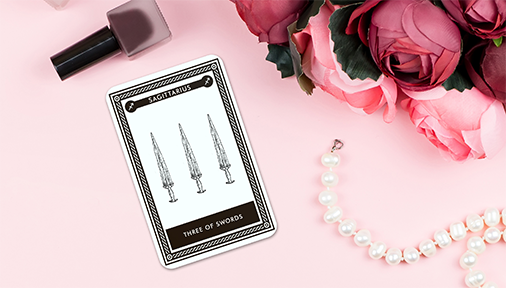 May will probably be no picnic for you, dear Saggi. You will have to be careful when making career decisions since you may end up making the wrong ones. You just can't seem to say the right thing, especially during the second half of the month. Arguments with colleagues and your boss are on the menu unless you're able to keep your mouth shut. By month's end, you may be in a pissy mood, so be careful not to get your Irish up with anyone. This will prove to be an excellent month for people who are self-employed. You are likely to get a good bargain if you purchase a house now. Also, the money that you had given as a loan will be returned to you now.
Capricorn Tarot Card of the Month - The Lovers
In one word, May for you is all about choices. The choice to stay locked up is the uneasiness associated with the unknown including fear of success and happiness. Or you can take a chance in love, a job, a friendship, or believing a rumor—you will be forced to step out of your comfort zone and squash the psychological constraints imposed on your mind by past traumas. This is a wonderful month to begin a new relationship or complete a project or some other task that requires consistency. You are able to give your all to what matters to you. Singles desperately looking for love will see their dreams come true this month.
Aquarius Tarot Card of the Month - Eight of Cups Reversed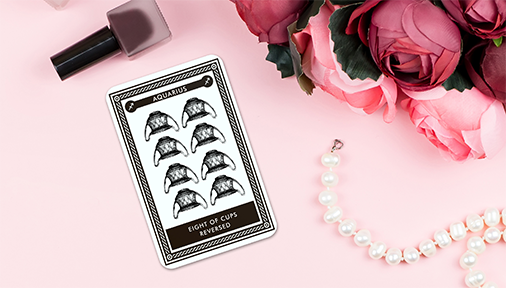 Think cautiously and sensibly about money and invest if you can, seek advice before taking rash financial decisions.  This month, your romantic life is likely to take some twists and turns. Quite a few of you may miss the company of your partner.  You will also have excellent new opportunities during May, but you must remember to grab them immediately. Even if you are not a homebody by nature, this month you will enjoy being an introvert and this will help to regenerate you. You are able to keep moving ahead and you could get some unexpected help from someone in authority. Your fixed determination keeps you on the right path, ensures that you are recognised and appreciated by the right people. 
Pisces Tarot Card of the Month - Nine of Pentacles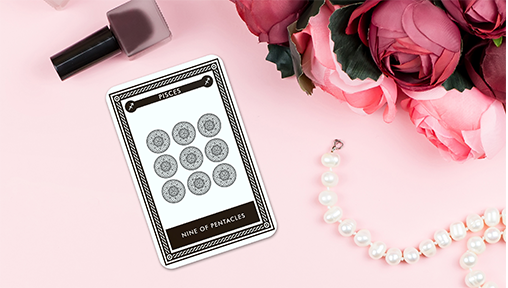 This month, you are likely to suffer from a feeling that your core competency and knowledge is outdated and that you are in danger of being overtaken. Update your resume and look for a new job where your skills are more useful. Worrying will not solve anything for you and will only have a negative impact on your overall health. Instead of wasting your time dwelling on your problems, look at practical solutions. May is a good time to finally rid yourself of unhealthy and unhelpful habits and practices. Try to ground yourself at the moment. Married couples need to make a bit of an extra effort to keep the spark alive. As far as possible restrain yourself from taking a hasty decision this month. This month, there are indications that you might get a promotion that would take your career to greater heights.
Tarot Mamta is located at Central Grove Condo. For appointments, online Tarot Card Reading or to know more about how you can personally benefit from psychic guidance of Tarot cards. You may drop Tarot Mamta an email or call her at +65 9749 9287.