Let's start the month of March with the magical combination of sun signs and tarot cards. This mystic pairing will give you a sneak peek of what's in store for you; let the intuition of the cards draw you in and show you the way.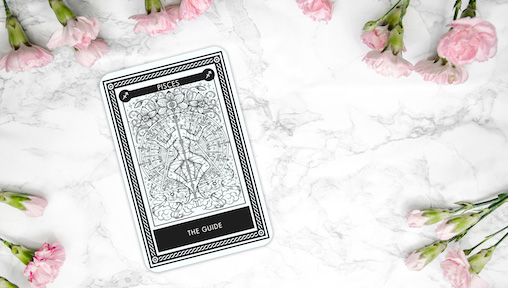 Pisces Tarot Card of The Month - The Guide
March will be the month that would put in the spotlight, get ready to be your radiant self, dear Pisces. This month beautiful and powerful cosmic energies bring you successful projects and make you the toast of your town. Be ready to take in all the glory and enjoy your time in the sun, you have definitely worked hard and long for it. Your stars blend in your favour to allow for a relaxing and interesting month.
Career: Your efforts are being watched so this is an important time to put in extra effort and for paying attention to detail. If you've been trying hard and doing your best, your efforts are very likely to pay off.  This month will get you thinking seriously about the direction of your future. 
Love: This is a time to get very, very clear about what you want out of life and out of your relationships, and then take steps to make it come about. There is the danger of breaking up because you are not fully appreciating each other. If you are single and looking for love you will need to renew yourself. Focus on being the person you always wanted to be.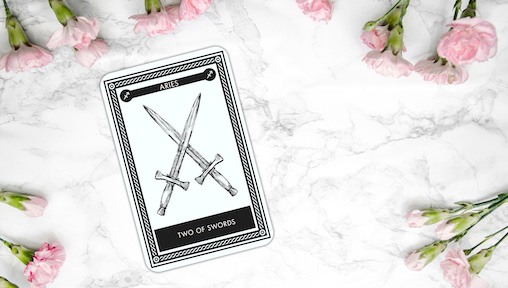 Aries Tarot Card of The Month - Two of Swords
March will bring a lot of Crossroads; you will find yourself wanting to move forward and take control of matters and decisions even if the choices are hard. You will be attracting a lot of grounding energy which would help you take sensible and stable decisions. You will overcome obstacles with a clear mind and clairvoyance skills and move in the best direction possible with an open heart and mind. 
Career: You will need to relax to get the most and best out of your workplace this month. Instead of putting immense pressure on yourself, try taking a step back from your worries. 
Love: You will need to put up with your partner's lack of communication, this month you will need to give them more space. If single, you would find it difficult to find someone to share the same wavelength.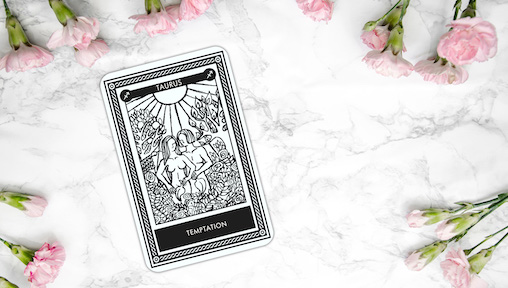 Taurus Tarot Card of The Month - Temptation
Laziness and procrastination will be the main energy of the month of March for you, dear Taurus. You will need to take action to mend the problems in your life. Add a fresh perspective to your challenges with originality, uniqueness, and mindfulness. Pay close attention to what comes up for you this month; this cycle kicks off an extra-potent time for you to embark on a new path personally or professionally.
Career: Don't slack or make the mistake of taking things too easy at work this month. Pay careful attention to any bumps in the road. The purpose behind any frustrations that arise is to help you learn new solutions, better boundaries and options. 
Love: To revive an old relationship, try something new; don't stick to your usual routine, find a new way to wine and dine or romance your partner. If single, explore a different neighbourhood or connect with an acquaintance you'd like to get to know better.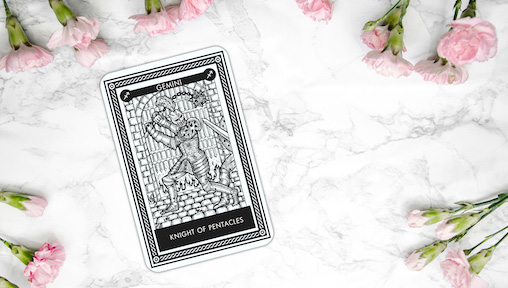 Gemini Tarot Card of The Month - Knight of Pentacles
What really are your deepest and truest intentions? March will ask you these soul-searching questions. If you have been escaping the answers, this month you would have to face them head-on. Conversations can get distorted and words can easily be taken out of context. But there is a silver lining; which is to remind you to take your time and slow down whenever possible. Remember that reflection and relaxation are just as important as whatever is on your to-do list.
Career: Is your work aligned with your purpose? Have you been looking for work that feels more fulfilling? This is also a time to get clearer about how you want to be treated on the job and to learn how to communicate those needs better. 
Love: Do you want to get into a long-distance relationship? Think twice before you take the leap. If single, stay open to invitations, especially if there's a chance for you to meet new people or try new things.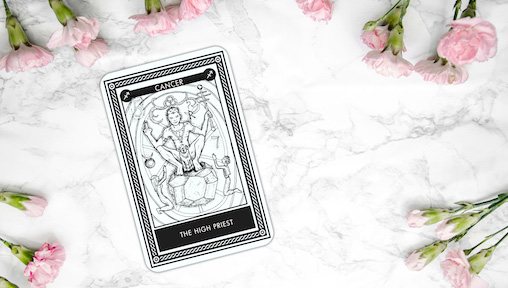 Cancer Tarot Card of The Month - The High Priest
Make yourself and your needs the top priority, use March to focus on passion projects like art or journaling, or some deep self-care work. Stay flexible and don't get thrown off if plans fall through. The stars want you to feel good in your own skin and encourage you to find pleasure in all you do. Ramp up the good vibes and enjoy the boost of confidence this month would bring you. 
Career: March will bring your payoff a lot closer for working harder than what you expected this year. There is magic happening behind the scenes for you right now that will eventually help you to step into your power in a much bigger way.
Love: A balanced partnership calls for you to let your partner help you once in a while, let yourself be the one who's on the receiving end these days, rather than the one who's always making sure everyone else is taken care of first.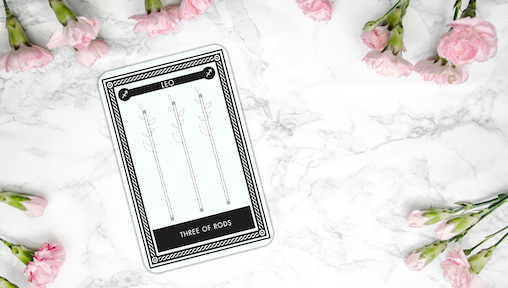 Leo Tarot Card of The Month - Three of Rods
A fine line between being firm and being aggressive, learn to recognise the difference this month, dear lions. Come up with a game plan to assert yourself more or to start making changes that will help you reach your potential. You will discover new sources of excitement but you will need to be open to breaking your routine a bit to accommodate new things. 
Career: What do you want to achieve for the year? Will the place and the way you are working help you achieve it? Get more goal-oriented and focus on your career.   
Love: Is your relationship just a reminder of the mundane? What's in your heart that you would like the universe to hold for you? Is this partnership bringing you down? You will need to be true to yourself to get the answers. If single, you will have a tough time deciding whether you want to keep it casual or make it more committed.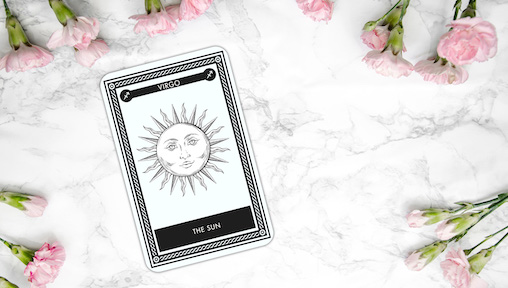 Virgo Tarot Card of The Month - The Sun
You might be the popular agony aunt or uncle this March, friends and family can't seem to stop pouring their worries and anxieties. As you become everyone's favourite confidante this month. You will have perceptive insights on what's up with people around you, especially for those friends who keep making the same mistakes over and over again. Even though you can see exactly how to fix everyone else's problems, it doesn't mean you can force them to change. Remember this and repeat it to yourself as a mantra and don't take it personally if a friend doesn't follow through on your guidance. All you can do is try to help, but the rest is up to them.
Career: Have you achieved all that you set out with your career? Will reorganising your workspace and work priorities help make power moves? Look at how you've grown or changed recently and prepare for bigger and better things. 
Love: Loving yourself equally is as important as loving your significant other. Start making yourself as much of a priority as you do for those around you. It's not selfish to have time to yourself or to make time for your interests or self-care.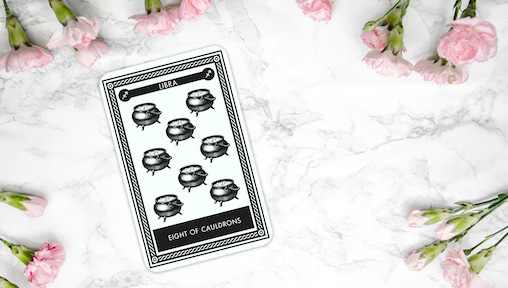 Libra Tarot Card of The Month - Eight of Cauldrons
People you once trusted or family members you thought you could rely on would let you down or not take a stand for you. No matter what the circumstances, don't take the lack of support to heart. Communication can prove to be an issue this March but whether it is appropriate or not you will need to stand for your opinions and ideas very firmly. Remember to set your boundaries and make sure you and others respect it.  
Career: Your management skills will be tested this month, take the test and you will come out in flying colours. The promise of promotion and increment would seem within reach, focus on your work.   
Love: You might feel that things might be way too emotional in your relationship, be more flexible and give each other some space to each other. If single, try not to get into affairs and meeting new people online would be fruitful for you.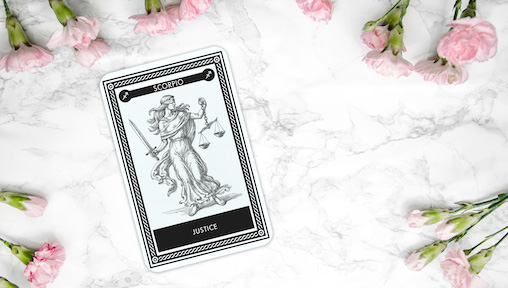 Scorpio Tarot Card of The Month - Justice
If the cards can sum up in a word what you need to do, it's the month to take action. Want to invest in a business? Get yourself a brand new wardrobe? Get famous on Insta? Anything your heart desires, put in the hard work and literally go get it. You will be called upon to deal with the results of the actions of someone you care about, and this can sometimes be as difficult and demanding as it is when you're up against something that is complete of your own making. Don't blame yourself unnecessarily.
Career: You need to be sure that your work/life balance is where it needs to be. Too much emphasis on either throws the other into balance. March is a very fruitful period, which you were expecting for a long time.
Love: March will prove to be an excellent month for matters of the heart. Your relationship seems to enjoy a blissful phase and you will be each other's support system.  If you are single, this month will bring with commitments, stay clear about what you most want from relationships.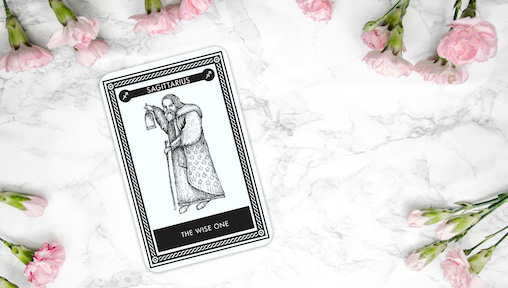 Sagittarius Tarot Card of The Month - The Wise One
This month try not to interfere or rescue anyone, friends or family especially. Preserve your health, you are unbeatable for this and live this pleasant month. You have the support of the stars to make this month magical and potent. You may want to take some time alone - don't be afraid to take it. You will also struggle very hard to do the right thing. Just make sure that doing the right thing includes doing what is right for you personally, and not just worrying about the wants and needs of others.
Career: The stars boost your professional luck this month, you may feel impatience with your colleagues and in general with the pace at which works seems to get done but do your best to be organized and productive. 
Love: It's possible that a romance from your past will be re-kindled. Is that really what you want? It seems that romantic relationships are not currently a priority for you this month. Long-time couple your ties are strong, let go of your modesty this month, lean on your partner for the unabashedly tender.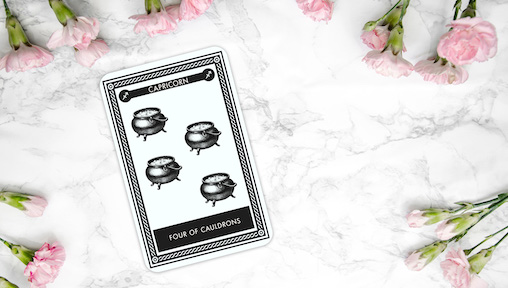 Capricorn Tarot Card of the Month - Four of Cauldrons
Growing wiser, learning from your mistakes, allowing yourself to see things in a sensible- all these things are the hallmark of March for you dear Capricorn. Beautiful, powerful energies accompany you this month. It is vital to keep moving and change what needs to be changed in your life. Your intuition can help you get clarity and help give you clear directions this month. Put your focus on the things and people in your life that you have to be thankful for. Consider a gratitude journal.
Career: Your career will be more stable this month. You can slowly climb the ladder to success, but it will take a lot of hard work. 
Love: Do you have your heart set to the exclusion of everyone else? On someone who isn't giving you very much back or who is quite literally unavailable? You might become a tad possessive and less flexible with your better half, be sure to retain your elegant behaviour. Do not revive any conflict! Otherwise, your love life may become sad!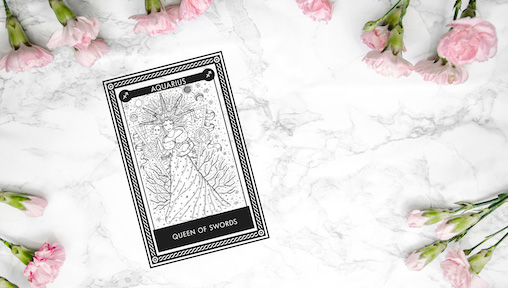 Aquarius Tarot Card of the Month - Queen of Swords
This month you may be tempted to give into a lot of retail therapy this month, exercise moderation or you may come to regret your expenditures. This doesn't mean money will be bad, it just means that you are not in the mood to think before spending. Do not fear anything malicious, on the contrary, this month begins a period of learning, long enough. Take notes so you do not forget anything. You already know what it is you want and need, now you just have to go after it. Be mindful of other people's boundaries as you are doing so.
Career: You need to be more accommodative about views, suggestions from your teammates and seniors. Try not to take insights or feedback personally and be objective, don't overreact to any perceived slights or disrespect. If you're looking for work, look to the women in your life to point you in the right direction or to give you a recommendation. 
Love: You will get more flies with honey than with vinegar, and there's truth to this. Your mother or a mother-like figure may interfere in your relationship, whether she means to or not. Figure out where your boundaries lie with this and let her know.
To know more about Tarot Mamta, visit TarotInSingapore.com or you can reach her at (+65) 9749 9287.