Let's start the month of June with the magical combination of sun signs and tarot cards. This mystic pairing will give you a sneak peek of what's in store for you; let the intuition of the cards draw you in and show you the way.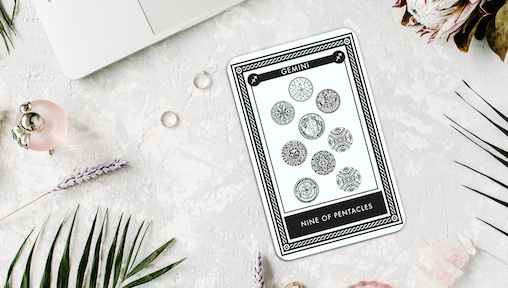 Gemini Tarot Card of The Month - Nine of Pentacles
You maybe be feeling like the universe made promises and then flaked out on you, but you need to remember that you aren't the only one feeling this way. Don't give up on your dreams, these will give you the energy to carry on, the dreams you are incubating this month are ones that you can carry forward. Let them grow strong and they will guide you towards the path you are seeking. Look ahead, think afresh and work towards a new goal.
Career: Your competitors and even your colleagues might be envious or cause hurdles for you at work. You will need to continue focusing on your deliverables and the obstacles will take care of themselves.
Love:  June will see a lot of love loss, you will not be infatuated, your vision will become clearer, you will come out of the dilemma. You know what you have to do. If single, you will be bulging with energy and confidence to start a new relationship.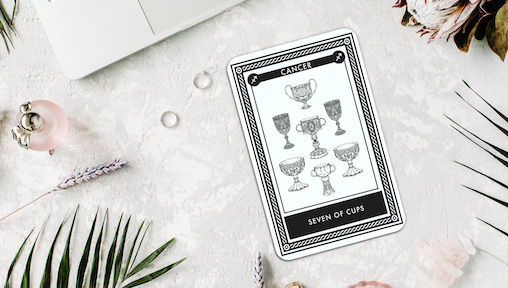 Cancer Tarot Card of The Month - Seven of Cups
This Tarot card for June asks you to stop painting your castles in the sky and begin building those castles in real life. You need to know what is real and which one is merely an illusion. As you get a reality check, try to stay out of the emotional fray that everyone around you seems to be caught up in this month, you have a prime opportunity to bring forward some killer ideas and deeper bonds with those around you.
Career: Things will start looking up for you professionally, you will remain very busy, work efficiency will increase and it would be duly rewarded with appropriate remuneration. You would be happy and satisfied to see the things moving in the expected direction.
Love: This month your love life with present you with a lot of choices, the tarot card is asking you if you really want to be with your lover or not. You must reflect on what you (and they) need to change before you can be happy together. Married couples seeking for a child, might get that in this month.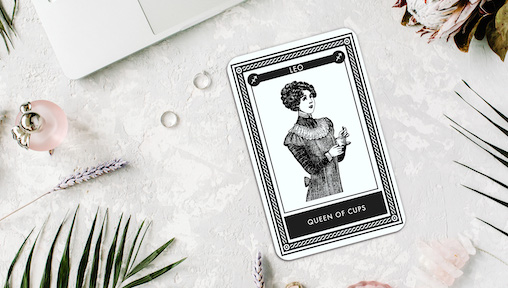 Leo Tarot Card of The Month - The Queen of Cups
Get comfortable with drastic and cosmic shifts and changes this June, if you feel a bit out of sorts this month, don't worry you are under the influence of some big, planet shifts. All these changes will help re-frame your sense of identity and your assumptions about your place in this world. You are shedding a lot of your old insecurities, comfort zones and assumptions. Certain ideals you once held dear are not what you thought they were. Don't feel you need to justify it or have all the details worked out on whether or not it's even possible. 
Career: You will be roaring your way into new projects with a surge of new energy, you will get back to work with verve and vitality and get encouraging results. June will be ideal to get into new ventures and new business plans can be initiated and financially you will be on sound footing.
Love: Lady luck seems to smile on you when it comes to love, your stars seem to indicate that there is a nice balance in your relationships, there is equal love shared, and that there is trust and respect in both parties. Married couples can expect pregnancy news.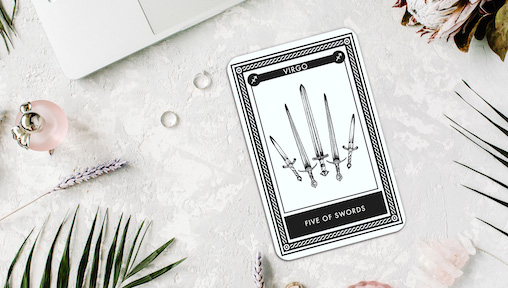 Virgo Tarot Card of The Month - Five of Swords
It's good to be cautious but you will have a tendency to be over cautious or over-analytical this Month. It's never a bad thing to be practical and weigh your options, but if you want to be prepared for every outcome then you will not be able to move forward. Spontaneity and inspiration are important factors in decision-making, too.  Whether you need to make a commitment, try something new or break away from the past, it's time to listen to your instinct.
Career: At work, you might prove to be your own worst enemy, try not over promise and under deliver. How you speak your mind is as important as what you say. There may be some unfairness at play in your work world. Be sure that your behaviour is impeccable.
Love: Your love relationships may be governed by selfishness, it also means that conflict will always be present and it may not end in a happy ever after respect and trust may be absent in the relationship. If single, you will have good prospects of getting hitched.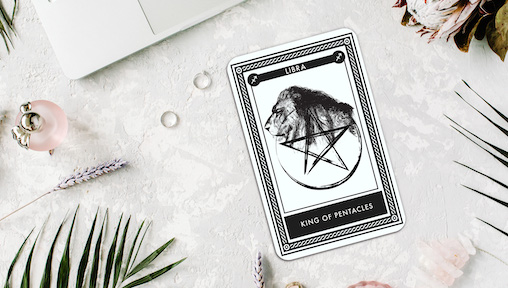 Libra Tarot Card of The Month - King of Pentacles
Your strong and tough exterior might show a few cracks this June, you might find yourself softening or even have a change of heart. Admitting that you need some help or that you are feeling more sensitive than normal will not show you as a weakling, it will only make you more human. Go for comfort. Re-watch your favourite childhood movie or treat yourself to something that takes you back to a special time and place.
Career: Focus and dedication will be the two things you would bring to the table this month as far as work is concerned. Work efficiency will be high and you will be successful in materializing your end by tact and prudence.
Love: If you're single and looking for love, someone will walk into your life and sweep you off your feet. In a relationship, it is best to put your pride aside and make sure you treat your partner with dignity. Make sure jealousy has no room in the partnership.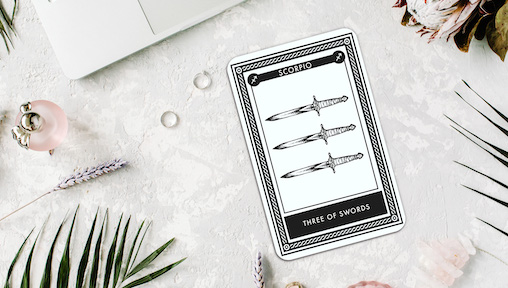 Scorpio Tarot Card of The Month - Three of Swords
If there is one thing that can make June a happier month for you, it will be your ability and your sensibility to pick and fight your battles. Determine what's worth your time, effort and energy and invest them wisely. The great thing about you, Scorpio, is that you are naturally wired to see the bigger picture. You have so many options available to you, so trust your intuition and know that barking dogs seldom bite. If any situation is overwhelming as a whole, don't try to look at the big picture. Start with a manageable chunk take one day at a time.
Career: This June, you will need some assistance to find a better approach to work. Don't hesitate to ask. If you're looking for work, this too may show a need to look in a different way or in a different field than the one you've been pursuing. By allowing others to help you, you are giving them a chance to do a good deed.
Love: A small dispute would have the potential to blow up beyond control. You may find that someone you thought cared about you is not as loving as you had supposed. You will be guided to the relationship that is right for you.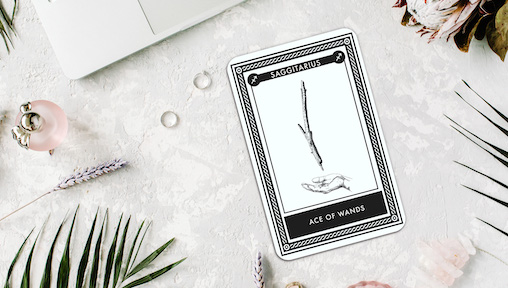 Sagittarius Tarot Card of The Month - Ace of Wands
This month, you will be desiring to do something new and different but you need a lot more clarity on the direction. You will be ready and willing to look at things that you have not tried before- be it taking up pottery classes or try online e-commerce classes. Take your time to figure it out and remember that slow and steady wins the race. Continue to let go of the things that won't get you any closer to where you really want to be.
Career: June asks you to get creative with your solutions at work, you may find a new job or start a new business. You can expect to get cutting edge ideas and insights during this power-packed month.
Love: Your stars encourage you to be more expressive this month, your relationships will reach a new and deeper level of understanding. If you are single, a new romantic relationship might be headed your way. You should have trouble in your relations with the female members of the family. Use tact and a certain amount of skill to circumvent troubled areas and stay out of trouble.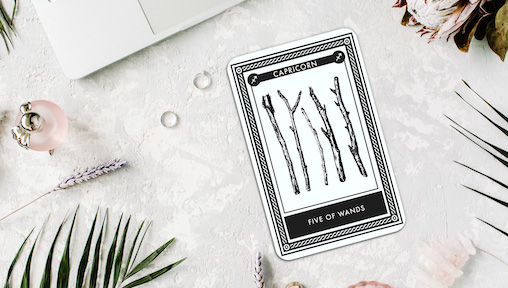 Capricorn Tarot Card of The Month - Five of Wands
You might have a very strong urge and need to escape your reality, but do be mindful of your responsibilities and don't discard them. Disagreements and discord will reign high this June. Baer in mind that constant arguing doesn't solve problems, but rather it only adds anxiety and discord to your life and to the lives of the people you care about. At times, it makes sense to extend the olive branch even if you aren't at fault. This June, make time in your schedule to get around to those dreaded tasks you've been putting off the previous months. 
Career: Are you feeling insecure about your skillset or your place in your company? Your workplace will offer healthy competition and the opportunity to prove yourself. If you want to earn a raise or move up the company ladder, prepare for some hurdles.
Love: There will be trouble in paradise, go ahead and speak your truth, this is not a time to hold back or stifle what's in your heart. If single, you might find it hard to stand out or see yourself in competition with others for the same mate.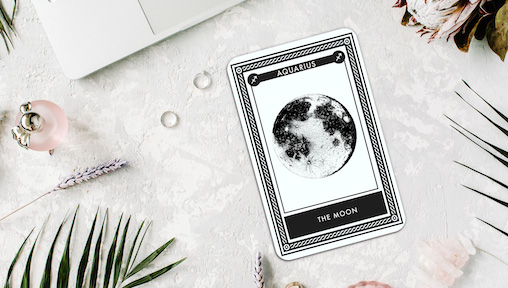 Aquarius Tarot Card of The Month - The Moon
June will be a potent mix of confusion, anxiety about your future and the way forward. You may be allowing your imagination and emotions to take control of your life. Your reality is always going to be kinder than your imagination, if you trust your intuition and take the leap, you will receive guidance and signs to help you, but you must be willing to face the reality of the situation. It might not always feel easy, but people need your authenticity, wisdom and sensitivity.
Career: It may be time to dig a little deeper and allow the light to shine upon whom you can or cannot trust at your workplace. It is important to trust your gut and only make the decision that feels right. The Moon will guide you in the right direction as long as you allow that to happen.
Love: There might be frequent arguments and disharmony in your relationships due to lack of communication, you will have an uncanny six sense of whether the relationship will work or not, all you need to do is listen.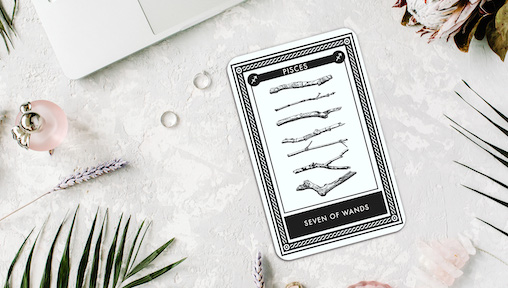 Pisces Tarot Card of The Month - Seven of Wands
Don't be in a rush to get back to your life, use these challenging times to go inward and to see how this experience and turbulence has helped shape you review and re-evaluate your path and plans moving forward. Where are you listening to other people's narratives and confusing them for your own? What has your reality taught you that does not match up with the mainstream world? The starts are pushing you to find out what you really want for yourself.
Career:  When it comes to your work this month, asserting yourself, going after what you want and standing firm with your opinions will be very important. Thankfully, you have what it takes to make this happen. Don't allow yourself to compromise your thoughts and opinions to make others more comfortable or to avoid an argument.
Love: If you are single or dating but afraid to fully commit, you need to ask yourself if you really want to get into a relationship or if you want to keep things casual. In a partnership, stick to your guns, although conflict is rarely desirable, it can be necessary at times.
Aries Tarot Card of The Month - The Justice
Dear Aries, you will feel the effect of the planetary movement and its shifts very subtly this Month. Try not to overwork or worry too much this June, there is only that much you can do and plan for, the universe has your back, you just need to have faith.  Get into a system or a routine in place, chalk out a schedule of activity which does not unduly strain your system, and stick to it, this would remedy a large portion of possible problems.
Career:  When it comes to work, you will be prone to making silly yet significant errors or mistakes. Hence, concentration at work is required. You might have the opportunity of a job transfer or a departmental shift if you do take it will be a beneficial move for you.
Love: Are your relationships very unclear and non-committal? If single you will send or receive mixed signals. This month will highlight resentment and confusion in your marriage—especially if you feel unreciprocated.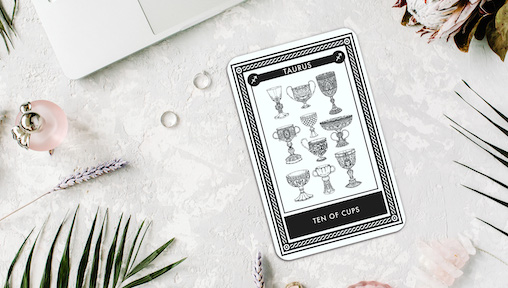 Taurus Tarot Card of The Month - Ten of Cups
June will feel like a brain clog, you will strive to get clarity of your thoughts and your mind. Stay calm and still until this phase gives way, this experience will help you understand yourself better and you can decide whether you need to step up or stand out.  
Career: Your own job satisfaction and enhancing your skill sets is what is of uttermost importance this Month. There's no point venting your anger through arguments and conflicts, instead, try some breathing exercises, yoga or meditation. These practices will help you process your emotions and move on with a clean slate.
Love: After hardships and struggles, your marital life will be blissful, kick back and enjoy your life for a while. If single, try to assess if you and your lover are on the same page with regards to the things you both want. You might be misreading the signs.
To know more about Tarot Mamta, visit TarotInSingapore.com or you can reach her at (+65) 9749 9287.