Let's start the month of July with the magical combination of sun signs and tarot cards. This mystic pairing will give you a sneak peek of what's in store for you; let the intuition of the cards draw you in and show you the way.   
Cancer Tarot Card of the Month - Daughter of the Flaming Sword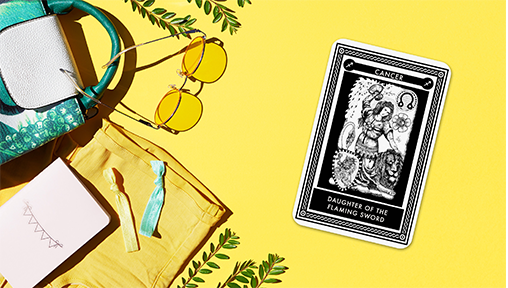 This month will have an enjoyable buzz and all your communications are likely to be light, affectionate and fun.  If you can make subtle adjustments that allow you to flow with your situation without losing yourself, you can maintain an inner calm even in stressful situations. It's when you allow other people or situations to determine your wellbeing that you lose track of what's real and what's of value to you. 
Career: This July, it's time to put your money where your mouth is, even if it's intimidating. If you've been talking a big game, now is the time to step up and follow through. Present your ideas and take action to make it happen; your risks will be rewarded.
Love: Letting go of what doesn't serve you is an act of self-healing. You may spend a lot of energy playing or fall in love quite passionately. Everyday environment and activities should still be pleasant. Social life is still in high gear. Continue expressing feelings of appreciation toward special others.
Leo Tarot Card of the Month - Children of the Voice Divine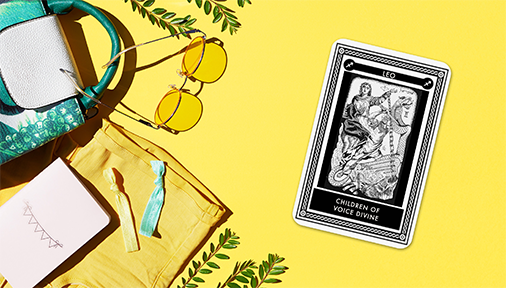 You don't have to take on anything new. If you do, you can have boundaries with how you do it. It's important that you give yourself permission to focus on the things that bring you joy instead of only things that make you feel like you're proving yourself. Let the stars be your guide and prepare for a powerful July.
Career: Cut, clean and revise; these are the best things to do this month. Cleaning your desk, and emptying your inbox, checking formal documents and crossing your T's and dotting your I's will be a great use of your energy. If you are looking for a new job, networking with your colleagues would be your best bet.  
Love: Balancing both your expectations could get tricky—can you take care of your partner without sacrificing your own needs and desires? Have you rushed into a relationship without outlining exactly what you both need? Press pause and make sure both of you are clear on the terms of engagement.
Virgo Tarot Card of the Month - Lord of the Gates of Matter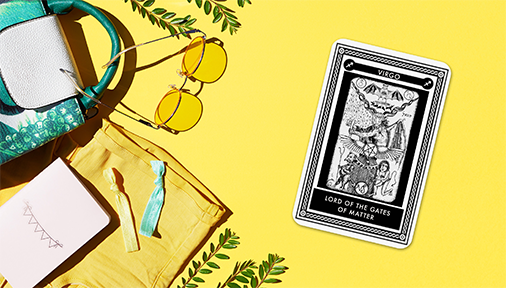 Growth and progress are inherently unstable; you can't change and stay the same all at once. Safety quickly becomes a rut when it's not appropriate for you. Quit asking for advice and tune in to your own heart now. Journaling and meditation can be especially helpful for clearing any blocked mental channels. Slow down, get quiet and listen to the universe.  
Career: Things might seem a bit shaky or unstable at your workplace this month. Embrace the uncertainties as opportunities to make new choices in the face of old fears and to evolve in new directions. If you are looking to job hop, there is good news awaiting you.
Love: Someone could be giving you mixed messages or you might be the one sending out these vibes. Stay flexible and open to unexpected options, love can happen when you least expect it.
Libra Tarot Card of the Month - Prudence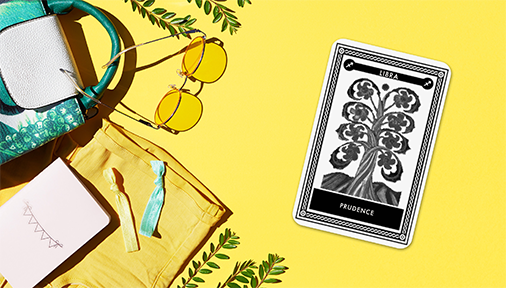 Talk about big ideas, take a leap of faith and soak up inspiration. You are on your way to some major growth, but it may take you in what looks like a sideways direction. Be open to your story looking different than you thought it would. Commit your efforts to the things that you believe in, even when they take you on a longer path or the road less travelled.
Career: If you've been searching for a career path with more meaning, the opportunity might appear. Work that involves healthy living or sustainability could hold special appeal. Expect support from mentors and support staff alike.
Love: Strive for balance within yourself, first and foremost. Then, seek a harmonious, equal relationship with a partner who balances you out, and needs you as much as you need him or her.
Scorpio Tarot Card of the Month - The Reconcilers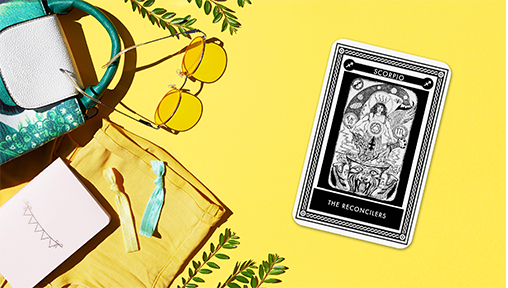 Your stars are giving you permission to live carefreely. Indulge in some self-nurturing and enjoy life. However, you may feel lazy, less motivated or easily bored this July. It is advisable for you to get into the fun-loving energy of surprises through short-distance spontaneous travel. So pack your bag and get ready for adventure.
Career: Diplomatically control your speech, as soft and carefully spoken words can turn the tide in your favour. If working in a partnership, consult your partner before taking any decisions. 
Love: Be careful what you wish for this month. Remember, if someone seems to be too good to be true, they probably are. Let common sense prevail.  True love requires risk and vulnerability — it's not always safe. If you pry without revealing your own hand, partners may bolt.
Saggitarius Tarot Card of the Month - Lord of Wealth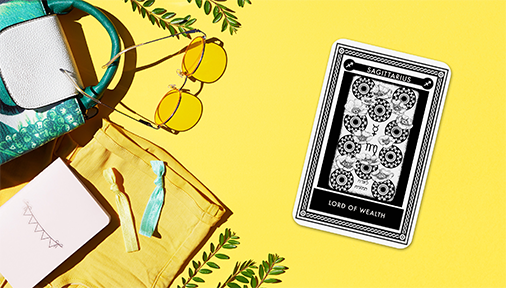 This month is ultimately about watering and nurturing your manifestations with fun and creativity. While you shouldn't think too much this month, don't become complacent to where you overlook important details—which is indicated in your 2019 retroscope. It's important to live lightheartedly and graciously— perhaps through travel or kicking off a new endeavour giving you a newfound joy— because you approach life much more easily when you don't clutter your mental space with self-sabotaging tendencies.
Career: Work environment would be highly competitive, disturbed and challenging. This month you need to stay away from conflict and controversy. Things would get better towards the end of the month.
Love: Don't let physical attraction overshadow your need for a supportive partner who pulls their weight. Sharing your wisdom is one thing, but playing life coach will drain you in the end.
Capricorn Tarot Card of the Month - Thrones of Flame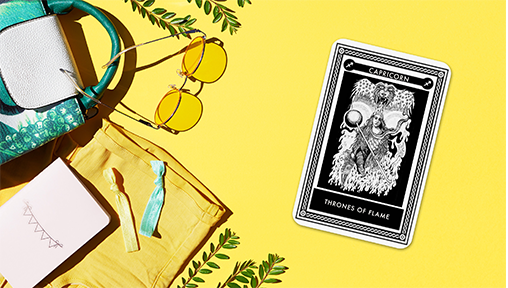 You will find your power of thinking, ideas and a general understanding of matters would improve this month. There is only one note of caution and this is not to over-exert yourself. Take the precaution of chalking out a fresh schedule which does not tax your energies unduly, yet allows full play to all your normal activities. You will enjoy extremely beneficial associations with several gifted people.
Career: Your work environment will be positive and your intellect would be respected. A further rise in dynamism, as well as hard work, will get you good progress too, just be careful to avoid any arguments with your superiors.
Love: Flings aren't really your bag; you'd rather be alone than jump from partner to partner. Love life will be very active and turbulent at the same time. You could be on a roller coaster of emotions.
Aquarius Tarot Card of the Month - Silver Star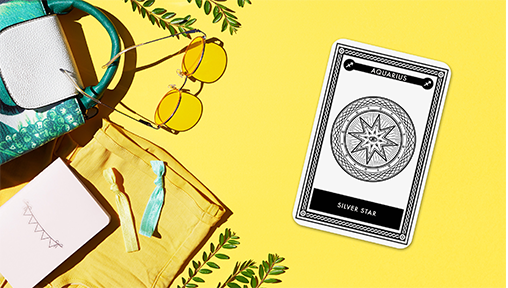 Get your passports ready and chalk up your Grab points with rides to the airport. This month you can look forward to undertaking a great deal of travel, most of which would be official in nature proving extremely beneficial in most ways since the stars are quite favourably placed. Focus on the positive, but above all, allow light-hearted energy into your space so you can attract what it is you want almost effortlessly.
Career: Coworkers and colleagues might oppose you at times. Be cautious and ensure things don't become too contentious this month. Progress will be slow but steady.
Love: Romance can heat up, along with your desire for adventure. Avoid taking any major decisions about love this month, relationships could remain stressful. 
Pisces Tarot Card of the Month - Spirit of Ether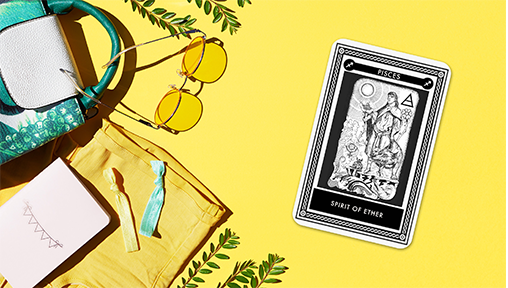 Ease into July, dear Pisces. Overall, this month is both powerful and revitalizing for you as the universe is asking you to plant your star seeds and allow your imagination to inspire you to be the creator of your internal world—in turn creating the external. This month, thankfully, you'll really begin savouring what you've built and achieved.
Career: Someone at your office could be threatened by the attention you're attracting. As you step into your star power, don't forget to give due credit to your team. Be humble and success, promotion and glory will be yours.
Love: You will meet the love of your life this month but your friends or family will vocally disapprove of your romantic choices, or someone harshes your buzz with critical feedback. Trust your instincts and you will be able to win them over.
Aries Tarot Card of the Month - Lord of Pleasure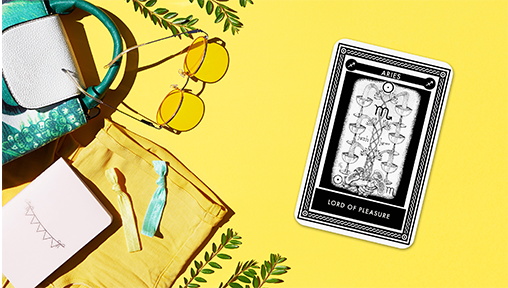 Aries, this month is all about how well you will utilize the natural gifts that you have, be it an encouraging word, a helping hand or your warm smile. Learn to be a bit sensitive and attentive to anyone in your circle who might lean on you for support.
Career: Take stock of how your plans are coming to bear in your work life. Make adjustments, follow through, and solidify your ideas. You and your vision would need that extra oomph this July to succeed.
Love: Relationships are hard work but you have the choice of making it deeply healing work as well. Sharing your ideas, dreams and thoughts with your significant other can bring intimacy to the relationship.
Taurus Tarot Card of the Month - High Priestess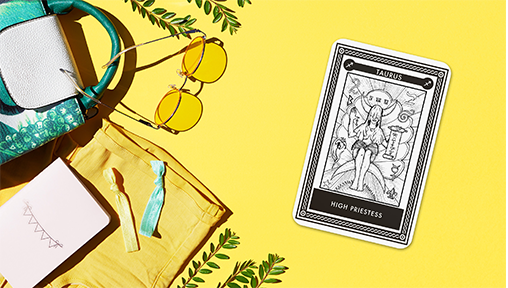 July comes with a lot of potential. The amazing ability to see things clearly and make plans for your future. You would be able to wisely tap into both your past and your present to make your future picture perfect. But do remember that it's ok to be imperfect, to not know what comes next, and to have mixed feelings about it. Don't be so quick to find the answer that you rush past the process.
Career: As long as you've been focused and investing your energy in the right places, you'll be doing good this month through either appraisal, life-changing opportunities, or both.
Love: This month, love doesn't need proof, it needs faith, dear Taurus. Whether you are looking for a new love or wanting to connect on a deeper more meaningful with your partner, remember that actions speak louder. Be the kind of person you want to invite to your life.
Gemini Tarot Card of the Month - Princess of the Shining Flame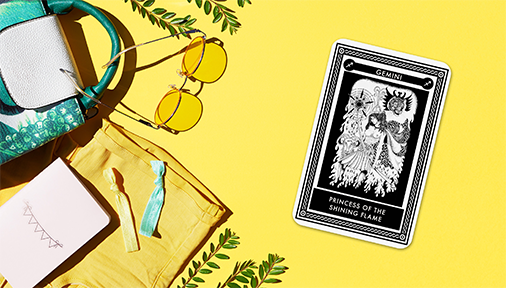 The choices you make lead you to the kind of life you lead. So this month, Twin stars if you have a serious need to defend yourself, get to it, but chose your battles wisely. What you say is important because you run the risk of speaking out of pettiness, but once it's out there, you can't take it back.
Career: July will prove to be both powerful and revitalizing as your starts are asking you to pick back up on any creative pursuits you've likely neglected which will help reignite a sense of confidence and purpose within you.
Love: This can be a transformational time, but you need to be willing to sit with the intensity of your feelings. Passion and arguments would be on an all-time high, so it's best to calm down and collect your thoughts before you choose to confront. If you are looking for love, heading to parties, clubs and social get-togethers will prove to be lucky.