Let's start the month of February with the magical combination of sun signs and tarot cards. This mystic pairing will give you a sneak peek of what's in store for you; let the intuition of the cards draw you in and show you the way.
Aquarius Tarot Card of The Month - Queen of Wands 
At times, even your best-laid plans may go awry, there's many a slip between the cup and the lip and a lesson in testing times. Squabbles with people over petty issues will add to your growing vexation, keep calm and you'll handle all of it just fine.
Career: Your colleagues too may not warm up to you and offer half-hearted support and your inherent talents will spur you on to great heights at the workplace. Novices knocking on the doors of career may look forward to getting the job. 
Love: It is a good time for relationships to flourish and for love to bloom, you can plan a trip with friends and family. Married couples should plan a vacation too, and, avoid ego hassles. If you are single, try online dating, it would be exciting and maybe you would meet someone special.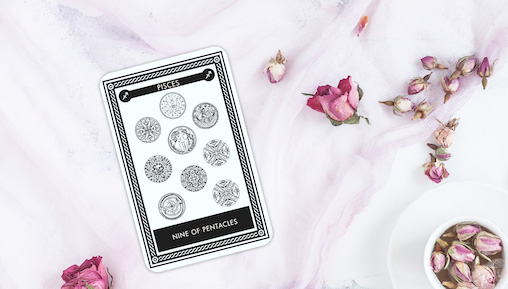 Pisces Tarot Card of The Month - Nine of Pentacles
Don't look back, dear Pisces there seems to be the only direction for you right now, and that's onward. Success and happiness are well within your reach, stay humble and work hard as this is a golden period for you. Don't get too slack or arrogant as these will prove to be your downfall. Seek support from your loved ones when required, and they will support you. As for your finance, this is a golden phase, so make the most of it. Reap in all the benefits, make the right investments let this month be a foundation to build on for the rest of the year.
Career: Networking will be the most important thing you can do for your career, tap into the circle of friends and colleagues and promote your career and your skillset. Work stress and deadlines will be a breeze this month.  
Love: February brings all the feels for you on the romantic front, you would want to steal precious moments with each other and make time and space for your partner. If single, you would have a strong desire to be in a committed and loving partnership. Be careful, Nevertheless, appeased by a gentle way of communicating, you will be able to make yourself understood without rushing your other half too much.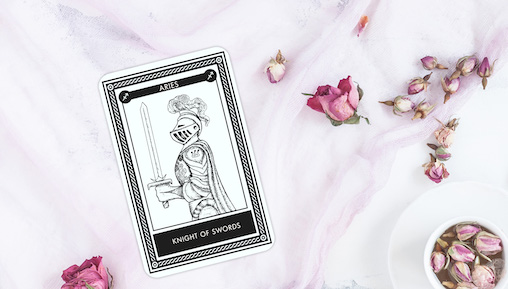 Aries Tarot Card of The Month - Knight of Swords
February will be a month that would make you stand up for your beliefs, you would have the desire and the opportunity to do so. As you prepare to defend yourself, take note to not rub people the wrong way; this month would also prove to be a very moody one for you dear Aries if you feel very restless, do travel or pick up a new hobby.  
Career: The energy at work will not be too favourable for you this month, you would have to work hard, and the rewards would be nowhere near your expectations. This month be attentive to the situation and lie low.  
Love: The mood and the temperature for this month will be colder, make an effort to dress up for each other and keep your words kind. If single, you will have many good prospects for meeting new people, but these will be more casual relationships, nothing serious.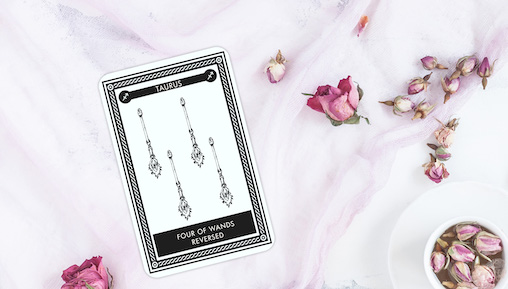 Taurus Tarot Card of The Month - Four of Wands Reversed 
This month is all about financial growth and good tidings seem to be in the air, you will attract several notable opportunities for profit. Put your effort, focus and your heart towards working towards your goals. With all the good fortune coming your way, you would be tempted to overindulge, as the stubborn side of the bull takes over, you will want to buy things impulsively which might not help you later. So be prepared and think twice before swiping your card.
Career: Taking time off or even a short break would help you be more productive and creative at work, this month. You will enjoy the limelight but the work pressure and stress would affect badly on your health, your work might take priority, but remember that resting is as important as working.
Love: Are you getting mixed signals, or are you giving mixed signals to anyone? Be transparent and don't tag someone along just for the heck of it. A heart to heart talk with your spouse or partner would help smooth out things and help make the relationship more meaningful and fulfilling.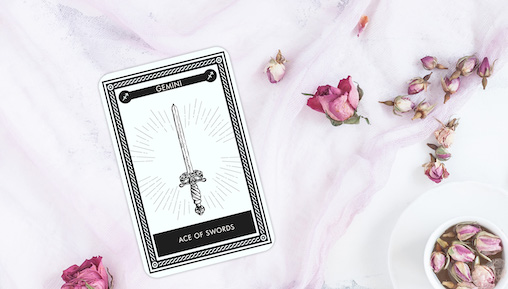 Gemini Tarot Card of The Month - Ace of Swords
Twin stars, this month is going to be rather introspective in nature, the emphasis on finding and maintaining the right path for your life is quite clearly the main focus for February. You will find yourself asking questions like, where is your life heading? Or if this is all that life has to offer? You may feel that you're continually out of balance physically and psychologically. Maintain a balance between fitness activities, relaxation, and work can help keep you sane. 
Career: It's time to think of career enhancement and plan on how you want to see the growth in your career to take shape. You will need to use all the tools and contacts at your disposal to pave the way forward. If you're not happy, determine what's missing and use this month to set out on a path that will allow for growth and a sense of true success.
Love: If you are in a troubled relationship or marriage, it will most likely fall apart this month especially, if you've had a change of heart. Your expectations may be unrealistic, a stable relationship cannot always be exciting.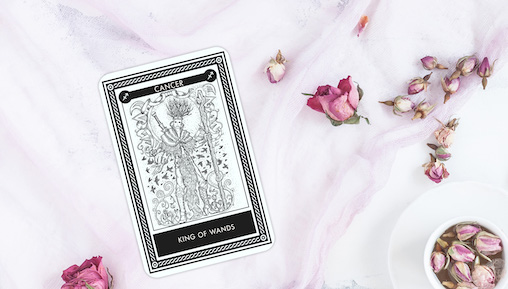 Cancer Tarot card of The Month - King of Wands 
Add a huge dollop of positivity to every situation and challenge you may face this February. In any case, for most of you, quick gains are very likely, as a result of your efforts. This means, that endeavours would bring about fairly quick success, though the gains would not be very large, but rather of a medium sort. Take full advantage of the positive influence of your stars this month. Plan a weekend getaway to make the most of the cheerful energy. There is a likelihood that some people below you in the social strata would cause trouble for you, deal with them firmly before the situation gets out of hand.
Career: Work will progress very gradually and slowly it will be an uneventful month at the office. Be wary of people at work whose attitudes seem shallow. Your superiors might not have your best interest at heart, trust your intuition and your gut when it comes to making decisions. 
Love: You will need to see things very clearly. What is the reason you want to get into a commitment? Is it peer pressure or your fear of being alone? Take time to consider what you want and your motive to get into a partnership. If married, you and your spouse would enjoy spending time together.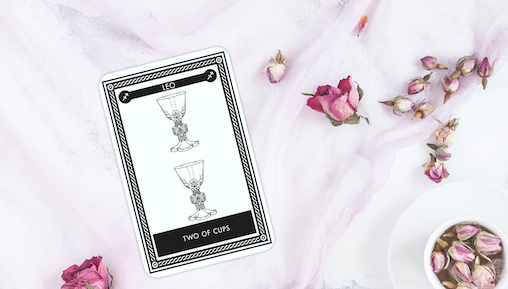 Leo Tarot Card of The Month - Two of Cups
February would prove to be a giddy month for you dear lions, there will be major changes on your cards this month. These unexpected changes would bring along new challenges as well. Challenges could either be in terms of finances or on the work front. But what's important to know is that nothing is lost, keep calm and try not stressing over things unnecessarily.  A peaceful mind shall help you fight through this stage and, the foresight to plan your move and your month would help save the day. Understand and carefully analyze all the options you may have at your disposal, and don't rush into anything randomly.
Career: Chores and projects at work might seem endless, you might feel like you are on a treadmill with no pause or stop button. By the end of the month, you would find that you are simply too exhausted, even if you want to you will not be able to tear yourself away from the office, Take one day at a time and get rest as and when you can. 
 
Love: This month will be the time to decide on letting go of relationships or situation-ships that may not be working for you. You would realise that being the third wheel is no longer what you want or that it's no longer serving your best interests, which is hard (especially for you). Before you second guess your decisions, make sure you are ready to dissolve and cut ties.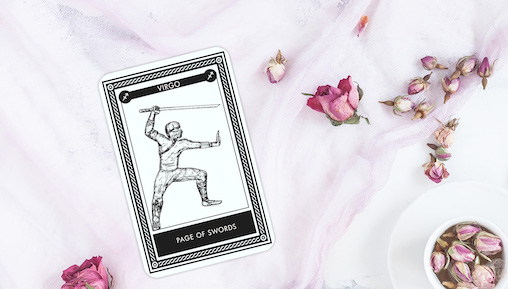 Virgo Tarot Card of The Month - Page of Swords
You will need to master the subtle art of saying 'no' and set your boundaries with your friends, family and colleagues. You may not win any popularity contest but you will land up learning an important lesson on how to protect yourself, take your power back and rebuild your self-esteem. Through this action, you'll be able to stabilize your emotions and boost your confidence. Conversely, you may find yourself overly bored with the mundane, making you daydream for a sweet escape or adventure.
Career: You will earn the respect and admiration of your peers and your superiors at work with your invincible ability to spot and solve problems. This month will be extremely favourable for your growth and success, invest some time to network and get your name and work out there. You will be able to gain power and authority at your workplace thought your hard work and your colleagues' support. 
 
Love: Your relationship with your spouse would grow stronger this month, you will experience a spiritual bonding with your lover. Romantic times and tender moments await you this month. There are also high chances of your ex-lover coming back into your life around mid-Feb, and you and only you need to decide whether or not you want to take things further. Think things carefully.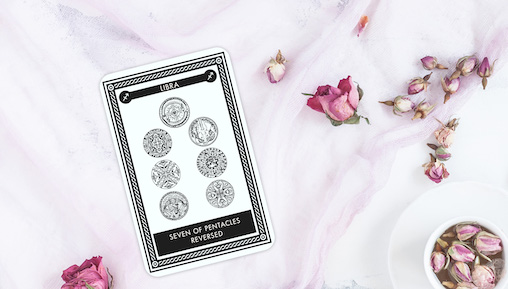 Libra Tarot Card of The Month - Seven of Pentacles Reversed
This month starts on a beneficial front, even with luck on your side you cannot afford to take things for granted. Working continuously and diligently would get you the results you are looking for, February indicates progress, productivity, and efficiency. Keep in mind that if things don't work out the way you want them, the universe has your back and a plan that might even be better. Have faith and be patient, this month may leave you drained, unable to access your powers, if you do not take care of yourself you will feel in need of a recharge.  
Career: The month will bring you new opportunities in the form of new projects or even a new job. However, around the middle of the month, be ready for professional setbacks, be patient and stay calm. Avoid getting into office politics and don't entertain ideal gossip. 
Love: February will prove to be an excellent month for romance and love between you and your partner. The relationship will grow exponentially, and you will spend some quality time together to get to know each other on a better level. If you are single, you will meet the partner of your dreams and will commit in a jiffy.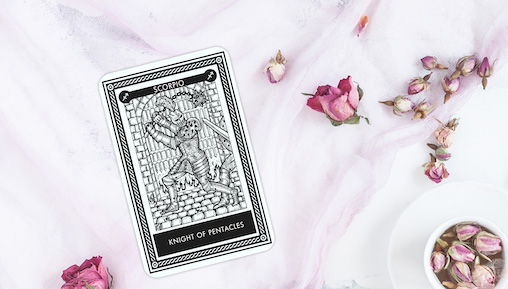 Scorpio Tarot card of The Month - Knight of Pentacles 
Remember to see the bigger picture and let the small or little things, you will tend to worry about tiny issues. Your sources of income will increase this month, try a side gig of e-commerce or a hobby might bring you some extra cash. This inflow of cash will help you indulge in some retail therapy. You will need to try extra hard to stay away from distractions, don't take things and situation to heart. If someone or everyone around you offends or pisses you off, try to forgive them and move on.
Career: This month you might feel that you are being burdened with a lot of work and short deadlines, if that's the case, speak up and consult your team or your boss. This will help ease the issue at hand. Delays are expected where progress is concerned, do not lose hope.
Love: Committed relationships and marriages would be plagued by arguments and disagreements. You would feel like you are walking on land mines, you may even think of leaving or calling off the relationship. However, you will need to think things carefully and don't act on impulse, don't throw a relationship away just because you're facing a few issues.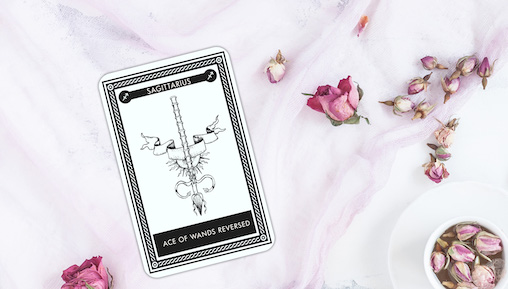 Sagittarius Tarot Card of The Month - Ace of Wands Reversed
Being able to surrender to a higher calling or even your higher self, things or situations or even people may not always be under your control. Let the universe take care, you will simply need to trust wholeheartedly and have faith. Once you let go of the need to control every situation in your life, you will find that you can relax and live in the moment. This will help kick up your self-esteem, as you are given the cosmic push to achieve all the things you want to in your life.
Career: Avoid high expectations on the career front as this is not a good phase for you, thus stay patient and work hard. Consult your seniors but avoid any conflicts., this is not a good time to switch jobs.
Love: To move forward in your love life, you will need to let go or even forget your past. You will need to let go of your attachment and let the future in, no matter how strong you felt your connection. Try to let go of this pain and hurt for a new relationship to come your way and let the healing happen fast.  Meanwhile, singles will spend the month partying the town red.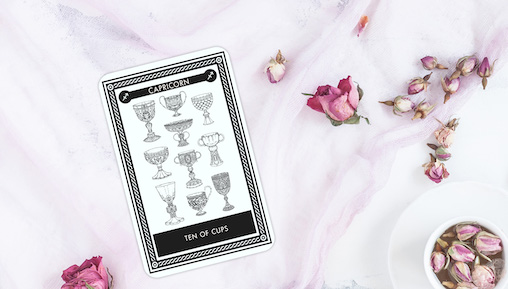 Capricorn Tarot Card of The Month - Ten of Cups 
This Feb, you will need to be careful to read between the lines, people around you might not be very genuine. You maybe misreading intentions, this month is not the time to be too trusting. Do not agree to anything that you do not like unless you could bring your point of view into the matter as there could be something hitting you in your area of shared resources.
Career: Your inherent talents, competitive colleagues and supportive superiors will spur you on to great heights at the workplace. Make sure that you do not get carried away by false praises.  
Love: It is a good time for relationships to flourish and for love to bloom. You can plan a trip with friends and family. Married couples should plan a vacation too. Avoid ego hassles. Do not take health for granted or be careless