In conjunction with India's Independence Day which falls on 15th August 2019, Table by Rang Mahal, located at Naumi Hotel Singapore, is having an "India Street Food Fiesta" that is vegetarian from 9th to 18th August 2019.
Homesick and missing your favourite Indian street food? You can have a taste of home right here in Singapore.
With a line-up of 12 delectable vegetarian Indian street food specialities by Chef Milind and his team at Table by Rang Mahal, you will be presented with Indian street food coming from seven cities in India - Delhi, Amritsar, Mumbai, Pune, Ahmedabad, Kolkata and Jaipur.
Priced at $12++ per dish, you will have the opportunity to enjoy the best of India's street food in a relaxed and contemporary setting.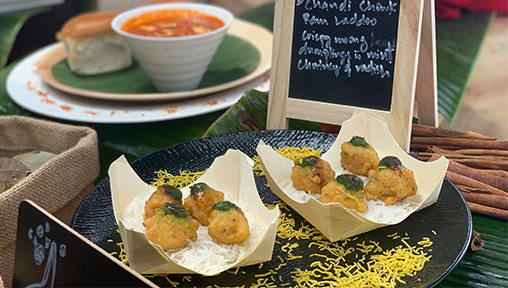 Delhi is filled with a rich history and mouth-watering Indian street food. Here are three dishes from Delhi that is available at the "India Street Food Fiesta".
Chandni Chowk Ram Ladoo
Have a taste of Delhi's famous Chandni Chowk Ram Ladoo - crispy, moong dumplings topped with mint chutneys and white radish.
Ajmal Khan Road Kulche Chole
Originating from Northern India, Ajmal Khan Road Kulche Chole is a dish consisting of spiced garbanzo beans mixed with soft kulcha bread.
Temple Coconut Kulfi
No Indian meal is complete without a sweet ending. Try the Temple Coconut Kulfi, an Indian popsicle made with milk and grated coconut that is refreshing and tasty.
Amritsar is a food lover's paradise, famous for their Amritsari kulchas and we were very impressed with the Kulchas made by Chef Milind and team.
Dhaba Aloo Pyazz Kulcha
This is definitely our favourite dish on the menu. Tandoor Kulcha bread is accompanied by spiced potato and onion.
Paneer Pakodey
Paneer Pakodey are made of homemade cottage cheese that is fried into a crispy bite.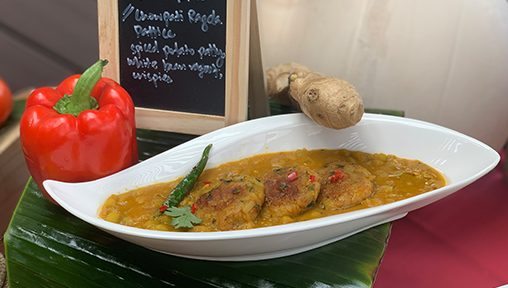 Mumbai
Mumbai is a culturally diversified city and the street food options are endless. Here are some of Mumbai's street food from the "India Street Food Fiesta" that will spice up your life.
Chowpatty Ragda Pattice
The Chowpatty Ragda Pattice is a spiced potato patty in white bean ragout that is tapped with crispies.
Tad Deo Pao Bhajee
Tad Deo Pao Bhajee is a buttered pao bun mixed with melted tangy vegetables are a good start to your meal.
Elco Pani Poori
An Indian famous snack, Elco Pani Poori is a round, hollow deep-fried crispy crepe filled with a mixture of flavoured water, tamarind chutney, masala powder, potato, onion or chickpeas.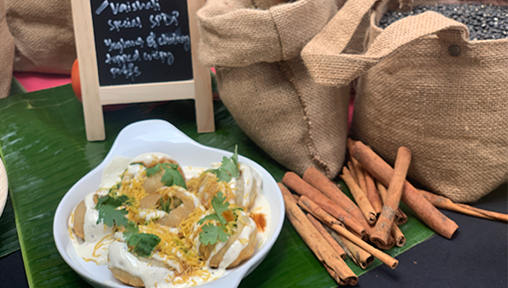 Pune
A city in the Western Indian State of Maharashtra, Pune street food has gained fame over the years.
Vaishali Special SPDP
Sev Puri Dahi Batata also known as SPDP is a famous chaat in Pune. The Puris are topped with sev, boiled potato, and topped with yoghurt and a range of sweet and spicy chutney and sev.
Ahmedabad
A state in Gujarat, Ahmedabad is a paradise for vegetarians.
Kutchi Dabeli
Kutchi Dabeli is a soft bun that has sweet and spicy potato stuffing.
Kolkata
"India Street Food Fiesta" takes us to Kolkata, formerly known as Calcutta, the capital of India's West Bengal state.
Jhalmuri
Jhalmuri is an Indian street snack originating from the Bengal region of the Indian subcontinent, made of puffed rice and an assortment of spices, vegetables, and chanachur or bhujia.
Share Market Ki Chai
A mixture of spice and tea, no Indian meal is complete without masala tea.
Jaipur
Known as the "Pink City" of India, Jaipur is a city filled with rich history and royalty.
Pink City Raj Kachori (Chaat)
Large kachori puff stuffed with mixed lentils, yoghurt and chutneys. This Raj Kachori is a mouth-watering delicacy that will leave you wanting more.
Want more options than Vegetarian Indian Street Food? Table by Rang Mahal has an a-la-carte menu and executive set lunches available for just $20++. For reservations, visit rangmahal.com.sg/table or call +65-6403-6005.