December is the month of festivities. Christmas and New Year's are just a few days away and what better way to celebrate than with a festive feast with family and friends. We've come up with a list that features the classic Turkey in lunch and dinner buffets, but also various cuisines including Indian, Mexican, and Lebanese.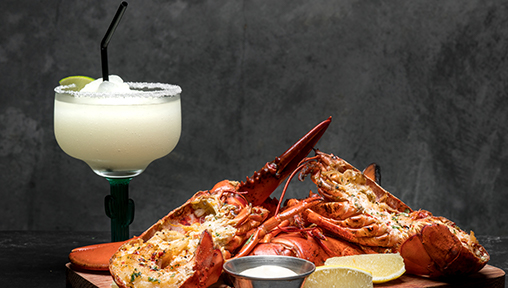 Seafood lovers rejoice! Setting themselves apart from the usual festive dishes, at Chimichanga, you'll get freshly flown in Boston Lobsters served with Mexican garlic butter sauce, and Freshly Shucked Oysters from Pulau Ubin at the Saturday Surf & Turf all-day brunch.
Available weekly from 1pm to 7pm, the menu also features Steak from Hubers Butchery, homemade guac, Grilled Lamb Cutlets from New Zealand, and Pork or Chicken Breakfast Burritos. Don't forget to pair your meal with their signature frozen margaritas.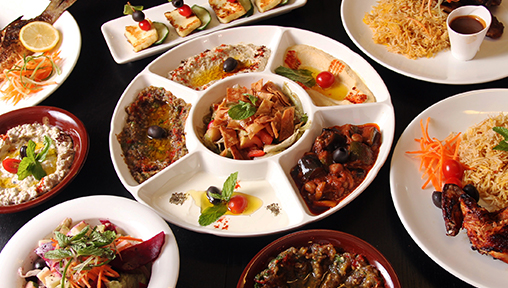 Want to revel in the festive celebrations Lebanese style? Then head over to Bussorah Street where Byblos Grill is serving up sharing menus for lunch ($29 per head) and dinner ($49 per head), perfect for a group of four. Dishes include the Mezza Platter, Chicken Kabsa, Lamb Chops, Moussaka, Samak Mashwi, and Baklava.
To accompany your meal, Byblos Grill also serves beers, wines and non-alcoholic specialities such as Mint Tea. So grab your family and friends and enjoy authentic Lebanese cuisine with al fresco dining over the weekends.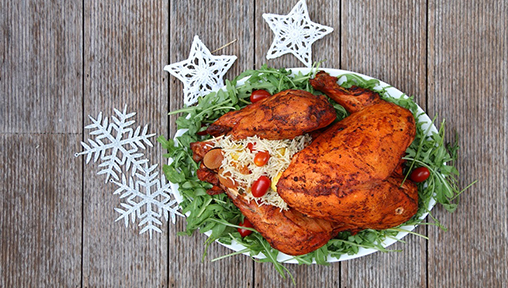 Christmas is also being celebrated over at fine dining Indian restaurant, Rang Mahal, in their own style. The highlight dish is of course the classic Tandoori Turkey which comes with or without stuffing.
Each Turkey is marinated for 24 hours with a blend of over 18 herbs and spices and then slow roasted to bring out the flavours and natural jus to blend with the marination. The Turkey is accompanied with turkey reduction rogan gravy. The dish is part of the festive lunch buffet available on Christmas eve, Christmas Day, New Year's Eve and New Year's Day.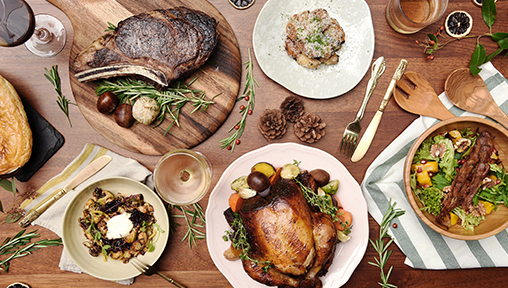 Have you heard that Nosh is closing its doors at the end of this year? Before the last goodbye, Greenhouse at Nosh will be serving up a scrumptious festive feast this Christmas eve from 6pm to 10.30pm.
Gather around the table and tuck into festive favourites featuring wholesome and hearty dishes like Lamb Christmas Pie, Charcoal Grilled Angus Prime Rib and Roast Chicken served alongside an accompaniment of delicious side dishes. Dinner will be finished with a small, but decadent selection of sweet treats like Bread and Butter Pudding served with strawberry, rhubarb and vanilla custard.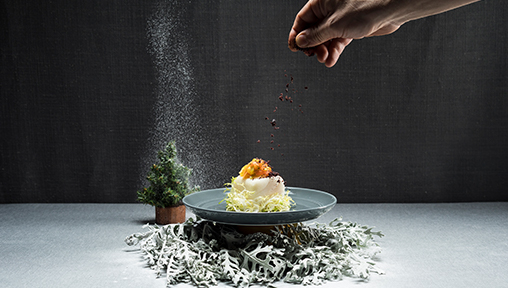 Commemorate this festive season at The St. Regis Singapore where a myriad of fancy culinary experiences await you. From al fresco dining at Italian Restaurant LaBrezza, to contemporary French dining at Brasserie Les Saveurs, and Cantonese cuisine at Yan Ting, there's something for everyone.
Menu highlights include the Tom Turkey done two ways at Brasserie Les Saveurs (featured banner image), and Stewed Cod with Escarole at LaBrezza. The festive lunch and dinners start on 1st December 2017 till Christmas Eve.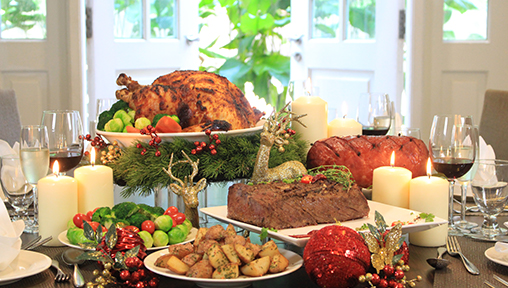 Revel in the finest Festive High Tea or Christmas Buffet spread in dining rooms with views of lush national parkland. From 20 November to 30 December 2017, enjoy the high tea at Tisettanta Lounge comprising light bites including Turkey Ham and Chestnut Pie Tee with Curry Chili.
Or choose to feast from the lavish buffet on 24 and 25 December 2017 featuring a fresh seafood bar, carving station, and live grill station. End on a sweet note with delights from the dessert bar including the signature Orange and Cardamom Crème Brulee.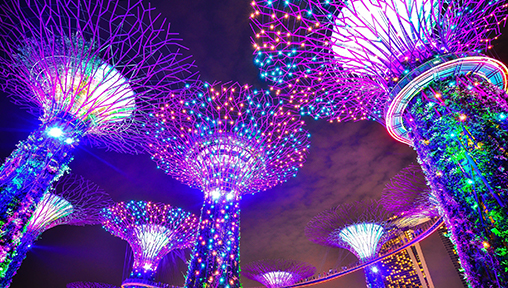 This is one for all gourmands who would love to dine in Garden by the Bay's Christmas Wonderland. Embark on the SAVOUR gastronomic journey from 1st to 26th December 2017 with gourmet dishes created by celebrity chefs and Michelin-starred restaurants.
Participating restaurants include Audace, Pollen, Salted & Hung, Shoukouwa Sushi Restaurant (2*), and Saint Pierre (1*). With food starting from S$6, and wines around the world at the custom built Finest wine market, wining and dining this Christmas just got more delicious!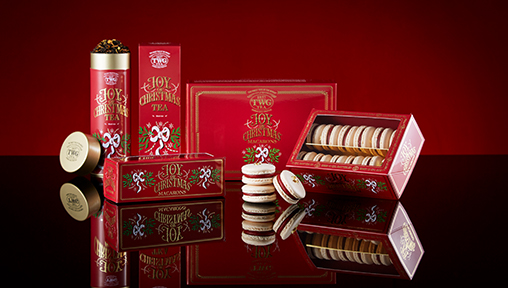 Have you tried TWG Tea signature macarons? Well, you're in for a treat with this limited edition Joy of Christmas Tea Macarons. These bite-sized treats have been infused with tea, and filled with a velvety smooth ruby-red ganache infused with exotic notes of pineapple and spiced fruits.
TWG Tea is also offering a festive set menu from 18-31 December 2017 at its boutiques and salons in Singapore.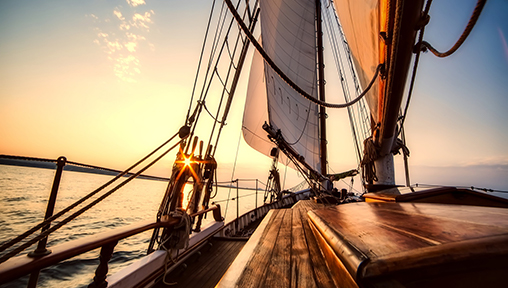 Partake in Christmas festivities on board the Royal Albatross for a Christmas buffet, entertainment, and sailing into the sunset amidst sleigh bells, baubles, and mistletoe.
Great for family celebrations and also a good option for office parties; this December 22 and 23, you can cruise through the deep equatorial waters of Singapore between the coastline and the Southern Islands for a tropical Christmas.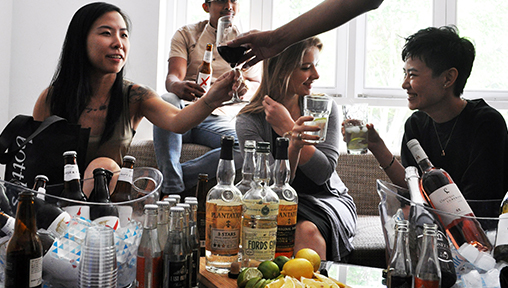 Spending Christmas at home? Accompany your festive meal with drinks ordered from BottlesXO that will conveniently deliver your booze chilled when you want it, where you want it.
Their party packages come with a spirit, wines and craft beers or ciders, with complimentary East Imperial mixers, garnishes, ice and cups included to ensure you will never run out of anything. For smaller house parties or a pre-game drinking session, treat yourself to a Cocktail Set which comes with all the ingredients needed to make a killer cocktail!