It's that time of year again to don costumes, put on scary makeup and spook out your friends . While you might not be lighting a bonfire to ward off ghosts, here are a couple of fun things you can do during this Halloween.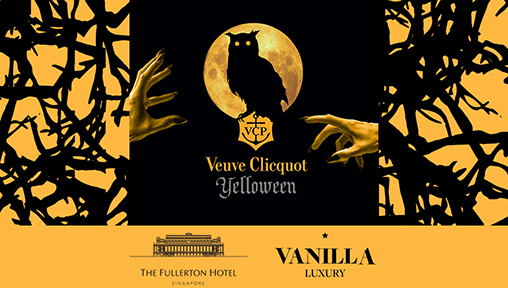 Have you heard about the halloween party of the year? In the name of owls and witches comes the mystical Veuve Clicquot Yelloween!
Venture into this exciting halloween night as the iconic Post Bar at The Fullerton Hotel transforms into a Veuve Inspired Den of spiritism. What's more? Come dressed to thrill in your Wiccan best this halloween as a Veuve Clicquot Magnum awaits the evening's best dressed guest!
Date: 28 October 2017, Saturday
We are giving away 5 pairs of tickets to this party. For more information, visit the Facebook page or grab your friends and buy tickets here.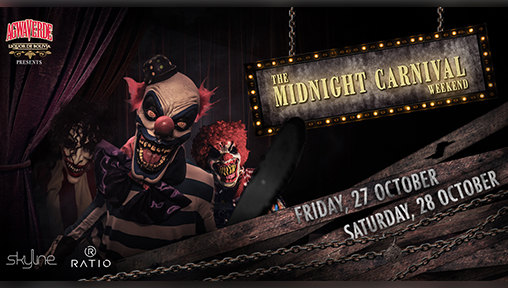 Shadows of a thousand years will rise again, voices will whisper to you at every corner. Agwaverde brings to you a whole different type of twisted fun this Halloween weekend. Presenting to all those looking for a good laugh, The Midnight Carnival!
Stand to win great prizes for the best dressed as well as great promotional packages courtesy of Agwaverde. Head down to Skyline Rooftop Bar at level 45 of Singapore Land Tower and have a jolly good time. Just a piece of advice, you can't spell slaughter without laughter!
Cover: $20 (including 1 drink)
Dates: 27 & 28 October 2017, Friday & Saturday
For more information on bottle promotions and other enquiries, call +65 8333 0620.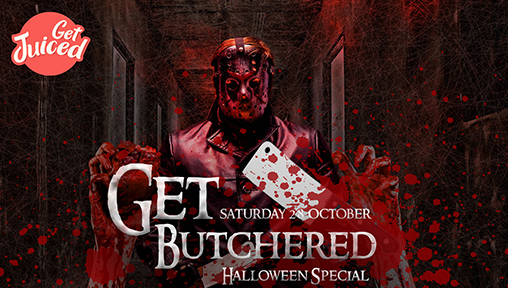 Singapore's first cashless bar and club, Get Juiced, is celebrating Halloween this Saturday, 28th October 2017 from 7pm till late.
Make sure you join in the fun and attend the party in costume to receive complimentary entry before 10pm.
Cover: $25 (including 1 drink after for those not in costume)
For table reservations, call +65-62087293 or email hello@getjuiced.sg.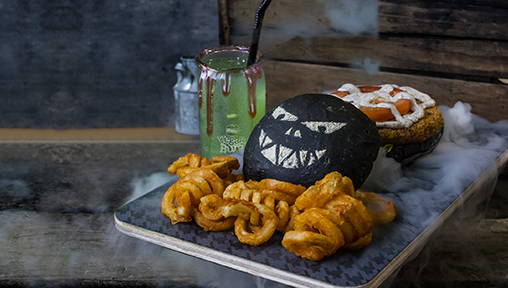 VeganBurg kicks off the spooky spirit of Halloween with the launch of a limited-edition Thriller Burger. It is named after Michael Jackson's hit, Thriller, and themed after the popular Netflix show, Stranger Things. For October, VeganBurg will transform into a retro scare zone, recreating the spook and horror of iconic pieces of pop culture from the 80's.
The scary tribute, embodying a headless zombie, boasts a ghoulish black charcoal bun head, crispy plant-protein patty innards, and dairy-free aioli skeleton. The meal will be served over dry ice for a bewitching and awe-inducing experience.
The Thriller Meal comes with Frizzy Fries and a Witch's Kiwi Brew, served in a strawberry "blood" rimmed cup.
For more information, visit veganburg.com/singapore, or join the conversation with #VBThriller.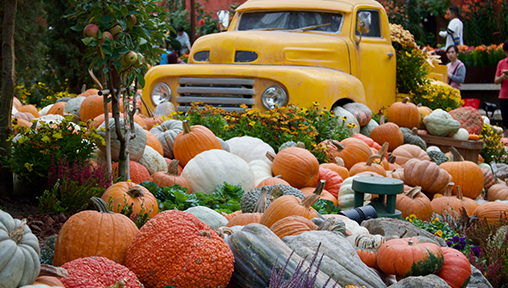 A field of pumpkins in rich hues of orange, red, and green welcomes visitors as fall comes to Flower Dome in the "Autumn Harvest" floral display. Spot Cinderella's pumpkin carriage as it sits pretty amidst pumpkin trees.
Pumpkins take on yet another twist in the mini Halloween exhibit, where myriad carved and decorated versions celebrate the most anticipated festival of fall. There are more than 22 varieties of special pumpkins to see, such as the pristine white "Polar Bear", the pretty striped "Pump-Ke-Mon" and the bizarre-looking "Red Warty Thing".
The exhibit will last till 29 October 2017. For more information, visit their website.
This Halloween, join W Hotel for a night of horror as pool area is transformed into a spooky den. Put on your creepiest costume and rock out to a night of epic proportions with performances by ATTAGIRL!, Singapore's hottest female DJ collective on the W Lawn.
This year, W Hotel is upping the ante with a Haunted Bus. Muster up some courage and crawl your way through the bus to find hidden prizes including a one night stay at the hotel's Wonderful Room.
Other things you can look forward to during the party include a Trick or Treat Trivia booth, face painting by Makeup Maestro, a 3D photo wall complete with a 180° camera, a Tarot Card reader and a virtual reality experience of a zombie apocalypse!
Drink packages are available for $69 with a 3 hour free-flow deal from 4pm to 7pm.
Date: 28 October 2017
RSVP to be on the guestlist.
Come 28 and 29 October 2017, Quayside Isle @ Sentosa Cove will be transformed into a spooky locale for some light-hearted family fun. Fancy some fangs? Or perhaps a crawling spider? A face painter will be available to help up the scare factor!
If all things spooky is not up one's alley, get crafty with the little ones and design some pumpkins. Creep up to Sabio by the Sea, Tapas Bar & Grill for a Pumpkin Soup or Jack O' Lantern Chips & Dip before heading off to the Sabio Haunted House to be spooked.
For more information, visit https://www.quaysideisle.com/.
On 31 October 2017, Chimichanga invites you to Halloween Dinner Theatre with Singapore's supernatural guru, Guru Jay. Guru Jay has been investigating supernatural occurrences all across Singapore for close to 10 years. Guru Jay will host a dinner with his key aids in retelling some of the scariest incidents that have spooked Singapore, from possessions to hauntings. 
Expect a 3 course Mexican meal served with a beverage of your choice. The night will be filled with surprising stories from our hidden actors and theatrics that will leave you with goosebumps. 
Dinner seating starts 7.30pm and costs $65 per ticket. Email hola@chimichanga.sg to reserve your seat.
 
For one night only, LuLu's will become animated with unfamiliar roving characters and wacky stage performers, creating a circus of absurd activity.  From a freaky ballerina doll to menacing ringmasters, a series of unexpected additions promise to shock and surprise, in tribute to the night of Halloween.
To complement the existing drinks menu which showcases playful twists on classic cocktails, LuLu's mixologists will be serving a Halloween special; Caramel Apple Cocktail ($20), to accompany the delicious bar bites. 
Cover: $30
Date & Time: 28 October 2017, Saturday, 9pm to 6am