For travel enthusiasts who have been to a wildlife safari, more often than not, they will tell you that it is one of the best and most memorable experiences in their lives.
Plan an extra-special holiday for you and your family, and embark on an adventurous journey of safari nights and glamping. Explore a whole new world as you wake up to a variety of wildlife right at your doorstep.
Vanilla Luxury puts together a list of wildlife glamping spots for a luxurious safari night: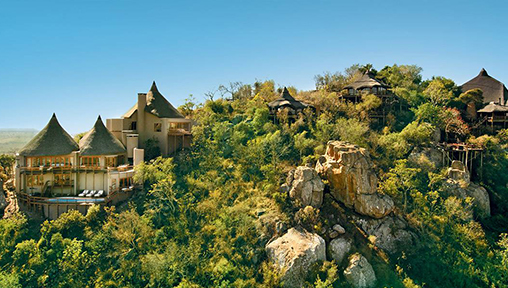 Ulusaba - South Africa
Ulusaba, known as 'the place of little fear', is Sir Richard Branson's private game reserve located in the western sector of Sabi Sand Reserve, South Africa. Surround yourself with mountainous terrain with three safari lodges for your safari night stay.
For a luxurious glamping treetop experience, Safari Lodge comes with exquisite treetop houses and rope swing bridges for you to cross between treetop houses for a stunning safari aerial view. From bush games, safari walks to cocktails by the pool, there's no shortage of things you can do. If you're feeling adventurous, take an exhilarating helicopter flight that lingers above cascading waterfalls, swoops over mysterious gorges and through lush valleys.
Be treated to the beauty of majestic African bush on your wildlife glamping journey and have some fun identifying the hard-to-spot Little Five - rhino beetles, elephant shrews, leopard tortoises, buffalo weavers and antlions. Do not forget to spot the Big Five -  lions, buffalos, leopards, elephants and rhinos.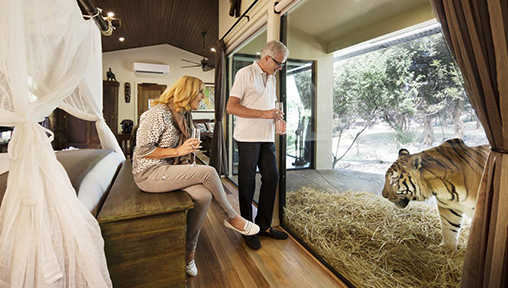 Jamala Wildlife Lodge is located in Canberra, Australia and offers you the opportunity to experience the thrill of close encounters with some of the world's most dangerous and endangered safari animals such as lions, tigers, sun bears, giraffes and even sharks.
A glass wall separates you from a pride of lions, cheetahs, tigers or a Malayan sun bear at the luxurious Jungle Bungalows. Regardless of whether you are relaxing in your lounge area, resting in bed or taking a leisurely bath, it will be an unforgettable safari night stay as you will only be a heartbeat away from these amazing wildlife creatures.
The Giraffe Treehouses are set amongst lush surroundings, you will be able to overlook and wander freely amongst a friendly herd of safari animals in a private enclosure. You will also have the opportunity to feed "Hummer", a friendly resident giraffe right from your balcony!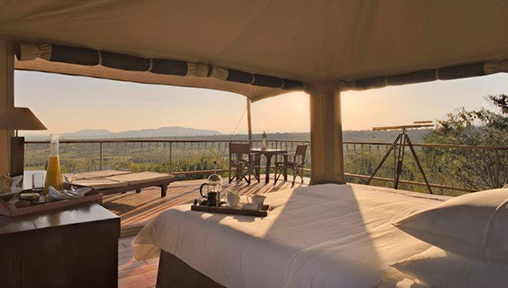 Kenya's Masai Mara Bushtop Camp is an oasis of five-star wildlife glamping luxury. Blending peace with a safari adventure and first-class comfort, Masai Mara leaves you with unforgettable sights, smells, sounds and sensations.
Every game drive at Mara Bushtop is different and an adventure into the unknown. Leopards and rhinos are the shy bunches from the safari but you'll be able to feast your eyes on lions and elephants, often in great numbers. Be sure to hop on a bonus safari night drive to enjoy the full experience.
You can also go for the safari walks where a qualified, armed ranger will lead the way, bringing you to within a safe distance of impala herds, zebra and giraffe. End off your safari night stay with a Balloon Safari. Get in a balloon basket and overlook the herds of Masai mara plains against the rising sun.
Bushtop Camps Wildlife Luxury has two other outlets in Serengeti, Tanzania.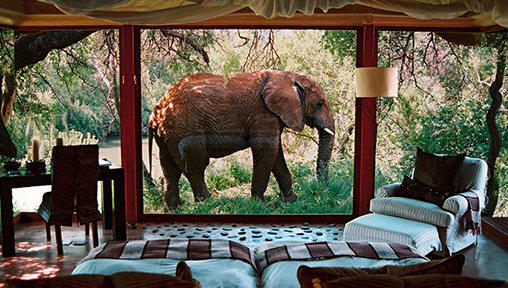 Sanctuary Makanyane Safari Lodge is located in South Africa's North-West Province. The lodge caters for just sixteen guests, providing an exclusive wildlife glamping experience for you, and is malaria-free.
Spot safari animals such as the lion, black and white rhino, buffalo, leopard cheetah, giraffe as well as the spotted and brown hyena. Watch the elusive and rare wild dog as well, a fascinating species on the brink of extinction.
Choose to walk with elephants, where an armed and experienced guide will lead you along game paths in the footsteps of safari animals; or go on a breathtaking river cruise past villages and ancient monuments. If you're done for the day but still feel adventurous, spend your safari night under the African sky, securely surrounded only by lanterns and the African bush and sleep under the stars.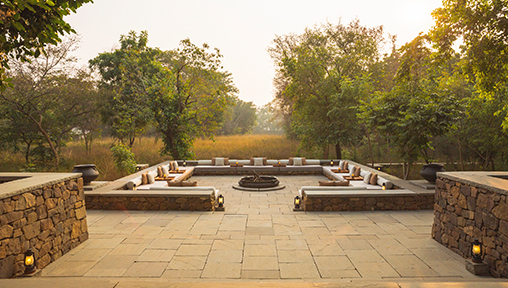 An essential safari destination for travellers eager to discover the fauna of northern India is Aman's Mughal-style tented camp, Aman-I-Khas. The Mughal-inspired tent is what you call a luxurious home away from home with a soaring bedroom, living area and bathroom separated by cotton drapes.
Watch passing birdlife as you venture into the home of tigers, crocodiles, leopards, jackals, sambar deer and about 300 species of birds. After watching tigers all day, indulge in spa therapies and fine dining at night under starlit skies.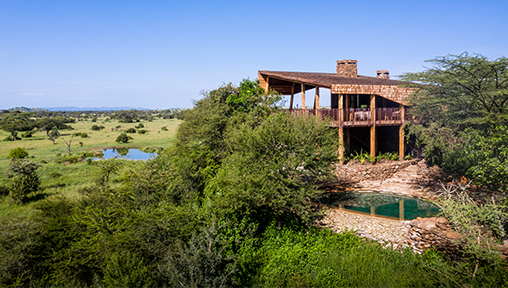 Embark on a new era of luxury wildlife glamping at Singita Faru-Faru Lodge in Grumeti, northern Tanzania. Embodying a fresh take on African safari bush appeal, Singita Faru-Faru Lodge is a relaxed approach to luxury with endless golden grasslands and close up views of a busy waterhole alongside Grumeti river.
Singita Faru Faru Lodge gives you the perfect opportunity to get up close to Africa's incredible wildlife and reveal the elusive magic of nocturnal Africa. Encounter cheetahs, bearded wildebeests, Bat Eared Foxes, Maasai giraffes and the rare Colobus monkey during one of your safari game drives.
Once you're done for the day, enjoy a magical evening under starlit skies with a campfire at the fire pit; or have a personalised wine tasting within the unique ambience of your lodge's own temperature-controlled cellar to complete your wildlife glamping adventure.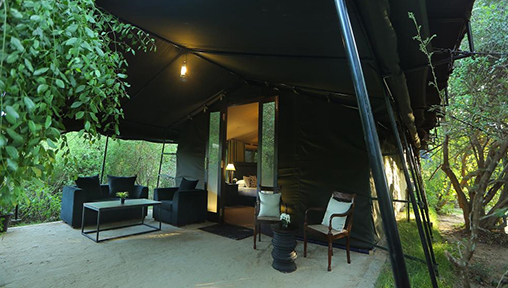 Check into Ceylon Wild Safari, an eco-friendly safari camp with modern-day amenities in Sri Lanka. Running completely on solar power with zero tolerance for plastic, Ceylon Wildlife Safari promotes a reforestation initiative where the guests are invited to plant trees during their stay.
Wildlife enthusiasts Indika and Aran are masters in experiential ecotourism with a passion and love for wildlife who will guide you through the safari game viewing. Besides leopards, spot many safari animals on the Leopard Trails such as crocodiles, elephants, langurs, exotic hornbills and an exclusive crested serpent eagle.
Return to your abode where a bonfire awaits. Relax and mingle with each other while enjoying a laid back outdoor jungle experience accompanied by an open bar with butler service. Dine alfresco beneath Sri Lanka's ink-rich skies, cut with the brilliance of a million stars. Indulge in local gastronomic treats served with the chic colonial charm and grace to finish your wildlife glamping experience.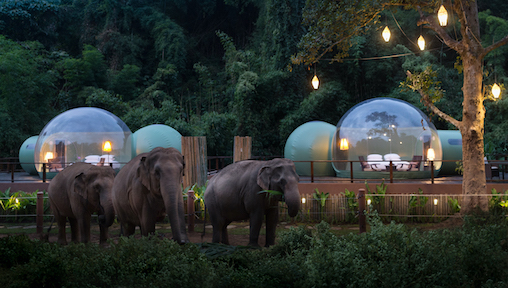 Experience Thailand's wildlife up close with Anantara Golden Triangle Elephant Camp & Resort, world-famous for its elephant camp established primarily to help the wildlife unable to support themselves.    
Unfolding across 160 acres of Northern Thailand's ancient jungle, the luxurious Anantara Golden Triangle Elephant Camp & Resort is one of the finest Chiang Rai hotels, situated on a hill overlooking Thailand's border with Myanmar and Laos. Anantara Golden Triangle offers safari nights immerse you in once-in-a-lifetime glamping experiences such as bonding with the elephants or spas in the jungle. 
Jungle Bubble 
Taking glamping to the next level, Anantara Golden Triangle Elephant Camp & Resort is giving guests a once-in-a-lifetime opportunity to spend one safari night observing Thailand's majestic elephants in their natural habitat while staying in unique transparent Jungle Bubbles. 
Located in a secluded part of the jungle, the two Jungle Bubbles are perched on raised wooden decks offering uninterrupted views of the elephants, as well as stargazing opportunities at night. Guests can enjoy an immersive, close-to-nature wildlife glamping experience like no other. The safari package for two includes a delectable dinner basket, a fully stocked mini-bar, 24-hour in-room dining service, and tea and coffee making facilities.