Whether it's to cure a hangover or indulge in a hearty dish; a proper English Breakfast is perhaps the most satiating meal of them all. Also known as the mighty English Fry-up, eggs, toast, baked beans and bacon typically make up this delectable platter. Hugely popular in Singapore and the world over, if it's an English breakfast you are craving, look no further.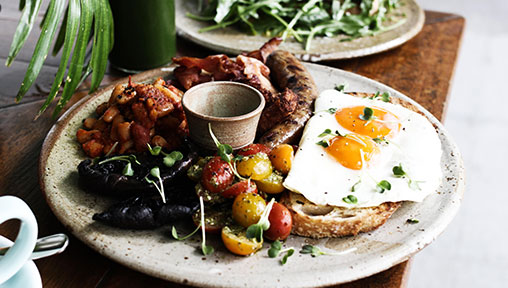 Serving an all-day brunch style menu, this café is open 7 days a week open and a firm favourite with locals and expats alike. Although we have a real soft spot for their Fluffy Pancakes and Brioche French Toast, the Common Man Full Breakfast is hard to miss. A choice of two free-range organic eggs in any style, back bacon, pork sausage, confit herbed tomato, vegetable rosti, minted sour cream, portobello mushroom, house-made chorizo baked beans, with artisanal sourdough or pepita toast – a full breakfast to say the least.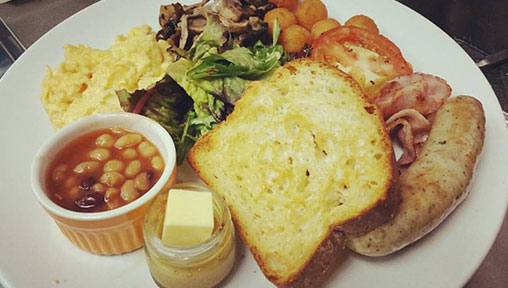 A pun on the German/Danish word for work (arbeit/arbejde), Arbite are inspired to deliver quality food and drink, warm service and fair prices. The Arbite Breakfast is served all day and includes scrambled eggs, bacon, smoked chilly, chicken sausages, sautéed mushrooms, toasted brioche and pommes noisettes. Don't fancy a whole fry-up? Just order one of their other breakfast dishes like Duck & Eggs or Eggs Benedict and savour the rich flavours.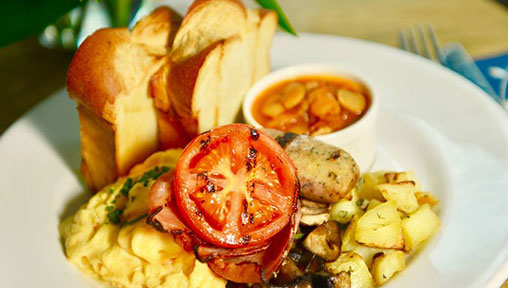 Wild Honey is the mecca of all breakfast places. Signature dishes include a variety of breakfasts from Aussie, Norwegian, Mexican, Tunisian and of course the delectable English! The Full Works is Wild Honey's tribute to the English Breakfast and it truly is packed with everything. Scrambled eggs, Cumberland sausage, sautéed mushrooms, back bacon, baked beans, sautéed potatoes, white pudding and signature brioche – team it with your choice of brew and that's your Sunday sorted!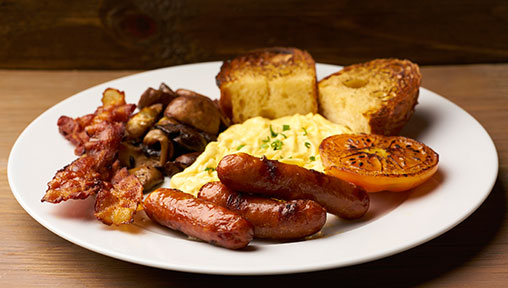 The guys behind Awfully Chocolate started Ninethirty as a dining bistro restaurant serving a selection of western courses with Asian touches and of course the decadent Awfully Chocolate desserts. These are accompanied by a popular weekend brunch menu with mains such as Steak and Eggs, Ham and Egg Crepe and deliciously crispy Waffles.'The Works' is their version of the English Breakfast and is as wholesome as it sounds. Scrambled eggs, sausages, bacon, mushrooms, grilled tomato, served with griddled ciabatta. Remember to leave room for some cake too!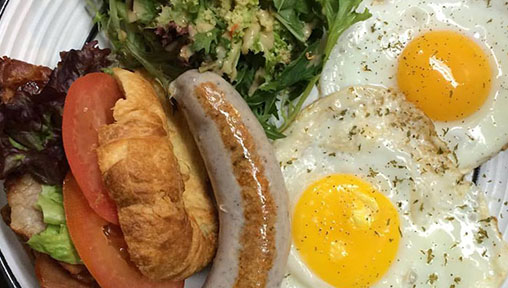 Another favourite for an all-day breakfast, Group Therapy has a staunch following; be it for their food, coffee (100% Arabica beans) or drool-worthy dessert (Carrot cake anyone?). Housed within a restored shophouse along the gentrified Duxton Road, Group Therapy is the ideal space to get away from it all. Their all day breakfast menu has a range of options including The Big Plate. The Big Plate or their version of a fry up is two eggs (done the way you like), bacon, mushrooms, toast, sausage and salad along with a variety of bread choices – so healthy or not; it comes down to you.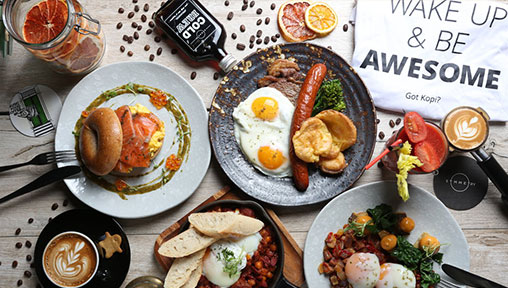 Symmetry is a restaurant and bar that encourages sharing of food, family-style and you certainly can't finish their large portions on your own! A fabulous menu that boasts some of our city's best, they also have one specifically for Monday's called 'Monday you bastard'. The Symmetry Big Breakfast is their take on the English brekkie, and is served only on weekends. The usual suspects, done beautifully and served in mammoth portion sizes are sure to please - sharing or not!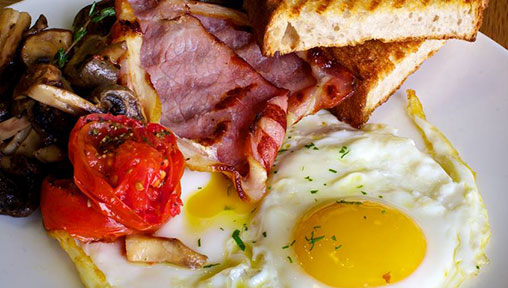 The spanking new Providore Downtown is a multi-concept venue that houses a bakery, cafe, deli, grocery, cooking studio and a wine room - all in one location. While the Ricotta pancakes with caramelised bananas are to die for, the English Breakfast is top notch too. With your choice of eggs, either poached, scrambled or fried, sautéed mushrooms, roasted tomato, grilled bacon, pork sausage and sourdough toast; it makes for a truly special meal with the family.