Want to know about our favourite skincare and toiletries brands for babies and kids in Singapore? While organic skincare and clean beauty products can be used across your family, most parents prefer using formulations that are made specifically for babies and children to cater to their soft, sensitive or eczema-prone skin. 
From skincare that is safe to use on babies and older kids to moisturisers, cleansers, shampoo and more, this list of the top brands in Singapore is one you must save!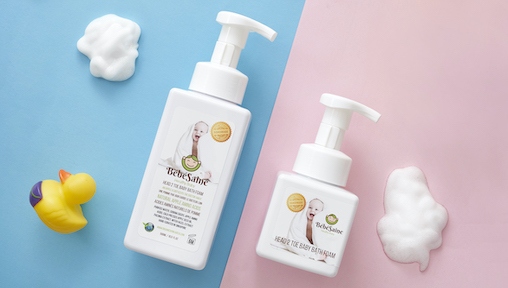 If there's one non-toxic, skincare product you must buy for your baby and growing kids in Singapore, it is the Bébésaine Head to Toe Gentle Baby Bath Foam Wash. Made in Singapore, tear-free and fragrance-free and curated for eczema skin types, this skincare product for kids and babies, is made with the gentlest natural ingredients without any toxic, synthetic chemicals. But that's not all. Bébésaine clean beauty products are popular across Singapore and Australia and are registered with the Health Science Authority Singapore. They are in fact a 100% natural and hand-blended in Singapore.
We all know that newborn, baby skin is extremely delicate and that any chemicals contained in baby bath care products, dyes in clothing and detergents can cause newborn skin irritation. This may show up as dryness, chafing or angry rashes. Enter Amino Acids, the mildest, most appropriate cleansing ingredients that are recognized by global skin experts as the gold standard in baby skincare formulations. Amino acids are great for cleaning the skin but they simultaneously also soothe and are non-irritating for newborn, kids, eczema-prone or sensitive skin. 
This is the primary reason that Bébésaine imported the highest grade of apple amino acid and cold-pressed apple seed oil from the UK and France as their key ingredients. The gentle, Head to Toe Gentle Baby Bath Foam Wash comes enriched with Witch Hazel Extract along with a light scent from USDA Organic Tea tree and Lavender that provides anti-viral and calming properties to your precious little one.
We love the convenient foam pump bottle dispenser - so you can easily hold your baby with one hand and use the cleansing wash with the other! The all-natural ingredients give it a light, fresh scent after use. There's no need to go shopping for a separate shampoo either! The Bébésaine Head to Toe Gentle Baby Bath Foam Wash will leave your child's skin and hair feeling soft, smooth and healthier! Worried about toxins? Be rest assured, that this is safe skincare for your kids - the formula is free from soap, parabens, fragrance, parfum, PEG, Glycol, SLS, SLES and phthalates!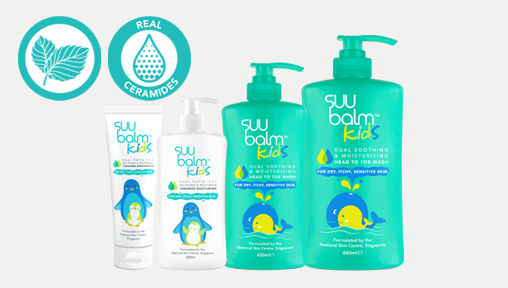 Don't we all love a homegrown hero! Formulated by the National Skin Centre Singapore (NSC), Suu Balm is a range of products that cater to dry, itchy, sensitive and eczema-prone skin types. Formulated by Prof. Tey Hong Liang who runs the Itch Clinic at NSC, Suu Balm products contain only the right and quality ingredients that are gentle and effective for you and your little ones' skin!
Try their popular Suu Balm Kids Dual Rapid Itch Relieving & Restoring Ceramide Moisturiser for starters. A dual-function moisturiser that relieves itch in minutes - with natural cooling menthol, at a dosage level of 1% tailored for newborns and up, and intensely hydrates your skin at the same time. Containing skin-like ceramides and filaggrin to repair and restore the skin barrier, this steroid-free formula contains no parabens, preservatives or fragrances.
Lightweight and non-sticky in texture, it makes a perfect skincare companion for the hot and humid climate in Singapore and can be applied frequently when the itch strikes!
The Suu Balm Kids Dual Soothing & Moisturising Head-to-Toe Wash is a soap and sulfate-free formula that cleanses effectively without stripping off the natural moisture barrier of the skin. Containing shea butter and sodium hyaluronate, a gentle and safe water-binding ingredient that cleanses sensitive and dry skin and leaves it feeling soothed and moisturised. This ultra-gentle head to toe wash has a rich and creamy texture that will be a pleasure to cleanse with.
Suu Balm skincare for babies, kids and grown-ups can be found in-stores at your nearest Guardian, Watsons and Unity, as well as online at www.suubalm.com. 
Pssst...cart out with promo code VL20 on their e-store to enjoy 20% discount (excluding bundles and Scalp Spray)! Valid till 30th Sep 2020.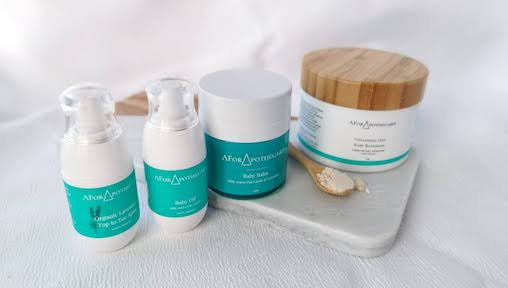 Don't like your baby skincare products to come with an unending ingredients list? A For Apothecary's mission is to create honest, clean, and effective skincare using not more than 7 ingredients. What's more, these ingredients are sustainably sourced from farm to bottle, certified organic and free from 26 skincare allergens listed in the EU Cosmetic Regulation*
The super-popular Baby Balm with Oat Lipids and Calendula is a multi-tasking Baby Balm that solves all your baby skin problems while being extremely gentle to your baby's skin. The secret is a unique blend of botanical oils and herb extracts proven to be safe on newborns. Formulated with the finest natural botanicals: Oat Lipid E, A-grade organic raw cold-pressed coconut oil, East African Nicolian shea butter as well as soothing calendula extracts. Chock full of antioxidants, vitamins A and E, skin-repairing ceramides, linoleic acids, lipids, anti-inflammatory and anti-bacterial, you know this one is a keeper from the start!
If you are seeking a product that soothes your baby or child's skin after a scrape, the Boo Boo Balm does just that and plenty more! As a 100% natural herbal balm that soothes insect bites, minor cuts and other little ouchies for children, the Boo Boo Balm is an efficient skincare product for all those urgent pains and inflammations.
Infused with dried lavender, comfrey, st john worts and plantain in cold-pressed coconut oil for 6 weeks, the traditional herbal remedies have been passed down for generations, from grandmothers to mothers.
Don't want nasty chemicals from your lip products transferring onto your baby's delicate skin? Or perhaps your growing child has been pestering you for a lip balm of her own - either ways, A for Apothecary's 100% Natural Coconut Dream Lip Balm is perfect for the job! A gentle blend of cold-pressed coconut oil and delicious cocoa butter that glides on like a dream to soothe and deeply moisturize dry sensitive lips. This 100% natural lip balm is formulated for both adults and children - gentle yet effective for chapped lips!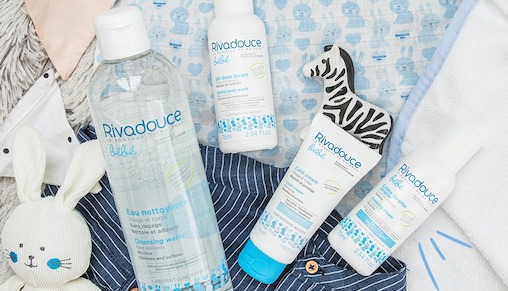 Medically endorsed, Rivadouce Bébé is a range of baby skincare which is gentle and respectful of your little one's skin. Rivadouce Bébé products are trusted and used by medical professionals and families for more than 47 years. They are 100% Made in France and used in more than 210 maternity hospitals! 
These best-selling products are made with up to 99.9% ingredients from natural and plant-based origins; and much research has been carried out to establish and maintain the effectiveness of the formula. 
One of the main ingredients in the baby skincare range is the Natural Lotus Flower Extract which is soothing, moisturising and calming for babies. Gentle on baby's skin, hypoallergenic and with a limited number of ingredients (to minimise skin sensitivity), Rivadouce Bébé products are suitable right from the newborn stage. All products are dermatologically tested and contain no parabens, phenoxyethanol, dyes, essential oils or alcohol.
Parents will adore the Rivadouce Bébé Eau Nettoyante (Cleansing Water), a formula that gently cleanses baby's skin. Formulated without alcohol and soap, it is enriched with moisturizing vegetable glycerin and is ideal for the cleaning of sensitive areas like baby's face and bum.
The popular Rivadouce Bébé Gel Doux Lavant is a 2-in-1 gentle cleansing wash that is delicately scented. A moisturizing formula, it is enriched with vegetable glycerin. It washes with extreme softness and protects the baby's skin and scalp from the drying effects of water. We love its wonderfully, delicate fragrance - just like a baby's smell!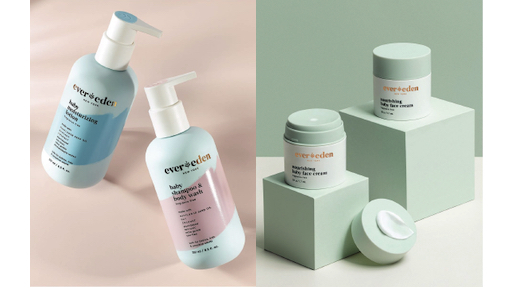 At Evereden, clean skincare is simply not enough. Made by moms in medicine, these top pediatric dermatologists believe that everything that touches your family's skin has the potential to create a lasting impact on your health. Their formulas are born out of an obsession to go above and beyond the highest safety standards in safety, quality, and care.
Evereden skincare artfully combines the highest quality of pure, plant-based ingredients to create a range of high-performing, results-driven skincare specially formulated for even the most delicate of skin types. Each Evereden skincare contains meticulously sourced botanical ingredients that are proven to be good for the skin, such as Organic Cold-Pressed Sunflower Seed Oil, Avocado, Coconut and Rosehip oils.
From baby shampoos and sunscreen to stretch mark creams and belly serums for expecting mommies, Evereden boasts a whole range of safer-than-safe, cleaner-than-clean, all-natural skincare products that give you a peace of mind when you're looking after yourself and your family's skin health.
The Nourishing Baby Face Cream is a deeply hydrating cream loaded with superfood oils to instantly nourish and soothe more commonly dry, aggravated skin on baby's face. The Baby Bathtime Duo of everyday essentials - a gentle head-to-toe cleanser plus an ultra-hydrating lotion - is perfect for ingredient-conscious parents.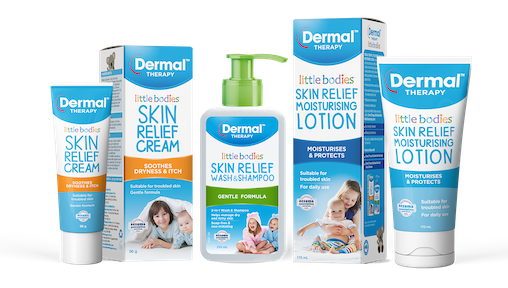 Seeking a product range that is designed specifically with dry, sensitive or eczema-prone skin in mind? Dermal Therapy Little Bodies is a skincare regime developed for newborns and kids to provide relief from dry and eczema-prone skin types. Dermal Therapy Little Bodies line of products includes 3 power horses -  Skin Relief Wash Shampoo, Skin Relief Cream and Skin Relief Moisturising Lotion. Each product is formulated with a unique blend of ingredients, including colloidal oatmeal, which helps to soothe, nourish and calm itchy and sensitive skin.
The Skin Relief Cream is perfect for those nasty itches that won't go away! Formulated with natural ingredients such as calendula officinalis, aloe vera and colloidal oatmeal, it soothes the skin and provides relief from itching and dry patches.
Want an everyday lotion? The Dermal Therapy Little Bodies Skin Relief Moisturising Lotion is formulated to soothe, calm and protect your child's troubled skin. It contains a blend of natural ingredients including colloidal oatmeal, which is known for its skin-soothing properties, to help relieve itching and dry patches of skin.
For those who are looking for a soap-free alternative to harsh shampoos and soap to cleanse and soothe the skin and scalp, the Dermal Therapy Little Bodies Skin Relief Wash & Shampoo is one to consider. A gentle 2 in 1 wash used to cleanse the skin and help manage dry and itchy skin, it is a formula that is soap-free and non-irritating and designed specifically for babies and young children, Dermal Therapy Little Bodies retails at $17.90 each and is available at your nearest Watsons and Unity stores.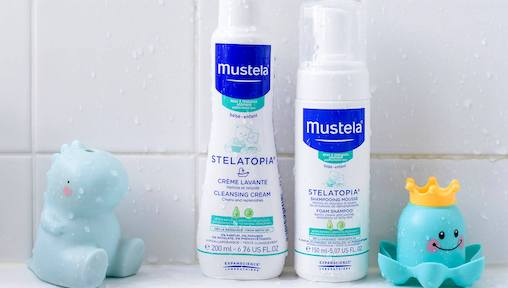 You've probably heard and used Mustela products through your pregnancy and with your baby as well as growing kids. Soft and gentle with their comforting 'baby' smell, Mustela are often reminiscent of our own childhood memories. The brand today is reinventing their most popular baby products to be even safer, more effective and more natural - the new Mustela Bébé range is a real revolution! Made from an average of 92% ingredients of natural origin and formulated to be free from parabens, phenoxyethanol and phthalates, they give babies' skin everything it needs and protect it right down to its cells.
Want a comprehensive skincare set for your baby? The Mustela Newborn Travel Set is great to purchase on your own or as a gift to a mum-to-be!  A carefully curated combination of great products which ensure the baby's skin is perfectly nurtured and cared for while travelling, this set comes with an additional bag to help parents fit all of their baby's essential products close at hand, in the back of the car or when you eventually get to board a plane. 
If you need a shampoo for your sensitive-skin baby, the Mustela Stelatopia Foam Shampoo is specially designed to clean the hair and scalps of babies with eczema-prone skin. A saviour during the early years, the Stelatopia Foam Shampoo is specifically developed for baby scalp with extremely dry skin. The soft creamy foam makes for great gentle cleansing and easy rinsing while restoring the hydrolipidic film and the balance of the scalp. It is made to instantly soothe and reduce the sensation of discomfort.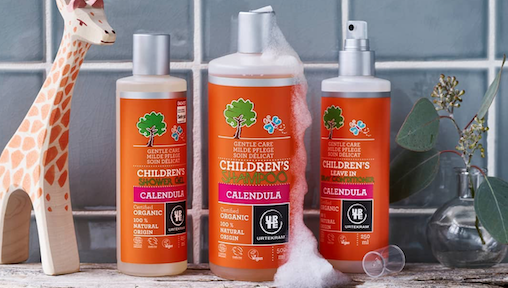 You've probably used Urtekram products for yourself, but did you know that they have a specially designed kid and baby range too? Children and babies have more sensitive skin than adults do. It is therefore important to use gentle skin creams and a gentle shampoo. The Urtekram Children and Baby range is vegan and organic certified according to Cosmos Organic. COSMOS also means that the products are free from parabens, silicone and synthetic. The range includes organic certified toothpaste and natural care products that will take your baby to toddler and older kid stage - all while nourishing him or her through the years. 
A must buy, the URTEKRAM® No Perfume Baby All-Over Wash contains aloe vera and glycerine in order to nurture the soft skin of your baby, and of course, we have made sure that the soft bubbles don't sting in your baby's eyes. Babies do not need super-thorough and harsh cleaning. A little goes a long way and you can easily use the same wash for both body and hair.
Need something for older children? You'll love the Urtekram Children's Shower Gel that gently cleans and softens children's skin with extract of calendula, aloe vera and glycerine. 
If you prefer Fluoride-free toothpaste for your little ones, take a look at the Urtekram Children's Original Toothpaste that is a classic with Fennel flavours that will make tooth brushing a fun, daily affair. 
Regardless of the product you choose, the bright orange bottles and tubes are sure to become a staple in your bathrooms!
*Source - https://www.ecomundo.eu/en/blog/cosmetics-allergens-europe-compliance
**Banner image by Rivadouce Bébé